Table of Contents
Although revolvers may be the firearm of the past, there are several companies looking to make them a part of the future. Polymer pistols are still far more popular, especially among people who carry. Nevertheless, there are some pretty innovative and redesigned wheel guns that are taking the market by storm. In fact, many firearm enthusiasts believe revolvers make a better carry option instead of semi-auto pistols. For starters, they are significantly easier to use and are known to be more reliable. This is especially practical for young or female shooters who may have trouble racking a pistol. Plus, single-action and double-action options can make carrying a firearm even safer. On the other hand, many CCW owners believe revolvers don't offer enough bullets to be effective in a dangerous situation. Actually, most cops didn't start carrying semi-auto pistols until the 1970's. Concealed carry revolvers, especially small-frame snub noses, are often easier to conceal and can even be carried in pocket. Let's get the show on the road and take a look at the best concealed carry revolvers.
357 Revolver
Kimber K6S
The Kimber K6s is arguably the best modern revolver not made by Ruger or Smith and Wesson. These top-shelf wheel guns are among the most dependable and ergonomic in their class, which ultimately justifies their high price tag. While Kimber Manufacturing may not be the most common gunmaker, they are nonetheless one of the most impressive. The up-and-coming manufacturer has garnered one hell of a name for themselves thanks primarily to their high-end 1911 pistols. However, the American firearms producer has recently pumped out a few high-quality revolvers that are definitely worth your consideration.
Although crafted from top-grade stainless steel, these wheel guns are remarkably lightweight, making them a great choice for concealed carry. That being said, keep in mind that the reduced weight will affect its perceived recoil from its commanding .357 magnum chambering. Overall, it's hard not to love these beautiful revolvers, especially with their enhanced trigger and ergonomic grip angle. I had trouble finding the perfect holster for the K6S but there's no issues with opting for a leather Galco. They market an expensive speed paddle holster that is pretty nice, but I'd go for their cheaper Stow N' Go IWB holster ($38).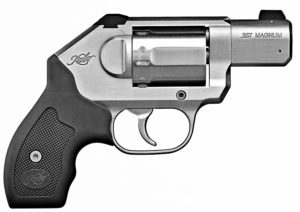 • Model: Kimber K6S
• Caliber: .357 Mag
• Capacity: 6 Rounds
• Barrel Length: 2"
• Overall Length: 6.6"
• Weight: 23 oz. (unloaded)
• Sights: Black Serrated
• Finish: Stainless Steel
• MSRP: $899
38 Revolver
S&W 642
Smith and Wesson is arguably the king of revolvers and American firearms in general. The iconic gunmaker has been releasing reliable handguns for generations and they show no signs of slowing down any time soon. S&W currently markets well over 100 revolvers, but I can't help but love the Performance Center Model 642 Enhanced Action. These glorious, precise, and fine-tuned wheel guns are as effective as they are gorgeous. In general, you know you're getting premium quality with their Performance Center collection. Like most Smith and Wesson products, these revolvers are a seamless blend of modern technology and old-world craftsmanship.
In addition to their custom wood grips, the 642 revolvers contain several other high-end materials, including aluminum alloy and stainless steel. I was initially drawn to carry one of these guys because of their modern hammerless design. This small design change ultimately makes a huge difference for folks looking to conceal carry. I was pleasantly surprised to find the Comp-Tac 2 O'clock IWB holster for the 642. This innovative little concealed carry rig is meant for appendix carrying and is decently comfortable. The lightweight Kydex construction and nylon belt clip help keep weight and comfort manageable while sacrificing some overall durability.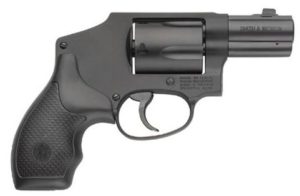 • Model: S&W Model 642 Enhanced Action
• Caliber: .38 Special +P
• Capacity: 5 Rounds
• Barrel Length: 1.9"
• Overall Length: 6.3"
• Weight: 15 oz. (unloaded)
• Sights: Fixed Rear – Integral Front
• Finish: Matte Silver
• MSRP: $525
9mm Revolver
Charter Arms Pitbull
Charter Arms has had a rocky journey to get to where they are today, but they're back to producing some pretty solid wheel guns. These American-made guns are particularly known for their durability and reliability, but they're not too bad looking either. Since the days of old, Charter has tremendously improved their accuracy and overall performance by making big changes to their internal designs. For instance, they now incorporate eight barrel grooves, as opposed to the normal six. They've also developed the revolutionary hammer block transfer bar safety system which has been adopted throughout the industry.
While Charter is better known for their Bulldog, I've become a big fan of the Pitbull. These attractive little shooters come in a variety of cartridge options, but I like the 9mm with the trademark Blacknitride finish. These revolvers may look like your average models but there are a few hidden gems just waiting to be discovered. For example, the 5-shot Charter Pitbull utilizes their popular rimless cartridge extractor assembly system, providing shooters with rapid reloads. Furthermore, the Blacknitride finish is a nice touch that is scratch-resistant and will keep your revolver looking new. There aren't a ton of holster options out there for the Pitbull, but I liked the Italian leather holster from Vega. It's cheap, it's tough, and it can handle a wide variety of revolvers.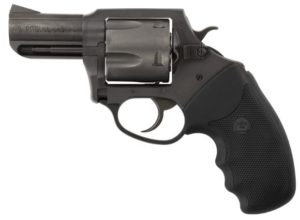 • Model: Charter Arms Pitbull
• Caliber: 9mm
• Capacity: 5 Rounds
• Barrel Length: 2.2"
• Overall Length: 6.75"
• Weight: 22 oz. (unloaded)
• Sights: Fixed
• Finish: Blacknitride
• MSRP: $465
44 Magnum Revolver
S&W 329PD
As the second Smith and Wesson on this list, the S&W 329PD is freaking amazing. For starters, it's hard to get over their stunning and unique design – it's truly something to behold. While the enhanced aesthetics and improved features will cost you a pretty penny, it's certainly worth checking out. The legendary gunmaker incorporated several things that make the 329PD hard to pass up. Their mission was to craft a revolver that could offer unmatched strength and durability while managing to keep weight at a minimum. The result is something extraordinary and might just be perfect for your next CCW.
S&W started things off by combining their titanium cylinder with an innovative Scandium alloy frame. Keep in mind that with this insanely strong build, it's never been easier to comfortably shoot .44 magnum. This is especially impressive considering they managed to get that into an easy-to-carry package. Additionally, it's hard to miss their HI-VIZ fiber-optic front sights, which make them great for nighttime carrying. Similarly, I was a big fan of their beautiful and ergonomic wood grips, which are sure to impress anyone who sees them. 329PD holsters aren't so easy to find, so I recommend sticking with the popular Bianchi 111 Cyclone Hip model.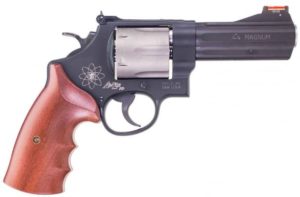 • Model: S&W 329PD
• Caliber: .44 Magnum
• Capacity: 6 Rounds
• Barrel Length: 4.125"
• Overall Length: 9.5"
• Weight: 25 oz. (unloaded)
• Sights: Adjustable Rear – Light Gathering HI-VIZ® Red Dot Front
• Finish: Matte Black
• MSRP: $1,159
22 Magnum Revolver
North American Arms Sidewinder
North American Arms is definitely not your standard firearms manufacturer. In fact, the Utah-based gunmakers are known for their innovative and unique Mini-Revolvers. These special pocket-pistols are reminiscent of those old-fashioned derringers but offer uncompromising modern performance. These highly-rated wheel guns even feature swing-out cylinders, despite their diminutive size. You can argue about how practical these .22 Mag revolvers are, but there's no denying their attractive aesthetics and collector's appeal. They may not be perfect as a primary sidearm, but they sure are a great secondary option. In fact, they are particularly useful for when concealability is a major concern. In my limited experience with one of these guys, I'd say they're money up to 15 yards away – there's not much more you can ask for in a gun this size. If you're looking to holster a Sidewinder, your best bet is to check out North American Arms' website. I'd go with either the mini-revolver ankle holster for a sweet $20 or their HIP-PUG IWB black leather holster ($33).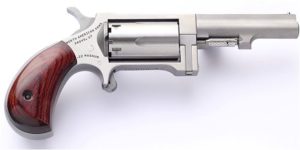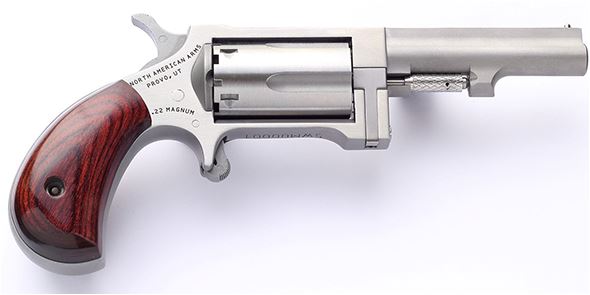 • Model: NAA Sidewinder (Single-Action)
• Caliber: .22 Magnum
• Capacity: 5 Rounds
• Barrel Length: 1.5"
• Overall Length: 5"
• Weight: 6.7 oz. (unloaded)
• Sights: Fixed Post
• Finish: Stainless
• MSRP: $350
Ruger Revolvers
Ruger Sp101
Ruger has made quite a name for themselves over the years for their pistols and rifles, but the popular gunmaker also has a tremendous collection of revolvers. As with many of their other firearms, the SP101 is a modern take on the classic wheel gun design. Ruger offers the SP101s in a wide variety of configurations to appeal to a broad fan base, each with their own premium features. The most prominent feature on the SP101 has got to be their highly ergonomic grips and natural pointing abilities. Additionally, Ruger built these guys to be field-stripped in seconds, adding some much-appreciated user-friendliness. Overall, you can expect big things from these concealed carry revolvers, including solid steel sidewalls, a triple-locking cylinder, and a transfer-bar safety mechanism. If you decide to carry the SP101, there are only a few worthwhile options to consider. I happen to like the Bianchi Gun Leather 105 Minimalist because it offers decent concealability for the SP101's big size.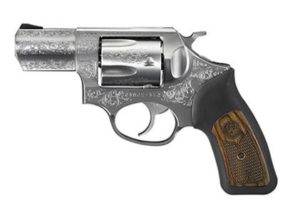 • Model: Ruger SP101
• Caliber: .357 Mag
• Capacity: 5 Rounds
• Barrel Length: 2.25"
• Overall Length: 7.2"
• Weight: 25 oz. (unloaded)
• Sights: Adjustable Rear, Fiber-Optic Front, Fixed, Iron
• Finish: Stainless Steel
• MSRP: $629.99
Ruger LCR
The Ruger LCR series is probably their most popular for modern revolvers, and it's easy to see why. These easy-to-conceal wheel guns are remarkably reliable and boast some pretty impressive ergonomics. In fact, LCRs are among the best-selling revolvers in America. This versatile collection includes some of the toughest handguns around, thanks to their aerospace-grade monolithic aluminum frames, patented friction-reducing cams, and heavily fluted steel cylinders. I highly recommend taking these Rugers to the next level by adding a Crimson Trace Lasergrip. This helps to ensure you have the best protection, day or night. Few holsters can compare to AlienGear, so do yourself a favor and pick up their Cloak Tuck IWB Holster for the LCR.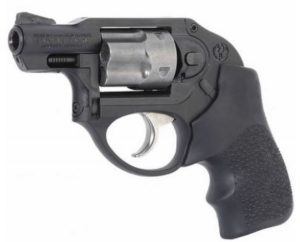 • Model: Ruger LCR-LG
• Caliber: .357 Mag
• Capacity: 5 Rounds
• Barrel Length: 1.87"
• Overall Length: 6.5"
• Weight: 13.5 oz. (unloaded)
• Sights: U-Notch Integral Rear, Replaceable Ramp Front
• Finish: Matte Black
• MSRP: $579
Ruger GP100
Think what you will about Ruger, but it's silly to think that the GP100 isn't one of the most ergonomic and versatile wheel guns on the market. The GP100 line of concealed carry revolvers represents Ruger's special ability to modernize classic concealed carry revolvers. They offer these handguns in a pretty remarkable array of configurations and options, so there's bound to be one that's right for you. While most of these models are large and not ideal for use as a CCW, I've seen a few guys conceal some of their smaller models. The guy I knew who carried one of these used to carry with a Fobus standard paddle holster, and it seemed to be a solid choice.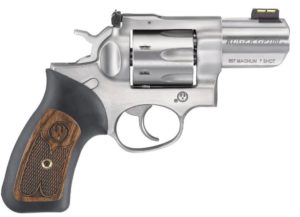 • Model: Ruger GP100 (1774)
• Caliber: .357 Mag
• Capacity: 7 Rounds
• Barrel Length: 2.5"
• Overall Length: 8"
• Weight: 36 oz. (unloaded)
• Sights: Fiber-Optic Front, Adjustable Rear
• Finish: Stainless Steel
• MSRP: $899
Taurus Revolvers
Taurus Judge
Taurus Firearms is slowly but surely taking the firearms industry by storm with their ultra-affordable, dependable, and overall impressive handguns. I've been a fan of Taurus for a while now and I even used my Taurus Millennium G2 as my primary CCW for a few years. Nevertheless, the Judge Public Defender is an award-winning revolver worth considering for your EDC. These nifty little small frame concealed carry revolvers might just revolutionize the market for concealable wheel guns. Taurus integrated several high-strength materials, kept the intensely powerful firepower, and managed to shrink it down to a tiny pocket revolver. Lastly, do yourself a favor and check out the Pro Carry Belt Ride Ranch Series holster, it's a pretty sweet way to carry the Public Defender.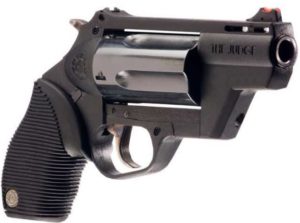 Model: Taurus Judge Public Defender
Caliber: .45 Long Colt / 410 GA
Capacity: 5 Rounds
Barrel Length: 2"
Overall Length: 9"
Weight: 26 oz. (unloaded)
Sights: Fiber-Optic
Finish: Blued
MSRP: $363
Colt Revolvers
Colt Cobra
I was so excited to hear when Colt announced they were bringing back the iconic Cobra revolver. There are few wheel guns in this list which offer as much as a CCW quite like the Cobra. These .38 Special handguns are small, remarkably ergonomic, easy to shoot, and provide users with a sweet variety of premium features. In addition to their crazy comfortable grips, the Cobra also packs the excellent LL2 trigger system and is crafted from highly-durable steel. If you're gonna carry the Colt revolver, there are few holsters better than the Crossbreed Snapslide OWB model. These affordable holsters are comfortable and provide users with an intuitive EDC setup that is worth every penny for your concealed carry revolvers.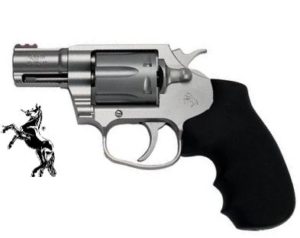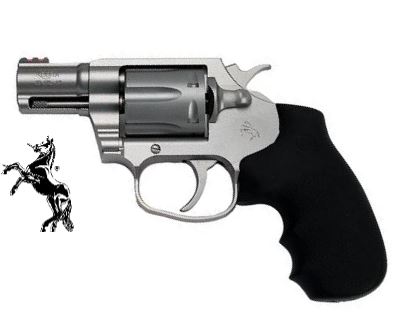 • Model: Colt Cobra
• Caliber: .38 Special +P
• Capacity: 6 Rounds
• Barrel Length: 2"
• Overall Length: 7.2"
• Weight: 25 oz. (unloaded)
• Sights: Fiber-Optic Front, Frame Trench Rear
• Finish: Stainless Steel Matte
• MSRP: $699
Conclusion
At the end of the day, we can now see that revolvers are no longer a firearm of the past. There are plenty of excellent choices for people to arm themselves with for everyday carry. Between S&W, Ruger, Colt, and Taurus, there's no reason to think wheel guns are making a comeback.
We hope you enjoyed this Gunivore exclusive – Stay tuned for more in-depth reviews of the market's top guns and ammo!