Table of Contents
When it comes to weapon modifications, there's a wide selection of different mods and different brands available to you and deciding which works best for your setup and budget can be somewhat of a challenge. However, doing adequate research is imperative if you want a serious setup and would like to get your money's worth. With regards to laser sights in general, there are a lot of different variables for us to consider when selecting the best option.
For example. are you using your weapon largely for defense purposes, or do you simply want to use it for sport (hunting)? Will you be using it during the day or night? Buying weapons mods on the internet or in real-life can be troublesome if you don't know what you're looking for. To make your life easier, we've selected our picks for the top 5 laser sights for a variety of different weapons, settings, and uses.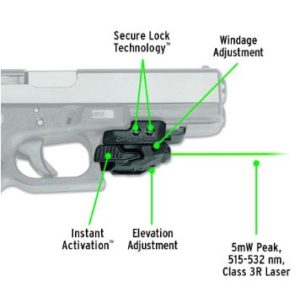 You can't discuss laser sights without acknowledging Crimson Trace and the CMR-203. This masterpiece is arguably the best laser sight on the market, made by the top-rated laser sight manufacturer in the industry. For starters, the CMR is as universal as they come and can be seen on millions of pistols, rifles, carbines, and shotgun around the world. Although the Crimson Trace has a decently high price tag, most users agree that it's well worth the money. These sights simply won't let you down. Few sights can offer the impeccable accuracy, performance, durability, and compact size that the CMR does. Additionally, they gave their highly-rated sight user-friendly ambidextrous controls, easy installation, and three different modes of operation. Although the battery life isn't very long, it's understandable once you learn that the Crimson Trace sight offers the brightest laser beam allowed by U.S. law.
Conclusion
I hope that this short list has helped to give you a better idea of what you can expect to find on the market as well as giving you an idea of the kind of retail-grade laser sights that may be applicable to you and your needs. Most of us want a laser sight for hunting or general home protection – so you don't always have to spend a small fortune on military-grade equipment. However, when it comes to more advanced or tactical uses, spending a good deal of money on trusty and reliable sight can do wonders for your shooting by improving accuracy and reducing collateral damage at the same time. If you don't have time to line up your sights, a laser sight can really work wonders in ensuring you hit the mark regardless of the weapon you're using.
We hope you enjoyed this Gunivore review – Stay tuned for more of our favorite firearm accessories!