Table of Contents
CMMG Inc. is one of the best companies in the gun business you haven't heard of. That being said, the Missouri-based weapons developer is slowly getting on the map as a premier manufacturer of rifles, conversion kits, and tactical accessories. In fact, up and coming enterprise was one of the surprise favorites at SHOT Show with their new Mk4 Precision Rifle in .224 Valkyrie and 9mm Guard AR-15. We wanted to take a closer look at CMMG and get to know them a little better.
CMMG History & Development
CMMG Inc. has been producing rifle parts and manufacturing their own proprietary AR-15's since 2002 but have been only recently getting the serious attention. In true innovative style, CMMG was established when the Overstreet family decided the market didn't have sufficient affordable AR-style rifles. As a result, Stephanie, Jeff, John, and Gretchen decided enough was enough. While they were relatively inexperienced, John and Jeff had already been selling firearms and accessories for a few years at different gun shows and expos across the country. At this point, the Overstreets still had regular day jobs and only traded guns on the side, that is until their enterprise became more lucrative than their 9-5 jobs.
Eventually, the family launched CMMG and continued selling products from rifle makers like FN Herstal and DPMS Arms. However, it didn't take very long for the Overstreets to hire a team of engineers and begin crafting their own brand of rifles and accessories. What's really interesting is that the up-and-coming company is dedicated to their hands-on approach that they manufacture all of the components that go into their AR-15s.
Similarly, the team at CMMG is willing and able to work with customers with all kinds of firearm-related issues. For instance, the Missouri family have helped countless people file the proper paperwork once they began marketing NFA compliant rifles.
CMMG Conversion Kits
CMMG is most famous for their remarkable conversion kits, more specifically for converting AR-15's to chamber 22LR. While many people wonder why somebody would ever want to do such a thing, there are plenty of logical reasons to opt for the less-expensive and easier to manage .22 cartridge. It makes even more sense when you consider that their whole purpose for getting into the business in the first place was to provide more affordable shooting experiences.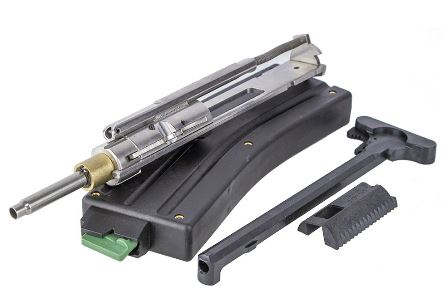 These simple kits also allow AR-15 owners to easily switch from 5.56 NATO or .223 Rem to .22LR without needing a gunsmith. To sweeten the deal, they offer a 25-round mag with every conversion kit to start you off right. Likewise, they only use top-grade American-made parts and even take full responsibility in the event there are any issues with your product. Nevertheless, don't expect there to be any problems; CMMG adds a nitriding finish to many of their products to ensure durability and longevity.
CMMG Uppers & Lowers
In addition to complete rifles, CMMG also produces some excellent uppers and lowers in a variety of calibers. While many of these were less affordable than I expected, they are still decently high-quality and well-worth their price tags. However, it's their abundance of options which really gets me excited. For starters, CMMG has lowers with all kinds of grips and stocks for both rifles and pistol-caliber carbines.
Next, expect your jaw to drop when checking out their selection of uppers. In addition to their wide-variety of barrel lengths ranging from 8.5" to 24", CMMG manufactures uppers for tons of different calibers. Besides for the obvious cartridges like 5.56 NATO, 9mm, 7.62×39, and 22LR, they also produce uppers for 308 Win, 224 Valkyrie, 22 Nosler, 300 BLK, 45 ACP, 458 SOCOM, and 6.5 Creedmoor.
CMMG Rifles
So, this is where it gets complicated. Although CMMG claims to be committed to providing affordable AR-15 options, their catalog doesn't seem to corroborate that. In point of fact, they market their rifles from anywhere between $850 – $2,300; where's the affordability in that? Now I wasn't expecting Hi-Point prices but c'mon, $850 for their cheapest model? That's up there with award-winning rifles from reputable companies like the Ruger MPR, S&W M&P Sport, and the Springfield Saint. Oh, and I forgot to mention they add an additional $100 for the Cerakote finish.
I'm not saying these aren't great guns, I'm simply bothered by the fact that they claim to be providing affordable products when there are significantly better opportunities out there. Once I'm going to spend over $1,500 on a rifle, I'm gonna go with a sure thing like Alexander Arms, Bushmaster, Daniel Defense, or Sig Sauer.
CMMG Inc.'s cheapest rifle, the Mk4LE is a great looking gun and offers decent performance, but it's nothing to write home about. While many seem to be interested in their .22LR variant, they do make the Mk4LE in 5.56mm, 300AAC BLK, and 9mm.
Model: Mk4LE
Caliber: 22LR
Capacity: 25
Barrel Length: 16"
Overall Length: 32" (Collapsed Stock)
Weight: 6.2 lbs. (Unloaded)
Sights: "F" Marked Front, MBUS Rear
Finish: Cerakote
MSRP: $850
While the Mk4LE is their cheapest, the Mk47 Mutant is probably the most famous rifle in their arsenal. CMMG was spot-on when they coined Mk47 the "mutant", considering it features designs from a variety of different rifles. For starters, the Missouri-based gunmaker went with an AR-15-style pistol grip, trigger group, and buffer tube but threw in an AR-10-style bolt carrier and gave it AK-47-styl mags. These unusual rifles chamber the high-powered 7.62 cartridge, which is probably why they opted for AK-style magazines.
Model: Mk47 Mutant
Caliber: 7.62x39mm
Capacity: 30
Barrel Length: 13"
Overall Length: 32" (Collapsed Stock)
Weight: 7.4 lbs. (Unloaded)
Sights: N/A
Finish: Cerakote
MSRP: $1,750
While they have plenty of attractive rifles, none are as talked about as much as the Mk4 DTR2 chambered in .224 Valkyrie. They designed this powerful firearm to be their premier long-range accuracy and high-energy performance rifle. To up the ante, they added several premium features including a salt bath nitrided barrel, the Geissele SSA trigger, and 7075-T6 aluminum forged receivers. Nevertheless, I was disappointed to see that they only gave the Mk4 a 1:7 twist, but that's easy to overlook.
Model: Mk4 DTR2
Caliber: .224 Valkyrie
Capacity: 10
Barrel Length: 24"
Overall Length: 44.5"
Weight: 9.2 lbs. (Unloaded)
Sights: N/A
Finish: Cerakote
MSRP: $1,700
Conclusion
At the end of the day, I was quite disappointed with CMMG. While I such high hopes going in, I can't help but get caught up in their claim to be affordable when their products have such non-competitive prices. Nevertheless, CMMG rifles, accessories, and conversion kits are all very solid products.
We hope you enjoyed this Gunivore Company Overview!