The AR-15/M16 design is so popular, that it spawned a veritable army of accessories and add-ons. Ironically, this is the firearm that the United States military rejected repeatedly for development. Luckily, Colt caught on, bought the manufacturing and marketing license from Armalite in the 1960's, and the rest is history.
It is my contention that there are no useless accessories, only practical and impractical ones. And because an accessory's function and practicality varies from person to person, and from one situation to the next, it is impossible to accurately judge accessories. What we can do, however, is see which ones are selling. By seeing which ones are popular, we can zero in on those which stand out from the rest.
So hold on tight to your custom grips, and let your trigger finger twitch in delight, as we go through the AR-15 / M16 best selling accessories out there.
1 – Non-slip Recoil Rubber Buttpad, by Tiger Rock Inc.
Getting into position and getting that first shot out quickly. This is what any and all encounters are about, and it is certainly the case with close quarter battle (CQB).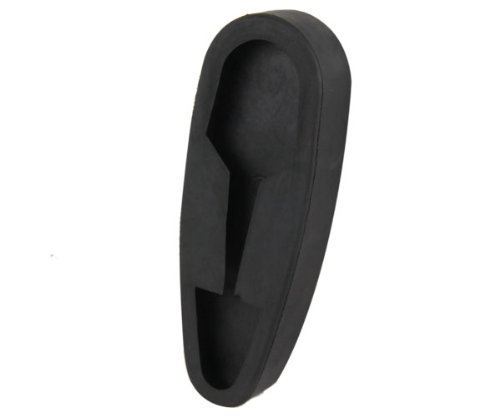 Getting the first shot out is one thing, and firing accurate follow-up shots is another. The thing which makes the most difference? Recoil. It can throw you off whether you are wearing a tee-shirt or full armor. Depending on your position, and your expertise, the M16's recoil can mess-up the next shots, and that can be crucial.
For this reason, the recoil pad was invented. This pad slips onto the butt of your AR-15 or M16, and it reduces the weapon's recoil significantly, while providing the shooter with better control of the firearm. In other words, it gives you a great chance at getting more accurate follow-up shots.
This pad fits the AR-15 model like a glove, and grips the buttstock tightly. No screws, no glue, no mess. It slips on and stays on.
2 – 43-Inch AR15/M4 Tactical Rifle Case, by Uncle Mike's Law Enforcement
This one is mainly for all you civilian carriers and airsoft enthusiasts. It is a best seller, alright. When coming to and from the range (or airsoft-battlefield), many people choose a case over openly carrying a semi-automatic assault rifle. Understandably, there are some places and certain scenarios, in which attracting that kind of attention to yourself is not at all wanted.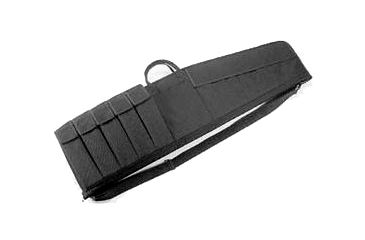 This case is the answer. Made with dense 600 denier woven fabric, padded, roomy, and double-stitched. It has enough storage for an AR-15 with scope (YMMV). It also has a zippered pouch for accessories and 5 pouches for extra magazines. There is even a center pocket for quicker access.
This case usually costs $30 or less, and for that price you are getting a quality item. This is why it has become a best-seller. It is practical and affordable, and that is a great combination. Those with larger scopes may find it does not fit their AR-15, so be sure to take that into account.
3 – X7 Action Bipod Handle, by Tippman
This is a sturdy grip which doubles as a bipod. It is made of plastic, but feels like good quality plastics went into molding and manufacturing this accessory. The spring-loaded bipod legs are deployed by pressing a button at the top of the grip, and they fold back in easily and conveniently.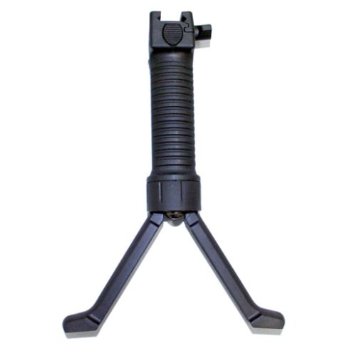 It is steady and holds its own, and for ~$10 (the average price), you can't beat it. Are there better bipod grips out there? Yes, but there is a reason why this one is a best-seller. If it was only cheap, it wouldn't be on this list.
The most important part of any weapon accessory is that it serves its purpose, first and foremost. In other words, it needs to serve the weapon which it is adorning. The Tippman bipod grip does that, and more. The bipod is perfect for longer ranges, and short-range encounters (50-75 yards) can be handled swiftly with the fore grip. The grip's surface is durable and it can handle some abuse. Not too much, though. Some shooters have said that it is a little too fragile for their tastes. A matter of personal opinion.
This bipod handle is a great upgrade, and it comes at a very affordable price. It is a very straightforward accessory, simple and useful, whose handle attaches to standard picatinny rails. Stay on target, improve accuracy, and be prepared for a wider variety of situations with Tippman's bipod.
4 – Red Laser Cartridge Bore Sight, by GRG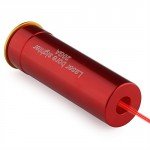 This small, but very useful, device helps a shooter set the M16's sights and scopes correctly. The laser is inserted into the barrel of the weapon, like a regular cartridge. It then shines through the bore, and allows the shooter to set the scope by aligning the sights with the point that the laser strikes.
There is a major difference between bullets and lasers, though. The laser isn't affected by the laws of physics in the same way as a bullet is, so it may not be perfectly accurate. However, it does provide a good starting point, and it can help zero a scope without wasting valuable ammunition.
This brass-coated laser runs on 3 AG3 batteries (included, but they will last about 4.5 minutes). It is useful for hunters, competitive shooters, law enforcement / military personnel, and other shooters. It is made of quality aluminum, and – providing you don't abuse it beyond repair – it is pretty durable. If cared for, it can last a long time.
5 – Front and Rear 45 Degree Rapid Transition BUIS, by Black Ops Tactical
Most AR-15 / M16 owners, whether civilian or military, take advantage of the wide range of optics which are available for this rifle. These provide the best kind of performance at longer ranges, bar none. However, it is always recommended to have back-up sights. First of all, there is no telling when an optic device will fail or become damaged, and secondly – iron sights can actually be more effective for close-range encounters.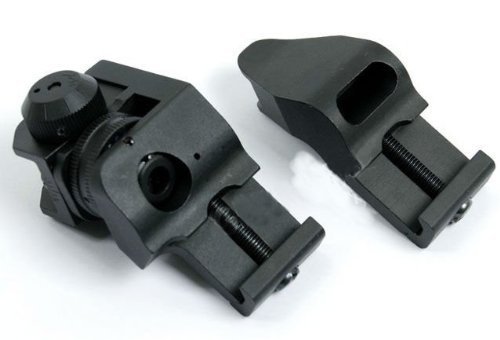 But, there are several disadvantages to this configuration. First, attaching an optical sight to your rifle has the potential to actually prevent the use of iron sights. Second, the way the optic is set up could cause the sights to cast a "shadow" on the image, or otherwise obstruct the clarity and integrity of the image. Thirdly – even those who have no problems with optics and backups, may find it difficult to transition from one to the other.
Black Ops Tactical's rapid transition sights (RTS) were created with those disadvantages in mind. These sights provide shooters with the quickest possible transition between long- and short-range targets. This greatly increases the shooter's efficiency, whether in battle or in competition.
These sights can be mounted directly onto a weapon's picatinny rail, and they are offset from center by approximately 45 degrees. This offset position makes transitioning from optical to iron sights simply a matter of quickly shifting the weapon with your wrists and locking on to the target.
There's nothing quite like losing sight of your target due to unnecessary manual adjustments. It is one of the most annoying things to happen in competition, and one of the most dangerous things that can happen in combat.
With these sights, the hands stay in place. There is no cluttered field of vision, and nothing blocking your optical device. The iron backups are offset, waiting for the time when you will require them. Otherwise, they stay out of your way. Quickly transitioning between long- and short-range targets can mean the difference between winning and losing an event in competition. In combat or emergency situations, it can mean a whole lot more than that.
The AR-15 / M16 rifle's amount of available accessories is rivaled perhaps only by the Glock handgun. There are many items to choose from, and some are more important than others. Remember that accessories are meant to serve both the weapon and the shooter.
These are only a few examples of some of the best-selling accessories out there, but this list is far from complete. Because even though this is a top five list, preferences vary from person to person. Accessories are all about making your rifle your own. Cultivating a closer and more personal relationship with your rifle, through accessorizing, can make you train better and harder, in order to become the best shooter you can be.