Table of Contents
The Remington Model 597, chambered in .22 Long Rifle is one of the most accessible semi-automatic rifles out there. The ammo is relatively cheap easy to get hold of. Even during the recent "ammo scare" years, .22LR was always around. This is an inexpensive option which appeals to many shooters. Let's take a closer look at some of the 597's technical specs.

Remington Model 597 Specifications
Caliber – .22 Long Rifle.
Action – Semi-Automatic Rimfire.
Length – 40 Inches.
Barrel length – 20 Inches.
Weight – 5½ lbs.
Stock – Synthetic.
Sights – Iron Sights.
Capacity – 10 Rounds.
Finish – Matte.
Introduced – 1997.
MSRP – $213.
Remington Model 597 Build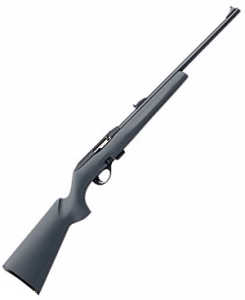 The thing which you notice first of all about the build of this firearm, is that it utilizes two guide rails as opposed to one. This already puts it a bit above the rest, and provides extra stability and reliability. The bolt, hammer, and trigger sear are all plated with nickel-Teflon.
The receivers are already tapped and drilled for mounts, and there is the option to "hold open" after the last shot has been fired, for quicker reloads. Everything about this gun is ergonomically pleasing. Or it was to me, anyway. It is relatively light, it doesn't snag or catch on anything, and it has a nice full length to it. My shoulder had no trouble welcoming the 597, but if you do have some kind of issue, remember that pads are your friend, whether in the field or at the range.
The barrel is half of the rifle's length, which pretty much guarantees you will be able to become a great shot with time and practice. The 597 is designed primarily for plinking and for hunting smaller game, but it just as well work for self-defense. I know there are some people who feel that a .22LR is not a proper self-defense cartridge, but I feel it is adequate. It has a quality safety, a fun trigger, and is generally very user-friendly.
Remington Model 597 Shooting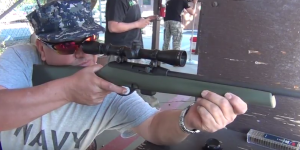 Everything about this rifle has a Remington smoothness to it. This was true even straight out of the box. Is that something major? No, but it is always a nice bonus to see that those at the factory are doing their best. The trigger is easy to pull and work with, and there is a great amount of tension going on there. The bolt catch is large, but not too large. You can see just fine, and find the bolt when you need to without it getting in the way of your firing. Shooting this thing is a breeze, and the recoil is barely even there with the .22 LR's low-grain ammo. It is the kind of rifle I could spend all day shooting. I just hate setting up the targets…
Remington Model 597 Magazines and Sights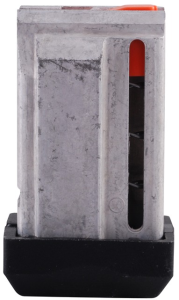 The 597's small, 10-round magazine uses a staggered stack formation, which makes it easy to load and easy to handle overall. The standard is 10, but 30-round magazines are also available. Note: it is best to avoid loading either magazine to capacity. They can cause jams, so make sure you go for 9 rounds / 25 rounds when you load them. That seems to be a fairly good spot, and it still offers the shooter a lot of firepower. The standard 10-round mag sits nicely, though not exactly flush, and the mag release works great. Again, very smooth. The 30-round banana style magazine is also pretty compact, and it doesn't get in the way of anything.
At this time, there are three models of 597 in the Remington catalog: Synthetic, HB (heavy barrel), and Pink Camo. In the 20 years since it was introduced, there were a few 597 versions were released and then discontinued. There are many of them out there, and a lot of them come with a scope already installed. Others come with iron sights. Some don't have either.
Remington Model 597 Safety and Assembly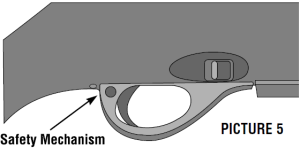 The Model 597 has a cross-bolt safety which is easy enough to maneuver. It is located at the back of the trigger guard, and can even fit some lefties because of its location. After taking our two small screws, the rifle breaks down into two: receivers, action, and barrel (along with any scope you have mounted) come off in one piece, leaving the synthetic stock as the second main piece of the rifle. Cleaning it can be a bit of a pain, but as far as assembly goes, it is pretty easy.
Remington 597 vs. Ruger 10/22
The Remington 597 gets compared a lot to two rifles: the Ruger 10/22 and the Marlin 60. Three of those are chambered in .22LR, but let's focus on the 10/22 for now. Here is a general specs breakdown:
| | | |
| --- | --- | --- |
| | Remington 597 | Ruger 10/22 |
| Caliber | .22LR | .22LR |
| Action | semi-automatic rimfire | semi-automatic rimfire |
| Length | 40 inches | 34 inches |
| Barrel Length | 20 inches | 18.5 inches |
| Weight | 5½ lbs | 5 lbs |
| Sights | 3×9 scope | bead |
| Capacity | 10 rounds | 10 rounds |
| Introduced | 1997 | 1962 |
| Price (MSRP) | $213 | $309 |
Both of these rifles are dedicated and accurate. Both of them are magazine-fed. Both are drilled and tapped. The safety mechanism and magazine release are located in different areas, but both of them work just fine, and are easily accessible. The Remington 597 is easier to load than the Ruger 10/22, but those are things which also become easier through experience. Muscle memory is a great thing, and you find your body acting of its own accord. I guess that is when you know you are making some progress.

Another difference it that the 597 has a "last shot hold open" function, which the 10/22 does not. In conclusion – I feel that right out of the box, the Ruger has a slight advantage. There are less things that can go wrong with it. However, after some breaking-in and perhaps some light modifying, the Remington 597 has a advantage over the Ruger. Also, lest we forget that the 597 is significantly less expensive, and that some models supply you with a pre-mounted scope and two magazines. That's a lot of value for $200, even if the scope is not the best (spoiler alert: it isn't the best).
Remington Model 597 Accessories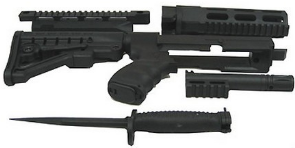 Speaking of the Ruger 10/22: add-ons, mods, and accessories for the Remington 597 are not as abundent as with other .22LR rifles (like the Ruger). First off, the 597 is younger in years, so it may not be as widely-known as other rifles. In other words, there is less chance of shops keeping stock specifically for the Remington 597. Regardless of this, some of the first few mods and accessories people get are:
Sling: Before anything. Sure, the 597 is only 5.5 lbs, but even that can become a nuisance after a while. Get yourself a proper sling, and see how much easier carrying the 597 gets. A good sling will also help you get into position quicker, and achieve a more secure stance.
Stock, Trigger, Extractor, and/or Hammer: These replacements are also a move which many make upon purchasing this rifle. The factory parts of the 597 are okay, but there are some great aftermarket products which are available.
If you plan on shooting your rifle a lot a lot, you need to be as ready and comfortable as you can be. You need to be able to rely on your firearm. You may choose to not replace a thing. It all depends on you and your intended use for this rifle.
Archangel Kit: This is a popular conversion kit which helps the 597 achieve the look and feel of an M4. I know, I know – "if you want an M4, get an M4". Yeah yeah. Nevertheless, it is one of the most attractive looks for the Remington 597. It comes with a 6-position buttstock, finger-grooved pistol grip with storage space, and the ability to freefloat the barrel. It provides quad picatinny rails, and is designed for comfort and superior control of your 597.
Conclusion
The 597 is a great rifle for beginners and veterans alike. The rifle itself is inexpensive, it is accurate and reliable, and its ammo is highly accessible. It feels great in your hands, and it is a real pleasure to fire. It is not the rifle of choice for everyone, and from the research I did it seems there is almost a "love it or leave it" kind of relationship going on with this firearm. Either way, I really enjoy this rifle, and I hope that newer, more advanced models of the 597 will be making their way to us.
Other than targets, plinking, and small game, the Remington 597 may not have a lot of other uses. Most people won't use it as a self-defense or home-defense option, but rather just a small/backup hunting rifle, or all around plinker. It is a bit too long for effective close quarter engagement, but obviously if that is what you have, just roll with it. The .22 LR is a well-known cartridge, with its share of benefits, and Remington's 597 is one of the most widely-used .22LR auto-loading rifles in the United States. Remington knew exactly what they were doing when they released this affordable, on-point, and altogether awesome rifle into the world.
Thanks for reading our Remington 597 feature – check out some of our other reviews on guns like the New Glock 17 & 19 Gen 5, 26, 30, SIG P228, and Kel-Tec KSG. It's all here at Gunivore!