In the small city of Plymouth, Minnesota, located just 15 miles west of downtown Minneapolis, lies the Real Avid headquarters. Real Avid is by no means your run-of-the-mill tool manufacturer; the small yet promising company can be defined by their unwavering dedication to God, community, excellence, and innovation.
Instead of relying on standard multi-tools, Real Avid offers gun owners mission-specific tools the get the job done. By combining convenience, durability, and ingenuity, the Minnesota company can safely guarantee you proven results. Although there isn't a whole lot of competition, Real Avid seems to be the most proficient in the business and shows no signs of slowing down any time soon. With that being said, let's take a closer look at their wide range of handy gun tools and accessories.

Real Avid Pistol Tool
Even at first glance, the Real Avid Pistol Tool is no ordinary multi-tool. I think what gave it away was the gunsmithing hex bits with ball detents which conveniently lock into the piece, but there's still so much more which make this tool special. In fact, with nearly 20 different tools, it's probably the ultimate pistol tool that is perfect for tweaking, accessorizing, fixing, adjusting, and disassembling your handguns. Oh, and as an added bonus, it also has a sweet 3" stainless steel Tanto knife, tap hammer surface, fine-tooth metal file, and 2.5" long bit driver.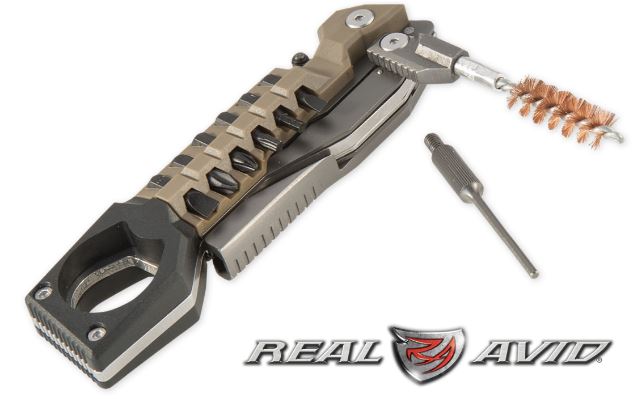 For even the trickiest fixes, the Pistol Tool features a variety of ultra-strong Allen wrenches (hex keys), which come in handy for adjusting pistol accessories. Additionally, this tool provides users with all you could need for disassembling and cleaning your favorite pistols. Besides for a 1911 barrel bushing wrench, it also packs a pin punch and a stainless steel scraper/pick. To top it all off, the pistol multi-tool even fits perfectly in most mag pouches, making transport and storage a breeze.

Real Avid AR-15 Carbon Boss Multi-Tool
The Real Avid AR-15 Carbon Boss Multi-Tool is probably their most popular product and reasonably so. This tool essentially transforms cleaning, disassembling, and perfecting your AR-15 from a burden to an experience. This highly-rated tool offers more than you could even imagine, especially considering its small and convenient size and shape.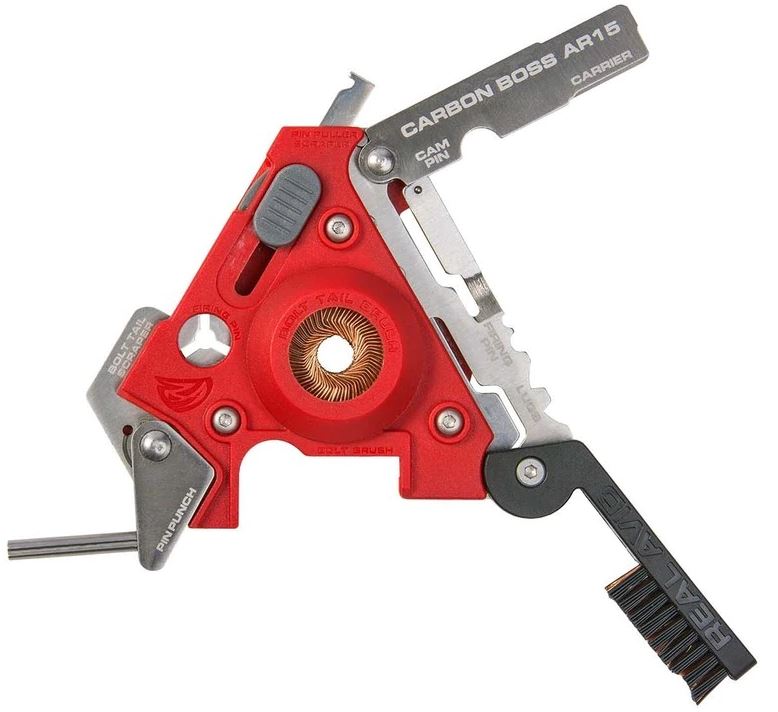 For starters, in a stroke of pure genius, they designed the center of the tool with a 360-degree phosphor bronze bolt tail brush. Similarly, the comprehensive tool features an extremely effective rotating cleaning SMART BRUSH with bronze phosphor and nylon to easily remove even the toughest carbon fouling. Additionally, they've made cleaning the bolt, bolt carrier, firing pin, and cam pin so much easier by adding stainless steel precision tools. While many people "forget" to clean these components, the Real Avid Carbon Boss Multi-Tool makes it easy and dare I say it, fun.
Furthermore, the Minnesota-based manufacturer added several tools to ensure quick and effortless disassembly. For example, they incorporated a specially cut retaining pin punch and a cotter pin puller, both of which are incredibly durable and easy to use.

Real Avid Bore Light
The Real Avid Magnetic Bore Light is the tool you probably thought you didn't need. While I agree it's not a necessity, it is such a nice, convenient, and affordable tool that can make your life that much easier. Unlike regular flashlights, the RA bore light has a 5" flexible neck and a high-strength magnetic body, providing users with hands-free maintenance. Additionally, it offers a remarkable 8 hours of non-stop run time, which is especially impressive considering its strong 15,000 McD brightness.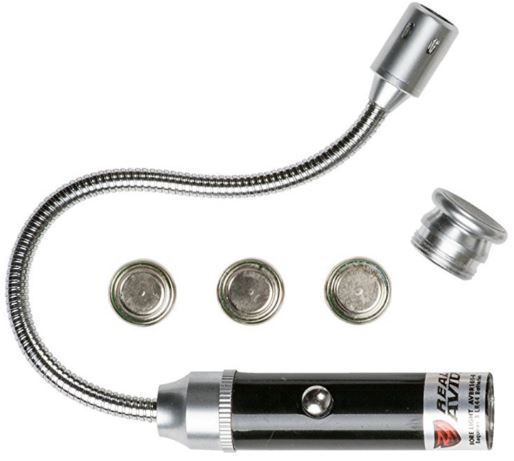 Real Avid Gun Tool Pro X
The Real Avid Gun Tool Pro-X is the 30-in-1 multi-tool that you should be putting on your wish list. The reason why this tool is special, even compared to the AR-15 Carbon Boss Multi-Tool and Pistol Tool, is that it's simply the ultimate multi-tool for any gun owner. Whether you need work on your shotgun, pistol, revolver, rifle, this tool has you covered. Plus, they threw on a 2.5" Raptor Claw utility knife for good measure.
The real standout feature of the Real Avid Gun Tool Pro X is its universal shotgun choke wrench which somehow works for basically any gauge shotgun ever. Furthermore, they added a removable magnetic LED light, scope turret tool, a tap hammer, two metal files, and a pin punch.
To take your gun maintenance to the next level, Real Avid incorporated over a dozen Torx®, Allen®, Phillips® and flat drivers and bits, plus an easy-to-manage bit driver. Lastly, don't forget that the Gun Tool Pro X also comes with a lanyard loop, ballistic nylon sheath, ¼" bit wrench, and the impeccable Real Avid reputation.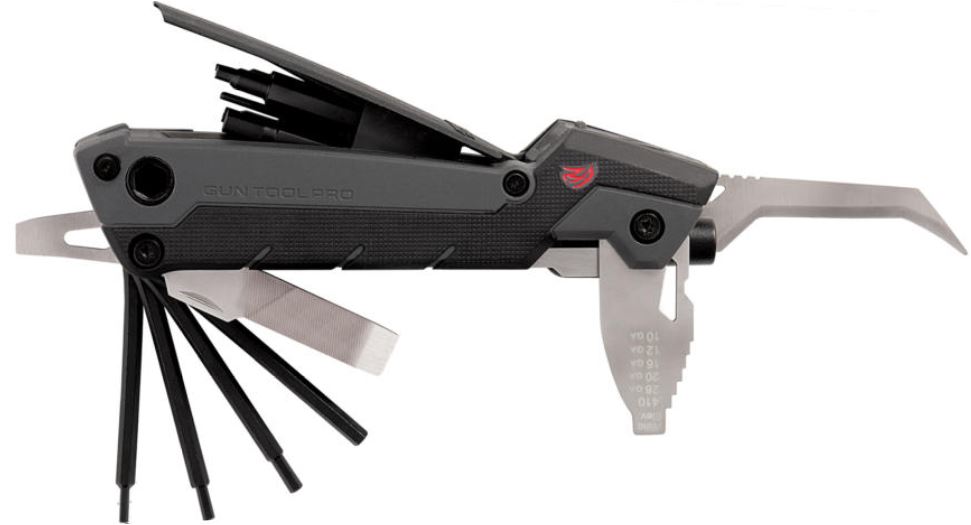 Smart Mat
Many people believe that a gun mat is just a gun mat, but the Real Avid Smart Mat is a refreshing take on the simple firearm accessory. It's about time you ditch that dish towel or old rag and upgrade to a product that is truly designed to handle your needs. In addition to its nice large size, the Smart Mat also has an attached parts tray (with a small magnetic section!) to keep all your spare parts and components close by yet of the way. Likewise, the mat effectively protects your work surface thanks to its oil-resistant surface. Whenever any liquid is dropped on the pad, it will bead up for an easy cleanup. Lastly, the Smart Mat was built with a non-slip material that actually grips onto your work area yet rolls up easily for compact storage and transport.
Conclusion
If you haven't heard of Real Avid before this, I hope you can now see why the budding company is garnering such impressive reviews and ratings. I highly recommend you check out these products, which by the way, make a great gift for your favorite firearm enthusiast. In addition to their site, you can find most of their tools on Amazon, Midway, Brownells, and Opticsplanet.
Thanks for joining us here at Gunivore!
You may also be interested in our picks for the Top 5 Pistol-Caliber Carbines