Table of Contents
Anderson Manufacturing is not the most popular AR-15 manufacturer, but they do have a pretty special collection worth checking out. I first heard about the Kentucky arms company back at SHOT Show, and I've kept my eyes on them ever since. At first glance, Anderson is yet another run-of-the-mill rifle producer, but I wanted to find out for myself. While they have a solid variety of firearms and accessories, most people know Anderson for their affordable AM15 rifle. After doing some research and getting my hands on some of their most popular products, I present you with the Gunivore comprehensive Anderson Manufacturing Review.
Anderson Manufacturing AM15 Optic Ready
The AM15 Optic Ready is Anderson Manufacturing's premier firearm, and it looked quite promising. The entry-level rifle kind of reminded me of the classic M16 thanks to the basic A2 plastic hand guard. Nevertheless, the rest of the rifle looked up to par with your average budget-friendly AR. Before even picking the AM15 up, I noticed that Anderson did a pretty solid job contouring the Optic Ready.
Gunivore Approved
Caliber: 5.56 NATO
Capacity: 30-Rounds
Barrel Length: 16"
Overall Length: 32 12" – 36 18"
Weight: 6.2 lbs.
Finish: Black Anodized
Rifle Twist: 1:8
MSRP: $616.95 – $816.95
The American-made AM15 Optic Ready Rifle was built to be affordable without compromising any durability, and so far, it seems as if they've done just that. The Kentucky-based manufacturer designed the Optic Ready Rifle with compromise but no sacrifice. This special balance culminates in a firearm that is an overall pleasant surprise.
What really makes Anderson's guns exceptional is their proprietary RF85 treatment. This award-winning process promises 23% faster action, firing with 85% less friction, and most importantly, it guarantees you never have to lube your gun. The RF treatment supposedly enables AM15 owners to clean their rifle with a quick soap and water wash.
Gunivore Approved
Caliber: 5.56 NATO
Capacity: 30-Rounds
Barrel Length: 7.5"
Overall Length: 24"
Weight: 4.9 lbs. (Unloaded)
Finish: Black Anodized
Rifle Twist: 1:7
MSRP: $758.70 – $958.70
The Anderson Manufacturing AM15 Pistol is the shortened version of their full-sized rifle and offers increased versatility and a major tactical advantage. Even though the pistol variant is more expensive than the standard model, it is equipped with some pretty impressive features and components. For starters, I'm a big fan of the Magpul pistol grip, Anderson Knight Stalker flash hider, and ambi sling mount. To give your AM15 an even bigger tactical boost, they threw on a practically full-length continuous top Picatinny rail, plus the bottom and sides were designed to accept accessory rails. Like the rifle, these pistols are surprisingly accurate and are fun to shoot.
AM15 Multi-Cal Lower
If you're looking to build your own AR, then you might want to consider an Anderson Manufacturing multi-cal lower receiver. Anderson markets a pretty sizable variety of above-average rifle parts and components that won't break the bank. For just about $50, the AM15 stripped lower receiver is compatible with all AR15 calibers and accepts ¾" and 1" grip screws. Similarly, these Mil-Spec lowers are stronger than you'd expect thanks to their 7075 T6 aluminum forged material and Type 3 hard anodized finish.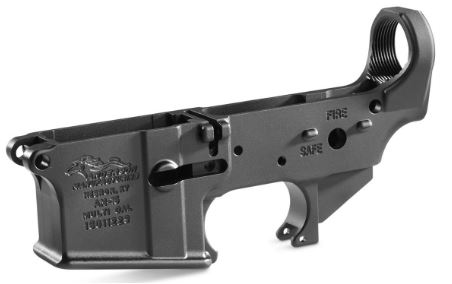 Conclusion
At the end of the day, I can safely say I was pleasantly surprised with Anderson Manufacturing and their AM15 Rifle. Plus, the Kentucky arms producer has a solid variety of good parts and components worth considering, especially if you're looking to build your own AR.
Thanks for joining us here at Gunivore!
You may also like our reviews on Palmetto State Armory & CMMG Inc.