Table of Contents
The Canik TP9 Series of semi-auto pistols is one of the most underrated handguns in the industry. These nifty little shooters are imported into the U.S. by Century Arms International from Turkey. Canik made big news this year at SHOT Show when they unveiled new variants of the TP9 in addition to a pretty sweet 9mm AK. Although people may think of the TP9 as a budget firearm, these pistols are actually beloved by military and law enforcement around the world.

Canik TP9 Specs

Model: TP9SF
Caliber: 9mm
Capacity: 18+1
Barrel Length: 4.46"
Overall Length: 7.5"
Height: 5.7"
Width: 1.4"
Weight: 1.8 lbs. (Unloaded)
Finish: Black Cerakote
Sights: 3-Dot Steel
MSRP: $399.99

Canik TP9 SF (Tan)

Canik TP9 Build
The Canik TP9 is straight up gorgeous. These full-size polymer frame pistols are built the way you'd expect from a gun twice the price. Between its contoured design, ergonomic grip system, and heavy-duty Cerakote finish, you ought to give the TP9 a try.
Starting with the TP9's overall design, it's hard not to love the elongated tactical trigger guard. Moving on, whether you opt for the DA/SA or SAO trigger, you're sure to love the smooth and speedy follow-up shots and intuitive feel. When I first saw the TP9 I couldn't help but notice the aggressive stippling on the Canik's grip system. To make their flagship firearm even better, they outfitted conveniently interchangeable backstraps to give shooters the personalized comfort and feel of a custom handgun.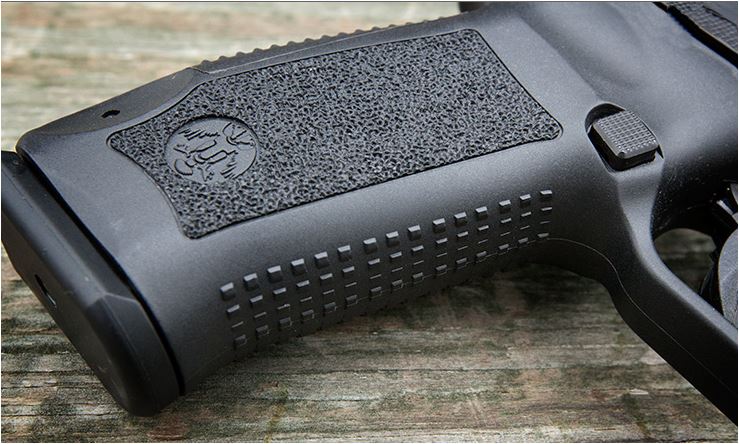 Nevertheless, sometimes it's what gets overlooked that is most impressive. Canik built their premier semi-auto to be field-stripped easily and safely. Furthermore, it's surprising to see a "budget gun" like this, outfitted with a cold-hammer-forged barrel, but the TP9 is full of surprises.
Many folks in the industry like to compare the TP9 to the Glock G17, which makes sense considering how similar they're designed. That being said, there are several features which lead me to prefer the Canik, especially when you consider its price tag. Lastly, although the TP9 was built with a three-slot accessory rail, I don't advise adding any attachments.
Canik TP9 Magazine
Believe it or not, the best part about the TP9 is its high-capacity, 18-round magazine. Oh, and did I mention that Canik ships each firearm with two mags and additional Mec-Gar mags retail for just $25. Furthermore, the TP9's texturized mag is easily reversible for left-hand use.
Canik TP9 Performance
After inspecting the Canik TP9 up close, I figured it would definitely perform and deliver outstanding results. After picking it up and loading a mag with Remington 115 grain JHP rounds, I really liked the feel of the 9mm semi-auto. Shooting the TP9 feels a lot like the G17 or even the Sig P320, yet still nothing to rave about. Overall, the recoil and muzzle rise are pretty standard for a 9mm and are relatively easy to get used to.
In terms of its accuracy, the TP9 was just okay, maybe even a little disappointing. Although the trigger was particularly solid (loved the reset!), I think it's the sight system which really detracts from the shooting experience. The 3-dot sights aren't properly aligned which is definitely annoying, albeit easily fixable. I also wasn't a huge fan of the height on the bore axis, but I wouldn't call it a deal breaker.
For a price-point firearm, it's hard not to be at least a little bit impressed by the TP9. While not truly ambidextrous, it's nice to see that they made a reversible mag release. Even still, the left-side-only slide release is surprisingly well-designed. Canik also threw on a loaded chamber indicator which is always nice. Lastly, there's really not much to complain about, especially when you consider how dependable these pistols really are. I've fired dozens of mags through a TP9 and interviewed several Canik-owners, and their reliability is downright flawless.

Canik TP9 SFX

Model: TP9SFX
Caliber: 9mm
Capacity: 20+1
Barrel Length: 5.2"
Overall Length: 8.27"
Height: 6.2″
Width: 1.37″
Weight: 1.83 lbs. (Unloaded)
Finish: Black Cerakote
Sights: Warren Tactical Sights
MSRP: $460

Canik TP9 SFX

Conclusion
At the end of the day, the Canik TP9 is worth looking into. For a pistol that rivals the Glock and closely resembles the Sig P320, yet markets for under $400, the TP9 is a smart buy. This isn't the gun that I'd use for my EDC or for home-defense, but as a backup or truck gun, it's more than capable.
You may also be interested in our Diamondback DB9 & SCCY CPX Reviews