Table of Contents
In 2015, the world famous Trijicon, Inc. decided to release another installment in its series of reflex sights – the Miniature Rifle Optic, or MRO. Reflex (also known as reflector) sights are non-magnifying optical accessories for rifles, carbines, and shotguns.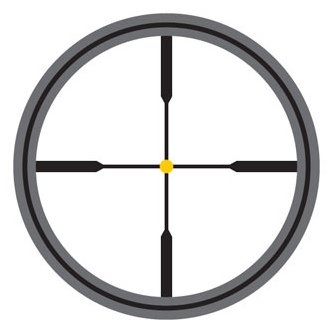 Reflex sights consist of an aiming point (a reticle of some kind) which is placed between reflecting pieces of glass. These sights have been around since the early 20th century, though they have undergone many significant changes throughout the years, as the technology advanced. Essentially, they allow the shooter to focus on the target, without the need to align one sight with the other, as is the case with iron sights.
Trijicon's MRO is a sealed miniature 1×25 reflex sight, intended for rapid target acquisition. The optic's large aperture maximizes the viewing area, and instead of seeing a small piece of the puzzle, you get a nice full, clear, bright view. All that is left is to take the shot.
Specs of Trijicon MRO-C
Let's take a look at some of the MRO's specs. There are several different versions of this series– 4 altogether – and there are different Trijicon MRO mount options (or lack thereof). We will be inspecting the MRO-C-2200003, which is a standalone sight without a mount.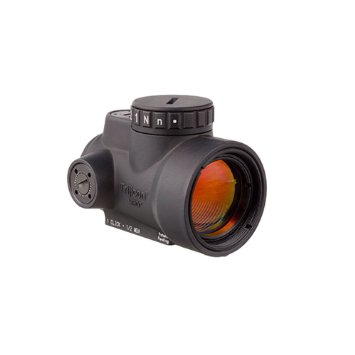 Magnification – 1x
Objective lens – 25mm
Length – 2.6 inches
Illumination – battery-powered Light Emitting Diode (LED)
Housing – 7075-T6 forged aluminum
Weight – 4.1 oz. (with battery, but without mount)
Reticle pattern – dot
Reticle color – red
Eye relief – infinite
Batteries – single CR2032 lithium battery (included)
Battery life – 5 years of continuous use at setting 5 out of 8 (Note: high and low temperature may potentially affect the battery's lifespan.)
According to Trijicon's website, this sight is especially designed for use from non-standard shooting positions. Unlike certain scopes, the eye relief on the MRO is infinite, which opens up a world of possibilities when it comes to shooting positions. There is also no parallax to compensate for, and nothing else to throw you off. The reflex sight allows you to concentrate on the target at hand.
The brightness settings are definitely something which caught our attention, and are worth mentioning. There is a total of 8 settings of brightness on the MRO: 2 night vision settings, 5 day settings, and 1 super-bright setting, for intensively sunny days.
On the MRO, there is an ambidextrous brightness dial, which allows the shooter to transition quickly between the various settings. The adjusters on the MRO are surface-flush, which basically means there will be no snag or drag when you are moving through brush or similar terrain, and no sudden loss of zero due to inadvertent dial movement.
The lenses on the MRO are highly advanced, and are multi-coated for maximum light-gathering capabilities, providing zero distortion and a clear red dot. The optic itself is fully sealed, waterproof to 100 feet, and forged in hard anodized aluminum. What more could you possibly ask from a reflex sight?
Pros and Cons: My Trijicon MRO Review
The price of the Trijicon MRO varies by model. The MRO-C-2200003 does not include any kind of mount, so it is cheaper than the others. The price for the MRO (all models) is $579 – $639. These numbers are from the Trijicon website, but on other optics websites (or sites such as Amazon) you can find them for as low as $453 (for the mount-less C-2200003 model).
The MRO is designed to be used with both of the shooter's eyes open, which maximizes the field of view without compromising safety and situational awareness.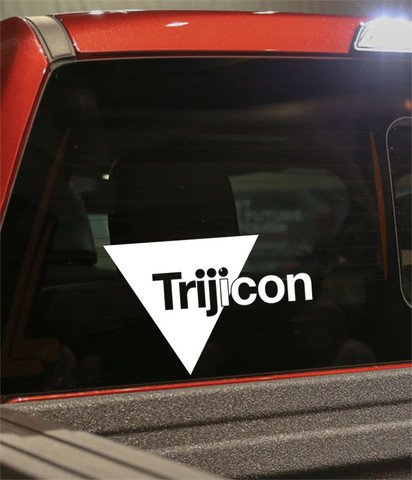 The MRO-C-2200003 comes in a package which includes:
1 Trijicon Logo Sticker
1 Lens Cloth
1 MRO User Manual
1 Warranty Card
1 Trijicon MRO Mount Guide
The warranty on the Trijicon MRO is like that of any other high-quality Trijicon optical accessory – a limited lifetime warranty on defects in materials and craftsmanship, and a 5-year guarantee on the electronics. The warranty will cover electronics for 5 years from date of original manufacture.
Trijicon is a well-known and trusted name thanks to its famous ACOG system, as well as the fellow fixed and variable optic (VCOG) system.
This mini-sight certainly has a lot going for it. There are many pros on its list. One definite con, though, is that while the MRO come with a lens cloth – which is a nice touch, I'll admit – it does not come with any kind of cap or flip-up cover. It would have made the deal so much sweeter, if some kind of cover would have been provided, along with the cloth.
This sight can be used in conjunction with magnifiers, just like others types of reflex sights. The other three versions of the Trijicon MRO come with mounts which differ by height. When selecting a magnifier, be sure that it is compatible, and then configure it so the magnifier and the MRO are properly aligned. This will provide the shooter with the best possible performance of both apparatuses.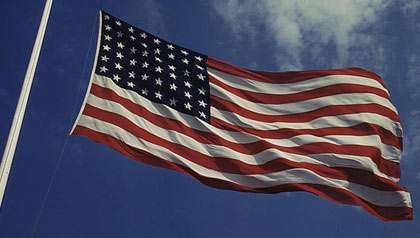 The Trijicon MRO is the latest in Trijicon's line of revolutionary reflex sights. It was preceded by the Trijicon Reflex (1996), the Trijicon Ruggedized Miniature Reflex (RMR, 2009), and the Trijicon Sealed Reflex Sight (SRS, 2012).
The MRO is made in the U.S., and it is definitely one of the finest reflex sights on the market today. If you find yourself in need of a sight intended for fairly short ranges, do not hesitate at all. Do the proper research, and zero in on your wants and needs. These sights are expensive (and rightly so!), so don't rush into anything. If you see that the MRO fits the bill, then just go for it. You will not be disappointed.