Table of Contents
The future is an amazing thing, and lucky us – we get to watch it unfold! This day and age, with its mind-blowing technological advances, enables us to boldly go where no man has gone before – quite literally. Every day, better, faster, and stronger materials are being experimented with and worked on. This is going on in many fields and industries – not the least of which is the firearms industry. And in recent years, PROOF Research has pretty much solidified its place as a serious innovator and manufacturer of firearms.
It could very well be that the future will be filled with laser-shooting blasters a-la Star Wars. I mean, let's face it – hokey religions and ancient weapons are no match for a good blaster at your side. Han spoke the truth. But for now, firearms manufacturers are still working primarily with metals, plastics, a variety of chemicals, and the physical laws of thermodynamics.

Incidentally, I don't think I will go see Episode IX in the cinema when it comes out. It pains me to say it, truly it does, but I'm afraid it has come to this. *swallows sadness*

Okay. Let's move on.

PROOF Research
This company was first established in Whitefish, Montana in 2011. Later on, it moved closer to the nearby city of Columbia Falls, where its headquarters can be found today. They also have a composite manufacturing facility is Dayton, Ohio, where their resin/polymer materials are formulated. Currently, the company employs close to 100 people.

PROOF deals with space-age tech and aircraft-grade materials, not unlike Christensen Arms (which was established by mechanical engineer Dr. Roland Christensen). Just like the good doctor's company, PROOF started off as an aerospace equipment & gear manufacturer and then branched out to producing barrels and complete systems.

Founded by KK Jense and Michael Degerness (of Jense Precision and Advanced Barrel Systems, respectively), this company was established with the primary goal of creating the world's most precise rifles. The duo had worked for some time in the field of precision rifles, and they felt they could bring something unique to the industry. To set a new standard, or several ones for that matter.

PROOF Research Barrel
"Thermo mechanical design principles and state of the art manufacturing" – this is what sets PROOF apart from their competition. They have patented their carbon fiber-wrapping process, and even though they were not the first ones to work with carbon fiber, they certainly found a way to make it their own.

So no, carbon fiber composite barrels are not new, but the way PROOF Research is going about processing them is. Even though carbon fiber technology is a few decades old by now, PROOF has managed to develop a technique which contributes to quicker heat dissipation and prevents barrel warping to a great degree. The result? Some of the toughest barrels around.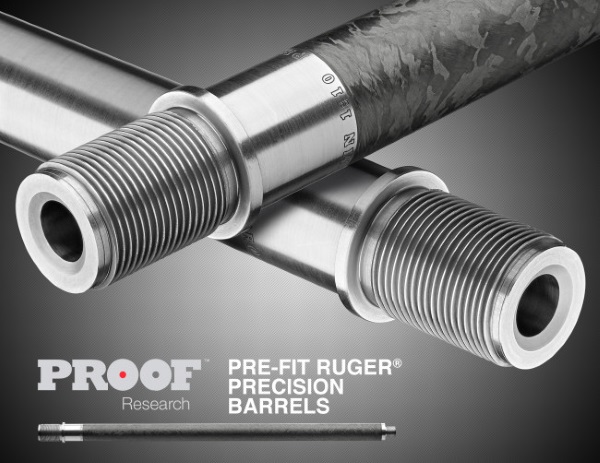 At one point, PROOF had a video showing two guys at an outdoor range. They fire a few rounds with a rifle, and remove the barrel. One of them bashes a cinder block to smithereens with it, and then – without a single cut or edit – they reattach the barrel and continue firing. The aim was a tad off, but the group was certainly there. Other than the slight accuracy issue – which is quite understandable given the circumstances – the rifle was still as precise as ever.
PROOF's barrels are more than just lightweight. Their composition allows them to be more accurate and more durable, and this translates into a better shooting experience overall. Of course, if you decide to conduct cinder block-style torture tests of your own in the backyard, there is no guarantee that the barrel will last as long as one which has not been abused.

The company offers quality barrels for AR platform rifles, bolt action rifles, Savage rifles, Ruger Precision rifles, and rifles manufactured by Accuracy International. Their MSRPs range from $375 for the bolt action stainless steel barrel, to $1100 for the Accuracy International carbon fiber barrel.
PROOF Research Rifles
PROOF cannot guarantee the accuracy of its standalone barrels, but it can guarantee the accuracy of complete rifle systems which had been assembled at their facilities by their techs. And that is precisely what the company is offering. Sub MOA accuracy – guaranteed.

This company offers four unique rifle systems, complete with stocks of Kevlar composite, custom-made actions, high-grade elements, and construction which is backed by the latest technological advancements and most up-to-date scientific achievements.


SUMMIT

True to its name, it is geared towards the high-altitude hunter
20"-26" carbon fiber barrel options
Large choice of chambers
Prices starting from $6,340
SWITCH

A multi-caliber system which allows quick barrel changes
Muzzle threaded for break or suppression
Add-on barrels in stainless steel or carbon fiber
Base price $3,999

TAC II

Tactical long-range system
20"-28" carbon fiber barrel options
Wide range of chambers
Starting at $7,190
TERMINUS

A hunter's rifle which is exceedingly light…
…but can withstand the kick of larger calibers
20"-28" barrels
Base price $6,490
There is a limited lifetime warranty on PROOF's barrels and rifles, and it covers the original owner who has registered ownership with the company.
Conclusion
As time goes on, technology will enable the world's brilliant engineers and great scientific minds to construct better and more effective weapons. However, no matter what is inside or out, it is the firearm's operator which makes it all come together.

You can have the finest carbon fiber rifle or a $300 ATI AR-15 made in the Philippines – eventually it is on you to take the shot. The shooter's experience and skill are those which determine the outcome, more than anything. Shot placement is paramount, and without it all these expensive knick-knacks amount to nothing but a rather heavy paperweight.

PROOF make some great firearms, and it is exciting to see where they will take their knowhow and expertise in the years to come. After all this time, we finally know the truth. Unlike the popular idiom, the proof is not in the pudding, after all. It's in Montana.