Table of Contents
The Trijicon TARS scope is the very definition of the word "badass". No, scratch that. You'd have to come up with a whole new word to let people know just how awesome this riflescope is.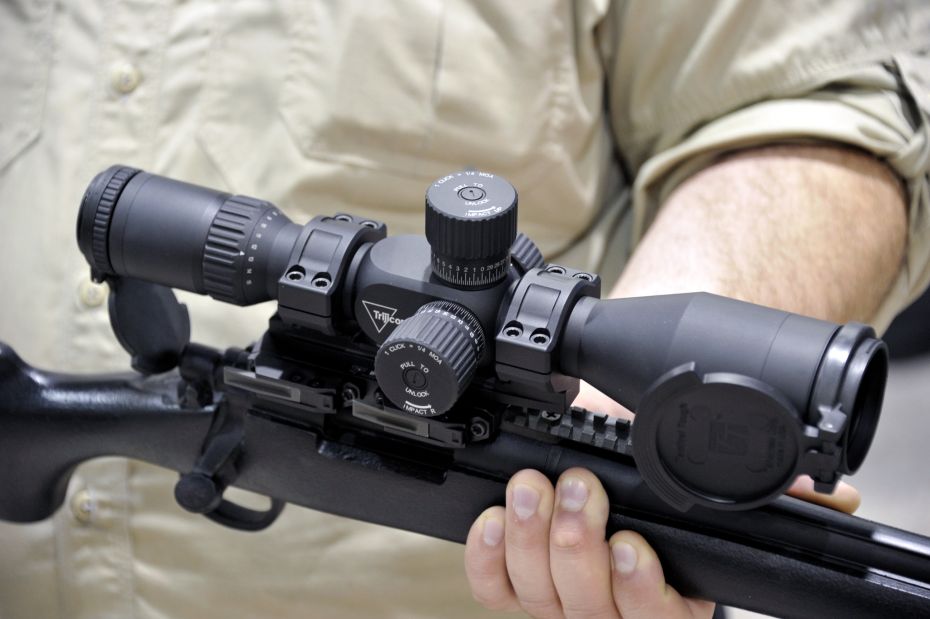 Trijicon has been making scopes for nearly 30 years. Whether it is for combat, competition, hunting, or any other type of close, mid, or long-range shooting – Trijicon has got you covered.
This scope, the Tactical Advanced RifleScope (TARS), was introduced in 2012 – and when it hit the market, it made quite an impact. This is a scope dedicated to the somewhat delicate art of precision long-range shooting, and even though it is designed for the civilian market, it remains military-style tough, in keeping with Trijicon's proud tradition of durability and fine craftsmanship.
Vital Stats about Trijicon TARS 101
Let's take a look at some of the TARS' technical specifications. The TARS comes in 4 different versions (2 MOA, 2 MIL), which differ by reticle pattern and adjustment range. For this technical overview, we will be talking about the TARS101 model.
Magnification – 3x-15x
Objective lens – 50mm
Length – 13.9 inches without objective sun shade, 16.9 inches with objective sun shade
Illumination – LED
Housing – hard anodized aluminum
Weight – 47 oz. without objective sun shade; 51 oz. with objective sun shade
Reticle pattern – MOA (minute of angle) crosshair
Reticle color – red (day), red (night)
Eye relief – 3.3 inches, constant
Batteries – single CR2032
Battery life – 175 hours when on Day 1 setting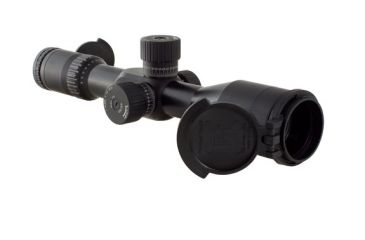 So, what makes the TARS so unique? There are several answers to that question:
First, there is its 'super-sized' 34mm tube diameter. This relatively unconventional tube size allows for greater and more precise adjustments. The scope's tube also manages to transmit light – gathered from the TARS' large 50mm objective lens – with ease and superiority.
Second, the Trijicon TARS features 10 different settings of illumination: Night Vision 1, Night Vision 2, Tritium Equivalent, Dusk/Dawn 1, Dusk/Dawn 2, Day 1, Day 2, Day 3, Day 4, and Intense Sun.
Third, there is precision. With MIL or MOA reticles available to choose from, you are getting 120 degrees MOA (36 degrees MIL) of elevation and windage. Again, it is all about accuracy at long ranges, and the TARS delivers that accuracy in a very big way, all the while remaining a somewhat compact scope.
The TARS' reticle is a first focal plane variant, meaning that the reticle will be smaller at the lower magnification settings, and increase in size as the power of magnification is dialed forward. This allows for maximum precision, even at the higher end of the TARS' magnification power spectrum.
The adjustment dials are locking ones. You pull out a dial, adjust it, and push it back into a locked position. The TARS was engineered and designed for use in all kinds of situations and scenarios, so the dials follow that pattern. They also incorporate an absolute zero stop, which is very convenient for any type of shooting. Furthermore, there is a parallax dial, which adjusts the parallax error compensation from 40 feet and on to infinity.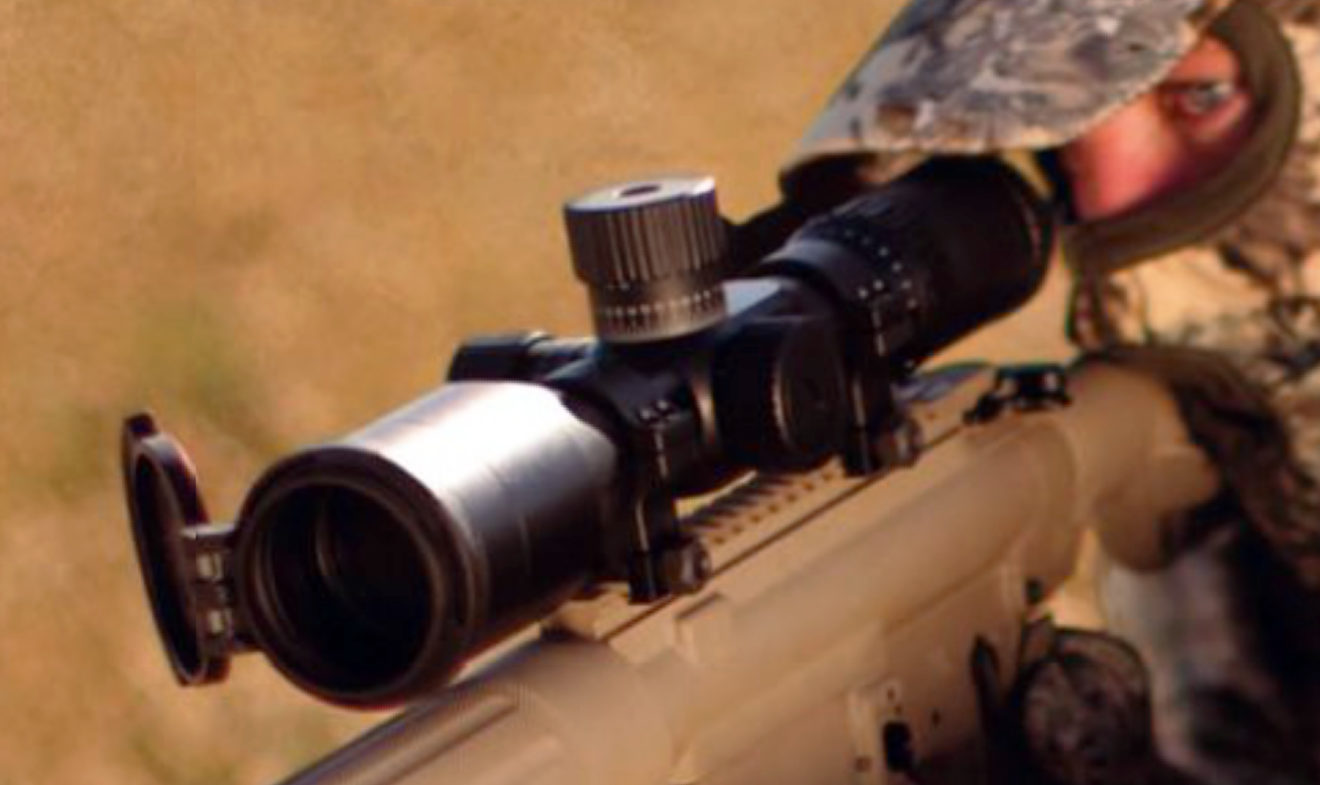 Like I said, these scopes – like all Trijicon items – were designed with a military ruggedness and toughness to them. You could drag this scope on the ground or through the woods. You can drop it, beat it, shake it – whatever it is, it would take some serious abuse for the TARS' system to lose its zero or to fail you in any way. It is simply that dependable. As one YouTuber remarked: this thing is built like a tank.
The glass used in the making of this exceptional riflescope is of the highest quality. Multi-coated lenses provide a clarity and brightness like you've never seen, and the objective lens gathers light with absolutely no distortion. This is done due to the presence of both spherical and aspherical lenses within the TARS system. The lenses themselves are coated with a hydrophobic substance, which will make sure no moisture will accumulate on the lens.
Trijicon Products Price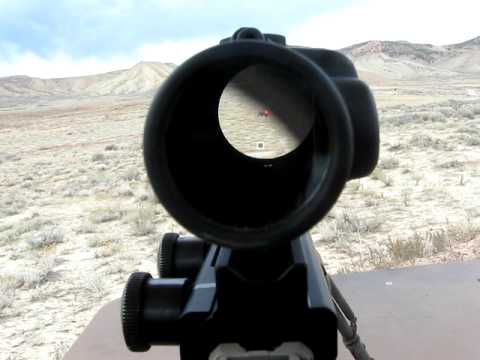 Trijicon has learned a lot from its ongoing run with the famous ACOG system, as well as its brothers and sisters – the fellow fixed and variable optic (VCOG) systems. The TARS was introduced in 2012, and it manages to incorporate the lessons which Trijicon has learned from its long-standing involvement with the U.S. Armed Forces. There is a lot of wisdom, know-how, and expertise inside of this sophisticated scope.
Now, we come to what is arguably the most painful of all attributes – price. The Trijicon TARS is priced at $4,464 (Trijicon store), and it be seen online for sale at about $3,795. So, yeah, you might feel a slight (or not so slight) sting in your heart when you click that "place order" button. All of those feelings will be washed away, when you take the TARS out of its box and mount it on your rifle.
The TARS comes with flip caps, sunshade, TA56 LENSPEN cleaner and brush, Trijicon logo sticker, user manual, and warranty card. The TARS comes – as does every Trijicon product – with a limited lifetime guarantee. This warranty covers defects in materials and craftsmanship. The electronic bits of the TARS system are under a 5-year warranty, from the date of manufacturing. Another guarantee you get is that the product is waterproof down to 66 feet. So, in a way, it is built even better than a tank!
All things considered, this is a marvelous tactical telescopic sight. It can be used – and IS used – by countless servicemen, agents, and private citizens all over the world. Although, for the record, there is a prohibition on exporting this product, and it can only be sent overseas in certain conditions.
There is just no beating this scope in long ranges. It is a modern masterpiece of glass, aluminum, electronics, and pure ingenuity. No matter the circumstances, the environment, or the application – the TARS will be there to take that target down with force.
Bottom line: expensive, but utterly amazing. The Trijicon TARS embodies the very meaning of pinpoint precision. If you are interested in buying the most versatile, most advanced, and most functional variable long-range scope available on the market today – look no further. You just found it.