Table of Contents
When people hear Huntsville, Alabama, most think of the U.S. Space & Rocket Center, but the historic southern city is home to another impressive tech establishment. While still subject to relative anonymity, DPMS Panther Arms might actually be the most remarkable weapons manufacturer in America. In fact, the gunmaker is completely changing the standards by which all rifles and carbines are measured. As the 2nd largest manufacturer of modern sporting rifles (MSRs) in the world, DPMS boasts an incredibly versatile collection of rifles that is sure to astonish any firearm fan.
Between their several revolutionary patents and NRA Golden Bullseye Awards, it's no wonder why these guns are soaring in popularity. Because these American-made rifles come in such a wide variety, shooters around the world rely on DPMS arms for all kinds of exercises including hunting and competitive sports shooting.
In order to achieve such peak performance and flawless operation, the Alabama company relies on their tremendous team of engineers and skilled workers. Furthermore, since nearly half of DMPS' employees are military veterans, the arms developer utilizes their real-world experience when designing their guns and features. So let's get started – This is the Gunivore Company Overview of DPMS Panther Arms where we'll be taking a closer look at the past, present, and future of this impressive American MSR manufacturer and their extraordinary collection of firearms and related products.
For other innovative companies check out Daniel Defense, Palmetto State Armory, Wilson Combat, & Armscor.
DPMS Panther Arms History
Although only founded in 1985, DPMS Panther Arms quickly established itself as one of the premier weapons producers in the world. Back then, founder Randy Luth launched his brainchild as a small government contract consulting company, aptly titled Defense Procurement Manufacturing Services (DPMS).
While things have changed since then, the Alabama-based business was originally intended to fulfill Army contracts for precision machined M16, M14, and M203 parts. In reality, it didn't take long for Luth to get his hands into the civilian market. Once he realized he could easily compete with the big names in the industry, he began to manufacture AR-15 and M16 Mil-Spec parts for the commercial civilian market.
Eventually, DPMS added Colt 1911 parts, kits, and accessories to their repertoire, but that venture was short-lived. Shortly after this period, Luth and his partners realized that their best chance at world-recognition and industry-prominence was contingent on a merger. Consequently, DPMS joined forces with a manufacturer of lower receivers and began to produce their own proprietary line of AR-15/M16 modern sporting rifles.
At this point in the company budding history, they were still based in Minnesota but had just moved their headquarters from Osseo to St. Cloud. Once DPMS started to producer their own rifles, they were finally gaining a reputation as a growing business and potential trailblazer in the firearms industry. In fact, after doubling their sales and expanding their business, they got the attention of the giant weapons conglomerate, Freedom Group.
For those of you who don't know, Freedom Group is a massive American firearms manufacturer holding company which manages industry favorites such as Remington and Bushmaster. In 2014, the Freedom Group was compelled to relocate several of their facilities due to increasing anti-gun laws in states like New York.
As a result, the big-time firearms company sent Remington down to Huntsville, Alabama from their original home in Ilion, NY. In the hopes of continuing their development and propelling them forward, the Freedom Group decided to send DPMS down to Huntsville to share Remington's cutting-edge facilities.
In DPMS' modern era, from their acquisition by Freedom Group in 2007 and on, they have developed dozens of top-shelf rifles and accessories. Additionally, they have won several firearms patents and notable awards for their efforts in the gun market.
Similarly, DPMS has also begun to slowly permeate the law enforcement and military markets. In fact, the up-and-coming MSR manufacturer has produced thousands of weapons for hundreds of these groups in the last few years.
Recently, DPMS and Randy Luth specifically, made big news when the founder was chosen as Outdoor Life's Reader's Choice OL 25 Award. This achievement recognizes the leaders, innovators, conservationists, and unsung heroes who have impacted the world of hunting and fishing.
According to Outdoor Life, Randy Luth was graciously acknowledged for his contribution in the advocacy and education on "the use of service rifles as viable hunting firearms". Likewise, the budding company was awarded the Minnesota VFW's Employer of the Year (2006) and was also recognized by the state as a Patriotic Employer.
DPMS GII Rifle
I knew the DPMS GII Rifle was gonna be good once I saw they marketed it as the most reliable .308 MSR on the market. These tactical beauties, built on the M4-platform, are equipped top to bottom with premium features. Plus, with half a dozen variants, including the Recon, Hunter, and MOE, there's a GII for everyone and everything.
The standard GII AP4 model, based on the Golden Bullseye Award-winning AP4 LR308, is anything but standard. As a matter of fact, from the MSR's M4 6-position collapsible stock to its cancellation brake flash hider, these rifles are loaded with incredible performance-enhancing components.
The most underappreciated function of these DPMS rifles is probably their tremendous reliability. This dependability is largely thanks to the enlarged ejection port and steel feed ramp. That being said, the flawless operation essentially boils down to the standard AR forward assist, improved shell deflector, and completely reimagined monolithic bolt carrier group.
This latter component was redesigned with not only a lower mass, but DPMS also incorporated an improved extractor with their Elastomer extractor spring and through in dual ejectors for good measure.
Even with all these updates and enhancements, the GII still has the same, intuitive M4 standard dimensions, just with a slightly reduced overall weight and length. Similarly, the Alabama gunmaker gave their famous MSR the customary AR fire control and take down components but integrated upgraded hammer and trigger pins.
The only letdowns on the AP4 model that stuck out to me were the short, carbine length Glacier Guard handguard and the standard A2 pistol grip. Nonetheless, these negligible concerns can be fixed by opting for one of the other versions. For example, check out the Compact Hunter with its Hogue grip and carbon fiber free float handguard or the GII SASS with its incredible Magpul PRS rifle stock, Panther Tactical Grip, and DPMS 4 Rail free float tube handguard.
DPMS Panther Arms Tactical Rifles
Based on DPMS Panther Arms' GII Series, I had some seriously high expectations for their lineup of tactical rifles. At the end of the day, I spent some time with all five of their models and I was nothing short of amazed. While the TAC2 variant gets all the attention, I was more than pleased with the Recon and LITE 16 rifles. I imagine the TAC2 can be best described as an equation, like innovation x modernity + reputation=TAC2 .
What I mean is that DPMS loaded this tactical rifle with so many performance-boosting features and high-grade components that it would be hard to design a better tactical M4 MSR. From the rear-end, with its Mil-Spec receiver extension and Mil-Spec Magpul ACS Stock/MOE Grip to the M111 modular handguard and highly-effective flash hider on its fore-end, it's hard to beat the TAC2.
Nevertheless, as impressive as the TAC2 was, I was completely captivated by the DPMS LITE 16 tactical rifle. At first glance, the $829 rifle looks like your standard MSR, but there's way more than meets the eye. While the remarkably lightweight, 6 lb. rifle is a pleasure to hold and shoot, many folks tend to focus on its extraordinary versatility. Although the LITE 16 has no rails on its handguard, the rail on the top of its receiver allows users to choose between optics, standard backup sights or pretty much any combination of sights you can find.
DPMS Oracle
As far as I can tell, the Oracle is DPMS Panther Arms' most popular weapon and reasonably so. In effect, to appeal to a wider fanbase, the up-and-coming firearms producers currently markets their top-seller in both .308 and .556 for under $1,000. In addition to offering their reputable DPMS accuracy and durability, these lightweight MSR's are outfitted with Mil-Std A3 uppers and the new, ergonomic Pardus tactical stocks. Stay tuned for our more in-depth Gunivore breakdown of the DPMS Oracle.
DPMS Panther Standard Configurations
The DPMS AP4 Carbine is the only firearm in their awesome catalog which actually puts up a fight with the Oracle for their best-seller. Like the Oracle, this time-tested 5.56 weapon is just an overall real pleasure to shoot and own. Even more so, the sub-$1,000 AP4 has seen countless field time in the hands of military and law enforcement men and women around the world.
DPMS Competition Rifles
Although often overlooked, DPMS' collection of competition MSR's is something to behold. Between their DCM, LBR, and LR-65 models, these carbines are the epitome of reliability and accuracy. However, in the search of a compact MSR without the extra tactical features, I was most impressed with their new and improved 3G2. These remarkable 5.56 custom match rifles offer professional-grade performance for a price that won't break the bank.
.300 Blackout DPMS Rifle
As any responsible, modern weapons developer should, DPMS released their version of the innovative and revolutionary .300 AAC Blackout rifle. For an affordable price, the Alabama arms company offers these heavy-barreled rifles with a sweet, modular rail system and suppressor adapter.
DPMS Panther Arms Hunting and Varmint Rifles
DPMS Panther Arms claims to manufacture the best hunting MSR's on the market, and it's hard to argue with them. As we mentioned earlier, the evolving company was even recognized for their innovation to the hunting market with an Outdoor Life award. Besides for their completely modular designs, these firearms are totally customizable to meet all your hunting needs.
Whether big game, small game, or varmint shooting, DPMS has got you covered in a variety of popular calibers. In addition to their GII Hunter rifle, the Alabama-based gunmaker also produces the Prairie Panther line and Bull series.
While their Bull 20 and Sweet 16 are great guns, it's hard to beat the Prairie Panther Kings Desert Shadow .223 rifle. Weighing in at 7.15 lbs., the premier lightweight hunting rifle boasts the DPMS proprietary 2-stage trigger, a classic A2 stock, Teflon coated exterior and a carbon fiber handguard. The best part is, the Kings Desert Shadow can be yours for just $1,249.
Accessories & Aftermarket Options
To compliment their impressive collection of firearms, DPMS Panther Arms also produces a massive array of top-shelf accessories. Naturally, the premium arms developer markets barrel assemblies, lower receivers, and lower receiver assemblies, but it's the rest of their products which really caught my eye.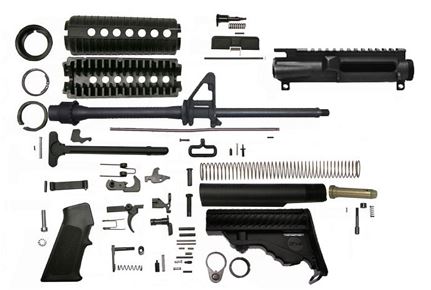 In addition to their rifle kits, parts kits, and assorted tools, DPMS also sells high-quality, affordable magazines in several calibers and capacities. Lastly, they offer a wide variety of cleaning supplies including lubes, aerosol cleaners, field tools, and cleaning rods and cables.
DPMS Panther Arms Patents
Ever since their debut in the mid-80's, Randy Luth and the DPMS Panther Arms company has been dedicated to perfecting the AR-15 platform. It is has been through this commitment to innovation that has led to several DPMS patents and technological advancements. While they hold two patents for their "Mangonel" flip-up sights, it's their other innovations which are really fascinating.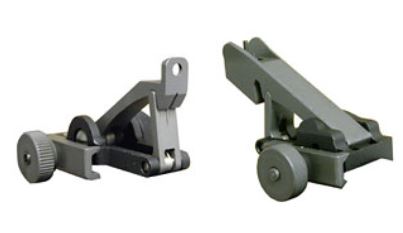 For example, their trademarked GlacierGuard AP4-style handguard utilizes modern fiber-reinforced polymers to enable it to withstand insane temperatures while somehow weighing merely a few ounces. Even more, DPMS outfitted these handguards with over a dozen internal fins and 15 ribs to mirror these fins and offer an enhanced grip surface for the shooter. Additionally, DPMS also holds patents for their Panther Claw – which is a small polymer tool used in holding AR-style uppers – as well as their M-37 Flare Launcher -which is exactly what it sounds like.
Conclusion
All things considered, it's hard not to love DPMS Panther Arms. The budding gunmaker not only produces some of the best American-made MSR's on the market, but does so while actively supporting our military and law enforcement. Furthermore, thanks to their versatile designs, DPMS guns are perfect for all of your shooting needs, be it hunting, home-defense, or competition.