Trijicon has a whole line of quality reflex sights. The first one (the original 1×24 Trijicon Reflex) was introduced in 1996, and its companion (the 1×42) was released in 2008. 1 year later, in 2009, the ruggedized miniature reflex (RMR) sight was released, and it has been enjoying a lot of success with its many different versions.
In 2012, Trijicon introduced the sealed reflex sight (SRS), and this is the one will be focusing on here. Trijicon SRS sights are rugged reflex sights, which incorporate a larger aperture, for maximum situational awareness, in a shorter body. Those are big words meant to convey one thing – a big help in a small package.
Introducing the Trijicon SRS Red Dot Scope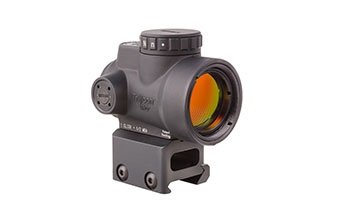 This light emitting diode (LED) 1.75 minute of angle (MOA) red dot sight comes with 10 manual brightness settings: Night Vision 1, NV 2, NV 3, Day 1, Day 2, Day 3, Day 4, Day 5, Day 6, and a Super Bright setting. It is powered by a solar cell, which is assisted by a single AA battery. The sight's windage and elevation dials are easy to operate, and the flush design makes them snag-free. This means that you will be able to get to them and manipulate them with ease, even when wearing gloves or under some pressure. They are ideal for any situation.
Note: The unit always requires the battery to power up. In certain situations, it may be removed once the sight is operational. The battery cap is also a crucial piece of the puzzle, and it must be tightened before the sight can power up.
The SRS sight features a single lens size – 1×38 (1 power of magnification, and a 38mm objective lens), and it includes two different options: the SRS01 and SRS02.
Trijicon SRS Scope – Model SRS01
Objective lens – 38mm
Length – 3.75 inches
Illumination – LED, powered by battery as well as solar cell
Housing – forged 7075-T6 aluminum
Weight – 15.1 oz., with battery and mount
Reticle pattern – 1.75 MOA dot
Reticle color – red (day), red (night)
Battery – single AA lithium or alkaline
Battery life –

3+ years of continuous use at brightness setting 7 of 10 (lithium battery)
2.5+ years continuous use at brightness setting 7 of 10 (alkaline battery)
The second version –the SRS02 – has a single difference: the mount. While the SRS01 comes with Colt-style thumb screws, the SRS02 includes a quick release mount. The change in the SRS02 affects the sight's weight, making the SRS02 is a little lighter than the SRS01. It weighs in at 13.8 oz.
The lens design in the SRS series is unique, since it is made specifically for a shorter kind of sight. The lens is multi-coated, which minimizes distortion and "fisheye" effect, and provides the shooter with a large field of view, better control, and higher awareness – everything you need for successfully engaging your target.
Like all other Trijicon reflex sights, this one is also very durable and military-tough. Trijicon's products all go through many trials and tests, before being produced. This line is shock resistant, waterproof up to 165 feet, parallax-error free, and it includes a limited lifetime warranty. Whether for combat situation or home defense, this sight is a force to be reckoned with.
The sight's adjustment dials are easy to reach, and easy to operate. This may seem trivial to some, but it is nonetheless key – after all, the very last thing you want (or need) is to start fumbling and bumbling while looking for your target. The SRS makes sure you acquire your target quickly, efficiently, and accurately. Absolutely no substitutes. There are times where you only get one shot. Literally.
The SRS is extremely compact, but don't be fooled by its size. It is a lean, mean piece of work, and it can be mounted on so many different weapons with its Colt-style or quick release mount. With the SRS, you are able to get all of Trijicon's brilliance and style in one relatively small item, and that is saying a lot.
Price, as always, is a consideration. The SRS's price is one of the highest for any of Trijicon's reflex sights, which may deter some buyers. The list price for the SRS01 is $1,150, and the price for the SRS02 is $1,250. These prices are from Trijicon's official websites, but they can be found for cheaper prices at many stores and websites.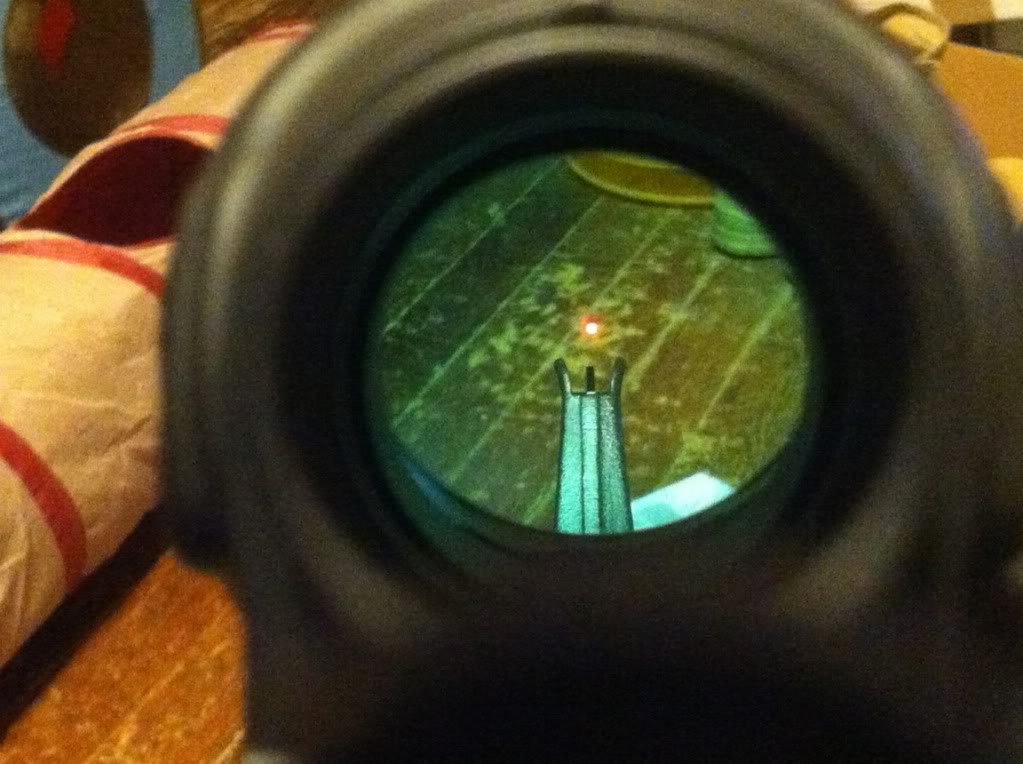 The Trijicon SRS package includes:
1 thumbscrew mount (SRS01) or 1 quick release mount (SRS02)
1 lens cleaning cloth
1 lanyard assembly for battery cap
1 Trijicon sticker
1 SRS Manual
1 Warranty card
The lifetime warranty is limited to defects in craftsmanship and materials. The electronic parts of the sight are warrantied for 5 years from manufacturing date.
Our Trijicon SRS Review
Reflex sights have been around for about 100 years, but new technologies are making these seemingly "archaic" sights more relevant than ever. If it is a close-range sight you are looking for, the SRS may be just what you need.
This sight does have one con, which is shared by many reflex sights: an appearance of an internal diode reflection, which appears to the viewer/shooter as a square around the red dot. This is a common issue with all reflex-style sights.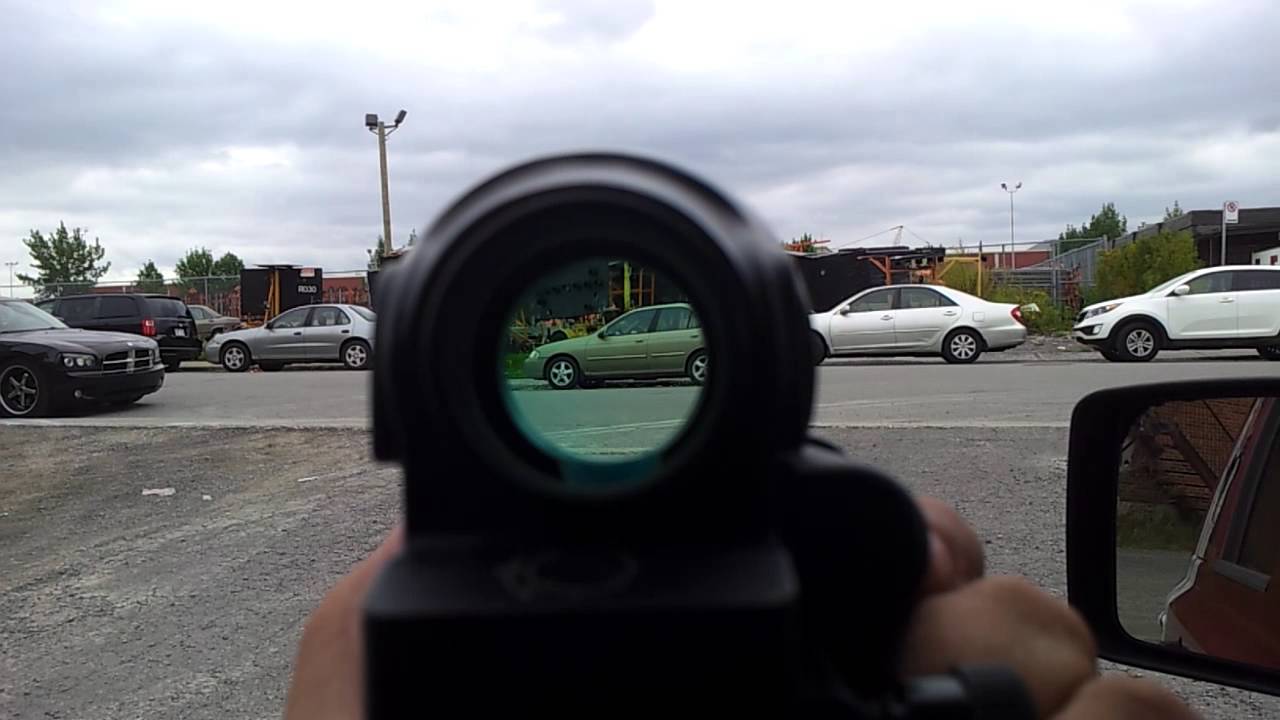 This reflection is visible at certain times and certain angles, and Trijicon's official FAQ also acknowledges this. However, the plethora of pros which the SRS offers make this one con an easy thing to overlook. This is especially true when you understand that it is an issue which is common with many reflex sights.
Another thing to consider is that this diode reflection is usually visible after staring through the sight for prolonged periods of time. When dealing with quick target acquisition and fast-paced shooting, there is a good chance that this issue will never even present itself. You don't even notice the square while you are taking your shots. You are able to move from target to target, and engage them with the SRS's pinpoint accuracy.
This sight is easy to zero, easy to handle, and easy to adjust. It is made in the USA, sturdy, and unique. If you think the SRS may be what you are looking for, don't let its price get you down. It is a sight which has earned the respect of countless individuals (civilians and service personnel) worldwide. Once you mount it on your firearm, you will be able to see what makes Trijicon one of the finest optic-accessory companies in the world today. Their slogan is "brilliant aiming solutions", and that is precisely what they offer.