Table of Contents
For those of you who don't know, J.J. Racaza is inarguably one of the top three shooters on the planet. As one of the most well-known pistol shooters in the world, J.J. never shied away from the spotlight. In today's Gunivore marksman profile, we're going to look into the life and times of the renowned Filipino-American J.J. Racaza.
Early Life of J.J. Racaza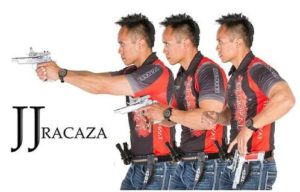 Born and raised in the Philippines, J.J. began his competitive shooting and love for firearms as young as seven years old. In fact, he was already a distinguished and famous marksman by the age of thirteen. It should come to no surprise then that he developed such a propensity for firearms; although there's a strong gun culture all over the Philippines, Racaza's home region of Cebu is a hub for all kinds of weapons. For instance, Cebu is home to Ferfrans, a major manufacturer of AR-platform assault rifles. While most of Ferfrans' production now takes place in America, it still has a major facility in the hometown of its founders Cebu.
J.J. Racaza's Illustrious Career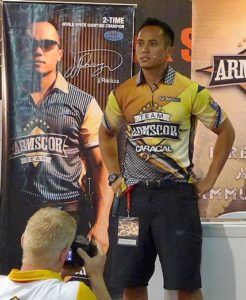 Racaza maintained his competitive shooting as he got older, but eventually decided to attend Seton Hall University to study business management information systems. After graduating, he accepted a position at the Department of Homeland Security as a firearms instructor, where he worked until very recently. After stepping away from the public sector, Racaza elected to start his own shooting school in Las Vegas. Simultaneously, J.J. formed a partnership with the Filipino-American weapons company, Armscor. In addition to captaining Armscor's shooting team, the illustrious shooter also endorses their line of affordable ammunition.
I ran across my old friend @jjRacaza at the US Optics Nationals in Florida. #topshot #uspsa #ipsc pic.twitter.com/CgadAWJDsX

— Blake Miguez (@BlakeMiguezLA) March 26, 2017
Racaza's Major Accomplishment & Wins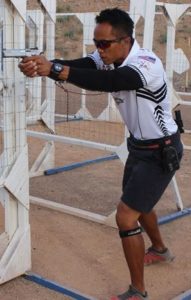 As an expert speed and precision shooter, J.J. Racaza has been winning competitions and world championships for years. In all of his years shooting competitively, 2010 was one of his best. In addition to appearing on a reality show, J.J. also competed with Team USA at the ISSF World Shooting Championships. The following year, he took part in the International Practical Shooting Confederation (IPSC) and dominated. Besides for helping America win gold, the Filipino-American took silver in an individual event. He would also go on to flourish at the 2014 IPSC Handgun World Shoot, ultimately confirming his position as one of the best shooters in the world. Overall, Racaza has won over fifty shooting competitions, including three World Speed Shooting Championships, propelling him to the U.S. Practical Shooting Association's Grand Master competitor ranking.
As one of the fastest pistol shooters around, Racaza has also competed several times in the notoriously competitive Steel Challenge. While only crowned once as the overall champion (in 2006), J.J. has won several individual events at the competition, including the Production division in 2013.
In a true show of appreciation, the world-renowned custom firearms producer, Limcat, released the RazorCat race gun. Aside from being one of the most precise pistols in the market, Limcat designed the RazorCat specifically for J.J. Racaza for his competitive shooting.
Appearance on Top Shot
Gun enthusiasts rejoiced when the History Channel debuted their new shooting reality program in 2010. While surviving for five seasons, I think most would agree that none compared to season one. In addition to featuring some famous and remarkable shooters like Blake Miguez and Iain Harrison (season one winner and current editor and host of RECOIL TV/Magazine), Top Shot included J.J. Racaza. Although the clear favorite at the beginning of the show, Racaza made it to the season finale where he finished in 3rd place behind Harrison and Chris Cerino. Nevertheless, he was clearly humbled and determined to perfect his methods. Besides for going on to win several more world-wide competitions, Racaza was invited back to Top Shot as a trainer for a season two episode.
Conclusion
Simon "J.J." Racaza isn't just a world-class marksman, he's also a top-notch instructor. It's insane how much one man can accomplish in such a short span of time, but Racaza has proven that anything is possible. But besides for his record-breaking performances, the Filipino-American is also a tremendously charming and respectful man. After serving for Homeland Security, appearing on Top Shot, winning countless tournaments, partnering with Armscor, and becoming a successful firearms instructor, J.J. Racaza is nothing short of amazing!