In SIG's own words, the M11-A1 is "an upgraded variant of the P229." When the P229 was introduced, the shooting world was already well aware of the civilian model P228, also known as M11. The P228 and P229 share many similarities, and their respective military-designated M11 and M11-A1 pistols also have some similarities and some differences. More on that later on.
SIG has been around for over 150 years, delivering nothing but the best. Sure, they – like all firearms manufacturers – have had their share of recalls and commercial failures, but overall they are considered one of the best companies around. For now, let's take a look at the technical specifications of the M11-A1, which was released in 2012.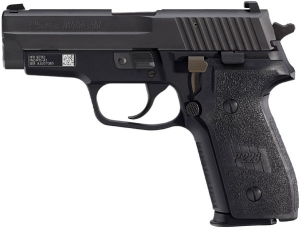 SIG Sauer M11-A1 Specs
Caliber – 9X19 Parabellum.
Action – short-recoil, semi-automatic, DA/SA.
Length – 7.1 inches.
Height – 5.4 inches.
Width – 1.5 inches.
Weight – 29.6 oz.
Barrel length – 3.9 inches.
Trigger pull – DA/SA, 10/4.4 lbs.
Capacity– 15 rounds (standard).
MSRP – $1119.
SIG Sauer M11-A1 Updated Features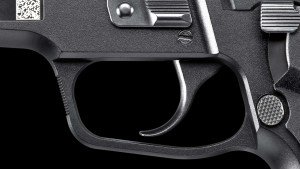 The M11-A1 facilitates the use of the short reset trigger (SRT) system which SIG introduced a while back. This means that the first trigger pull is double-action, followed by an incredibly short reset, and then follow-ups in single-action mode. We all know the importance of proper follow-ups, and I feel this trigger does it in the best possible way.
This weapon features a solid milled stainless steel slide, as opposed to the original M11's two-piece carbon steel slide. The original M11 was equipped with contrast sights, and the M11-A1 features SIGlite tritium night sights.
SIG Sauer M11-A1 Build and Shooting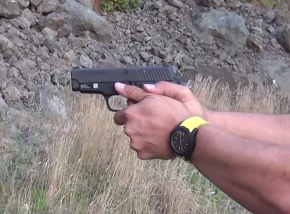 This gun is built as a military service gun, and it was designed to withstand a lot of punishment. It has gone through many trials and was found to meet and exceed military standards. The M11-A1 features an alloy frame with a hard coat anodized finish, a stainless steel slide with a Nitron finish, and phosphate internal parts and controls. The barrel is hard chromed, and also features a Nitron finish. Verily, 'tis a gun meant for serious business. Materials and finishes mean a lot, and SIG are known for the close attention they pay to them. It is about the lifespan of a weapon, and it makes a big difference in both everyday usage and in long-term satisfaction.
As for actual shooting, this is similar to other compact 9mm handguns I've shot in the past. Small, but packs a punch. I wouldn't presume to know exactly how amazing the SRT system is since I lack some experience in that area, but I will say that it is a great trigger right of the box and that shooting this handgun was a very enriching and rewarding experience. I love shooting military-grade weapons whenever I can. Don't we all? And this civilian version is arguably even better than its military predecessor.
I have shot many SIGs before, and you can say it has spoiled me and led me to expect nothing less than awesomeness from SIG weaponry. Well, SIG Sauer, that's what you get for making such fantastic firearms, time after time.
SIG Sauer M11-A1 Safety and Sights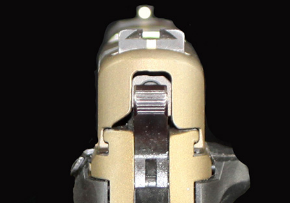 Being designed and engineered primarily as a military service handgun, the M11-A1 has no manual safety. Like other DA/SA models, it is meant to be carried in "condition one", aka loaded and de-cocked. Internal safety features – SIG's own 4-point safety system – make certain that the only way that these guns will fire a round is if their trigger is squeezed. Features include:
De cocker – provides a way to lower the hammer safely, when chambered.
Safety notch – separates the hammer from the firing pin.
Firing pin safety – keeps the firing pin motionless until the trigger is pulled.
Trigger bar disconnector – separates the firing pin from the cartridge.
The M11-A1 is equipped with SIGlite tritium night sights. It has been said by some shooters that putting sights on such a small gun is a waste. I wholeheartedly disagree. Besides, even if some subcompact or pocket guns are indeed sightless, the M11-A1 is a service weapon. A combat soldier, government agent, or police officer has to adapt quickly to changing terrain, light conditions, and circumstances. Obviously, this midsize gun needs sights, and the SIGlite tritium night sights certainly deliver. They emit a nice green glow, which is accommodating and not overpowering. The tritium lasts a long time. SIGlite night sights should last 10 – 12 years, though after about half of their life (5 or 6 years) they can begin to dim.
SIG Sauer M11-A1 Magazines, Holsters, Accessories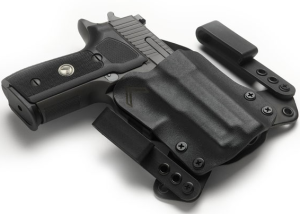 The Sig pistol comes with three 15-round steel magazines. Again, it is a weapon designed for use by law-enforcement and military, and the firepower capabilities and number of magazines reflect exactly that. The state compliant variant (M11-A1-10) comes with 2 10-round steel magazine. When carrying any kind of gun – but in particular when carrying in concealment – a good holster is one of the most important accessories a shooter can acquire. This is a purchase which should not be made lightly or in haste. Don't be pressured by anyone or anything to buy a specific holster.
One of the things you practice again and again (and again) is drawing. When carrying in concealment, you would want to keep the element of surprise on your side. It offers a major advantage in any armed encounter, which is why it is imperative you choose a holster which offers convenience, concealment, and a quick draw. Choose a holster which fits YOU. Don't compromise on anything less. The absolute last you want to do is fumble around when it is time to defend yourself.
Basically, any holster made for P228 or P229 (without a rail) will fit. SIG has its own specially designed OWB holster available, made by Black Point Tactical. Popular brands of M11-A1 holsters include Protech, IMI, Galco, and King Holster. The M11-A1 already comes with some great features, and it doesn't require much else. Also, note that it does not come equipped with a rail since it is not meant to be burdened with accessories. As a back-up or concealed carry weapon, you'd want it to remain as discreet and snag-free as possible. Then, when the time comes, simply draw, point, and fire.
SIG Sauer M11-A1 Price and Where to Buy
The MSRP for this weapon is $1119. The threaded barrel version costs a bit more and is priced at $1174. The barrel length of the threaded barrel version is 4.4 inches, which is where that extra money is going. As for where to buy – this varies. Prices online hover around the $1000 mark, but you can also find new ones for closer to $900. As always, check with your local gun shop and authorized SIG dealer. You never know when a good local sale will come your way.
SIG Sauer M11-A1 vs. P229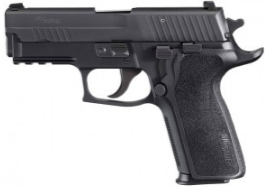 This model is a kind of cross between the P228 and P229. SIG has it listed under their P229 models. Indeed, it retains a lot of the P229's original characteristics. Both are great weapons, and they have a few small differences. The M11-A1 is better balanced, according to many shooters who have attested to that. I don't have enough experience with either one, so I wouldn't presume to know that. Both guns felt good and shot wonderfully during my time with them.
The P229 is offered in several calibers, and the M11-A1 is only chambered in 9mm. The P229 has multiple variants available, and the M11-A1 doesn't. Some P229s come with an accessory rail, and the M11-A1 doesn't. Some P229 models have (or had) a standard capacity of 10, 12, 13, and 15 rounds, while the M11-A1 has a standard capacity of 15. Some P229 variants are built in Germany, and the M11-A1 is built at SIG Sauer's Exeter, New Hampshire facility.
Conclusion
A civilian 9mm which meets military standards, and goes above and beyond the call of duty. That is the M11-A1 in a nutshell. It is fun to shoot, it is accurate, and it offers quick follow-up recovery, along with an impressive look and presence. This is a milspec gun, which comes with three 15-round magazines, and tritium night sights. It is composed of quality materials and has high-performance, practical finishes applied to those materials. It took what is possibly the best of the P228 and P229 models, and created a hybrid which cannot be ignored. The M11-A1 is a winning handgun. It is durable, reliable, and fits the needs of many shooters, whether they plan on every day carry or bedroom-dresser home storage. Stay aware, stay armed, and stay safe!
Thanks for reading our M11-A1 review! Be sure to check out our P238, P938, and P250 features while you're here at Gunivore!