Table of Contents
Ever since 1853, SIG has been a model of hard work and excellence. Oh sure, the company may have started off as a wagon-making outfit in the tranquil Swiss city of Rhine Falls, but soon enough the founders were approached by the Swiss Ministry of Defense, with a request for a new musket. The rest, as they say, is history. For over a hundred years, the Swiss company produced firearms of all kinds for Switzerland's military, police departments, and civilian population. Later on, in the 1970's, SIG teamed up with Sauer, a German firearms manufacturer (with its own proud tradition and history), and its popularity reached new heights. SIG Sauer firearms are known for their uncompromising quality, all-metal frames, and thoughtful and innovative designs.
In 2011's SHOT Show, SIG introduced the P938 – a subcompact 9mm single-action pistol. Like other SIG handguns, it greatly resembles a 1911 in its overall concept and design. In that sense, it is kin to the P238, which also has a mini-1911 feel to it, except that the P238 is chambered in .380 ACP. At any rate, one can definitely say that the P938 was inspired by the P238, which had arrived on the scene two years prior to the arrival of this neat little pistol.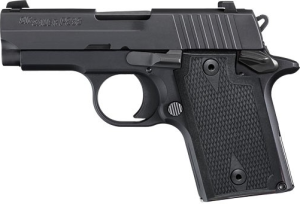 The subcompact 9mm market is a big one. Many people consider 9mm to be the best self-defense cartridge, and I think it is safe to assume that the sales of concealable 9mm handguns will always be steady. People all around the country – heck, all around the world – like a small 9mm. Nevertheless, as with any business, some are better than others. Let's check it out a bit more. For the sake of this review, I will be taking a look at the Rosewood grips model.
SIG Sauer P938 Pistol Specs
Caliber – 9X19 Parabellum.
Length – 5.9 inches.
Height – 3.9 inches.
Width – 1.1 inches.
Weight – 16 oz.
Barrel length – 3 inches.
Trigger pull – single action, 7.5 lbs.
Magazine – 6 rounds (standard).
MSRP – $793.
NOTE: there is also a .22LR version of this gun, named P938-22.
SIG Sauer P938 Pistol Build
This thing's build is exactly what you would expect from SIG – a sturdy, metal frame and slide. Much like its larger counterparts, the P938 is on target, reliable, easy to handle, and a lot of fun to shoot. This firearm's frame is made of hard anodized alloy, and its slide is stainless steel with a nitron finish. This particular model has rosewood grips, which I love. I enjoy the color and character they bring with them to the table, plus they offer a grip which I am already used to and quite fond of. Also included with this firearm are SIG's three-dot SIGlite tritium night sights. Like I said, it was inspired by the P238, and it clearly shows. Not too heavy, not too big, and it gets results. It's a SIG, after all.
SIG Sauer P938 Pistol Shooting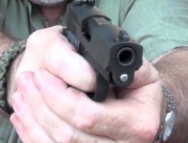 When you're talking about shooting this gun, the first thing you notice – whether you want to or not – is the trigger pull. Like the original 1911, it is a single-action-only trigger, and the break on this thing is nice and crisp. The 7.5 lbs pull is one which can be a little tougher than you may be used to, but it seriously grows on you. It did for me, anyway.
The recoil on this gun is not as harsh as you would expect, and is highly manageable. There is this somewhat-common misconception that smaller guns with large calibers have more of a kick. This is not necessarily true. If the gun is built well, and if the operator knows his stuff, the recoil is absolutely nothing you can't handle.
SIG Sauer P938 Pistol Magazine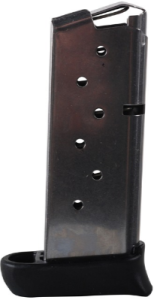 The P938 comes with a 6-round magazine. If you are looking for greater firepower, this may not be the gun for you, as even the extended P938 magazine can only increase the count by a single round. Now, speaking from a realistic point of view – if you can't neutralize your target within 6 rounds, you need more practice. A micro-compact such as this is not inteneded for long range encounters and drawn out gunfights. These types of guns are meant to save your bacon in close proximity situations, more so than any other.
This is why practice is so important. You need to practice drawing and firing this gun from its concealed, holstered position (or open one, if you plan on carrying openly), since that is what you will be facing. When the pressure is on, and the mind goes into its 'fight or flight' mode, your instincts and muscle memory kick in. If you have had enough practice, and if you remain calm, you will find that 6 rounds are 5 more than you will actually need. One shot, one center mass hit. Unlike police and government agents, civilians draw only to shoot. That is it. If you made the decision to draw, there is no thinking twice. Squeeze that trigger, and bring your target down.
As for other magazine options, outside of SIG, there is the ProMag 10-round magazine. I have not had the option of trying this one out, unfortunately, but I guess that – much like any other mags – it is a judgement call. Which do you want or need more – concealability or firepower? Either way, it is an option.
SIG Sauer P938 Pistol Safety and Sights
The ambidextrous safety on the P938 is a lot like a classic 1911 thumb safety, as well as the newer ambidextrous Glock features. It is crucial to engage it, since this is a single-action-only trigger. If you plan on keeping this gun in your pocket, for instance, with a loaded chamber, you need to keep it safe at all times. For those who are familiar with the 1911 platform, they will find the safety, mag release, and other functions exactly where they should be.
SIGlite sights are great. They bring up the overall cost of the handgun, yes, but they are quality sights which will serve you well in the day or night. One could argue that sights on micro guns are superfluous, since those types of guns are not meant for ranges which necessitate lots of aim. There is something to that, I guess, but if I had to choose – and I do choose – I'd always take a gun with sights, even if it costs a bit more. This is certainly true in this case, since these are high quality tritium sights, guaranteed to last for years before they begin to dim.
The glow of the SIGlite sights is just right. The dots light up, but don't shine so brightly as to cause you to squint or miss any follow up shots. They produce a green glow which is not too powerful for its own good. Whenever I simulate night-time shooting or low-light conditions shooting, I am happy with the results from these sights. Totally worth their built-in price.
SIG Sauer P938 Pistol Accessories: Grips and Holsters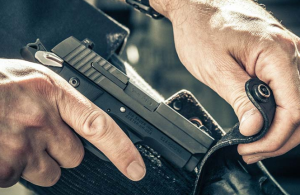 Accessories for micro guns like the P938 are few and far between, and rightly so. You don't want to put too much bulk or weight on a tiny gun as this, or else you risk losing the advantage of concealability and lightness. Usually, it is precisely for those two reasons that one decides to acquire a subcompact such as this, so it makes no sense to burden it with anything too big or heavy.
Grips and grip sleeves, holsters, and optics (laser/flashlight) are the most common accessories for this firearm. It makes sense. This is a carry gun, more than anything else. You want to be ready for any situation, and you want to be able to form a tight grip when it counts. Your grip will guarantee your accuracy. When you hands are sweaty or shaking, you need to rely on your gun's ability to offer a solid grip. If you find that your hands are too large, either get an extension or sleeve, or get a different gun. Do not settle for anything else than perfect. Your hands should match the gun's frame in the best way possible.
Latest addition to my "Home and Personal Defense" system👍 Sig Sauer P938 with Crimson Trac… https://t.co/QE1R1uS5Aw pic.twitter.com/zU35iOQAP9

— Kevin Hughes (@KevinHughes67) August 2, 2016
SIG Sauer P938 Pistol Price and Where to Buy
This rosewood model is priced at $793. You can find them for cheaper prices, at around the $600-$650 mark, at various stores and shops (online and offline). When you purchase a new gun, it comes in a lockable box, with a single 6-round magazine. Different sellers offer other deals, such as a pair of 7-round magazines or other additions.
This model features anti-snag capabilities achieved through smooth egdes. It has a non-coated stainless steel slide, and custom Hogue Walnut grips. 6 + 1 magazine capacity. [MSRP: $815]
SIG Sauer P938 Pistol Equinox Variant Review
This is one which has disappeared from SIG's website, but still exists in its 2016 catalog. It is a full size, and it features a two-tone polished slide with stainless controls, black diamondwood grips, and night sights (TRUGLO in front, SIGlite in rear). 6 + 1 magazine capacity. [MSRP: $823]

The Nightmare remains one of the best-selling P938 models around. It has Hogue Black G10 grips, SIGlite sights, and a nitron-coated stainless steel slide. Black and beauitful, it has a very 'badass' look about it, which – couples with those quality grips – is probably what makes it so popular. [MSRP: $815]
SIG Sauer P938 Pistol Extreme Variant Review
Black/Gray G10 Piranha grips and a hard-coat anodized alloy frame are what make this next model a hot item among P938 owners. Comes with a 7-round steel magazine, SIGlite night sights, and one hell of a punch. [MSRP: $815]
SIG Sauer P938 Pistol vs. P229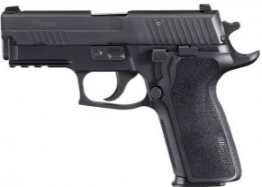 Carried by Secret Service, and other branches of security and law-enforcement, the P229 is a compact-sized gun which was the first to utilize the .357 SIG cartridge. It is a DA/SA handgun, and even though it was primarily chambered in 9X19mm it takes other calibers. Introduced in 1992.
In an earlier review of the P229, what stood out was its use by military organizations all over the world. The U.S. has made this weapon its standard issue for Army, Coast Guard, Homeland Security, and others. Compared to the P938, this weapon is larger, heavier, delivers more firepower, and comes with an accessory rail. It also comes at a higher price, with its various versions' MSRP being over the $1,000 mark.
Conclusion
The P938 is a wonderful addition to the world of subcompact 9mm handguns. Concealable, dependable, and easy to shoot, it has everything that is great about the 1911 platform, in a 9mm variation. Perfect for those who want to carry light and retain superior stopping power. Now, about that, I wholeheartedly believe it is not the size that counts, but how you use it. If you are accurate and precise, your caliber will make no difference. A center mass hit is a center mass hit, and it will bring down your target fast.
SIG are known for their quality handguns, and this is another gun in their catalog which serves as a daily protector to many every day carriers. It is pricy, but it is a SIG. If you know SIG, you know they are worth their price, hands down. Are there cheaper 9mm subcompact options? Of course. Are they the same as a P938? No. A resounding no. So do your research, make your choice, stay armed, and stay safe!
Thank you for reading our new SIG feature! Check out our Bushmaster XM-15, SD, and M4 reviews while you're here at Gunivore!