SIG Sauer's P290 has a bit of a controversial history. It was released in 2011, but pretty quickly came reports of trouble. Complaints of issues with the trigger and the hammer were heard throughout the firing ranges and spoken of extensively in online forums and gun shops.
Based on user feedback, SIG released an updated 2012 version of the P290: the P290RS Nitron Sub-Compact. It had a new re-strike trigger (hence the addition of RS to the name), a downsized beavertail for preventing the hammer from biting those with larger hands, a reduced and reshaped magazine release lever, and a new slide stop. As of the time of writing these words, the P290RS is the only model of P290 which is available on SIG Sauer's website.
The P290 was originally chambered in .380 ACP (aka 9mm Kurz), but right now it is only offered in 9mm Luger. It is a semi-automatic, ideal for concealed carry or as a backup service sidearm. Here is my review of the newer, non-malfunctioning RS model. I have no experience with the previous one, I am afraid, so I don't have any basis for comparison.
SIG Sauer P290 Pistol Specs
Action – Short recoil locked breech.
Length – 5.5 inches.
Height – 3.9 inches.
Width – 0.9 inches.
Weight – 16.4 oz.
Barrel length – 2.9 inches.
Trigger pull – DAO, 9 lb.
Capacity– 6 rounds (standard), 8 rounds (extended).
MSRP – $492.
SIG Sauer P290 Build
One of SIG's only polymer framed firearms, the P290SR has a stainless steel slide with a Nitron finish and a polymer grip. This gun is as slim as they come, but like all subcompacts, it could be uncomfortable for those with larger hands, in spite of SIG's attempts at making the P290RS more accessible to them. It is a two-fingered grip, though the 8-round extension magazine could provide some pinky room.
SIG Sauer P290 Shooting
No recoil, no muzzle flip, and a joy to shoot. I would not expect anything else from SIG, to be honest. I would have been very surprised to find there is something off about the way that this gun shoots. SIG is known for their attention to detail and smart engineering. Obviously, there is no such thing as an assembly line devoid of errors or malfunctions. Every successful company which makes firearms has had to recall something at one point or another. But SIG has always delivered, especially in the shooting department. I believe that primary accuracy is in the hands of the operator, but there is also a lot of credit to be given to the construction of the trigger and the weight distribution on the P290RS.
The single-stack 6-round magazine capacity is obvious, considering the gun's dimensions. This gun is designed for close encounters, and it is entirely accurate to expect the operator to neutralize a target within 6 shots. Plus, regardless of caliber, all a person needs is one shot. Most gunfights are over in seconds, for this exact reason. At the range, you empty your mag at targets to fine tune your grouping. In life, all you need is that one center mass hit.
SIG Sauer P290 Safety and Sights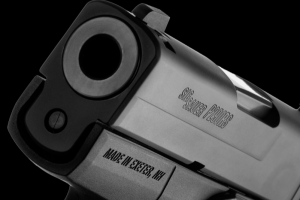 Like many other SIGs which were designed as service firearms, the P290RS has no manual safety. The double-action only trigger acts as one safety, as does the internal firing pin safety. The sights which come with the P290RS are SIGlite tritium night sights, which have become something of a standard with SIG. What was once an aftermarket purchase is now a part of many SIG firearms. Now, this does raise the price of the weapon a little, but it is totally worth it, in my opinion.
As I have stated before, some may feel that sights are unnecessary on such small, pocket-like guns. Remember, the P290 was designed to be used by military personnel, government agents, and police officers. For this reason, sights are a necessity. The SIGlite sights are great, and in low-lighting conditions, they really do shine. Not literally, of course. Their glow is very accommodating. The tritium will last between 10-12 years, or maybe more, but the sights will begin to dim about half-way through its lifespan.
SIG Sauer P290 Accessories
For a concealed carry weapon, the most important accessory one can acquire is a holster. Depending on where and how you want to carry the gun, the holster could be a real asset or a major inconvenience. There are a couple of holsters designed specifically for the P290:
SIG Sauer's own right-handed P290 concealment holster, made of black polymer, and equipped with a belt clip attachment.
Mitch Rosen OWB for P290RS, made of hand-fit black leather, with a vertical cant and the SIG logo.
Another good option is the Sticky Holsters pistol holster, which is suitable for many models, including the P290. Ambidextrous, light, fits in your pocket or waistband and is made of a substance which helps with drawing and holstering by staying out of the way.
Another popular group of accessories is the grip-related one. These can be an extended plate for some pinky room, an extended magazine (which also lengthens the grip), or a grip sleeve which can help to get a tighter hold on the weapon. Having the extra finger-room or extra purchase can really change the way you fire.
Lasers. While it is true they are much less popular with subcompacts, they do exist. What is important to remember is that this gun is small and concealable. No point in adding more bulk or weight to it, unless it is absolutely necessary. With SIG's night sights already installed right out of the box, a laser is probably going to be deemed unnecessary by many P290 owners. The P290 laser as a standalone aftermarket product has been discontinued or is out of stock. Nevertheless, you can still find them as a bundle at different online shops. The price of a P290RS with a laser is about $100-$150 higher than the MSRP. And speaking of prices….
SIG Sauer P290 Price and Where to Buy
The P290RS is one of SIG's more moderately-priced firearms. In its 150+ years of existence, the SIG Sauer company has always been a bit more high-end, both in terms of price and of quality. When people buy a SIG, they know they are getting what they pay for, in the best possible way. That extra money goes a long way. The P290RS's MSRP of $492 is basic and affordable, which makes this gun a great candidate for any "top concealable 9mm handguns" list.
As previously mentioned, right now the only available model is the P290RS Nitron Sub-Compact. Other models of P290 still exist, but you will have to scour the internet and perhaps your local gun shops in order to find them. As for prices, these vary a great deal. Also, since there is an entire line of P290 which is problematic, buying a P290 can be tricky. Be careful, and make sure – either by calling SIG or speaking to someone you can trust – that you are not purchasing a potentially-faulty P290.
https://twitter.com/michelle_fel/status/640622703372828672
SIG Sauer P290 vs. P228 & P229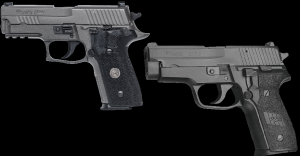 These two models are compact guns, chambered in 9mm. Both the P228 and P229 have been designated for military use as the M11 and M11-A1, respectively. They share many similarities, whether in their military or civilian configuration. When compared to the P290RS, we see some clear differences between them. Let's do a quick side-by-side:
| | | | |
| --- | --- | --- | --- |
| | P290RS | P228 | P229 |
| Caliber | 9mm | 9mm | 9mm |
| Length | 5.5 inches | 7.1 inches | 7.1 inches |
| Height | 3.9 inches | 5.4 inches | 5.4 inches |
| Width | 0.9 inches | 1.5 inches | 1.5 inches |
| Weight | 16.4 oz | 26.1 oz | 32 oz |
| Barrel Length | 2.9 inches | 3.9 inches | 3.9 inches |
| Trigger | DAO | DA/SA | DA/SA |
| Standard Capacity | 6 | 13 | 13 |
| MSRP | $492 | $800 | $976 |
So, the differences in size (compact vs sub-compact) are evident, as is the standard capacity of firepower. There is also a significant difference in price and weight. These guns can all be used as a back-up or concealed carry. It is a judgment call. All three are SIG handguns. All three are just as good, just as accurate. If you are more partial to metal guns, then go with one of the other ones which are metal frame as opposed to the polymer ones which are not metallic but which are very durable.
Conclusion
The P290 had an awkward beginning but has emerged as one of SIG's finest subcompacts, with the introduction of the RS version a year later. It is a fun gun to shoot, it is accurate, it is reliable – plus, the ability of a 9mm cartridge to stop threats is undisputed. The P290RS is small and deadly, with its SIGlite sights and polymer frame keeping it light and bright. There are many 9mm subcompacts out there, and this pistol has an honorable place among them. It is not without its drawbacks or shortcomings. No gun is. But, as far as 9mm subcompacts go – it is a real winner.
Be sure to check out our SIG M400 and P239 features while you're here at Gunivore!