Table of Contents
Here at Gunivore, we've gone to great lengths to cover much of the extensive Glock handgun lineup. The Glock legacy is impressive and well-founded, as the company has built a reputation as a manufacturer of high-quality, world-class handguns of an assortment of varieties. It's easy to forget now, but before Glock's rise to prominence in the gun world during the 1980's, the state of the handgun community was much different than it is today. The idea of a polymer-based gun was not something that was taken seriously, nor was the notion that such a gun could become a best-seller or anything more than a niche product. As we all know, Gaston Glock shattered that glass ceiling and introduced his polymer design in the form of the legendary Glock 17 – the gun that changed it all. Having the opportunity to write about this gun feels like an honor from where I'm standing, given what it has meant to the gun industry.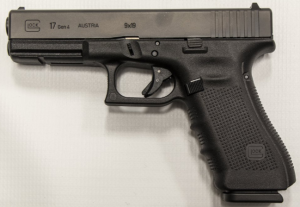 "Revolutionary" is a term that has been thrown around pretty loosely when it comes to handguns, for the sake of artificially inflating the prestige of firearms and gun products. If you're talking Glock 17, however, 'revolutionary' is more than appropriate. By applying his expertise of synthetic polymers to handgun manufacturing, Gaston Glock achieved a model that was strong, durable, and satisfying enough to touch and hold to overcome any negative connotations associated with non-metallic gun builds. The Glock 17 spawned a line of successors, including those we have covered in the past, such as the Glock 19 (also covered here), 26, 43, 21, 30, 31, and 36. None would have been possible, however, without the granddaddy of them all – the Glock 17. Even the G17 itself has been re-introduced in three different generations since its release, and this is our Glock 17 Gen 4 Review 2016.
Glock 17 Specs
Caliber / System
Dimensions
Length: 204 mm / 8.03 in.
Height: 138 mm / 5.43 in.
Width: 30.00 mm / 1.18 in.
Barrel Height: 32 mm / 1.26 in.
Length Between Sights: 165 mm / 6.49 in.
Barrel Length: 114 mm / 4.48 in.
Weights
Unloaded: 710 g / 25.06 oz.
Loaded: 910 g / 32.12 oz.
Trigger Pull / Travel
Trigger Pull: ~2.5 kg / ~5.5 lbs.
Trigger Travel: ~12.5 mm / 0.49 in.
Barrel Rifling / Length of Twist –
Barrel Rifling: right hand, hexagonal
Length of Twist: 250 mm / 9.84 in.
Magazine Capacity
Standard: 17
Optional: 17/19/33, more
Glock 17 Build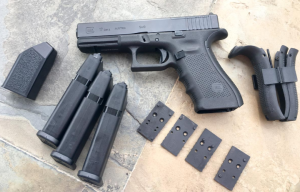 The Glock 17 is 9mm, short recoil-operated, semi-automatic, and uses a modified Browning cam-lock system. Most of the gun, including the frame and magazine body, are made from the previously mentioned, nylon-based polymer blend known as Polymer 2. This makes for a gun that is durable, resilient, resistant to weather and shock, and more capable of holding up over the course of time than perhaps any other handgun. To put it simply, the Glock 17 is strong, and the Glock 17 is reliable. The Glock 17 has been my primary carry weapon for a very long time, and I can confidently state that I have never encountered a better-built, more reliable handgun. For the purposes of this review we are looking at the Gen4 version of the Glock 17, which features a modified rough-texture frame, a new and more comfortable checkered grip, and included interchangeable back straps of different sizes and textures.
Gun size and preferences are relative – at 8.03 x 5.43 x 1.18, the Glock 17 was once seen as an ideal concealed carry weapon. Glock itself, however, has changed the perception of the G17 over time by introducing smaller and smaller models – the G17 is frequently compared to the smaller Glock 19 and Glock 26 models in particular. Overall, give the Glock 17 a spin if you want to find out how comfortably it feels in your hands, but I believe that most people will find the G17 more than suitable for shooting and carrying (concealed or not).
Glock 17 Shooting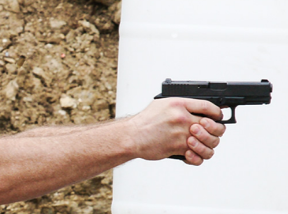 The Glock 17 Gen 4 incorporates a dual recoil-spring assembly which is intended to increase spring life and reduce recoil – the result is a firearm that is even more manageable to fire than the original Glock 17 (which had already made shooting a breeze). The firing process and lack of kick when shooting feels incredible, and despite its 9mm labeling, the gun features nice stopping power, particularly for civilians who employ the gun for self-defense purposes. Easy to handle and fast to action, the gun is as enjoyable for an experienced shooter to fire as it is accessible for novice gun owners.
At distances of 15, 25, and 40 yards, I enjoyed nearly as much success with the Glock 17 Gen 4 as I did with target grade pistols – a remarkable achievement for a gun that is both lightweight and low on recoil. We'll get to the magazines and accessories portion of the review shortly, but rest assured that there are more options as far as mixing up your Glock 17 experience as there are for any other handgun in the world.
Glock 17 Magazines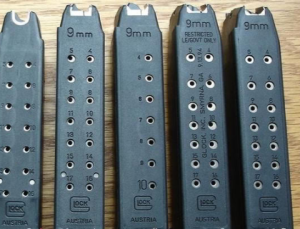 The ammo capacity of the Glock 17 was impressive to begin with – now it has been made even more impressive, relatively speaking, by the increase in prevalence of smaller and smaller handguns. Coming equipped with a 17-round magazine, there are also 19 and 33-round magazines available for the Glock 17, which is astonishing compared to newer, compact models of handguns. 17-rounds are not even offered in extended magazines of some newer handguns, let alone do they come standardized.
The popularity of the Glock 17 has resulted in an abundance of options to pursue in terms of purchasing ammunition and mags, both from Glock and on the secondary market, the competitiveness of which drives ammo pricing down. The one potential drawback to extended mag use is in the protrusion of the mag, creating what is essentially a larger gun to carry around, but this is tolerated by most and even preferred by some. In the Gen4 version of the Glock 17, the magazine catch is reversible as well as enlarged, making for a smoother experience.
#glock glock17 gen 4 natural pic.twitter.com/xaU4eYyvDN

— Glock Magazine (@GlockMagazine) March 22, 2015
Glock 17 Sights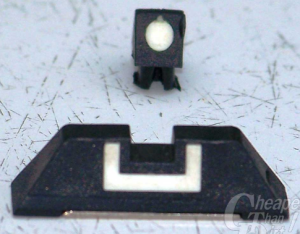 The Glock 17 sights are not terrible, but compared to the rest of the gun, they are undoubtedly disappointing. The G17 sights are kind of like featuring cheap, synthetic chairs in a Lamborghini – sure it gets the job done, but it's not quite up to the level of quality you would expect in a top-tier product. The gun features a front and rear sight, the former of which is in dot form, the latter in "U" form – they get the job done most of the time in terms of target acquisition, but they do leave something to be desired, particularly in lower light and at nighttime.
Luckily, like the in the case of Glock 17 magazines, there are plenty of sights available to be purchased and used with the G17 – I personally would recommend Trijicon night sights due to their practicality and ease of installation and use. Obviously having to purchase and install new sights is not ideal, but I'm willing to cut Glock some slack in this one area – history tells us they will learn from the customer feedback on their sights and upgrade them accordingly.
Glock 17 Safety and Assembly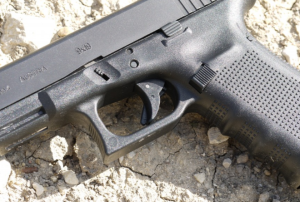 Glock's prioritization of safety is evident in the 5.5-lb trigger pull of the Glock 17, as well as the Safe Action System built into Gen4 models. Made up of three parts, the Safe Action System is designed to prevent three of the most common safety problems from ever occurring – the trigger safety needs to be engaged in order for the trigger to fire, the firing pin safety prevents against firing or any kind of cycling malfunction, and the drop safety prevents firing as a result of unwanted drops or other accidents of that nature. Although some more experienced shooters opt to swap out the trigger for a more easily fired one, I personally will always err on the side of safety and commend Glock for thinking the same way. The Glock 17 is easily assembled and re-assembled, particularly in the Gen4 models and with the dual-recoil spring assembly.
Accessories and Customization for Glock 17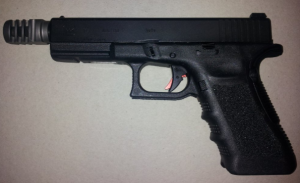 Look, by now you'll certainly be able to tell that I am a big fan of the Glock 17, and you can probably see why. That doesn't mean that I'm not a big fan of accessorizing and upgrading my guns, however, which is part of why the Glock 17 is such a perfect fit for me – there are few things I love more than tricking out my guns. Some of my favorite Glock upgrades include those to the trigger, stainless steel guide rod, slide release level, magazine release lever, and sights. In addition to these upgrades, however, there are many more mods and accessories available for the G17, including different kinds of lights, suppressors, holsters, grips, and more. You won't find a more customizable handgun anywhere.
Conclusion
It's easy to understand why the Glock 17 has received the acclaim and praise that it has. In addition to being a trendsetter and establishing many of the features in handguns which are now taken for granted, it's just a damn fine firearm – and one that may be getting another update shortly. As has been a recurring theme in our Glock reviews, the reality is that no handgun is going to be perfect for every user, as different gun owners have different characteristics which call for different qualities in their guns. However, with that being said, I have a hard time believing that anyone can make a case for there being a more well-rounded gun than the Glock 17. It's tough, it's durable, it performs, and it looks good doing it – it's the gun that changed it all.
Thanks for reading our Glock 17 feature – be sure to check back for more on Glock guns here at Gunivore!