Beretta firearms are among the most popular in the world, and their handguns shine brightest in what is an undoubtedly impressive catalog. Some of their most popular semi-auto handguns are found in the 92 series. Production of these weapons began in 1972 and while they were impressive upon release, they have only been improved upon since.
The age-old Italian arms company currently makes their 92's in four different configurations (including many different models), but we're here to discuss the 92A1 specifically. Although the original 92's were modeled after older Beretta notables, such as the M1923, the 92A1 was based on the newer 92FS model which we'll be discussing in our 'versus' section. The bottom line is that since its release in 2010, the 92A1 has solidified itself as a premier semi-automatic. Now let's break it down.
Beretta 92A1 Pistol Specs
Model: 92A1.
Caliber: 9mm Luger.
Overall Length: 8.5".
Barrel Length: 4.9".
Capacity: 10 +1 or 17 +1.
Weight: 33.3 oz.
Price: $719.99.
Beretta 92A1 Pistol Build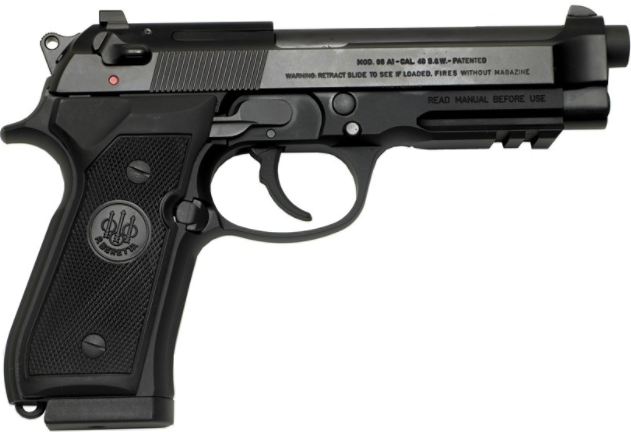 Before we start going into detail, you should know that the firearm which the 92A1 was based on went through rigorous re-configurations. The 92FS now features an enlarged hammer pin aimed at preventing the slide from dislodging from the frame; this change was prompted by the military after several defective slides were reported. Starting with a base as dependable and effective as the M9, the A1 was destined to be a winner. Beretta kept all of the engineering used in the previous models but went the extra mile to add several new and improved features.
The 92A1s have an incorporated ambidextrous safety as well as a reversible mag release. Besides these features, this semi-auto is also incredibly easy to take apart and put back together. Beretta crafted these handguns with a captive recoil spring assembly which makes cleaning both easier and faster. Additionally, they also threw on a disassembly latch which allows the 92A1 to be field-stripped without tools in seconds.
One of the last things you'd notice about these guns is their trigger guard. The rounded guard on these pistols not only prevents it from getting snagged, it also leaves more room for accessories. Yes, that's right folks; the 92A1 comes equipped with a Picatinny rail. Last but not least is their simple yet practical dovetailed sight system, but we'll get to that later. It's clear that the research and development of the Beretta 92 series have delightfully culminated with a safe and reliable option, ideal for personal protection and home defense.
Beretta 92A1 Pistol Shooting & Performance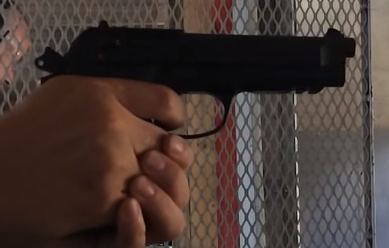 There are two major factors to consider when analyzing a weapons performance and efficiency: accuracy and handling. I can safely say that the Beretta 92A1 is outstandingly accurate and a pleasure to shoot. The Italian company incorporated an innovative internal recoil buffer that reduces the stress on the components which ensures smooth shooting and protects the A1's frame. This recoil reducing mechanism means that the 92A1s are great for beginner and expert shooters alike. Also, since the components take less of a beating and it's outfitted with highly durable materials, the 92A1 boasts serious longevity.
For fans of the 1911 who might be used to a single action trigger pull, fear not because the double/single action A1 shoots smoothly. The only issue I faced with the A1 was the black plastic grip panels; these grips aren't horrible, but I'm glad that they're easy to switch out. Besides for the grip, the Beretta handles really well –it fits well in my hand, aims clearly, and isn't too heavy.
Beretta 92A1 Pistol Holster Review
When it comes to buying a holster for the A1, there are two places to go for the best options. First of all, you can't go wrong with a Beretta made holster, like the leather Model 04 hip holster or the Civilian Belt Holster.
On the other hand, you could also opt for the American-made Alien Gear holsters. These top-notch options are much cheaper without any compromises in their quality. Their trademark materials and designs ingeniously provide security for your gun while also conforming to the wearer and repelling moisture. I recommend checking out the Cloak Tuck 3.0 IWB Holster paired with a Single Cloak Mag Carrier.
Beretta 92A1 Pistol Grips Overview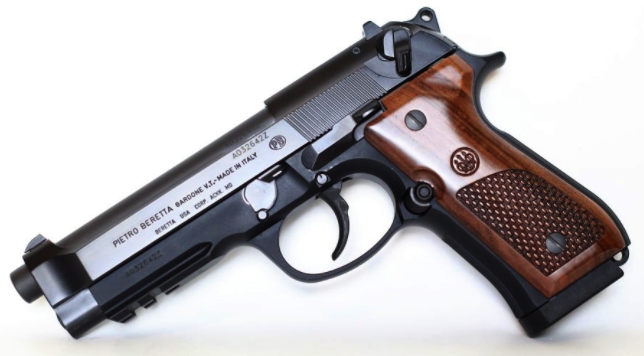 If I had to point to one annoying flaw in the 92A1, it would be the uncomfortable factory grips. Thankfully there are dozens of options available for fixing the A1's Achilles heel. I happen to like the Beretta-made 92/96 Series Wrap-Around Hogue Rubber Grips. I've always like rubber grips, especially ones with finger grooves.
If you favor aluminum grips, be sure to check out Alumagrips. Also, if you have small hands or just don't favor a larger grip, Trausch grips are great for those looking for a thinner alternative. Although the Beretta online store does offer a few choices, your best bet is to use one of these third-party stores.
Beretta 92A1 Pistol Mags & Accessories
92A1 pistols come with three mags which are built with durable and corrosion-resistant materials. They also include a "dirt rail" along with their length, which helps keep gunk out while simultaneously keeping the cartridges clear of the magazine walls. If that's not enough, Beretta designed the 92A1 to accept mags from all other Model 92's.
Chambered in 9mm Luger, Beretta offers either three 10 round mags or three 17+1 high capacity mags. If you're not a huge fan of 9mm rounds, then you'll be happy to hear that the 96A1, (the new variant of the 92A1) was designed to chamber .40 S&W ammo.
Beretta designed the 92A1 with a short, integrated mil-spec Picatinny rail forward of the trigger guard. This handy feature provides the necessary space to attach a wide variety of tactical accessories. With no shortage of aftermarket options, owners will most often opt for tact lights and laser sights for the A1. Besides for additions, there are also plenty of opportunities for replacements; the dovetailed front sight is removable and can be exchanged in just seconds.
One of the best accessories for this rail is a laser, and I highly recommend the CMR-201 Rail Master Universal Laser Sight. These lasers are seriously powerful and have ambidextrous activation control tabs, so don't let their high price tag deter you. Another solid option is the small in size but big in power LaserMax UNI-MAX-B red laser unit. If you're looking to add a tactical flashlight to your gun, then I'd go with the Insight M Series LED X2 Sub Compact Handgun Light. The Insight light is not only one of the best subcompact flashlights out there, it's also super easy to use and mount.
Last but not least is the sight system; although the default sights are pretty good, I've always been a fan of Trijicon night sights. Overall, it's hard NOT to be blown away by the Beretta 92A1 – it's an extraordinary weapon straight out of the box and has the ability to be modified and improved. What more could you ask for?
@HeaviIyArmed Beretta 92A1 pic.twitter.com/6dT1RPH5vy

— Army of Dorkness (@WombatAssassin) December 18, 2015
Beretta 92A1 vs 92FS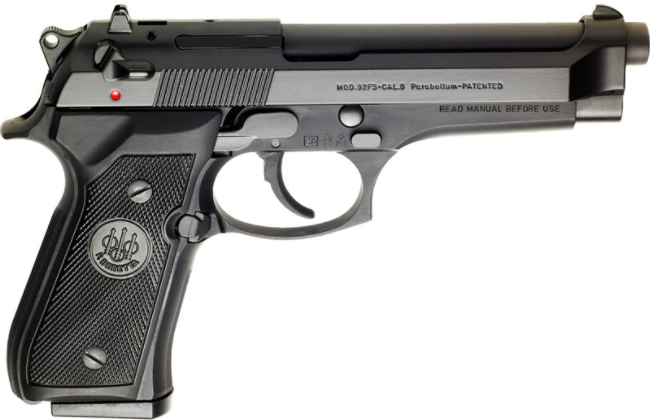 Although the 92A1 tactical semi-automatic was constructed based on the 92FS, there are still plenty of people who prefer the original. The biggest discrepancy between these two great choices is the newer A1 comes pre-equipped with an integrated Picatinny rail. This may not seem like much of a difference, but the ability to accessorize a pistol can be a make or break for some shooters. The older Italian firearm is built entirely out of metal components, whereas not all of the 92A1 is metal.
Although both of these firearms are extremely durable and treated with wear-resistant coatings, the 92FS' black, non-reflective Bruniton finish is considerably better. One of the 92 series' defining characteristics is shared by both of these guns, and that is their capacity to cater to lefties; both have ambidextrous safeties and reversible mag releases. Similarly, the 92FS and 92A1 both shoot 9mm Luger ammo in compliant version 10+1 or high capacity mags. One of the first things I noticed about the 92FS is its different trigger guard; the combat tactical guard is not nearly as ergonomic as the rounded one on the A1. However, the 92FS stands out with its extra safety precautions not featured on the 92A1.
The former has a red loaded chamber indicator as well as a 2 –position safety lever/decocker which makes carrying safer than ever. Last but not least is the factor which makes the 92FS a slightly more accurate firearm, and that is the open-slide, short-recoil delayed locking-block system. This extraordinary element provides more reliability, faster cycling, and increased accuracy.
One thing which I noticed, although I'm not sure how indicative it is of their quality, is that the 92FS is way more popular among law enforcement and militaries around the world. So if you were to ask me which of these Berettas I prefer, I don't think I could conclusively pick one over the other.
Be sure to check out our Beretta CX4 review and Beretta PX4 reviews while you're here at Gunivore!