Since 2008, the number of concealed handgun permits has soared over 200%, with now over 15 million Americans carrying. People are buying guns at an increasing rate, and the gun companies have been tasked with delivering smaller, stronger, and overall better carry weapons each year.
One such company is Beretta. A staple in the firearms industry, the Italian company has recently notched up their CCW game. If you're looking to beef up your personal defense, then you should really consider the Beretta Nano 9mm (BU9 Nano). This isn't just another CCW; it's a simple and durable micro-compact pistol. The Nano may not be a top shelf gun, but it sure does do the job it was intended for.
One of the main reasons somebody might opt for the Nano is because of its low price tag and simplicity, both of which make it a good choice for beginner carriers. Let's dig deeper and find out if the Beretta Nano 9mm is right for you. Additionally, be sure to check out our Beretta brand review, as well as our PX4 review and CX4 reviews.
Beretta Nano 9mm Specs
Model: BU9 Nano
Action: Striker
Overall Length: 5.63"
Barrel Length: 3"
Caliber: 9×19 PARA
Capacity: 6+1 (8+1 with variants)
Weight (unloaded): 19.8 oz.
Grip: Polymer
MSRP: $399.99
Beretta Nano 9mm Build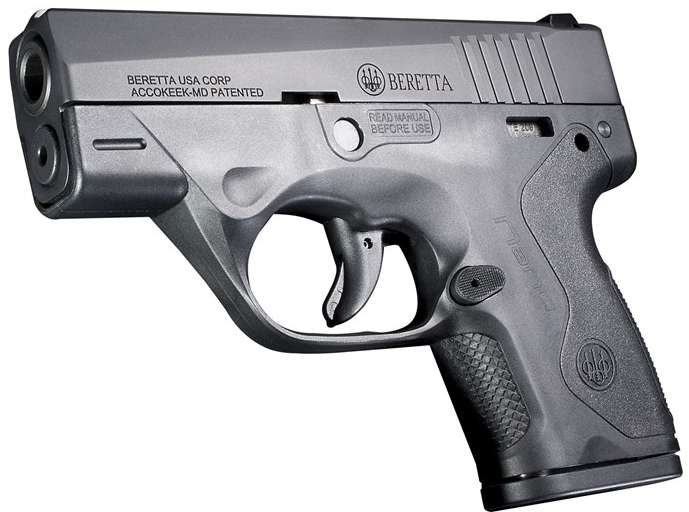 There's a lot to talk about regarding the Nano's build, so let's start with its concealability. Considering the fact that Beretta designed the Nano to be a micro-compact CCW, its concealability should be its defining characteristic. There aren't many pistols out there which can compare to the Nano 9mm's highly concealable and smooth design. With a frame barely 5" in length and a less than 1" wide, the Nano disappears no matter where you carry it. The BU9 Nano is equally effective whether carried on your belt, inside the waistband (IWB), or even in an ankle holster.
These options alone make it an exceptional CCW. Additionally, the Nano won't dig into you thanks to its low profile and flat design. Another major consideration is how well a CCW can be drawn from its holster. Well, the Nano 9mm has such a smooth pull, personal protection has never been faster. Because Beretta left out an external safety and fashioned it with a streamlined thin shape, you won't have to worry about your Nano snagging.
As someone who loves to keep his gun well cleaned and lubed, I was ecstatic to see how incredibly fast and easy the Nano's takedown was. However, field-stripping may require a flat head screwdriver or coin to remove some of its components. Another great feature of the Nano 9mm is its customizability. For a gun with few parts, the Beretta can be customized in nearly every way. For starters, the Nano's have a reversible mag release, adjustable 3-dot sights, and the ability to swap out their frames.
By simply removing the frame from the serialized chassis, you can easily throw on a new polymer frame in your choice of colors. Additionally, the Nano comes with two different sized magazines which is great news if you're not a fan of their small grip surface. As a CCW, the Beretta Nano 9mm is supposed to keep you safe; the being said, the Nano has an interesting set of safety features. Although there is no external safety, there is however a striker deactivator. This additional safety feature allows the Nano to be completely deactivated for storage or service. Last but not least is the Beretta's longevity and strength of components.
I initially had some concerns about the Nano's durability because of its small size and low price tag, but they were mitigated pretty quickly. Beretta treated these CCWs with a low-glare coating which effectively protects against corrosion, sweat, and the regular wear and tear a handgun faces.
Beretta Nano 9mm Shooting & Performance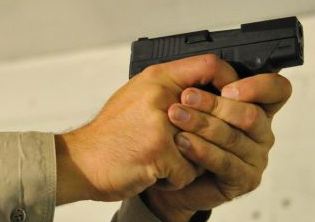 Okay, so it may have seemed like the Nano was too good to be true based on my description of its build, but its performance tells a different story. The first issue I faced was with the trigger; it took me a while to get used to the long trigger draw, not to mention how stiff it felt.  After talking to a bunch of folks at the range, I heard a lot of complaints about the Nano 9mm jamming.
However, I experienced just one or two jams in the 200 rounds that I shot. That being said, I'm extremely meticulous about keeping my guns clean, which may be why I rarely experienced jams with it. Nevertheless, it's extremely important to find a trustworthy CLP and to keep the Nano well-oiled.
While we're at it, there could be some issues with particular grain ammunition, so I recommend taking it to a range with a variety of different rounds to find the right one for you. Personally, I felt most comfortable with 124 gr. rounds, so that'd be my carry load.
Now that we've covered the Nano's issues, let me say that the Beretta has one of the smoothest pulls I've felt in a while. Transitioning from holstered to target acquisition is quick and clean. A big part of this is due to the adjustable 3-dot sights; these simple and effective sights offer the shooter peak accuracy. Personally, I didn't like the way the Nano felt in my hands, but it was much better with the extended magazine inside. I was, however, a big fan of the Nano's lightweight build and minimal recoil, thanks in part to its fiberglass-reinforced technopolymer frame. Comfort is going to be influenced by the size of your own hands, so feel fry to give the Nano a whirl at the range to see how it feels to you.
Beretta Nano 9mm Magazines & Accessories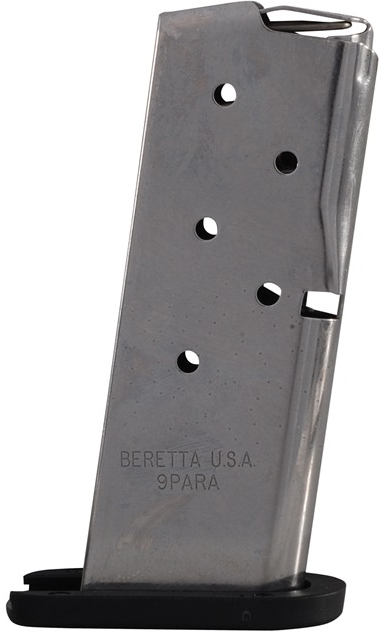 Beretta ships these 9mms with two magazines. One easily concealed, flush mag and one extended mag, which provides two extra shots and a larger grip surface. Since I have big hands, I rarely use the flush mag. The bad news is though, that additional mags are insanely expensive. I found it tough to drop the cash for the extra mags, especially considering that they aren't anything special.
In terms of its aftermarket options for CCWs, the Beretta 9mm stands out proudly. As I mentioned earlier, the polymer frame can be easily switched out for a different color. Plus, I've even seen a frame with a built-in laser. However, without a rail, the only other real option is picking a top-notch holster. Considering how cleanly the Nano 9mm pulls, I'd venture to say that it's unnecessary to go the extra mile with your holster. Yes, you want a high-quality one that will form to your body, but I don't think it's worth it to spend more than $50 on a holster.
That being said, one of the coolest choices I found was the Techna Clip Conceal Carry Belt Clip. For less than $30 on Amazon, you can get this tiny and simplistic steel clip which takes a lot of the discomfort out of carrying a sidearm. If home protection is what you're looking for, then consider buying the Blackhawk Ambidextrous Bedside Holster. Lastly, I've recently become a huge fan of the Alien Gear holsters and their Cloak Tuck 3.0 IWB Holster is another great option for carrying your Nano 9mm.
Beretta Nano with ArmaLaser #gun #ccw #concealedcarry #edc #gear #gunholster #armalaser #gunlight #beretta #nano #berettausa pic.twitter.com/n7iPJC0KlK

— TSC Holsters (@TSHolsters) May 9, 2017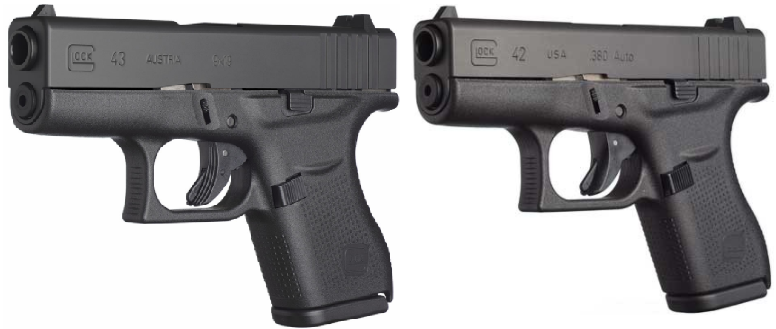 As the smallest .380 ACP on the market, the Pico is freaking tiny. At only 18mm wide, it's way too small for my hands – and light as a feather. However, in terms of its construct, it's actually not such a bad handgun. It's pretty easy to use, has low recoil, and is surprisingly durable. It's also super easy to take apart and clean like the Nano. Due to my hands, I just can't deal with such a small gun.
However, the Pico shoots pretty well and is actually a lot more reliable than the Nano – no jams. Additionally, the Pico features a removable frame, high capacity mag option, adjustable sights, and an ambidextrous mag release. I'm not saying that the Pico is a bad choice for a CCW, but it just doesn't do it for me. I think the Pico was designed to fit into small purses, while the other was not.
The Glock 43 and 42 are a whole different story, and I would invite you to check out our Glock breakdown's to learn more.
We've got plenty more Beretta where that came from. Read our Beretta 92A1 Review, Beretta A300 Review, Beretta A400 Review and Beretta ARX160 Review here at Gunivore – home of all things guns.