Without getting into the controversy surrounding Springfield Armory or Dick's Sporting Goods, I can't ignore the Hellcat 9mm pistol which is taking the handgun industry for a ride. Despite some bad press, SA has its eyes on the future as evident by their releasing of a newsworthy compact pistol. The Hellcat initially made shockwaves by offering the highest capacity micro-compact 9mm on the market.
While making headlines may seem impressive, I find that these things should always be taken with a grain of salt, at least. Therefore, I got my hands on one of these nifty little pistols to see if the hype was well-deserved.
Springfield Armory Hellcat
On the surface, the Springfield Hellcat pistol looks like many other polymer pistols in its class. If anything, its appearance looked kind of busy in that the controls were more pronounced that one might expect from a "revolutionary" micro-compact pistol. Nonetheless, it felt pretty good in my hands and the controls were intuitive and user-friendly, plus practically everything felt textured making it easy to handle.
Springfield Armory already has a good reputation for the firearms, including their SAINT AR-15, XD Series, and 911 pistols so I had high expectations for their new series. Springfield was marketing it to be filled with many "exciting new features" such as an adaptive grip texture, high visibility sights, and a patented magazine. Altogether, the new Hellcat pistol series was designed to be the ultimate carry gun and my first impression was great.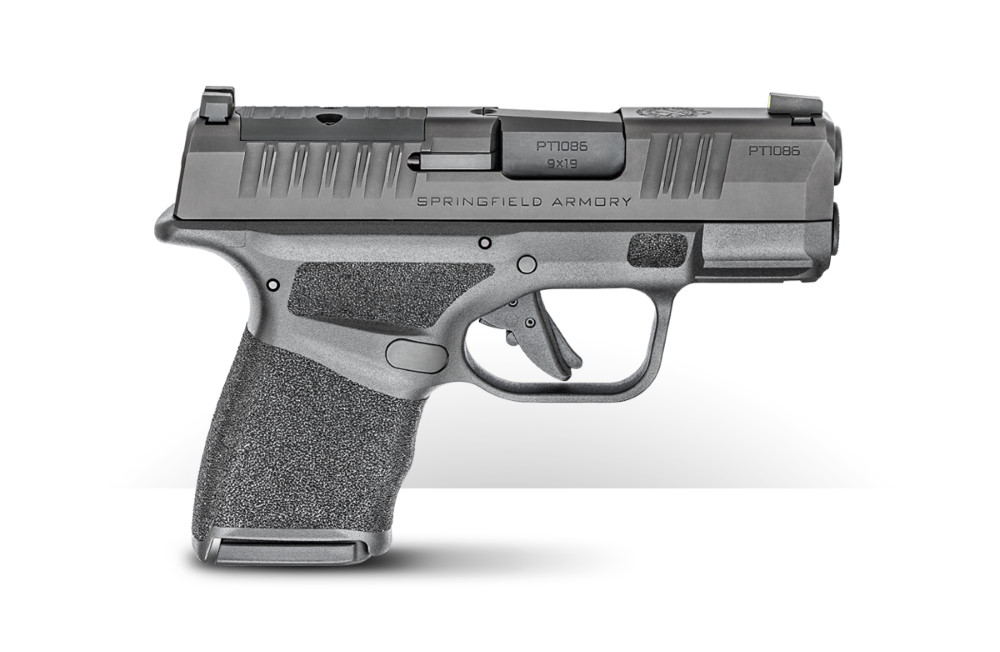 Even the small things can make a big difference and Springfield Armory certainly took that into account. For instance, knowing that the smaller grip can be harder to handle for people with big hands, they added a great beavertail for support. Additionally, the Hellcat features a flat trigger body with a noticeably crisp pull, a reversible mag release, deep slide serrations, a standard front accessory rail, and a loaded chamber indicator.
At the range, there was slightly more muzzle rise than I was expecting since I was comparing it in my head to the Sig P365 Glock 43x and Smith & Wesson M&P Performance Center Shield 2.0. Now, it didn't have bad handling, but I was expecting just a bit better control. Nevertheless, follow-up shots are still surprisingly easy as are shots straight from a holster draw. Plus, the tritium U-dot sight system was absolutely excellent for defensive and tactical shooting.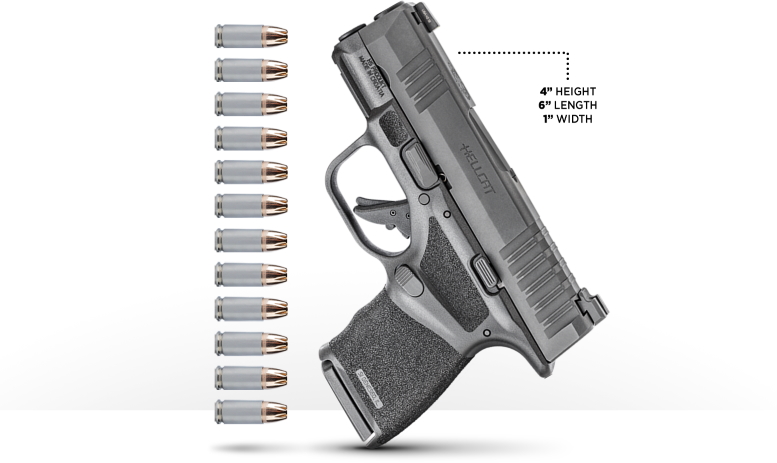 One of the major developments SA announced with this new handgun was the addition of some new advanced grip system. Unfortunately, I didn't feel like the grips were anything special, but they were definitely above average for similarly priced polymer pistols. They made it seem like it was gonna be a game-changer, but I was underwhelmed after trying them out. In fact, I ended up just adding a layer or so of Talon grip tape just to make it fit my hand better.
Model: Hellcat Micro-Compact
Caliber: 9mm
Capacity: 11+1
Barrel Length: 3"
Overall Length: 6"
Height: 4"
Width: 1"
Weight: 18.3 oz
Finish: Melonite
Sights: U-DotTritium/Luminescent Front, Tactical Rack Rear
MSRP: $569
Springfield Hellcat Holster
Springfield currently markets one holster for the Hellcat and it's a pretty fair holster for daily carrying. They offer the Crossbreed Reckoning IWB Holster for $69.95 with multiple points of retention adjustment. The Crossbreed holster can be worn on the cross draw, appendix, or strong-side positions. It has a solid reputation for comfort and functionality and will soon be able to attach a mag carrier. However, Aliengear Holsters makes several great options for the Hellcat and their products are almost always top-notch.
Springfield Hellcat OSP
The Hellcat OSP (Optical Sight Pistol) is essentially the same as the popular Hellcat model with the addition of a seamless cover plate for attaching optics. For only $30 more, you get the same pistol but optics ready, perfecting for adding a red dot. It's a worthwhile purchase if you like the Hellcat and think you might ever want to add a sight. SA recommends opting for the JP Enterprises JPoint or Shield RMSc, but there are plenty of red dots out there to choose from.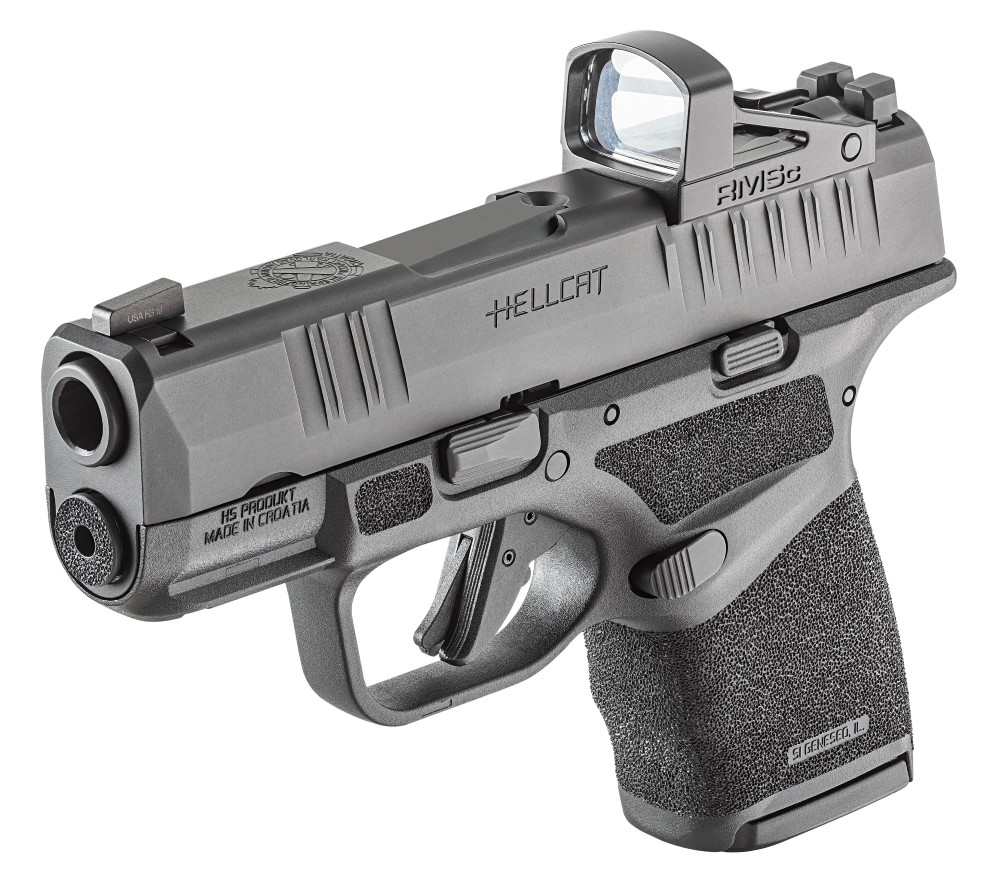 Springfield Hellcat vs P365
The Sig Sauer P365made headlines for many reasons, one which was being able to handle 10 rounds in a flush magazine. Then came along the Springfield Armory Hellcat delivering 11-round capacity in a flush magazine. They also offer an 11+1 with pinky extension and a 13+1 extended mag for those looking for more rounds. However, the P365 also comes with two additional mags including 12 and 15 round magazines.
These two new popular polymer pistols are remarkably similar in many respects, including size, weight, feel, and features. The most notable difference is the extra round in the flush magazine in the SA Hellcat. Nevertheless, many people will notice that the Springfield has a slightly heftier grip. It may feel better in your hands especially being a smaller handgun. The Sig is known for having a pretty good trigger but I wouldn't say it's that much better than the Springfield.
Conclusion
At the end of the day, the Springfield Hellcat is an impressive firearm and can be a great choice for home defense and daily carry. It is definitely small which will turn some folks away, but they are on par with some of the top micro-compact pistols on the market. Some might like it as a backup gun while some may never tough a Springfield gun, but the Hellcat shows that we are moving in the right direction in firearm technology.