Table of Contents
The Makarov pistol (Pistolet Makarova or PM) is the most famous firearm to come out of Russia since the AK-47. After the Second World War, the Russians decided to phase out the classic Tokarev TT33. I don't think there was much wrong with the Tokarev, but it was the Cold War and the Ruskies were looking to evolve everywhere they possibly could. Like the legendary Kalashnikov, the PM wasn't built to win any beauty contests. Rather, it was meant to serve a trustworthy sidearm, which it still does to this day. In fact, the PM has been a military-issued firearm on over 3 dozen countries and is still employed in several former Eastern Bloc countries. Although most American shooters will never shoot one of these guys, I still felt it was important to acknowledge a gun with this much history.
Specs
• Caliber: 9×18mm Makarov
• Capacity: 8
• Barrel Length: 3.7"
• Overall Length: 6.4"
• Width: 1.16"
• Weight: 26 oz. (Unloaded)
• Finish: Steel
• Sights: Adjustable Notch Rear, Blade Front
• MSRP: Approximately $300
Makarov Build
The Makarov may look simple, but that's exactly what the Russians were aiming for. By incorporating as few components as possible and sticking with highly-durable steel, the Makarov pistol is actually a pretty solid handgun. Furthermore, because they wanted to create an effective sidearm that was both concealable and compact, the PM uses a unique caliber, but more on that later. Although its simplistic steel design increases its reliability and durability, it makes the pistol significantly heavier than comparable firearms. If I had to compare it to another pistol, the only one that comes to mind is the Walther PPK, which is also a minimalist steel semi-auto.
One of the Makarov's standout features is its incredible safe operation, believe it or not. In addition to its safe blowback operation, the Russian shooter also sports an innovative and easy-to-use decocking safety switch. Besides for functioning as a standard safety lever, this feature also effectively prevents the hammer from striking the firing pin. Furthermore, the PM was designed to avoid accidental discharges, thanks to its notably heavy double-action trigger pull. To say the PM is lacking in ergonomics would be a major understatement. In addition to being unwieldy and heavy, the Russian pistol features a horrific plastic wraparound grip setup.
Makarov 9×18 Cartridge
While there are a few things which make the Makarov unique, few are as obvious as its 9×18mm PM cartridge. Although relatively unheard of in America, this pistol and SMG round is the Soviet equivalent of the NATO 9mm (9×19 Parabellum). Like 9mm, the Soviet equivalent packs a decent punch but is slightly wider and a tad shorter. Yet the only other firearm I've ever seen chamber this round is the old CZ Skorpion.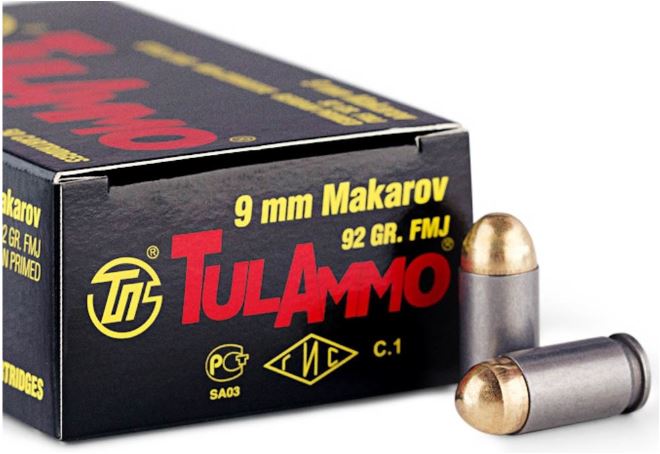 Makarov 380 Auto Cartridge
After the fall of the Iron Curtain, many Soviet weapons were commercialized, including many by Baikal. One of their best-selling Russian variants to be sold in the West was a .380 Makarov, marketed as the IJ-70. Although less common than 9mm, .380 Auto has seen a rise in popularity as a self-defense cartridge, particularly among pocket pistols. Also called 9mm Short and .380 ACP, this caliber is probably best known from the Glock 42, Ruger LCP II, Kahr CW380, and Sig P238.
Makarov Performance
As expected, the Russian-designed semi-auto can perform reliably year after year. Due to its simplicity and ease-of-use, the Makarov is relatively impressive, but don't expect any extraordinary accuracy. Because the Russians opted for increased safety over initial shooting precision, this is not the kind of pistol you'd win any competitions with. Nevertheless, I can't say I don't appreciate the added safety features on a pocket gun, especially considering its notable DA/SA trigger mechanism. I also think it's worth noting that the classic semi-auto's slide locks back after firing the last round. In another attempt at increasing its reliability, the Makarov was built with a deeply recessed breech face to keep ejection and extraction consistent and dependable.
Makarov Magazine
When the Russian engineers decided to replace the Tokarev, magazine reliability was one of their utmost priorities. The aforementioned pistol's mags were notoriously easy to lose. In order to fix this fundamental problem, the Makarov was constructed to keep mags firmly in place until released by pressing on the heel release on the bottom of the grip. These single-stack 8-round metal mags remarkably simple yet reliable, so long as they are oiled properly.
Makarov Holster
Considering that the Makarov pistol was designed to be carried, it's gotta be paired with a suitable holster. In general, I always check out AlienGear and their incredible line-up of products. You can't go wrong with these holsters, especially their new and improved 3.5 Cloak Tuck IWB model. On the other hand, I've seen a few people recommend a simple plastic holster from Fobus or Bianchi, both of which are relatively reliable.
Stay tuned for more in-depth reviews of your favorite products here at Gunivore!