The Ruger Precision Rifle (RPR) is one of the most impressive bolt-actions on the market. By combining traditional concepts with modern innovation, the popular Ruger is simply outstanding. Even at first glance, it's obvious that this is no ordinary rifle. Although their famous revolvers and pistols have kept Ruger relevant for so long, it's long guns like these which promise a tremendously successful future for them. As one of the world's leading firearm manufacturers, I've come to expect great things from Ruger, but guns like these don't just come around all the time.

RPR Build & Construction
Long-range shooters and hunters can't get enough of the 6.5 Creedmoor RPR. Simply put, the Ruger rifle blends the classic reliability of a bolt-action with the modern aesthetics of an MSR. The most noticeable feature on these shooters is their skeleton style buttstock which is fully-adjustable comb height and length of pull. But it doesn't end there. The Ruger MSR stock also includes QD sling attachment points AND a bottom Picatinny accessory rail. While the buttstock has a decent 1" recoil pad, the kydex cheekpiece could be a bit more comfortable.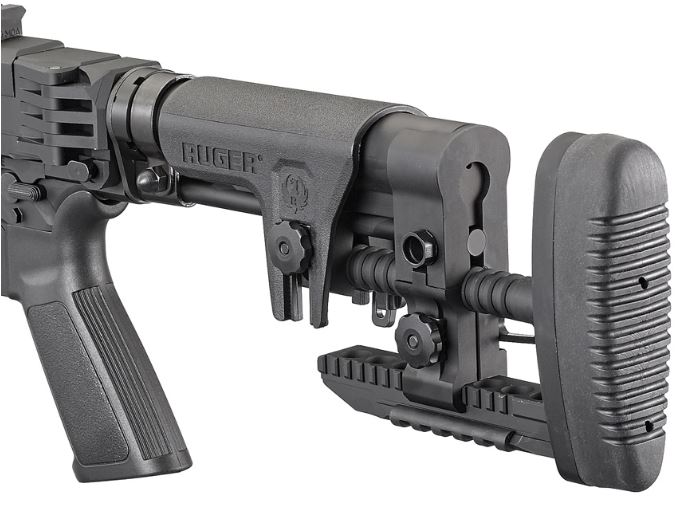 Keep in mind that since it's completely exposed, it's prone to wear & tear and weather damage, and can end up collecting all kinds of crap, especially if you hunt with it. Nevertheless, since the stock is attached to the AR-style buffer tube (which really isn't a buffer tube), the Precision Rifle can accept any AR-style stock. Likewise, the left-folding stock hinge helps to keep transport and storage manageable.
To ensure long-range accuracy and remarkable user-friendliness, the Ruger rifle features several notable components and enhancements. For starters, the iconic firearms manufacturer incorporated an ultra-durable cold hammer-forged chrome-moly barrel with their proprietary Hybrid Muzzle Brake to keep accuracy and handling at peak performance shot after shot. In fact, most calculations show that the muzzle device reduces felt recoil and muzzle rise by nearly 60%. As good of a rifle as it is out of the box, Ruger understood that accessories and aftermarket options just go together, which is why they added a 1ong free-float M-LOK handguard. But the accessory options don't stop there; the RPR also features a 20-MOA Picatinny rail.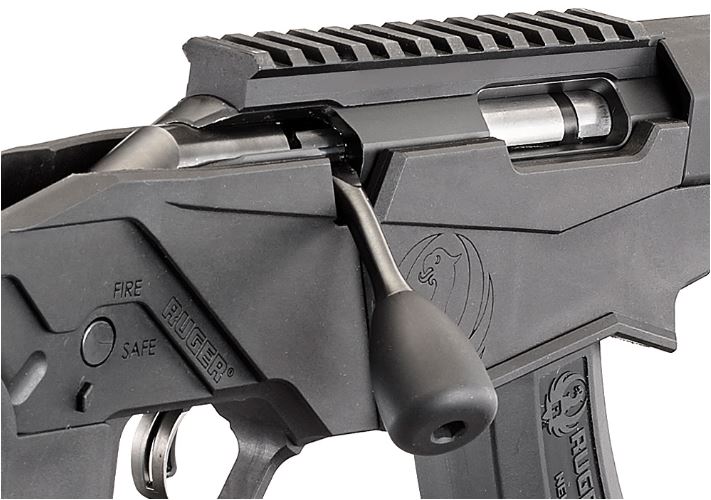 Upon closer examination, the Ruger Precision Rifle gets even more impressive. Although bolt-actions are pretty simple, the oversized bolt handle on these guys makes a huge difference, especially when dealing with weather or gloves. Similarly, the AR-style aerospace-grade 7075-T6 aluminum lower receiver is hardcoat-anodized and houses one hell of a trigger system. The blade-style Ruger Marksman Adjustable trigger can be modified to a 2.25 lb. to 5 lb. pull and has practically no over-travel or take-up. These noteworthy features make it easy to overlook the ambidextrous safety selector, AR-style grip, dual cocking cams, and billet aluminum bolt shroud.

Ruger Precision Rifle Magazine
The Ruger Precision Rifle ships with two 10-round PMAG magazines from Magpul, which are arguably the best on the market. In fact, my only complaint about these rifles is their capacity! To make things even better, Ruger crafted the popular rifle so that the mags drop free when emptied, effectively allowing for rapid reloads. However, many people don't like that you can't remove the magazine unless the bolt is disengaged. Yet, you can't help but be impressed by their patented multi-mag interface which enables the rifle to accept most Magpul, AICS, AR-10, Gunsite Scout, and M110/SR-25/DPMS magazines.
Ruger Precision Rifle 6.5 Creedmoor
• Caliber: 6.5 Creedmoor
• Capacity: 10+1
• Barrel Length: 24"
• Overall Length: 43.25"- 46.75"
• Weight: 10.8 lbs.
• Finish: Matte Black Hardcoat-Anodized
• MSRP: $1,599
Ruger Precision Rifle 308
• Caliber: .308 Winchester
• Capacity: 10+1
• Barrel Length: 20"
• Overall Length: 39.25"-42.75"
• Weight: 9.8 lbs.
• Finish: Matte Black Hardcoat-Anodized
• MSRP: $1,599
Ruger Precision Rifle Gen 2 Upgrades
The Gen 2 Ruger Precision Rifle is loaded with new and improved enhancements to take your performance to the next level. The first thing you'll notice with the update is the new hybrid muzzle brake, which effectively reduces perceived recoil between 40%-60% (depending on the caliber). Furthermore, Ruger also took out the rail at the 12 o'clock position to provide better clearance for long-range optics. Although less noticeable, they also widened the 6 o'clock KeyMod™ rail to offer increased stability and longevity for accessories like bipods. Lastly, the iconic arms manufacturer also upgraded the bolt shroud, which is always a nice touch.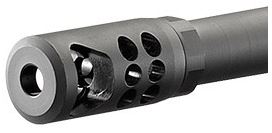 Ruger Precision Rifle Price
While Ruger markets these rifles for $1,600, it's easy to find them at major retailers for closer to $1,399. This may sound like a lot of money, but it's all worth it when you consider all of the top-shelf components, engineering, reputation, and capabilities.
Ruger Precision Rifle Accessories
Even though the RPR is already an incredible firearm out of the box, Ruger gave users tons of aftermarket options to consider. For starters, they incorporated a long free-float M-LOK® handguard with accessory slots on all sides to handle all kinds of tactical attachments. Similarly, the RPR is outfitted with a 20-MOA Picatinny rail and even features a bottom Picatinny rail on their revolutionary Precision MSR Stock.
There are two long-range optics which came to mind when I first saw the RPR. I always like to consider accessories that are reasonable along with ones that I wish I could afford. That being the case, I love the Nightforce ATACR F1 7–35x56mm ($3,600). This seriously impressive scope offers unprecedented repeatability, image quality/resolution, and reticle options. On the other hand, I also was impressed by the affordable Bushnell Engage 2.5-10x 44mm ($299) with its 1-MOA windage and elevation hash marks, tool-less zero reset, and high-contrast imaging. Obviously, it isn't going to be a Nikon, but for $300 it is certainly worth considering.
Conclusion
At the end of the day, there are few bolt-action rifles which can even come close to this Ruger masterpiece. The Precision Rifle is truly a perfect mix of classic feel with modern performance. Whether you're looking for a new hunting partner, target dinger, or mantelpiece, the RPR should definitely be on your wish-list. In general, Ruger Rifles are pretty solid, and this is no exception. If they were willing to put such a high price-tag on this rifle, you better believe it will perform accordingly.
Thanks for checking out the Gunviore RPR Review & Don't forget to follow us on Facebook for more up-to-date reviews!