SilencerCo may be young but they are by no means inexperienced. Born out of the Wild West, the American manufacturer has consistently upped the ante on their entire line of suppressors, firearms, and assorted accessories over the last decade. The revolutionary company launched with the simple idea that "Guns don't have to be loud" and that has been their motto ever since. In fact, you'd be hard pressed to find a firearms enterprise with more industry-changing innovations in the 21st century. The folks at SilencerCo single-handedly crafted the first non-round pistol silencer (Osprey), the only fully-modular and commercially-available shotgun suppressor (Salvo 12), and the quietest rimfire suppressor to-date (Sparrow). However, their ingenuity was never more clear than with the development of the Maxim 9, the world's first integrally suppressed 9mm pistol.
SilencerCo Maxim 9
Rewind to 2008, when two men in the Western United States learned how to machine metal and incorporated these skills into their love of firearms. Nowadays, this partnership emerged into what is now the largest suppressor manufacturer on the planet. I know it might sound like an exaggeration, but I mean it when I say that nothing leaves the SilencerCo factory that isn't of the upmost quality. More than that, their suppressors, firearms, and accessories are all top-notch, premium masterpieces. Likewise, I have a tremendous amount of respect and appreciation for their decision and commitment to seeing a need for change and then simply making it happen.
There's no denying that the SilencerCo Maxim 9 is not your dad's pistol, or traditional in any sense of the word. However, looks can be deceiving. The integrally suppressed 9mm is noticeably shorter and lighter than your average suppressed pistol, primarily due to its mostly-hollowed muzzle. Additionally, they made sure that their premier firearm is compatible and hearing-safe with all 9mm factory [subsonic] ammo, even JHP rounds.
Although it may appear quite complex, the Maxim 9 is actually remarkably user-friendly. In practice, it only takes a few seconds to field strip the pistol and remove the baffles, plus users aren't required to depress the trigger. Even further, SilencerCo decidedly constructed the Maxim 9 to be fit to be carried in a holster and is even pretty accurate. To make their impressive pistol even more adept, they also integrated a removable optics plate, offer Magpul PMAG 17 and GL9 mags, ambidextrous controls, and slapped on a modest price tag, all things considered.
After shooting the Maxim 9 all I can say is that I was blown away. The intuitive handling was shocking for such a non-traditional pistol. I would compare its performance to other great 9mms like the Smith and Wesson M&P or the Springfield XD. Yet, the elongated front-end and suppressed firing offers reliable, recoil-friendly shooting that feels more like a .22 than a 9mm. I will say that the trigger could use some work, but I don't think it's a deal breaker. Though it may not be the best trigger, it did pass both the SAAMI and NIJ drop tests. Keep in mind that this is no small accomplishment, especially considering recent high-profile drop issues *Sig Sauer*.
I believe it's incumbent upon the shooting community that we discuss the importance and significance of firearm suppressors. Far too many people are uneducated about the terminology, facts, legality, necessity, and purposes of these accessories. It is up to us, firearm enthusiasts and protectors of the 2nd amendment to be armed with the correct information and to educate those who aren't. For example, many people believe there is no real need for suppressors and that they are just used by criminals and secret spies *Thank you Hollywood*. In truth, suppressors are an integral component of proper firearm safety and can be extremely useful for training, weak shooters, hunters, and law enforcement/military.
Further Reading: Suppressors 101 & Biggest Myths About Guns
Maxim 9
Model: Maxim 9 Short Configuration
Caliber: 9mm
Capacity: Compatible with Glock® 17-Round, 30+ Round Aftermarket Mags
Barrel Length: 4.4"
Overall Length: 9.54"
Height: 5.4"
Width: 1.6"
Weight: 2 lbs. 5 oz.
Frame: Glass-reinforced Nylon Polymer
Trigger: ~5.5 lbs.
Sights: Tritium 3-Dot
MSRP: $1,499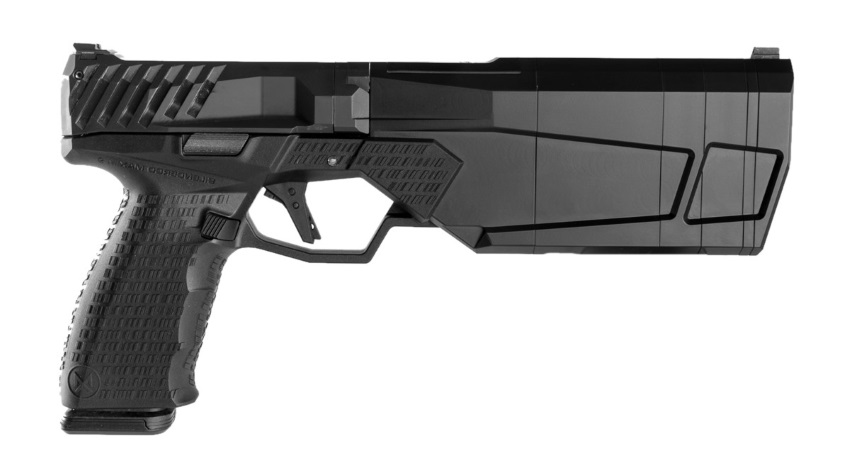 Maxim 9 Holster
The modular Maxim 9 handgun was designed to be able to be carried, though it may not look like it. Nevertheless, the folks over at SilencerCo manufactured both variants of their integrated suppressor 9mm pistol to be holstered for quick and easy use on the go. They currently market a few options but the Blackhawk! Serpa Holster is probably the best option, in my opinion. I think they made this effort primarily because they are pushing for law enforcement officers to switch to suppressed firearms.
These brave men and women who put their lives on the line for us often retire with hearing damage as a result of their department-issued service pistol. Law enforcement requires constant vigilance, attention to detail, and availability of both sight and hearing. As a result, officers can't rely on hearing protection in the event they must draw and firearm their sidearm. Integrally-suppressed firearms solve this issue perfectly, by offering law enforcement with reliable, durable, hearing-safe, and holsterable pistols.
Conclusion
At the end of the day, SilencerCo is one of the most innovative companies in the firearms industry and is constantly shaking things up with new and exciting products. I'm looking forward to seeing what they come out with next and the sky is the limit. Unfortunately, suppressors are grossly misunderstood and underappreciated. Fortunately, SilencerCo is here to stay and committed to changing these facts into things of the past.
Thanks for reading here at Gunivore!