Walther Arms has been at the forefront of pistol innovation since their not-so-humble beginnings and heyday back in Nazi Germany. Although it took some time to rebuild following the war, the German company has come a long way since then and has established themselves among the premier pistol makers in the world once again. Besides arming James Bond, Walther has created some of the best budget-friendly polymer CCWs, such as the PPQ and PPS. Nevertheless, Walther has also made some remarkable strides into the competitive shooting community, including pistols, rifles, and airguns. Then there are the hybrid pistols that combine the tactical polymer configuration with match-grade performance, such as the Walther Q5. Today, we're going to take a closer look at the Walther Q5 Match and see if the hype is well-deserved. 

Walther Q5
The Walther Q5 Match pistol was built to handle competitive shooting while retaining a tactical and practical look and feel. The first thing you'll notice about the Q5 is the colored trigger and ported barrel which help it stand out from other Walther polymer pistols. Although the Q5 is part of the popular PPQ line, it has a flavor of its own. In fact, I think it's safe to say that the Walther Q5 Match looks and feels like a custom pistol and sure as hell shoots like it.  
Taking a closer look at the Walther Q5 reveals a terrific Tenifer coating that provides strong corrosion resistance to the slide, barrel, and inside action. Then, run you can run your fingers across the slide and feel the front and rear slide serrations culminating in ported barrel for enhanced barrel cooling, minimized muzzle rise, and reduced weight. However, behind the scenes, you'll find a 5" barrel with polygonal rifling and a steep chamber for enhanced accuracy and consistent feeding.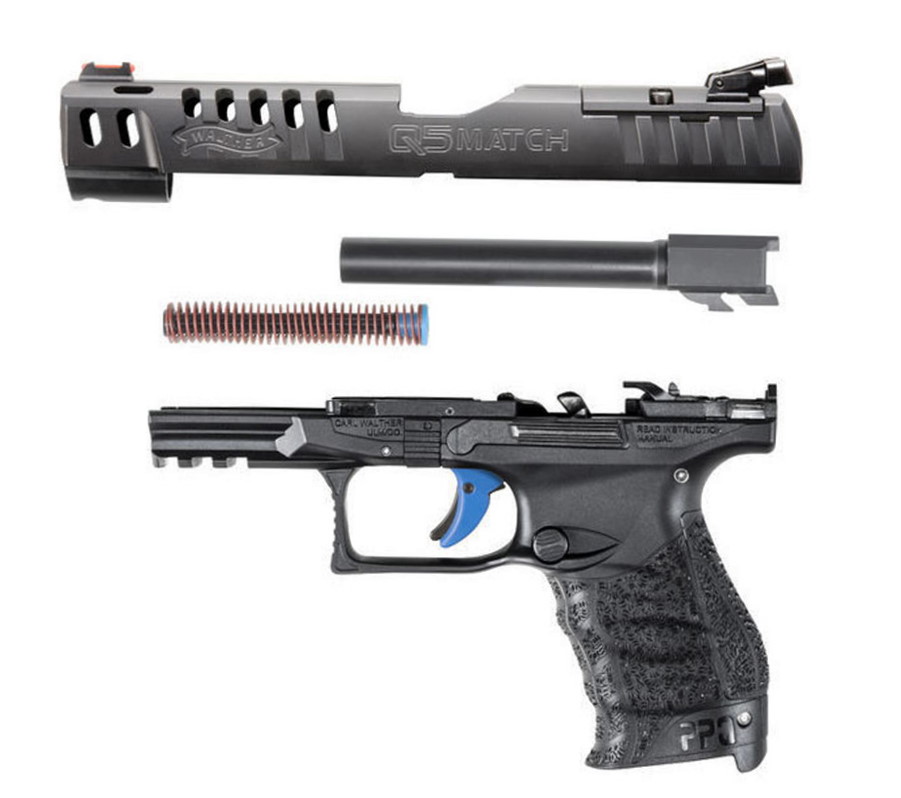 I couldn't miss the grips on these guys since I've love Walther's polymer grips, especially the models like these which come with interchangeable backstraps for a more custom feel and better handling. As an added bonus, getting the exact right fit for your hand enables quick access to the slide and mag releases without needing to readjust. Not to mention that the Walther Q5 Match M1 features both ambidextrous paddle mag releases and slide stops. 
We gotta talk about accessories because the Q5 has an integrated lower Picatinny rail and a built-in optic mounting slide system designed for Leupold, Trijicon, and Docter red-dot optics. But don't overlook the fact that the Q5 does come pre-equipped with standard competition iron sights that are actually pretty great.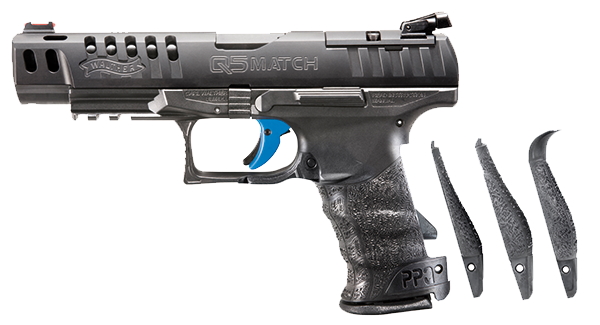 Lastly, it's time we discuss that blue trigger. The Quick Defense Trigger is set with a nice and easy 5.6-lb pull with a notably short 0.4" travel. This will naturally be a point of contention between shooters, but I personally liked it for target shooting.  
The polymer striker-fired 9mm shot well in my opinion, certainly better than your average 9mm. The consistency of the Walther Q5 is commendable as is the user-friendliness. I tried one with the factory iron sights and it was excellent, but then I attached a Leupold Delta Point and oh man was that great. I'm not a huge lover of red-dots but I had a blast running through competition-style courses with a red-dot on the Walther Q5 Match pistol. 
The first time you pick one up it may feel unbalanced, but that typically goes away once you load the firearm. In general, the Q5 has pretty solid handling and control and a better trigger than many comparable firearms. As I said, this gun impressed me most by its consistency, and most of that lies in the trigger system. 
Model: Q5 Match M1
Caliber: 9mm 
Capacity: 15+1
Barrel Length: 5"
Overall Length: 8.1"
Height: 5.3"
Width: 1.3"
Weight: 27.9 oz.
Sights: LPA  
MSRP: $849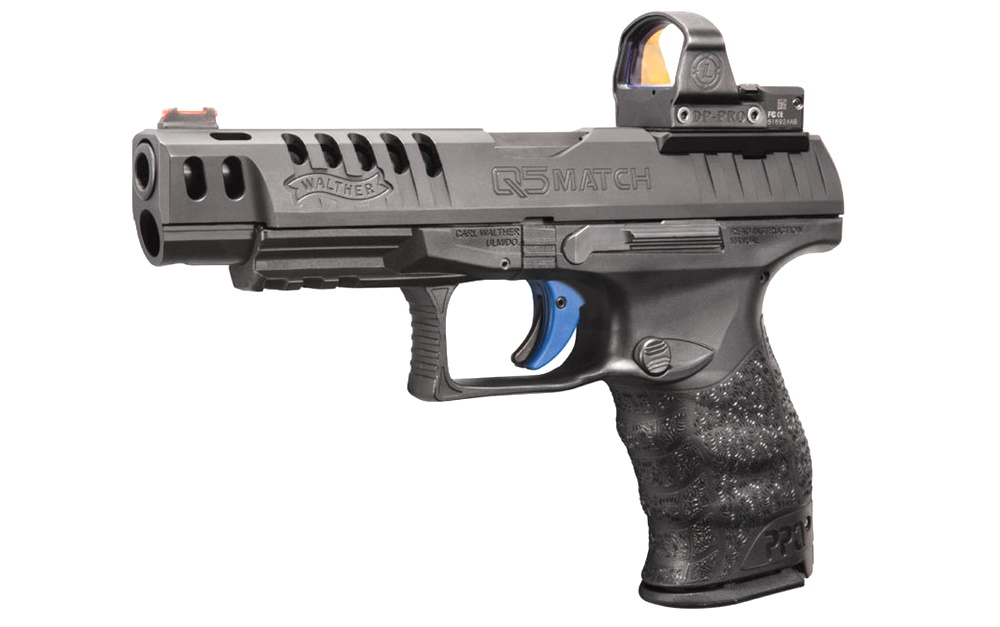 Walther Q5 Match SF
I initially thought that the Walther Q5 Match SF wouldn't be much different than the standard Walther Q5 Match pistol. The truth is that added weight and length actually make a nice positive difference in the shooting dynamic. Besides the longer Picatinny rail, there's hardly any difference other than the steel frame, alternate grip,  and an extra half-inch on the slide. Nevertheless, there was a very different ergonomic feel in shooting the Q5 SF.      
In practice, the steel frame Walther benefits from enhanced weight distribution which leads to reduced recoil and even better control. While I really liked the classic PPQ grips, the SF's grips with the beavertail combine for a decent grip that won't disappoint.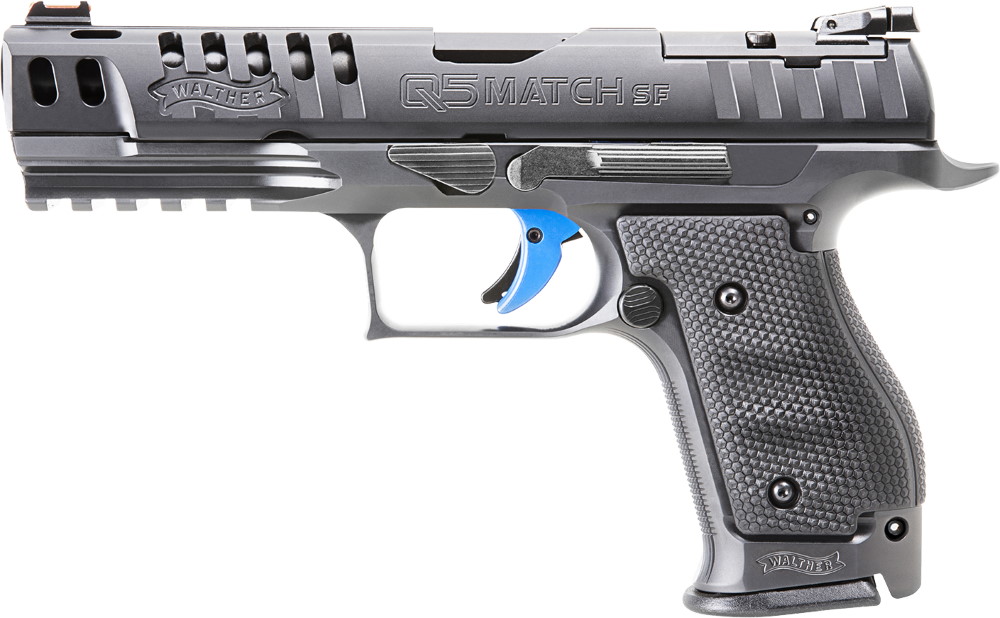 Model: Q5 Match SF
Caliber: 9mm 
Capacity: 15+1
Barrel Length: 5"
Overall Length: 8.7"
Height: 5.4"
Width: 1.3"
Weight: 41.6 oz.
Sights: LPA  
MSRP: $1,499
Walther Q4 Tac
A lot of folks like to compare the Walther Q5 Match M1 with the Walther Q4 Tac M2 pistol. While both firearms are part of the PPQ line, there are a few slight differences that make them unique. However, I will say that they are remarkably similar, especially considering they both are fit for optics, have the same style ambidextrous controls, use the Quick Defense Trigger, are fitted with the same interchangeable backstraps, etc. Oddly enough, the most apparent difference is the Q4 Tac's suppressor-ready design and non-blue trigger.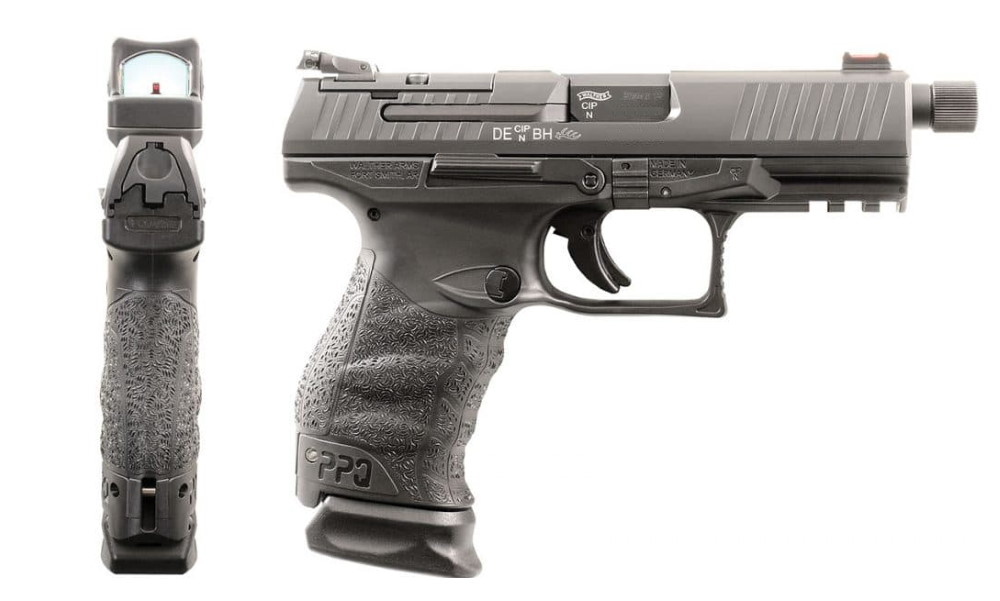 Model: Q4 Tac
Caliber: 9mm 
Capacity: 15+1
Barrel Length: 4.6"
Overall Length: 7.1"
Height: 5.3"
Width: 1.3"
Weight: 25 oz.
Sights: LPA  
MSRP: $749