Table of Contents
If you know anything about handguns, you've heard about Walther Arms. As one of the world's oldest and most iconic weapons manufacturers, Walther has a current lineup as impressive as their illustrious history. The German firearms brand is synonymous with reliability, style, and confidence. Plus, as the gun of choice for James Bond, Jason Bourne, and hundreds of other characters, they are among the most recognizable brands in the world.
Although the impressive company can be traced back as far as several major American gun makers like Savage and Remington, its history is often overlooked. Like its historic European rivals, FN Herstal and Beretta Firearms, Walther has been a staple among civilian shooters, but really excelled during wartime. In this week's Gunivore Company Overview, we're going to put this celebrated weapons producer under the microscope to see what really makes them tick. 
Walther Arms History & Development
Walther's history can be traced back to the time Otto von Bismarck was unifying the German states into a powerful empire and Karl Benz was inventing the first successful gasoline-powered car. It was during this time, at the peak of the German Industrial Revolution, that Carl Walther began manufacturing his own line of hunting rifles. Behind every great business is a great leader, and Carl Walther was just that.
Like Beretta, Walther was founded as a result of its proximity to one of Europe's main ore deposits. Before Carl was even a thought, August Theodor Walther (his father) married into one of the region's most successful blacksmithing families when he got hitched to riflemaker Gustav Wilhelm Pistor's granddaughter. At the bright young age of 28, and after finishing his required education, Carl took an apprentice and began crafting his very own sporting rifles based on the British Martini falling-block action.
Eventually, business started to pick up and they could no longer run their operations from the small little house they started in around 15 years earlier. After a small expansion that also included new diesel-fueled machinery, their production really started to kick off.
It was at this point, in 1908, that Carl's oldest son, Fritz, convinced his father to invest in his handgun designs. Although Walther was doing fine with what they knew, Fritz was certain that this was the future of the firearms market.
Well, it paid off, and the two of them worked and worked until they came up with a prototype for their first pistol, the Model 1. Seemingly, Fritz picked up on the burgeoning desire for pocket pistols while spending time in Berlin in the years leading up to World War I. As the War began to take its hold over Europe, two Walther boys had been drafted by the military, with only one emerging to tell the story.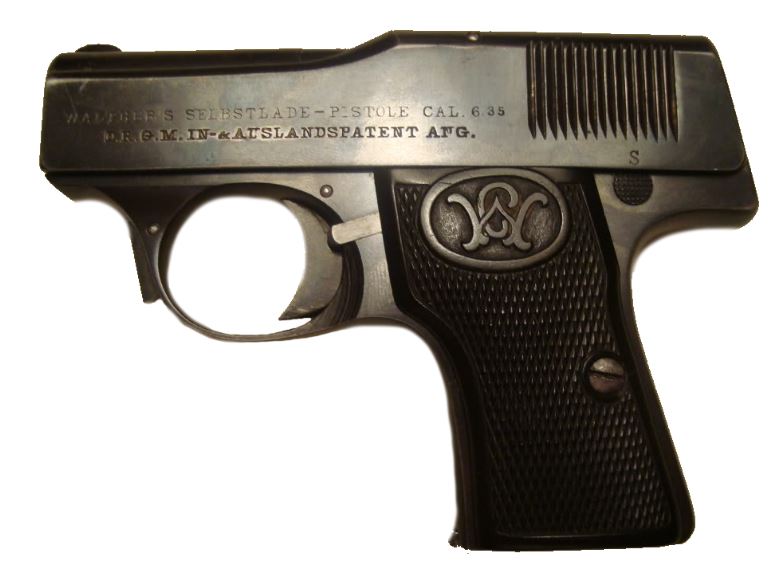 Shortly afterward, Carl Walther died, leaving the promising company to Fritz. But then wouldn't you know it, the Germans found themselves in a massive economic depression, where businesses were crumbling left and right. In fact, the only way they were able to stay in business was due to their desktop calculator sales.
Once the German economy started to recover, Fritz Walther and his team went back to the drawing board. Deciding to continue their push towards revolutionizing the pistol, Walther unleashed their Polizeipistole (PP), a police pistol, which was followed by the Polizeipistole Kriminalmodell (PPK), a smaller model build for detectives.
These two unique firearms were an overnight success, ultimately becoming the world's most popular double-action handguns of the time. Once these two guns flooded the civilian and law enforcement markets, all that was left for them was the military. In response, the German arms company manufactured the P38 model, chambered for the powerful 9 x 19 Parabellum cartridge, to replace the iconic Luger P08. It was also around this time that Fritz and his brothers debuted a few double-barrel shotguns.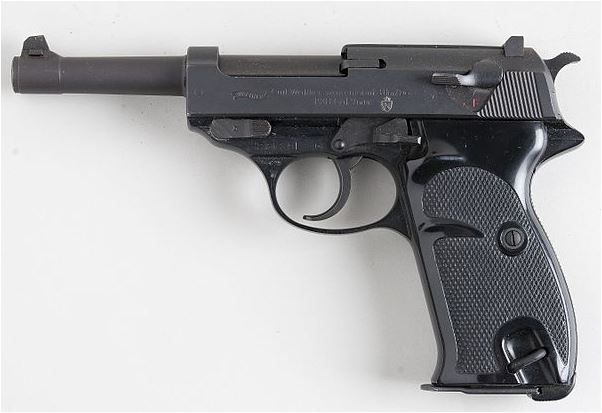 The Nazi Regime
The beginning of the Nazi's reign marked a new era for Walther Arms. The budding alliance between Fritz's reputable enterprise and the Nazi Government began in 1938 when the Reich commissioned them to produce P38s as the Wehrmacht's new standard-issue sidearm. Additionally, the Fuhrer himself ordered Walther to supply PPs and PPKs to the Luftwaffe pilots, and assorted Nazi Party officials.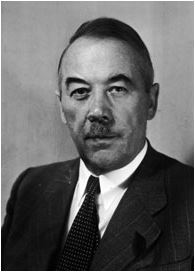 As the war raged on and the demand for military guns was skyrocketing, the company had to look elsewhere to meet the Nazi's quotas. In order to meet these demands, Walther Arms decided it would be a good idea to utilize slave labor at the Neuengamme concentration camp.
Although this part of their detailed history has been conveniently left off the Walther website, they were complicit associates of the Nazi Reich for years. As a matter of fact, Fritz Walther – who definitely shared an eerie resemblance with Hitler – custom made a PP for Hitler in honor of his 50th birthday.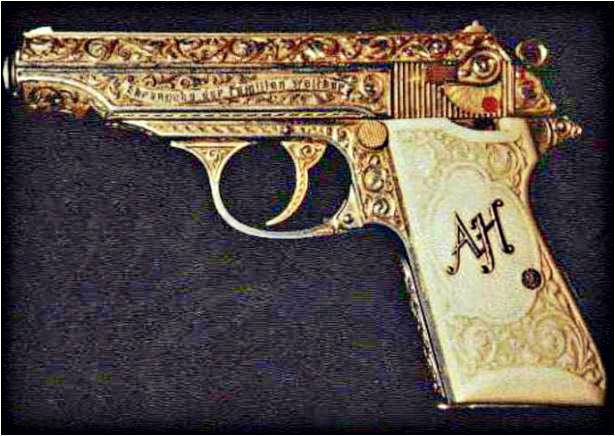 The heavily ornamented 7.65x17mm Auto pistol features a gold inlaid engraving of the Nazi leader's initials onto the white ivory grips, making it equally formidable and gorgeous. Similarly, Walther Arms specially produced a custom-made .32 ACP PP for Herman Goering – both of these guns are now highly sought-after collector's items worth millions. On a lighter note, Walther also presented Elvis Presley (an avid gun collector) with his very own personalized silver PPK, featuring his named engraved on the slide and his TCB emblem (Takin' Care of Business) on the grip.
Post-War
When General Patton's Army entered Germany, they eventually found themselves at Walther Arms' headquarters. After evicting the Walther family and turning over the small town to the Soviets, the Red Army quickly burned the munitions factory to a crisp.
The future of the once prosperous business looked bleak as Fritz Walther was left with just a few patents and blueprints and no center of operations. After laying low for a few years, he eventually restarted his company in West Germany in 1953.
Having to rebuild and arm a Cold War Europe, the gunmakers began manufacturing military firearms for the newly-founded West German Army. They started with a reproduction of their original P38 and moved on to other double-action pistols that would go on to become universal favorites.
The Cold War was an overall, pretty successful time for Walther, in large part to Hollywood. When Ian Fleming decided to arm James Bond with a PPK, it quickly became one of the most recognizable handguns on the market. Later, Smith & Wesson became the authorized importer for the German enterprise and began to produce PPKs in the U.S. for them. Before the 70's came along, Fritz died and left the family business to his son, Karl-Heinz, who diversified the company with more of a concentration on the sporting market.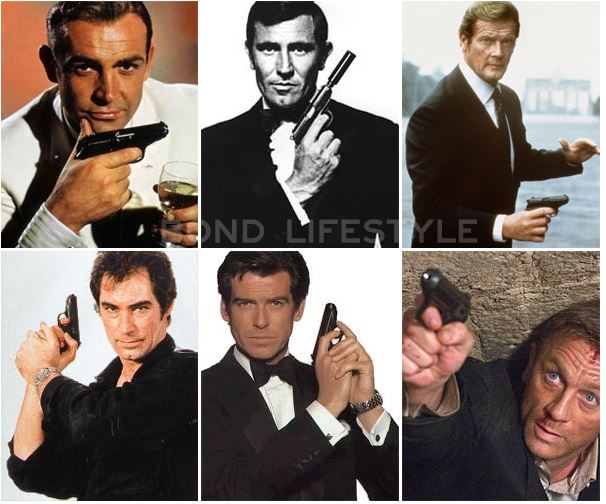 Towards the end of the 20th century, Walther was back on top, now producing top-level small-caliber sporting pistols. However, with the surprise death of Karl in 1983, Walther eventually had to sell. Nevertheless, the German weapons community acquiesced knowing that with the buyout from UMAREX, Walther would stay in German hands.
Today, in addition to their countless award-winning sporting/air weapons, Walther still offers an impressive collection of reliable handguns.
Products
For over 130 years Walther Arms has been manufacturing world-class firearms, and their new catalog is filled with even more excellent products. In Walther's state-of-the-art facilities, which span over 12,000 sq. meters, the German gunmaker is currently pumping out dozens of high-end sport, defense, and police pistols. In fact, their commitment to producing the best law enforcement handguns has never faltered, whether supplying the SS or the modern German police forces.
Oddly enough, the former Nazi collaborators having seemingly decided to grow a conscience and now manufacture their products to strict environmental regulations. After initially producing hunting rifles then switching their focus to pistols, Walther ended up returning to their roots to engineer a few successful rifles for the Nazis, like the Gewehr. At the end of the day, they went back to their top-notch handguns – So let's take a closer look at some of Walther Arms' most popular firearms.
Walther PPQ
The Police Pistol Quick Defense was originally designed in 2011 as a modern, upgraded variant to the P99. Hoping that this semi-automatic was going to replace the P99 as one of their most popular firearms, the gunmaker made huge strides with the development of the PPQ.  In addition to five cartridge availabilities, the PPQ also has several ambidextrous capabilities and interchangeable backstraps. I actually prefer the PPQM2 because of its high-capacity mags, speedloader, and 5" extended barrel for increased accuracy.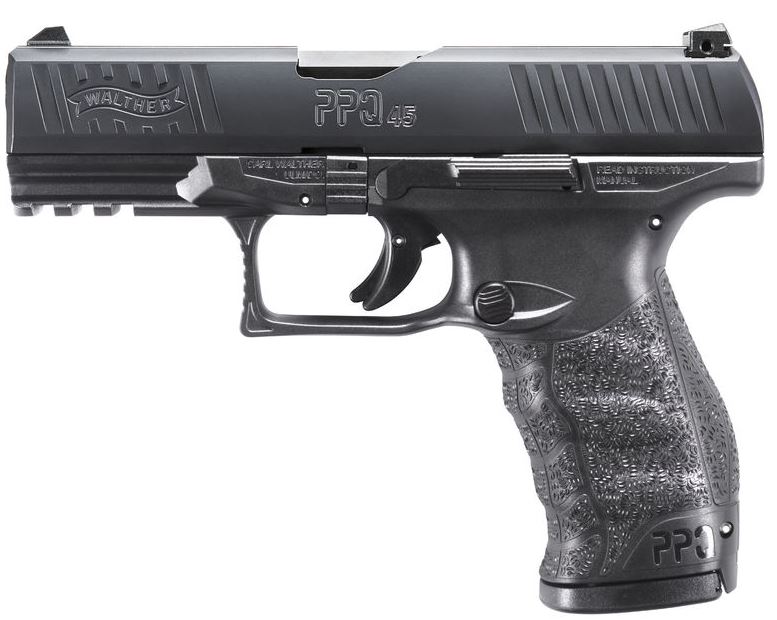 Walther P99
I can't believe it's been 20 years since Walther released the P99! Although classically a 9mm pistol, they have since incorporated the .40 S&W cartridge and several other features over the course of its several evolutions. These simple yet elegant pistols are straightforward, ergonomic, and definitely reliable – what more can you ask for? 
In addition to their ultra-durable construction, I can't even describe how comfortable these guns are to use, even the compact version. But more importantly, the P99 is incredibly accurate and safe. Besides for its two drop safeties, Walther also threw on a decocker and firing pin block.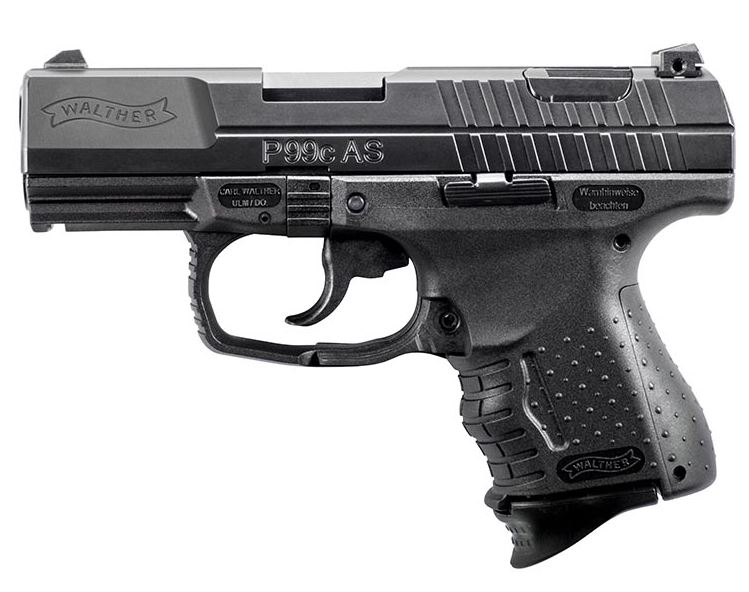 Walther PPS
These slim semi-automatic pistols are a favorite for concealed carrying, especially amongst law enforcement personnel. Although based on classic Walther designs, the modern PPS models have great contemporary features like button-style mag releases, front slide serrations, two caliber options, and several mag sizes.
Plus, with its lightweight and durable build, Weaver accessory rail, and 3-dot steel combat sights, the PPS is one of the best affordable single stack polymer 9mm pistols on the market.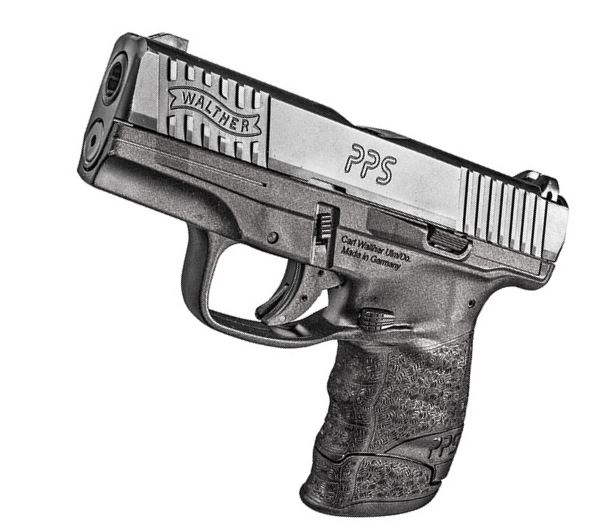 Walther P22
Unlike most other Walther pistols, the P22 was designed specifically for recreational and target shooting. They are simple, easy to use, and extremely accurate. One of the other factors that make these semi-autos stand out is how many available models there are; Walther offers several different P22s varying in barrel size and finish. One of my favorite features of these guys is their double/single action trigger – sometimes it's nice just having the option.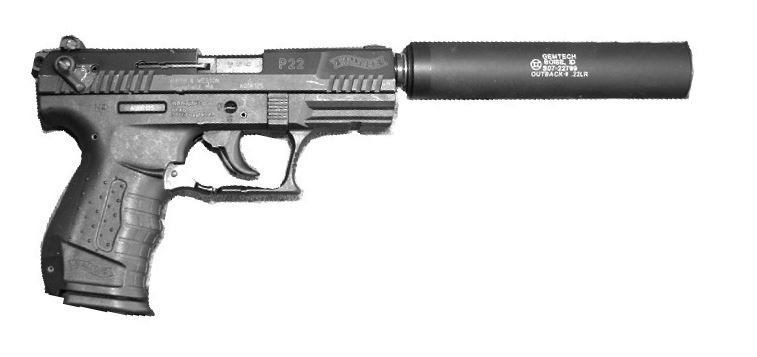 For other interesting .22 pistols check out the Browning Buck Mark, Ruger SR22, & the Sig 1911-22.
Walther PPK
This German classic was based on the historic Police Pistol (PP) but features a shorter grip, barrel, and frame, and thus capacity. As a matter of fact, the 'K' in the name is for the German word, kurz, meaning short (although originally designated as Kriminalmodell). In addition to being the gun of James Bond, Adolf Hitler, and Elvis, these .380 ACPs have become a go-to for many conceal carry shooters.
The PPK's timeless design and reliability are evidenced by their 80 years of continuous manufacturing. But as good as the original was, sometimes even the best need a makeover, and that's what they did with the PPK/S. As part of their overhaul of the PPK, Walther added 1.8 oz of weight, 0.2 inches in length, and an additional round.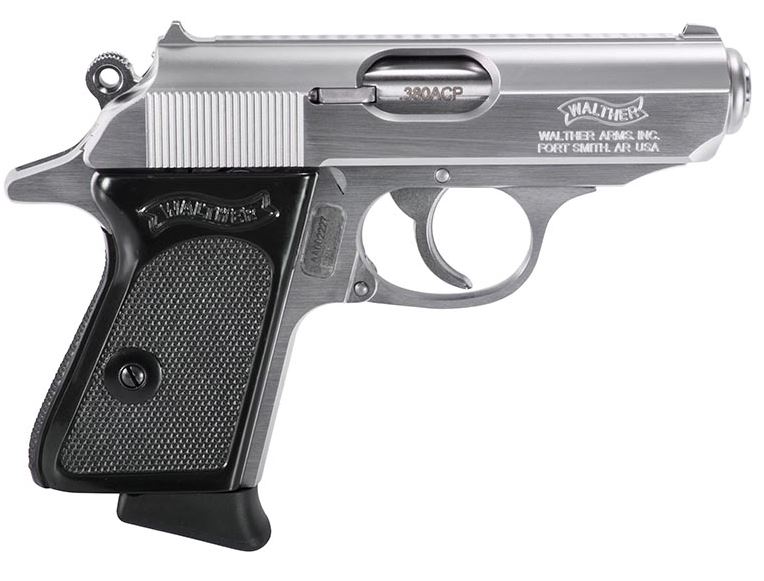 Accessories From Walther
Even though they've done a pretty good job improving the semi-automatic handgun market, they have yet to really manufacture any accessories. That being said, the German firearms producer does have a few lasers, like the PK380 Laser Mount. It's hard for me to really promote a product like this because of the $99 price tag when there are far better lasers for the money, but it's still a solid accessory nonetheless.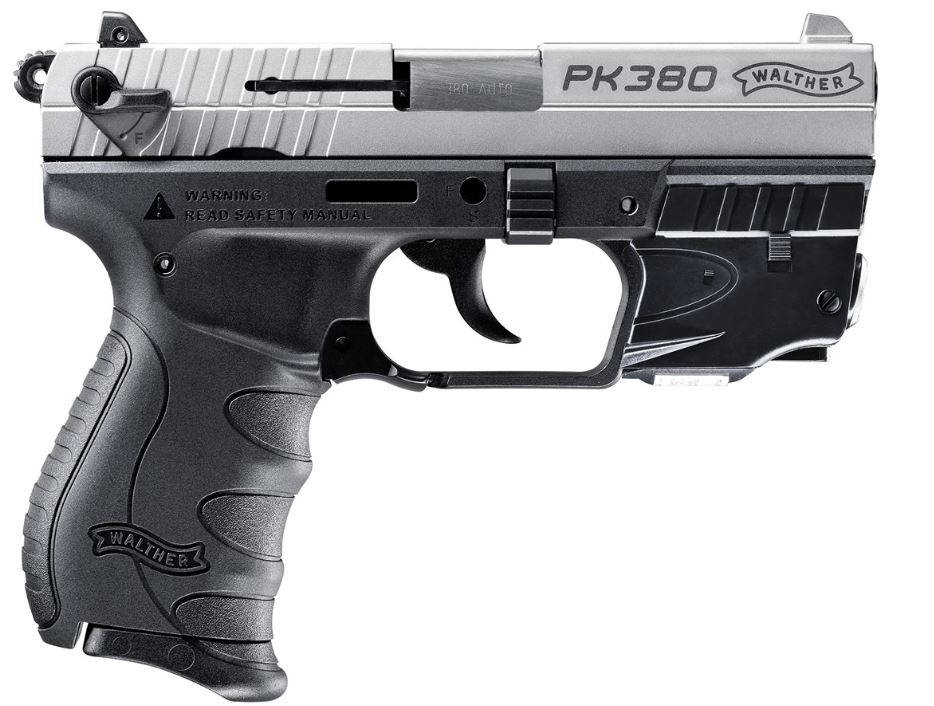 Walther Arms' Future
Although Walther Arms has yet to announce their next big plans, it's safe to say that their future looks pretty good. Ever since its acquisition by UMAREX, they've has become a serious competitor in the airsoft and sporting arms community. On the other hand, considering their continued success in producing high-grade CCWs, I think it's safe to say Walther has a promising future ahead of them.