Ruger has built a reputation for crafting quality handguns and the GP100 revolver series is certainly no exception. These American-made wheel guns were originally produced in 1985 but have seen continued success for over three decades. While there are definitely aligning features within the GP family, the current line is among the most diverse revolver series on the market.
Just to illustrate how diverse this lineup is, GP revolvers are available in .357 magnum, .327 federal magnum, .38 special, 10mm auto, .44 special, and even .22LR. Additionally, the double action GP100 is offered in three barrel lengths, two finishes, several capacities, and many grips (which we'll get to later). Likewise, Ruger also manufactures these revolvers with either fixed or adjustable sights and full or short shrouds. At the end of the day, this is one of the most versatile revolver series on the market that seemingly has at least one model for every wheel gun enthusiast. It's worth noting that the GP100 has consistently been a top-10 selling revolver over the years and peaked at number 1 in 2018 among all revolvers. Let's get to it and take a closer look at the GP100 family.
Ruger GP100 357 Magnum
The GP100 .357 magnum is the most popular model of the series thanks to its classic design and traditional caliber. However, there are still plenty of options to choose from even for those who want a .357 model. For example, Ruger currently produces a .357 GP100 in at least five barrel lengths, two finishes, fixed or adjustable sights, and full or short shrouds. Another reason why many go for these models is because they can handle all .357 mag factory loads plus .38 special factory cartridges.
The classic model in the GP100 line is the 4.2" barreled .357 magnum with a blued finish. At 9.5" long, this gun is carried by some while others use it as a range mule or for home defense. It's medium-size build makes it a great choice for multi-purpose shooting and it's definitely user-friendly. Like many revolvers, disassembly is a breeze but many folks like the transfer bar safety mechanism to protect against accidental discharge. This model has a simple but effective sight system and manageable recoil which makes follow-up shots surprisingly smooth.
Specs
Model: 1702
Caliber: .357 Magnum
Capacity: 6
Action: Double
Barrel Length: 4.2"
Overall Length: 9.5"
Finish: Blued
Grips: Hogue Monogrip
Weight: 40 oz.
MSRP: $769
Some shooters want something even smaller and more concealable – Enter the 2.5" barreled stainless steel .357 magnum. Measuring in at 8" long, the snub nose revolver is a bulldog that is durable, ergonomic, and dependable. Ruger gave this model fiber optic sights which make a big difference but many shooters like how the diminutive wheel gun has a 7-round capacity. I like this as a purse or truck gun or even for EDC. The trigger is nothing to write home about but the intuitive controls and decent handling make this a top choice snub nose revolver.
Specs
Model: 1774
Caliber: .357 Magnum
Capacity: 7
Action: Double
Barrel Length: 2.5"
Overall Length: 8"
Finish: Satin Stainless
Grips: Cushioned Rubber with Hardwood Insert
Weight: 36 oz.
MSRP: $899
For those looking for something a little bigger and more intimidating, the full-size .357 is an excellent choice. With a 6" barrel and 11.5" overall length, I really enjoyed how this gun felt in my hands and it shot even better. I don't always shoot well with .357, but I had no problem maintaining solid accuracy with this gun. It's worth noting that this is a classic six-shooter and isn't very light. The adjustable sight system also helps keep accuracy on point not to mention the 1:18.75″ RH twist.
Ruger GP100 .357 Magnum 6''
Ruger GP100 .357 Magnum 6''
Specs
Model: 1707
Caliber: .357 Magnum
Capacity: 6
Action: Double
Barrel Length: 6"
Overall Length: 11.5"
Finish: Satin Stainless
Grips: Hogue Monogrip
Weight: 45 oz.
MSRP: $829
Ruger GP100 22LR
Many people laugh at the idea of a .22LR revolver, but they are growing in popularity so it's no wonder why there's a Ruger GP100 22 wheel gun. While sharing many of the beloved standard GP specs, the 22 model has a whopping 10-round capacity which is definitely intriguing. This is what I would call a "fun gun" – Something to take to the range and enjoy some good ol' plinking or target shooting. However, I believe this gun is ideal for introducing revolvers to women and young shooters who may not be able to handle more traditional revolver calibers at first. In other words, this could be the gun to teach your kids how to shoot. As a .22, this shoots smoothly and effortlessly, providing fantastic accuracy and control. I love plinking so I can appreciate a .22 revolver, but this gun is not for everyone.
Specs
Model: 1757
Caliber: .22LR
Capacity: 10
Action: Double
Barrel Length: 5.5"
Overall Length: 11"
Finish: Satin Stainless
Grips: Cushioned Rubber with Hardwood Insert
Weight: 42 oz.
MSRP: $829
Ruger GP100 44 Special
.44 Special may not be the most common cartridge out there, but Ruger currently manufactures two GP100 models built for it. These "special edition" revolvers are somewhat atypical compared to the rest of the line, but aren't very special otherwise. The common Ruger .44 model is a snub nose with a classic walnut grip that isn't great for carrying or prolonged range time. Yes, it's a high-quality firearm but I don't think it's the kind of revolver for someone looking for an EDC or range mule.
Specs
Model: 1767
Caliber: 44 Special
Capacity: 5
Action: Double
Barrel Length: 3"
Overall Length: 8.5"
Finish: Satin Stainless
Grips: Hogue Walnut
Weight: 36 oz.
Ruger GP100 Match Champion
Ruger decided to take their best-selling revolver series and kick it up a notch with the Match Champion line. As the name suggests, these models have the standard features of a GP revolver but with a few changes ideal for competition shooting. For instance, these grips have stippled sides, enhanced target crowns, and polished and improved internal mechanisms and triggers. Ruger recently launched a 10mm auto version, but the .357 is still the go-to option.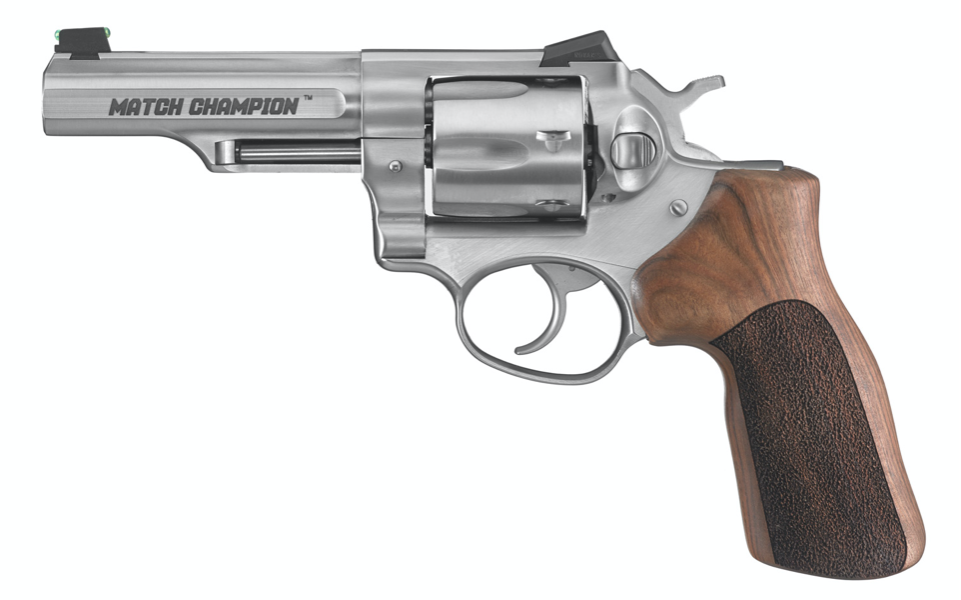 Specs
Model: 1754
Caliber: .357 Magnum
Capacity: 6
Action: Double
Barrel Length: 4.2"
Overall Length: 9.5"
Finish: Satin Stainless
Grips: Hogue Stippled Hardwood
Weight: 38 oz.
MSRP: $969
Ruger GP100 6 Inch
Many shooters are more particular about the size of their revolver than they are about the caliber. That being the case, we've broken down the options for you based on barrel length.
For those looking for a longer, 6" barrel GP100, there are 3-4 primary options to choose from. For starters, the popular .357 magnum blued six-shooter is a great choice. Additionally, at $769, it's one of the more affordable options among the GP series. Ruger also has the identical firearm but with a satin stainless finish that markets for $829. The last major option is also a .357 magnum but with a different grip and a 7-round capacity. This can be intriguing for people, but the $899 price tag seems like a big jump for what you're getting.
Ruger GP100 4 Inch
A lot of folks ask me about a 4" GP100, but these medium-size Rugers are actually slightly bigger, measuring in with 4.2" barrels. Now 0.2" isn't much, but I think it's important to acknowledge nonetheless. The GP100 series has a great selection of models in this size, including the best-selling .357 mag blued six-shooter. Shooters can also dish out the extra cash and go for the stainless steel version, but the blued is plenty durable so it's really a matter of preference. Like the 6" models, there is also a 4.2" barreled model with a cushioned rubber grip with a hardwood insert and a 7-round capacity for $899. While there are a few special edition 4.2" models, I think the best is a Talo Distributor Exclusive with a beautiful ornate design and checkered hardwood grips.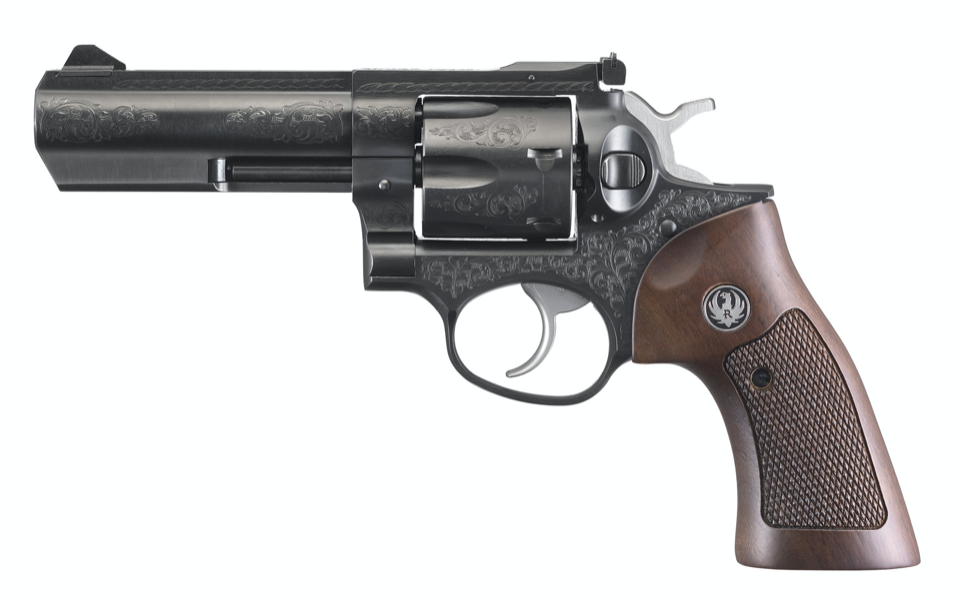 Ruger GP100 3 Inch
There are a few snub nose GP100 revolvers but the most popular is the standard .357 mag model. Like the rest of the line, there are a few special edition variants which are interesting, most of which simply have different grips. However, some of these models use an alloy steel in their construction and Novak sights which do give them a nice premium feel.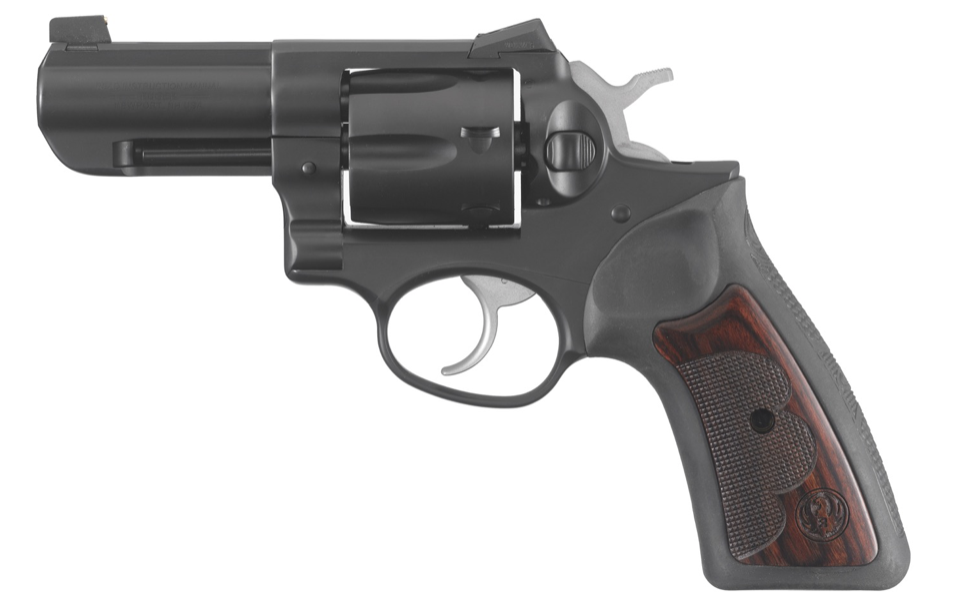 Ruger GP100 Grips
One of the main reasons why the GP100 revolvers are so popular is because of their enhanced grip systems. While there is a wide variety of standard grips within the line, many of these are made by Hogue, one of the world's top grip manufacturers. These high-quality grips don't just look nice, they fit the hand so well that it has a direct effect on handling and accuracy. Shooting with these grips really makes you feel like you are wielding the firearm.
So Hogue makes most of the all-rubber grips for these guns but then there are hybrid grips, with both rubber and wood. I think it's fair to say the wood is really just for looks, but the rubber still does a good job at improving control. I preferred the all-rubber grips compared to the hybrids but then you have to consider the Ruger GP100 wood grips.
The GP100 wood grips are available on the Match Champion revolvers as well as some distributor exclusive models. Now some of these grips are absolutely beautiful, like the Talo Exclusive .357 Hogue Walnut Grip and the 7-shot snub nose Talo checkered hardwood grip. However, some of the wood grips are more than just for looks. For example, the Hogue stippled hardwood and Ruger checkered hardwood grips do a great job at providing control and ergonomics. However, I still think I'll take the Hogue all-rubber grips any day.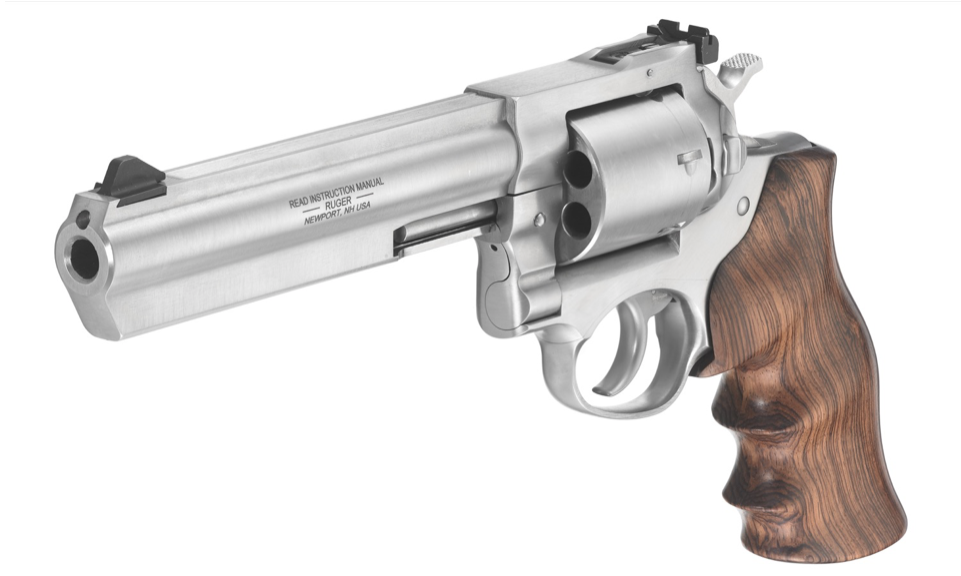 Ruger GP100 Holster
When it comes to revolver holsters, many people choose to go for a classic leather option. However, I would be remiss if I didn't mention that AlienGear Holsters does have a great holster for 4.2" models of the GP100. Their Cloak Tuck IWB holster is comfortable and affordable so I highly recommend it. On the other hand, Bianchi has an excellent leather thumbsnap belt holster for 4.2" barrel revolvers that is both stylish and effective. Bianchi has several other models suitable for other GP guns but so does Triple K. I would be remiss if I didn't give a shoutout to Craftholsters and their GP100 holster collection. This is the kind of revolver that deserves a premium custom leather holster and Craft offers beautiful and functional options that won't break the bank.  
Conclusion
The GP100 is a fantastic collection of revolvers with a variety of options to choose from. Ruger has a solid reputation for manufacturing high performance handguns and these are no exception. Whether you're looking for a revolver for home defense, range time, or EDC, the GP100 might just be right for you.