Forjas Taurus had humble beginnings as a diversified company in the southern coastal city of Porto Allegro, Brazil back in the early 1930's. It only took a few years for them to get into the arms industry after originally manufacturing metals, plastics, and civil construction equipment. Looking back, you could never imagine that Taurus would be where it is today. Taurus unveiled their first firearm in 1941: the Model 38101SO Revolver. They began exporting to the United States after experiencing too many years of stagnancy.
Eventually, they began producing more weapons and becoming more recognizable. Their ensuing success can easily be attributed to their short-lived partnerships with Smith & Wesson and Beretta. Nevertheless, they have blossomed into an international success story with a line of pistols, revolvers, and rifles uniquely their own.
Shooters all over the world love Taurus for their affordable prices which is only made possible thanks to their lower labor costs. Experienced shooters may remember the days of faulty Taurus weapons, but I can assure you that those days are long gone. Today, Taurus is among the best in the business with a wide-variety of weapons. They currently produce award-winning guns ideal for target shooting, concealed carry, and home & personal defense.
This Brazilian company has such an extensive history and lineup, which, unfortunately, we can't get into here. However, I recommend getting a taste with our summary of the Taurus Firearm Company and their impressive collection of firearms.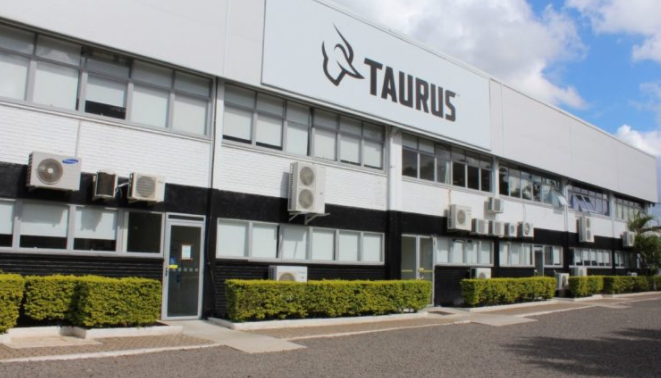 One of the most significant outcomes of Taurus' collaboration with S&W might be their impressive collection of weapons geared for specific cartridges. What I mean to say is, Smith and Wesson is one of the most influential producers of different ammunition, and that clearly affected the Brazilian company. Over the course of their illustrious century and a half, S&W introduced nearly twenty different cartridges. Some of these are among the World's most common, such as the .38 Special (not to be confused with the rock band), .357 Magnum, and the .32 Short. These incredible developments can be traced back to the 1870's, when the classic American company produced revolvers that used metal cartridges, eventually solidifying them as the standard cartridge in America.
I'm a huge fan of both the .38 Special and the .357 Magnum, and apparently, I'm not the only one. In an article on Americanrifleman.org (one of the NRA's websites), the author lists what he believes to be the top 5 American handgun cartridges. These two S&W's made the cut as well as their .44 Special/.44 Magnum. Although it may take an expert shooter to realize the difference in the quality of cartridges, I believe that their prevalence among law enforcement around the world, speaks for itself. If they trust in S&W ammo, why shouldn't I? Of course, in terms of cartridges, Smith and Wesson is most primarily known for the .40 S&W.
In today's Gunivore exclusive, we're gonna be breaking down some of the revolvers chambered in .38 Special made by Forjas Taurus. We recently did something similar when we covered their sweet award-winning line of .22LR revolvers. Since we've already reviewed the impressive Taurus 608 – one of their other .38 Special handguns – we're gonna focus on their other revolvers in their collection.
Taurus .38 Special Revolvers Specs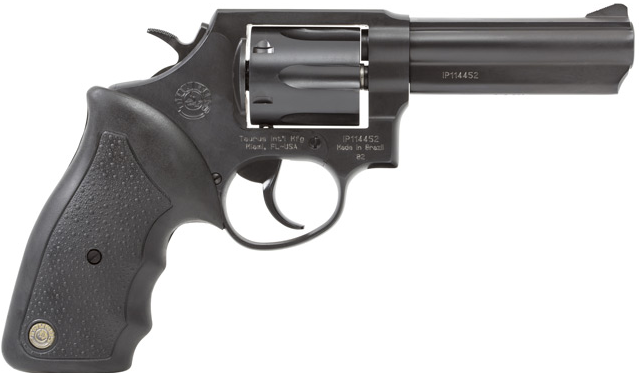 Model: Taurus 82B4
Caliber: .38 Special +P
Capacity: 6
Weight (unloaded): 36.5 oz.
Frame Size: Medium
Barrel Length: 4"
Action: DA/SA
MSRP: $471.67
Model: Taurus CIA 850 Ultralite
Caliber: .38 Special +P
Capacity: 5
Weight (unloaded): 16 oz.
Overall Length: 6.5"
Barrel Length: 2"
Action: DAO
MSRP: $459.00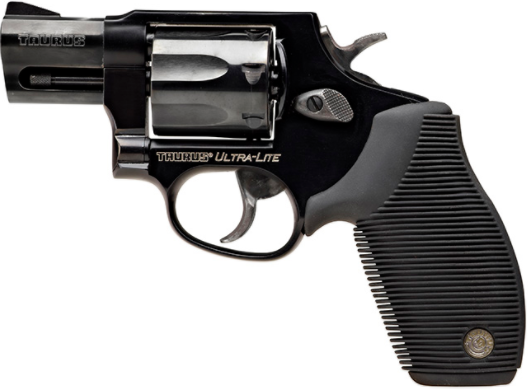 Model: Taurus Ultralite Model 817
Caliber: .38 Special +P
Capacity: 7
Weight (unloaded): 21 oz.
Overall Length: 6.625"
Barrel Length: 2"
Action: DA/SA
MSRP: $555.00
Taurus .38 Special Revolvers Build
When it comes to durability, modernity, and feature-laden revolvers, Taurus' are some of the best on the market. Most of these handguns were designed with security, law enforcement, and personal defense in mind. To create this versatile line of guns, Taurus had to balance high power, good handling, easy concealment, and reliable performance, and they succeeded brilliantly.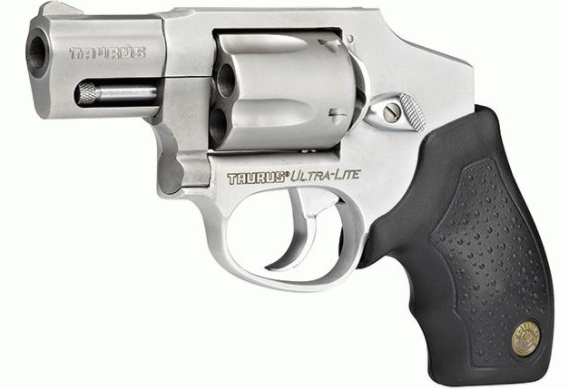 Although there is some variance between these top-shelf guns, it's what unites them that's truly special. All of these revolvers share the brilliant Taurus Security System. When the Security System is engaged, the Taurus' manual safety can't be disengaged and the gun can't be cocked or fired. As an added plus, this specialized safety mechanism is incorporated into the firearm and can't be lost. They also share the manual transfer bar safety; this mechanism effectively stops the hammer from striking the firing pin unless the trigger is fully pulled.
Several of these weapons are equipped with the trademark Taurus Ribber Grip which not only provides a sturdy, non-slip grip in nearly all conditions but is also an effective shock absorber. However, even the revolvers without them, are outfitted with pretty spectacular and ergonomic rubber grips. In fact, I can't stress enough how insane all of these grips are; top to bottom, Taurus' grips are undeniably extraordinary.
Moving forward, these .38s may not have special triggers or trigger guards, but that doesn't mean they aren't still way above average. The same applies to their fixed sights, but we'll get to these more when we discuss the performance of these great revolvers.In terms of their build, the CIA 850 Ultralite sticks out a little bit more than the rest. Taurus designed this unique revolver for speed shooting in close quarters. Its simplistic build is best illustrated by its fully enclosed hammer, 16 oz. weight, and how easy its pull is. This should definitely be on any one's list of top-notch personal protection handguns.
Another one of the more outstanding .38 Special Taurus handguns is the Ultralite Model 817. This gun has everything you could ask for in a CCW and has become a favorite among law enforcement officers. Besides for its highly durable solid-steel build and yoke detent, the 817 was also given those incredible rubber grips. Even more impressive is its exclusive 7-shot cylinder!
Taurus .38 Special Revolver Performance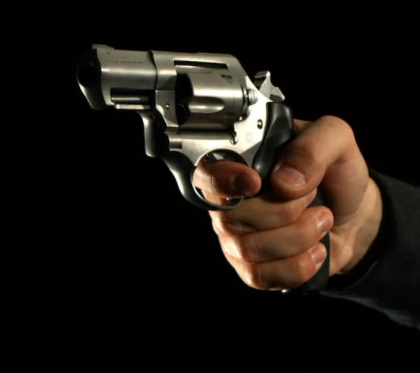 Like most other Taurus firearms, these aren't just good on paper- they are truly excellent guns in the field. There are so many different components which the Brazilian manufacturer upgraded to ensure these guns perform at prime efficiency. This probably was no easy task considering how much firepower comes with chambering .38 Special rounds. For starters, Taurus gave these revolvers a crisp custom-feel Single Action/Double Action trigger for improved accuracy and speed. Additionally, nearly all of these handguns are surprisingly lightweight and have easy pulls. They'll feel really good in your hands, especially considering their ergonomic design and astonishing grips.
In terms of recoil, it's pretty significant, but that's the price you pay for firing such powerful ammunition. However, it is manageable if you're used to shooting .38 Special or .357 Magnum. The accuracy of these is nothing to rave about but is still better than average. Taurus gave all of their .38 Specials fixed front and rear sights which are simple but effective. At the end of the day, these guns are meant for defense at short range but are still unlikely to let you down in any situation.
Accessories
Although these revolvers aren't accessory friendly, there are still some aftermarket options out there. If you want to spice things up, you should check out the Taurus catalog for available alternate grips to outfit your .38 Special. For very reasonable prices, you can get anything from Mother of Pearl to Rosewood!
Taurus 44 Special Revolver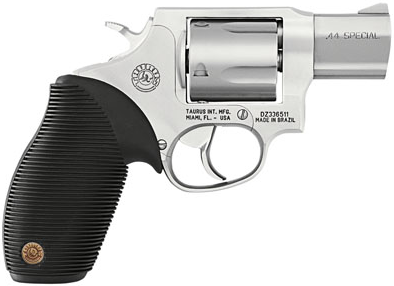 Although currently discontinued, I highly recommend getting your hands on the Taurus Model 445 revolver chambered in .44 Special. That's right, you heard it here – the .44 Special is making a comeback and the Taurus model is one of the best for it. Shooters looking for the power of .44 Magnum without the tough handling are gonna love this beautiful gun. Besides for utilizing the unique .44 Special cartridge, Taurus also gave the 445 factory-tuned porting and a gas expansion chamber to minimize recoil and increase control.
Model: 445
Caliber: .44 Special
Capacity: 5
Weight: 20.3 oz. unloaded
Frame Size: Compact
Barrel Length: 2"
Action: DA/SA
Twist Rate: 1:18.75"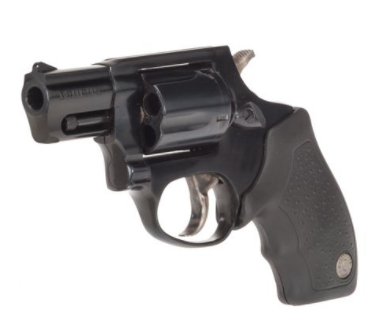 Taurus 38 Special Model 85
The Model 85 is yet another fantastic .38 Special revolver made by Taurus that is the perfect blend of lightweight and durability. These Brazilian-made Ultralite revolvers are ergonomic, powerful, and sexy. As one of the most popular Taurus' in their catalog, these centerfire handguns are easy to use, great to carry, and a favorite for folks in law enforcement.
Model: Taurus 85
Caliber: .38 Special +P
Capacity: 5
Weight (unloaded): 21 oz.
Frame: Small
Barrel Length: 2"
Action: DA/SA
MSRP: Around $360
38 Special Vs 357
Like the classic .38 Special cartridge, Smith and Wesson also invented the tremendous .357 Magnum rounds. However, although these two types of ammo are commonly interchanged, there are a few key differences. For starters, the extra power offered by the .357 comes at a price. Besides for its lower price tag, the cheaper .38 Special also offers a lower recoil and muzzle flash. These cartridges are so similar that many new .357 handguns are also capable of firing .38 Special. Additionally, since they offer practically the same level of accuracy, the .38 Special and .357 Magnum are more alike than they are different.
38 Special Vs 9MM
Besides for being compared to .357 Magnum, the .38 Special is often interchanged with the common 9X19mm Parabellum (also known as 9mm Luger). This latter cartridge has grown in popularity every year since its inception in 1902 and is currently the most popular military handgun ammo. The Taurus 1911 uses 9mm. The American-made Smith and Wesson .38 Special is a tad bigger than the 9mm but actually gives less recoil. Furthermore, the German-designed 9mm Luger is generally less expensive, more versatile, and has better availability. That being said, they offer pretty much identical accuracy. Although many U.S. police departments switched their .38 Specials for 9mm semi-autos in the 80's, the S&W cartridge is still relatively popular. Law enforcement stuck with .38 Special for so long because its price, recoil, and size, but once the smaller and cheaper 9mm Luger began to gain some attention, changes were made everywhere.