When it comes to firearms accessories, not many companies stand out as much as SureFire and their brilliant collection of lights, lasers, suppressors, and more. While the California-based manufacturer produces everything from tactical knives to Picatinny rails, most people know them for their state-of-the-art light systems. 
SureFire began with a dream and a belief in the future of laser technology. Dr. John Matthews took his engineering expertise and decided to open the Newport Corporation to begin developing lasers for industrial applications. It wasn't long before Matthews and his team became a leading name in laser tech, earning major contracts, patents, and business deals. 
However, the ph.D. engineer was an avid shooter and eventually considered applying his knowledge of lasers to his love of firearms. In 1979, Dr. Matthews patented his first laser sight, marking a new era of firearm technology. We've come a long way since this first design and much of that path was paved by Matthews and his newly formed Laser Products company. They started working on models for the Colt Trooper and Ruger Mini-14 before the LA SWAT Team picked up the phone.
It was 1984 and the Olympic Games were coming to Los Angeles, a security nightmare for the LAPD. They were interested in laser-sighted shotguns and Laser Products delivered. This period continued with Laser Products developing laser and light sights for law enforcement primarily while practically remaining off the commercial market. 
Fast forward a few years and the SureFire Weaponlight was created for law enforcement and military applications. The success of their first weapon light propelled them into the commercial market and convinced them to change their name to SureFire LLC. Today we're going to take a closer look at some of the best and most popular SureFire products out there.
SureFire Weapon Light Collection
The weaponlight is what made SureFire into the company that it is today thanks to their remarkable durability and performance. Nowadays, they manufacture a wide range of weaponlights, including those for handguns, rifles, SMGs, shotguns, and heavy guns. Weaponlights are mounted flashlights used for tactical operation that allow shooters to aim their firearm, illuminate the target, and still have two hands to operate their gun.
Note that many shooters like the new MasterFire weaponlight holsters because it fits practically any pistol format, even those with suppressors. 
SureFire X300 Series
The SureFire X300U is truly a fantastic weaponlight even for those who aren't gung-ho about attaching lights to their pistols. For starters, they did a great job in making sure that it was versatile enough to work with most modern pistols. They integrated a simple T-slot mounting system that fits most Picatinny and universal rails. The X300 is compact but packs a big punch too with its 1,000 lumens LED light. For an even better upgrade check out the X300U-A, the enhanced version of the SureFire X300 Ultra. The TIR lens offers a far-reaching, high-intensity beam with a large center spot for excellent tactical use. The X300U also includes ambidextrous controls, IPX7 waterproof capabilities, and a Mil-Spec hard anodized aerospace aluminum body.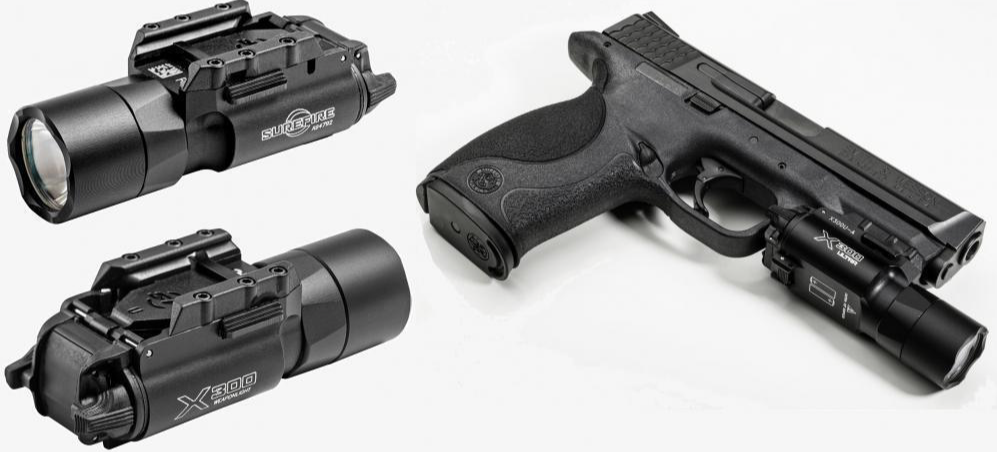 Model: X300U-A
Output: 1,000 Lumens
Length: 3.6"
Bezel Diameter: 1.1"
Weight: 4 oz
Runtime: 1.25 Hours
SureFire XC1 WeaponLight
While many shooters have adopted the XC2 series, the XC1 weaponLight is a great choice for concealed carrying with a light or for a more minimal home defense weaponlight. Although quite small, the XC1 ultra-compact LED handgun light is arguably more practical than larger pistol weaponlights. In fact, SureFire added a special MaxVision Beam to the XC1-B for even better close-range applications as this light is optimized for human vision. The small but durable body also utilizes hard anodized aerospace aluminum with a Mil-Spec finish for improved strength. Additionally, the XC1 is equipped with ambidextrous controls, improved constant-on activation, and a gasket sealed weatherproof design. I don't love weaponlights on pistols, but I own an XC1 because I believe it will get the job done should I ever need it.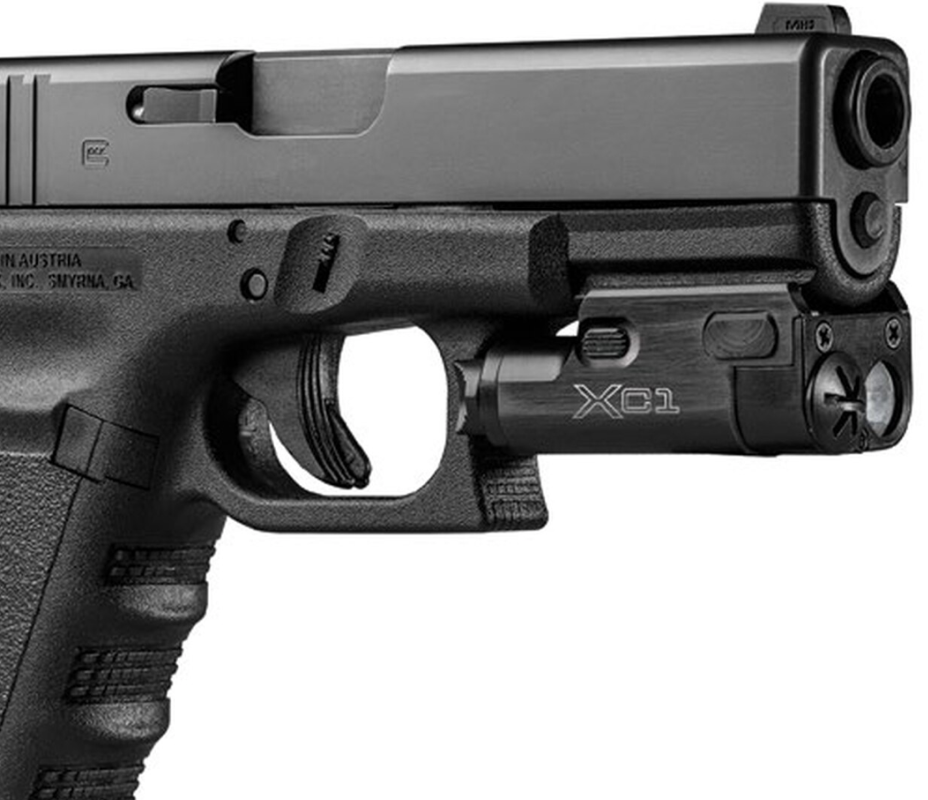 Model: XC1-B
Output: 300 Lumens
Length: 2.4"
Bezel Diameter: .375"
Weight: 1.6 oz
Runtime: 45 Minutes
SureFire Scout Light Pro Series
The new Scout Light Pro series is the highlight of SureFire's rifle weaponlight catalog. The Scout Light Pro is the next generation in the Scout Light Series so you can expect it to be a compact, modular, low profile, lightweight, highly-durable, long gun weaponlight system. The Scout Light Series has proven itself quite well among civilians, military, and law enforcement, so there were plenty of eyes watching out for this release.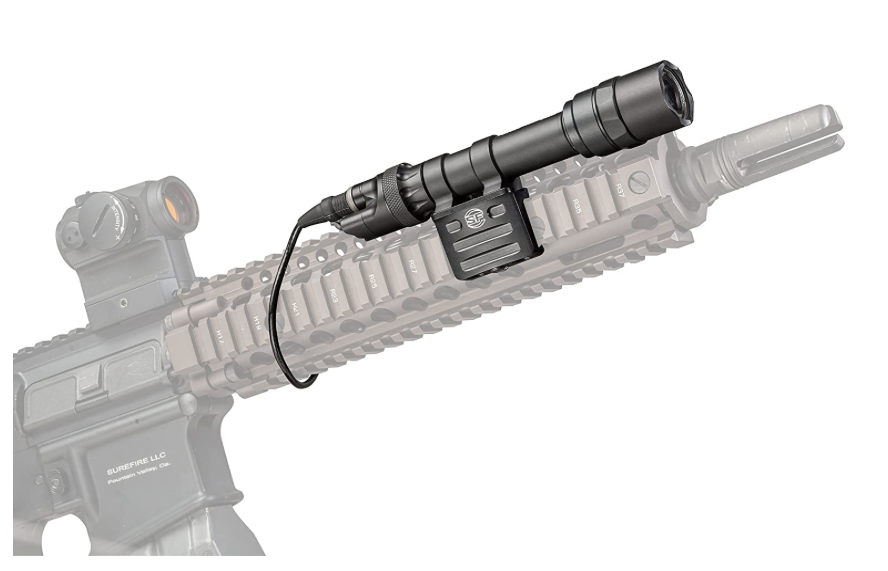 Users of the Scout Light Pro will tell you that versatility reigns supreme here. These new models are optimized to be positioned in a variety of configurations, including in tandem with a laser sight. Furthermore, they come with mounting cleats for easy attachment to either Picatinny or M-LOK rail systems. These tactical masterpieces feature many of the high-quality standard SureFire features such as a recoil-proof LED, blinding TIR lenses, and far-reaching beams. The virtually indestructible high-powered SureFire Scout Light Weaponlights have an intuitive control system that won't get in the way of your maneuverability or tactical advantage.
SureFire M300 Compact Scout Light
As part of the original Scout Light Series, the M300 features a tough as nails aerospace aluminum body that's Mil-Spec hard anodized to handle just about anything. The weatherproof system also has the classic SureFire LED TIR lens for enhanced lighting with two switch options. The M300 is part of the standard line within the Scout Light Series, meaning that it's designed for close to mid range. So while it may not be as bright or powerful as other models, the M300 was made to be compact with as little deviation from the expected performance of a SureFire weaponlight. 
I hooked up the M300C to my Kriss Vector and ran a few drills in low light to see how effective it was and I wasn't the least bit disappointed. I felt that the controls were intuitive and unobtrusive while offering sufficient light. I went ahead and ran the drill again this time at night in the rain. Honestly, I'd feel bad for anyone who tried to trespass on my property because I felt that I had every tactical advantage on my side with this setup. I don't usually keep a weaponlight attached to my firearms, but I always keep them available and I think it's a responsible decision for all gun owners to consider.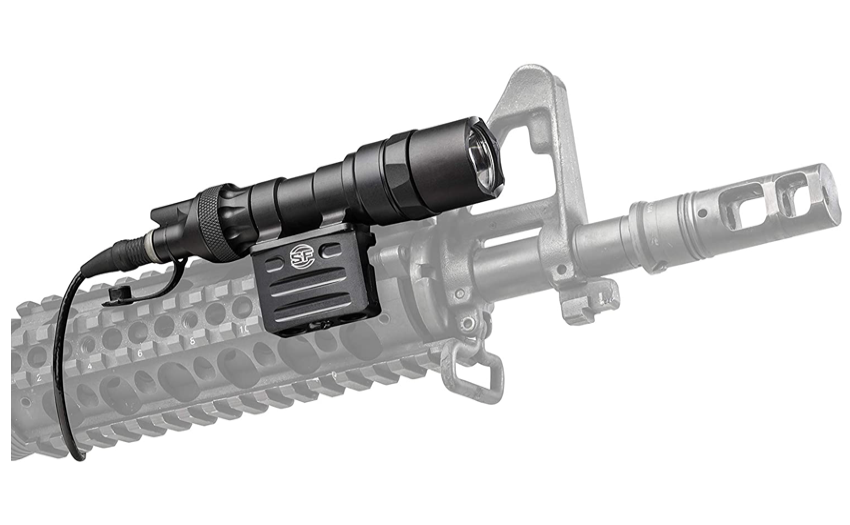 Model: M300C
Output: 500 Lumens
Length: 4.1"
Bezel Diameter: 1.125"
Weight: 4 oz
Runtime: 1 Hour
SureFire Flashlight Collection
SureFire has established themselves as a leading name in flashlight technology, in a variety of niches from firefighting to firearms. It should come to no surprise that the California-based company has a diverse collection of flashlights for a variety of purposes, most of which are backed by terrific reviews.
SureFire Stiletto Pro
I remember when the original Stiletto came out and I thought it was cool but it definitely had some room for improvement. I remember not willing to dish out over $100 for a pocket flashlight but then I saw the Stiletto Pro and its $229 price tag. I got my hands on the new model and spent a few days with it. 
I liked the flat but rugged design of the new Stiletto and it was easy to draw from my work clothes. I tested the durability in some non-traditional ways but it proved to maintain the high standard of toughness SureFire is famous for. Like many other mini SureFire lights, the Stiletto was built with the small but powerful MaxVision Beam reflector. The flashlight has a customizable control system but I wasn't interested in getting frustrated with programming it. At the end of the day, the Stiletto Pro was reliable, durable, and easy-to-use. Nevertheless, I have trouble recommending it for the simple fact that it's $229.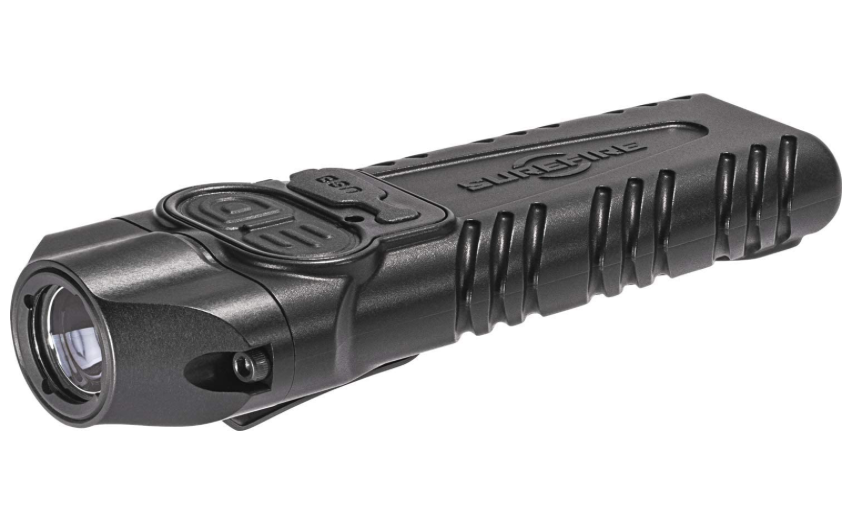 Model: Stiletto Pro (PLR-B)
Output: 1,000 Lumens
Length: 4.5"
Bezel Diameter: 0.87"
Weight: 4 oz
Runtime: 1 Hour
SureFire 6P
The SureFire 6PX Tactical flashlight is standard but definitely not basic. The unassuming flashlight is a single-output LED light (double-output model also available) that shines mighty bright out of its aerospace aluminum body. While they call it tactical, I'm not sure it fits the bill more so than their "non-tactical" models. However, the light on this is excellent and the build is strong as hell. No gimmicks here, just a straight-up flashlight that won't let you down. I'll take one.
Model: 6PX-C-BK
Output: 600 Lumens
Length: 5.2"
Bezel Diameter: 1.25"
Weight: 5.2 oz
Runtime: 1.5 Hours
SureFire G2X Series
There are four flashlights in the G2X Series but I really like the G2X Pro Dual Output model. The G2X models share practically indestructible LED emitters, 600 lumens of max output, precision reflectors, and Nitrolon polymer construction. The differences are primarily in the output (single or double) with some minimal configuration variations. 
At $70, the G2X Pro flashlight has a lightweight dual-output setup with a nice ergonomic durable build for use in a variety of scenarios. I like this flashlight because it's not too simple but not too sophisticated. There's high and low power options plus its lightweight design make it versatile for EDC, outdoor, emergency, or tactical usages.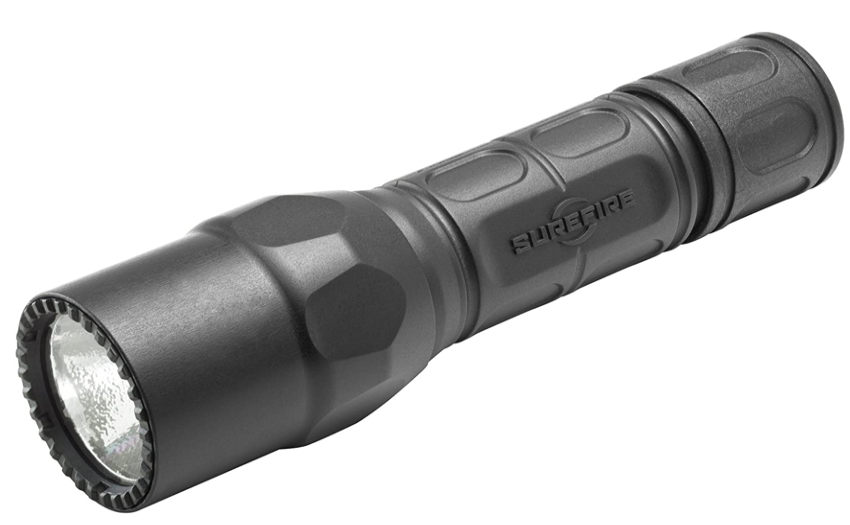 Model: G2X-D
Output: 600 or 15 Lumens
Length: 5.2"
Bezel Diameter: 1.25"
Weight: 4.4 oz
Runtime: 1.5 Hours at Max Output
SureFire Suppressor Collection
While SureFire is primarily known for their weaponlights and flashlights, they also have a nice selection of muzzle devices. When it comes to SureFire suppressors, you gotta talk about the SOCOM Series. These suppressors, originally released in 2012, were chosen by the U.S. Special Operations Command. This may have been the most extensive suppressor competition in history and it was won by a flashlight company. 
In order to win the contract, these suppressors had to remain durable for extended periods of time, show effective reduction in sound attenuation, flash, and dust signature, and more. After winning this competition, the SureFire SOCOM suppressor was sold to domestic law enforcement and military agencies and NATO allies around the world. Since then, production became cheaper and precision got higher. Eventually, the SOCOM2 suppressors were released with stronger alloys and a redesigned internal venting system. I could talk about my experience with the SOCOM1 but I think the fact that it was selected by U.S. Spec. Operations Command says enough. The only potential downside is that the SOCOM 2 suppressors are only available in 5.56, 7.62, and .338.
SureFire Muzzle Brake Collection
For those firearm owners who want a muzzle attachment but something a little less than a suppressor, SureFire has excellent muzzle brakes. These attachments are all made from precision stainless steel and high-end coating for long-term superior performance. They are also threaded to fit many popular rifles. 
SureFire Warden Blast Regulator
The SureFire Warden Blast Regulator is part muzzle brake part suppressor so it's really something to see. I'll start by saying that I'm not a huge fan of it since I'm not convinced it's so useful for most shooters. I like that it offers a somewhat suppressor-style shooting experience without all of the limitations or cost.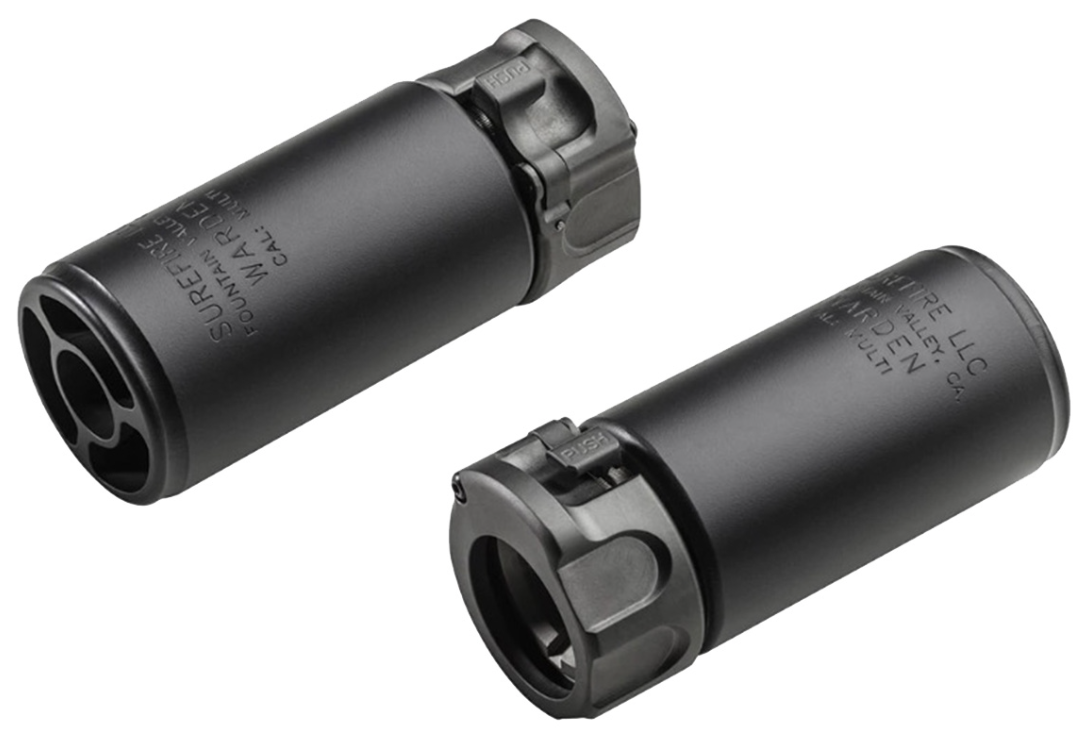 On the other hand, it is just a more advanced muzzle brake pretending to be more. Unlike regular muzzle brakes, the Warden transfers all of the gas forwards to reduce some of the overpressure and dust signature when shooting prone. The other thing I don't like about it is that it's not self-contained in the sense that it only functions when placed on top of a SureFire SOCOM muzzle device with the Fast-Attach system. Is it cool? Yes. Would I ever buy it? No. 
SureFire Warcomp Flash Hider
The Warcomp flash hiders were built in line with the SOCOM series that supposedly provides over 99% muzzle flash reduction (compared to a plain muzzle) while virtually eliminating muzzle rise. Now I have trouble believing that but I would call it more of an exaggeration than a lie. These are definitely above average flash hiders with excellent materials and designs that do perform quite well. SureFire currently offers a variety of Warcomp flash hiders, including models fit for 5.56, 7.62, and .260 Caliber / 6mm & 6.5mm.
Share your SureFire experiences with us in the comments section!