The Bushmaster ACR (Adaptive Combat Rifle) was an attempt to take the AR-15 platform and fix some of the ergonomics, layout issues, and making it all around more modular of a firearm. The charging handle, magazine release, bolt release, and collapsible stock are much easier to reach and make it more user-friendly than an AR-15. All the controls are ambidextrous which is a massive improvement over the AR-15.
In addition to that, any layman can swap the barrel out of the ACR, allowing for caliber conversion kits to be swapped in with relative ease. There are conversion kits offered by Bushmaster to convert the ACR to chamber .450, 6.8, 300 Blackout, and 5.56. The ease of dropping in a conversion kit it's easy to have a bolt and barrel outfitting with essentially any medium caliber cartage you'd like, I've also seen 7.62×39 and 5.45 conversion kits out there. Since the Bushmaster takes AR-15 magazines, any cartridge that has an AR-15 compatible magazine could have a conversion kit mocked up for the ACR. The barrels come ready to accept a suppressor and even have an adjustable gas piston system for suppressed and unsuppressed. 
Bushmaster
Bushmaster is a company that has been around for the better part of 30 years. They are a well recognized and well-respected brand in the gun community and AR-15 world. Never known as the absolute best AR-15, Bushmaster is known as a dependable, reliable, and attainable company that makes quality affordable products. They developed their own round the .450 round that takes an AR-15 lower and made it into a large bore rifle. If you're interested in using your AR to hunt big game. They also offer the .450 in the ACR.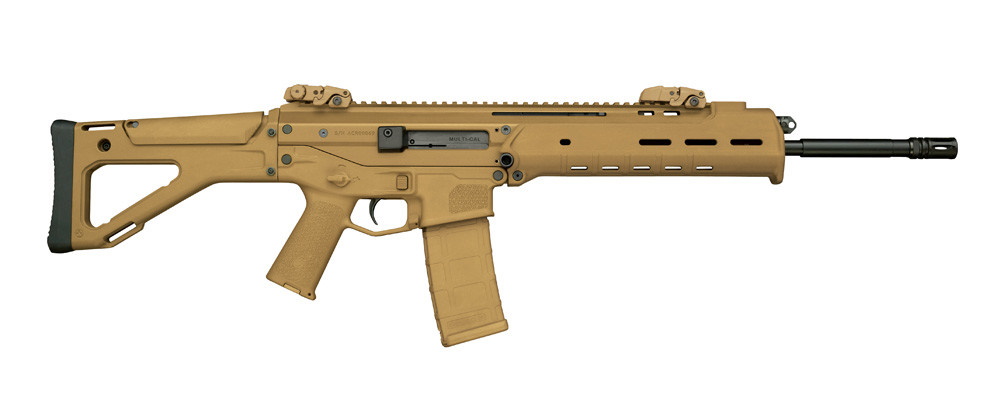 Bushmaster ACR for Sale
ACR is a widely available rifle, many gun stores keep them in stock, and if you visit a gun show you'll likely see them there. Buying a new one will not be cheap. They run $2,149 new for a basic model chambered in 5.56. Only going up in price the more attachments and features you add. For the cost of two quality AR-15s, you can get a more ergonomic, ambidextrous, and modular rifle. If you're planning on filling your safe with a variety of calibers it may be more cost-effective to get an ACR and a few conversion kits.
Bushmaster ACR Enhanced
ACR enhanced is essentially the same firearm as the ACR basic except it has a rail system in the front ready to mount lights, bipods, grips, and other accessories. Other than that the internals of both weapons are exactly the same and all the other features are identical. If you live in a state where folding and adjustable stocks are illegal they do offer a static stock that doesn't fold. You can even make an ACR California compliant with relative ease if you add a small attachment to the pistol grip, put on a static stock, and only put in a 10 round AR mag. 

Conclusion
In conclusion, the ACR is a solid rifle that can fix several issues that plague the AR-15 platform, however, I feel like they really missed the ball with their ability to convert it to full rifle rounds. I am not an engineer, nor do I know why the designers didn't make the ACR compatible with 7.62 NATO. But being that the idea of the rifle was to have it be modular they should have just expanded the magazine port and allowed it to fit 7.62×51 cartridges. Left-handed shooters would probably jump at the opportunity to get an ACR or they could just get the wipe array of bullpups out there that do the same thing for ambidextrous shooters for less money with a shorter overall profile and the same length barrel.