In recent times, there has been wanton criticism and condemnation from the misinformed members of our government and public about semi-auto weapons. One gun in particular has been targeted and blamed more than most: the AR-15. Bushmaster Firearms (the leading supplier of AR-15s in the U.S.) has certainly faced some serious opposition because of this, but they've always been able to bounce back – most likely due to their exceptional products. Bushmaster's world-renowned rifles have been manufactured since the early 70's and have kept their reputation of creating resilient, quality, and dependable weapons since. Bushmaster has spent years developing their line of pistols and rifles which have been used around the world for decades. Not only are their guns trusted for home defense, hundreds of U.S. law enforcement organizations and more than fifty foreign militaries trust their Bushmasters to keep their citizens safe. Because of their reliable accuracy, Bushmaster weapons are also a favorite for hunters and competitive shooters alike.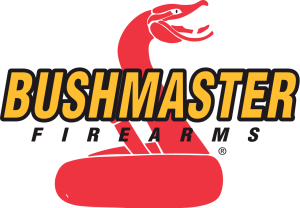 As previously mentioned, Bushmaster Firearms has seen its fair share of adversity and although they have been sold several times, their commitment to engineering American-made products has never ceased. Most recently, they were acquired by the holding company Freedom Group who also owns notable brands such as Remington and Advanced Armament. While currently headquartered in a small town in North Carolina (just a short drive from Greensboro), they now manufacture their products in Ilion, New York.
Bushmaster Firearms Overview
Bushmaster's specialty is without a doubt their impressive collection of rifles. With so many styles and options available, you can easily assemble the rifle of your dreams. Whether you're looking for something new this hunting season or upping your home defense, Bushmaster has got your back.

This Bushmaster series is a line of AR-15 style semi-auto rifles and carbines. This series consists of several heavy, gas-operated firearms that are effective at up to approximately 600 yards.
XM-15 QRC – This quick response carbine (QRC) is built to last and comes with a quick detach mount 1 x 20 red-dot optic.
16" Heavy BBL A3 Carbine – Completely interchangeable with most AR-15 parts and comes with a detachable carry handle.
Quad Rail A3 – Beautiful gun with aluminum free-floated quad rail handguard and detachable carry handle.
M4 Type Patrolman's Carbine – Relatively light-weight, this semi-auto carbine has been re-marketed to the civilian public as a copy of the Colt M4 Carbine. However, military/governments have access to an assault rifle variant with selective fire.
16" Heavy BBL Carbine A2 –The main difference between the A2 and A3 is that the A2 sights are directly installed into the receiver with a fixed carry handle.
20" Barreled M16-Type Rifle – Comes in A2 or A3 models. The A3 upper receiver includes a Picatinny mounting rail which enables you to attach most accessories.
Bushmaster ACR Rifle Series

The Adaptive Combat Rifle (ACR for short) is a relatively new assault rifle (developed in 2010) made by both Bushmaster and Remington Arms. Formerly known as the Magpul Masada, the ACR is famous for its quick and easy caliber change.
5" ACR Basic Folder Configuration – Bushmaster's ACR was engineered for longevity and durability. This model is optimal for speed, accuracy, and simplicity. All the major components can be quickly swapped; even the suppression and charging handle can be switched on the go. Although heavier than most AR-15s and less customization options than average, this gun is still a great buy.
ACR Enhanced – If the ACR Basic is Old Faithful then the Enhanced model is the rookie of the year. Bushmaster improved the handguard for better accessory mounting, and added quick attach mounts for a sling and a great flash hider.
Featured: Check out our Remington features covering the R51, 700, 770, 870, 1100, and 1187.
Bushmaster MOE Rifle Series

The Magpul Original Equipment line (MOE) combines Bushmaster's Carbine gas system with Magpul's ergonomic engineering to create these highly modifiable rifles. Known for its user-friendliness, the MOEs are also quite accurate and (relatively) light-weight. Each of these models is designed with a sleek 16" chrome line barrel, adjustable stock, enhanced trigger guard, and a rear flip sight.
MOE M4 – Type Carbine / 16" MOE Mid-Length / MOE Dissipator – Excellent shooting abilities, especially with MOE handguard and pistol grip. Although these three models are nearly identical, the M4 Carbine is slightly lighter than the others.
Bushmaster BA50 Rifle Series

This behemoth of a rifle is extremely accurate at long distances. Take one look at the .50 BMG Caliber, bolt action, 30" barrel and it's clear what this gun can do.
BA50 – Weighing in at nearly 9 lbs., this cannon has some serious stopping power. Bushmaster equipped the BA50 with a new muzzle brake/silencer adapter and a foldable steel bipod. The cherry on top is that it disassembles as easy any AR rifle.
Bushmaster Hunting Rifles

These powerful semi-autos are any hunter's best friend. Bushmaster has reduced recoil by employing a gas-operating system similar to the ARs while maintaining accuracy up to an impressive 200 yards. Easy to use, durable, and strong, this gun is as reliable as they come. But with such distinctions, the $1,500 MSRP is not unjustified.
450 Bushmaster Rifle/Carbine – Crafted with a 20" barrel, the 450 Rifle comes with an A2 pistol grip and trapdoor buttstock.
Varminter – This is the gun for the serious varmint hunter. Its 24" fluted barrel and two 1 ¼" mini-risers for mounting optics can essentially turn this AR style rifle into a sniper.
Predator – Very similar to the Varminter, but with a 20" barrel. To ensure its accuracy, Bushmaster designed the predator with a vented aluminum fore-end and a free floated chrome-moly steel barrel. The handguards on these firearms are incredible.
Bushmaster Pistols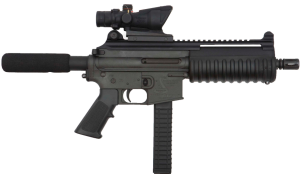 These carbon fiber constructed pistols are lightweight, durable, and intimidating. Originally manufactured by Professional Ordnance, the Carbon 15's are loosely designed like an AR-15, and are a distinct piece for any collector to have.
Carbon 15 – This gun definitely sticks out from the rest. Super lightweight, different caliber options available, and low recoil, make this gun downright fun to shoot. The Carbon 15 has average accuracy, but has proven Bushmaster reliability (unlike its predecessor made by Professional Ordnance).
Bushmaster Accessories
Bushmaster does not disappoint with their accessories. They offer numerous options for upper and lower receivers, special grips and stocks, variant triggers, tons of barrels, mounts, and sights, flash suppressors, and specialty magazines. Besides for just parts, Bushmaster makes all kinds of kits and tools to aid you in all types of situations whether in hunting or competition. I've seen guys come the range with Bushmaster carrying cases and mini scopes, hunters equipped with Bushmaster combat bayonets, and owners cleaning their guns with Bushmaster cleaning equipment. Bushmaster has it all.
Little long range 3 gun action with The ACR pic.twitter.com/hWJJagFcNc

— Bushmaster Firearms (@BushmasterLLC) January 6, 2017
What To Look Forward To
Bushmaster is unveiling some serious stuff this year, and I for one am pumped. Some of their new firearm models include the Minimalist-SD and the ACR-DMR. The Minimalist Series is a gun-lover's dream come true. The 2017 Bushmaster Catalog claims that the new ACR is "built to adapt to anything" and after checking out the specs, they sure as hell ain't lying. Stay tuned folks.
Conclusion
All in all, Bushmaster Firearms has come a long way since 1973 and has surpassed nearly every obstacle thrown at them. Although they primarily manufacture rifles, it is astounding how much diversity their different models have. It's hard not to love this American underdog who now is one of the most successful rifle producers in the world. Their weapons are highly sought after by military and law enforcement alike all around the world, as well as by hunters, competition shooters, gun enthusiasts, and those who want to keep their family and property safe. Although not all of their guns are the best of the best, but give me any Bushmaster and I'll be confident that I have a durable, accurate, and dependable gun in my hands.