For around 500 years, the Italian weapons manufacturer Beretta has been a leading producer of top-grade firearms. The ARX160 represents yet another great masterpiece in the collection. These rifles began as a major modern upgrade of their Beretta AR70/90 predecessor, used in the Italian Armed Forces. Beretta marketed the tactical training rifle as the younger brother of the powerhouse ARX 100 (which we'll discuss more below). The ARX160 was originally designed in 2008 as a military assault rifle for the Italian Armed Forces, and was later modified for civilian use in carbine and pistol variants.
Beretta realized that they had struck gold with their design which is why they quickly modified the ARX160. In this article, we are going to be focusing primarily on what's available for us noncombatants. Eventually, they even took it a step further and developed the ARX200, which is a derivative of the military version of the 160. Beretta knew immediately how successful this weapon could be, especially once the Italian Military ordered over 30,000 within the first few years. Besides for its popularity, the ARX160 has also seen a rise in service around the Middle East and neighboring countries. Let's get down to it and see how impressive the Beretta ARX 160 really is.

Beretta ARX160 Specs
Model: ARX 160 Carbine.
Action: Single.
Type: Rimfire rifle.
Barrel Length: 18.11".
Overall Length: 36.2".
Caliber: .22 LR.
Mag Capacity: 10 (other model is 20).
Weight (unloaded): 6.61 lbs.
Safety: 2-position thumb.
MSRP: $575.00.
Beretta ARX160 Build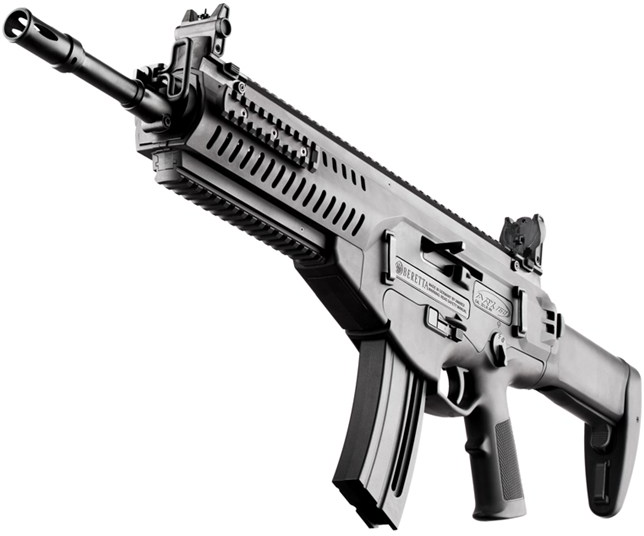 After just one look at the ARX160, you'll notice that it's not your run of the mill rifle/carbine. For starters, it's one of the best looking carbines I've ever seen; it's sleek, sexy, and intimidating. Its collapsible and folding stock gives it a maximum overall length of just 36.2 inches. This telescopic stock enables the user to adjust the length of its pull at the touch of a button. I grew up sharing guns with my brother who is a lefty, so I saw firsthand the frustrations a southpaw can face with a firearm.
Luckily, Beretta hooked up the ARX160 with serious ambidextrous controls, including a two-position safety, mag release, and cocking handle. One of my favorite features of these guns is their factory installed, four Picatinny rails, which open the door for tons of accessories (which we'll discuss more at length below). In my experience shooting Beretta's, I've never experienced any issues with their performance. The Italian company has always prided itself with their quality control, and the ARX guns attest to that fact. Their built-to-last durable components are constructed from high-grade European steel and techno-polymers. Another great feature is the simple mechanics in the 160, which make take down and reassembly a breeze. Guns like these, especially which often experience high volume shooting, require serious cleaning regularly.
Check out our overview of gun cleaning and care, but for this gun, I'd probably go with an aerosol CLP like Ballistol. Although most people tend to load their 160's with accessories, it's a pleasure to know that the default sight system is no joke. The adjustable flip-up sights make quick shooting effortless.
Beretta ARX160 Shooting & Performance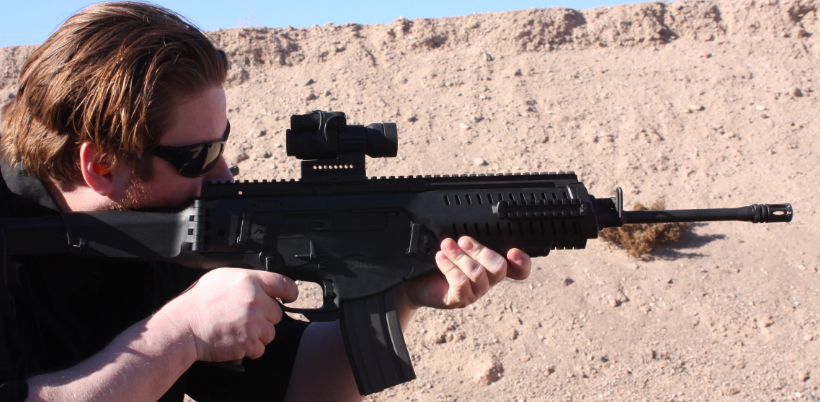 The ARX160 handles well. With Beretta's installation of several ambidextrous controls, operating a rifle has never been easier. Although I've always been partial to Rimfire weapons, I know that many people don't trust them. That being said, the ARX160's accuracy is spot on and dependable. At 50 yards, the average shooter should be able to shoot within 1 ½" groups consistently.
I fired the 160 right out of the box and I was immediately impressed. The flip-up sights are a great, but the real magic is in the rear diopter sight which offers supremely quick and accurate target acquisition. I also found the tactical sling swivels to be a great addition, allowing the shooter to fire and carry in a variety of positions. Nearly all of the features in the ARX are meant to facilitate a fun shooting experience; give it one try and you'll fall in love immediately. I forgot to mention before that Beretta threw on a flash suppressor, which can do wonders when shooting in low light environments.
Beretta ARX160 Magazines & Accessories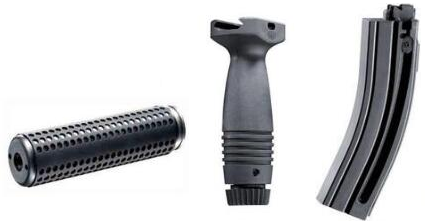 When talking about the magazines on the ARX160, you have to be aware of the only major drawback to the .22 LR semi-automatic rifles, which is their factory-supplied, five-round magazine. Having to reload after a half a dozen rounds is a chore, so do yourself a favor and opt for one of their higher capacity mags. Beretta offers upgrades with 15-, 10-, or even 20-round mags available for the civilian market (I think you may even be able to get a 30 round mag if you know where to look). Nevertheless, the mag systems on the ARX160 work great; there are mag releases on both sides of the receivers and require a slight push for release.
If you like attachments, then you'll be thrilled to hear that the ARX 160 has FOUR Picatinny rails, which leaves tons of options open for accessories. Before we get to the rails, the first aftermarket option you'll want is a bigger magazine. Once you got that, you may want to check out scopes. The Nikon 3x9x40 Prostaff is always a good choice, but a lot of that depends on what type of shooting you'll be doing. I'd also recommend the Bushnell TRS-32; I've always loved Bushnells and I recommend them often. Check out our sights and scopes overview to learn more.
A great place to check out a full range Beretta accessories is on their online catalog. One of the attachments which stood out to me was their ITAL-A Inline Tactical Aiming Laser. This cool gadget will cost you a pretty penny but with the durable and compact design, plus the cutting edge tech, it's understandable why. One of the most common additions people make to the ARX160 is to hook it up with the Beretta Vertical Grip.
For a very affordable $24, I don't see any reason to not add the extra stability to your shot. I've also seen some long range shooters add a barrel shroud to the 160, but I really don't think it's worth the money or added weight. Nonetheless, the mere fact that the ARX160 is so easily accessorized is one of the greatest features that Beretta could have possibly engineered.
Sweeeet RT @Countrymanderby: @BerettaItalia #ARX160 tactical .22 LR semi auto #rifle just delivered today. pic.twitter.com/eS82WD07CK

— BERETTA (@Beretta_1526) August 1, 2014

Comparing the Colt M4 to the Beretta ARX160 is not so simple considering they both are offered in military and civilian models. Nevertheless, comparisons have been made ever since they've been around; in fact, the U.S. military was looking to possibly replace the M4 with the 160 as their primary infantry weapon. The government began the United States Army Individual Carbine competition –which the ARX did incredibly well in –but the competition was cancelled before a winning weapon was crowned champion. This was after the M4 had already replaced the M16; I recommend checking out our M16 vs. M4 comparison to see how much of an upgrade it really was.
In general, the M4 is a more expensive and shorter firearm compared to the ARX 160, but the two are more alike than they are different. Both of these weapons feature the highly favorited telescoping stock plus many other characteristics. The fully stocked assault versions are both capable of attaching tons of accessories including grenade launchers, which made them great options for the military.
Overall, I think the ARX160 has a better set of sights and a more reliable accuracy, but there is something about the Colts that are just so tempting. I think the main reason that the M4 has been able to stand its ground with the Army is because of its proven track record. It withstood the test of the treacherous terrains and conditions of the battlefields in Afghanistan, so if it ain't broke, why fix it?
Beretta ARX160 vs. M&P 15-22

Another great firearm which I've seen compared to the ARX 160 is the Smith and Wesson M&P 15-22 Sport. This slim and durable semi-auto blow back rifle is something to behold. The S&W's shorter and lighter polymer build makes it one of the easiest tactical sporting rifles/carbines to handle, even more than the Beretta. The most notable advantage that the ARX160 has in terms of handling is its insane ambidextrous abilities and telescoping stock. Nevertheless, the 6-position CAR stock on the M&P also gives it a truly customized feel.
To add to the personal feel of the Smith and Wesson, they added the Magpul signature M-LOK system onto the handguard plus a 2-inch M-LOK rail panel which offer quick and easy customization. That being said, this tremendous ability of the S&W is only surpassed by the astounding personalization capabilities of the ARX160.
Beretta ARX160 vs. ARX 100

I was recently asked how the ARX160 compares to its "big brother," the ARX100. The most notable difference between these two guns is that the 160 is a Rimfire rifle while the 100 is a centerfire. Furthermore, while the 100 chambers 5.56 NATO rounds, the Rimfire 160 fires .22 LR. The most significant difference then boils down to price and power of the ammunition. Both of these Beretta's have reliable accuracy, but the 100 might of the upper hand considering that it's a centerfire. Although it may take a few mags to get used to the shape and feel of these guns, they are incredibly easy and fun to shoot.
One of the biggest differences between them is actually the easiest to fix –the annoying 5 round magazine shipped with ARX 160 can be easily replaced by a 20 round mag (the 100 comes with a 30 round mag). When it comes down to it, these are as close to identical as you can get; so the choice comes down to your preference of ammo. These are two great tactical weapons with the Beretta reputation to back them up.
Read our Browning Hi-Power Review, Bar M1918 Review and X-Bolt Review here at Gunivore