Smith and Wesson (S&W) has been delivering quality products to the world since the 1850's and has remained arguably the most popular and successful gun manufacturer in the world. When I think of S&W I think of history, innovation, and reliability, but there is truly much more to talk about – particularly in regards to recent developments. Worry not, as we'll get to it all here in our Smith & Wesson Company and Firearms Overview. Smith & Wesson has a rich and interesting history and yet has managed to stay relevant with their impressive state-of-the-art engineering. Their guns are sought after by hunters, competition shooters, antique collectors, militaries & law enforcement around the world, and those looking to fortify their homes and families.
I suggest looking up their catalog just to see the huge list of products they manufacture – it's endless. They say that in order to find the best place to eat, find the longest lines, and the same applies to guns. It's no coincidence that Smith & Wesson's weapons are among the most popular around the globe. In an average year, Smith and Wesson will manufacture well over 1 million guns for U.S markets alone, and earn around a half a billion dollars in global revenue. These numbers are almost unfathomable. S&W's are beautifully crafted, fun to shoot, and an overall pleasure to own. My first gun was a S&W, and I recommend any prospective buyer consider them.
History of Smith & Wesson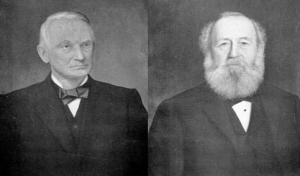 Smith & Wesson's history is as extensive as it is fascinating. The story begins well over 150 years ago in New England. Two men, Horace Smith and Daniel Wesson, both with experience in the firearms trade, joined forces with hopes of developing a lever action repeating pistol (with a self-contained cartridge). After initially failing and ultimately having to sell their company to what would later become the famous Winchester Repeating Arms Co., Smith and Wesson finally emerged with a revolutionary firearm. They came up with a revolver to shoot their previously patented Rimfire Cartridge. This gun, known as the Model 1, was the first gun to combine the style of Colt's revolver with a self-contained cartridge. Now this may not sound like much, but this invention changed the world. All revolvers since the Model 1, and all American cartridge ammo, stem from this partnership's breakthrough.
Fearing that this was not going to be enough, they concocted the Model 3 American (which was the first large caliber cartridge revolver in the world). This gun was so ground-breaking, they immediately sold thousands of units to both the United States Government and the Russian Imperial Government. From the end of the 1800's throughout the 1900's, Smith & Wesson took the world by storm with their inventions. They unveiled new guns that transformed civilization nearly every decade. During this period, they developed hammer-less revolvers, the Model 10 (.38 Military & Police), Magnum revolvers (.367 Magnum), the Model 39 (the first American made double action auto-loading pistol), the famous Model 29 (.44 Magnum), and the Model 60 (the first stainless steel revolver).
Each of these weapons revolutionized the world of law enforcement, frontier life, and personal defense. What blows my mind is that most of these models are still popular today. The .38 M&P is the gun of choice for police officers around the world! Historians and antique collectors treasure S&W's because they were used in virtually every war in American history. Over 150 years has passed and Smith & Wesson have been on top nearly every step of the way.
#TBT In 1880, Scientific American named Smith & Wesson "one of the oldest, most perfect, and widely known [revolver makers] in the country" pic.twitter.com/LZcsw19QDq

— Smith & Wesson Corp. (@SmithWessonCorp) January 20, 2017
Smith & Wesson Cartridges Review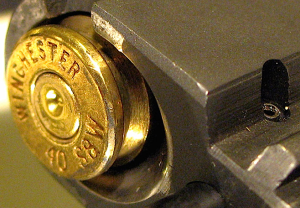 Besides for their innovations of revolvers, Smith & Wesson may have actually been more influential with their cartridges. Over the course of their illustrious century and a half, they've introduced nearly twenty different cartridges. Some of these are among the world's most common, such as the .38 Special (not to be confused with the rock band), .357 Magnum, and the .32 Short. These incredible developments can be traced back to the 1870's, when S&W produced revolvers that used metal cartridges, eventually solidifying them as the standard cartridge in America.
I'm a huge fan of both the .38 Special and the .357 Magnum, and apparently I'm not the only one. In an article on Americanrifleman.org (one of the NRA's websites), the author lists what he believes to be the top 5 American handgun cartridges. These two S&W's made the cut as well as their .44 Special/.44 Magnum. Although it may take an expert shooter to realize the difference in quality of cartridges, I believe that their prevalence among law enforcement around the world, speaks for itself. If they trust in S&W's ammo, why wouldn't I? Of course, in terms of cartridges, Smith and Wesson is most primarily known for the .40 S&W – which we covered extensively here!
Smith & Wesson Semi-Auto Pistols Review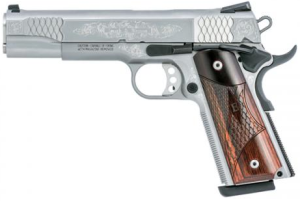 It was Smith & Wesson's revolvers that put them on the map, but it has been their semi-auto pistols that have kept them relevant in today's modern world. Production of their semi-auto pistols began in 1913 with the Model 35. As time went on, their innovations continued as they created the Model 39: the first U.S.-designed double action pistol (debuted in the 1950's), and the Model 61: a mini pistol engineered to be easily concealed in pockets (debuted in the early 70's).
In 2003, S&W came out with their version of the M1911 (we've reviewed Remington's in the past), and it's gorgeous. I fell in love with the SW1911SC E-Series (Round Butt Scandium Frame) at first sight. I shot a few rounds and knew I had to have it. However, with such a steep MSRP, it took some time to save up for it. This is just one of the countless models they offer. Within their line of semi-automatic pistols, there is the Sigma series, the SW99, M&P's, SD VE, and the aforementioned SW1911.
The Sigmas are incredibly popular and powerfully built; they are recoil-operated and constructed with polymer and steel. For fans of the Sigma Series who also like the Walther P99, the SW99 is the perfect hybrid. The Walther P99 is a great gun and Smith & Wesson basically used it as a framework to create an enhanced variation. The most unique of their pistols is also their most common: the M&P Series.
Even though it was designed for (and still used by) law enforcement around the world, they are also available to civilians. It's hard not to love this gun. S&W spent years mastering the ergonomics of these guns to perfect their abilities. At most ranges that I visit, I usually spot at least two or three Smith & Wesson firearms, more than any other brand. It's like this year after year and I'm never surprised- the reliability, accuracy, and user-friendliness of their pistols are impeccable.
Get Glock! Read our Glock 17, 19, 26, 30, and 36 Reviews!
Smith & Wesson Rifles/Carbines Review

It wasn't until World War II that Smith & Wesson produced their first rifles. Nowadays, their online catalog offers a few dozen rifles marketed under their M&P line. These are really beautiful guns and they come in tons of different options. I was surprised to find out that these are not your standard AR-variants. They are priced well, very accurate, comfortable and easy to shoot, and offer tons of accessory options.
They can easily compete with other top-shelf AR15's. S&W's MSR's are engineered for a wide variety of different applications. A few of my friends are involved in the competitive rifle scene, and the majority of them prefer M&P15's. For a company known for their revolvers and cartridges, Smith & Wesson offers an impressive array of rifles.
Smith & Wesson Submachine Guns Review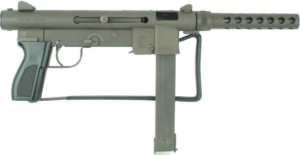 In the late 1960's, Smith & Wesson decided to expand their collection and give a shot at the sub machine gun market. The currently discontinued Model 76 was designed for law enforcement but eventually made its way into civilian hands. I'll give them credit for trying, but this was not one of their more successful ventures. Sometimes it's better to just stick with what works.
Smith & Wesson Shotguns Review
As with their sub machine gun, S&W gave a valiant effort in the shotgun market, but at the end of the day it was a huge failure. For whatever reason, they decided to keep trying to manufacture shotguns but it never worked. They failed in the 80's because of some serious quality issues, and failed again in the early 2000's. Like I said before, good for them for trying, but c'mon, stop trying to do everything and focus on what you know! Shotguns are by far my favorite guns, so it's hard for me not to at least appreciate the S&W assault shotgun, but to call a spade a spade, it never had a chance at competing with the others on the market.
Smith & Wesson Knives & Accessories Review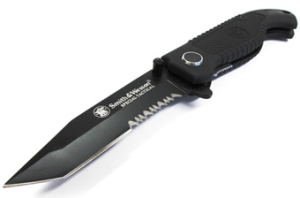 Thank goodness Smith and Wesson finally got a new product line right! As a huge fan of the company, I was just annoyed that every time they tried to branch out, they would fail miserably. That all changed when they decided to get into the knife and accessory business. They unveiled their first combat knives in the 70's and they've managed to stay popular until today. One of the many reasons why I love S&W is for their commitment to enhancing law enforcement equipment. They are constantly devising ways to make police accessories better. Over the past few decades they have developed special shoes, bikes, and flashlights all geared towards police officers.
The Future of Smith & Wesson?
Smith & Wesson has a bright future ahead of them. Throughout their long history, they have always made huge strides in attempts to stick with the times. Even though some of their attempts failed, it's nonetheless admirable. In the past year alone, S&W bought out a few companies that produce laser sights, knives, and assorted survival equipment.
After over 150 years, S&W voted to change their corporate name to American Outdoor Brands. As a gun enthusiast this bothers me, but at the same time, it's a more accurate title. After all the moves and acquisitions they've made recently, American Outdoor Brands actually makes a lot of sense given that firearms are now only a fraction of their products, I'm looking forward to watch the company grow as a major supplier of all types of weapons and survival equipment. The times are changing and Smith & Wesson will surely always be changing too. I'm excited to see where they will go from here!
Conclusion
Over the past 150 years, few companies have impacted American history as Smith and Wesson. Nevertheless, they've evaded fading away into the past by constantly innovating and developing their products. In the 1850's, S&W began as a partnership dedicated to invention and almost 200 years later it's still an American staple. Whether in their lines of revolvers, cartridges, or semi-automatic pistols, S&W has always been relentless pushing the limits of what American firearm quality should be.