Table of Contents
Everyone and their cousin has an opinion on what the ultimate gun accessory is. But as with all other matters, actions speak louder than words. Looking to purchase new sights for your rifle? Well, look no further than the Navy SEAL who shot and killed Osama Bin Laden, using none other than EOTech holographic sights on his SBR.
Holographic Sight for Rifles
My first experience with a gun was many years ago (more years than I care to admit) when my father took me to the range for the very first time. I'd been looking forward to this day for quite a long time, and with dad serving overseas, it felt like ages from the time of his promise to take me shooting until the day when we finally got the chance to go.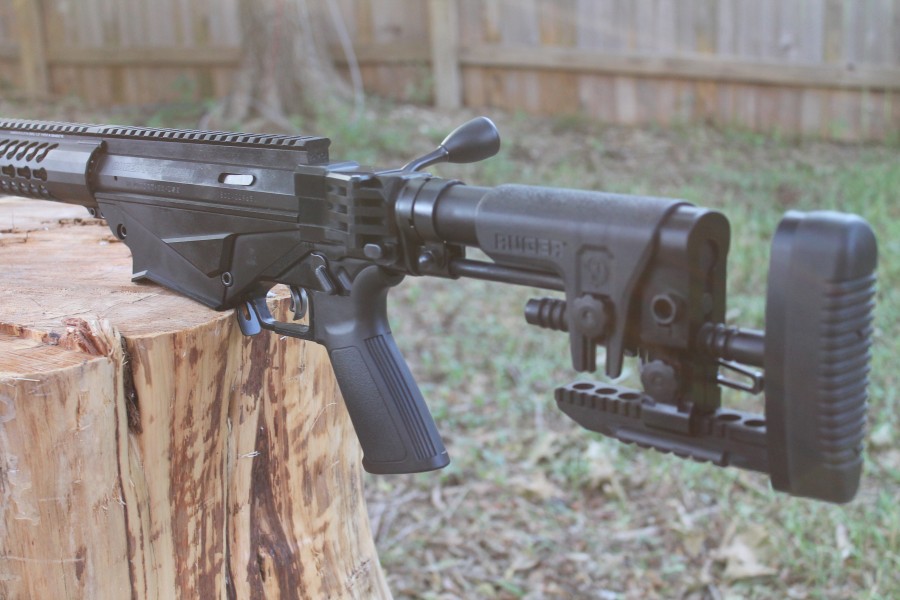 We loaded up the car with all the essentials: Ruger and AR-15 rifles, ammo, ear protection (always a must!), and peanut butter-and-jelly sandwiches. I was excited to have him all to myself for the day, and to not have to compete with my brothers and sister for his attention. We arrived at the range, and he ran through his safety overview for the third or three-hundredth time. Then, he pulled out the AR-15.
Ever the perfectionist, it was maddening that I just could not hit the targets as accurately as everyone else around me. Despite my father's encouragement and reassurement that I would get better with practice, I still left feeling blue.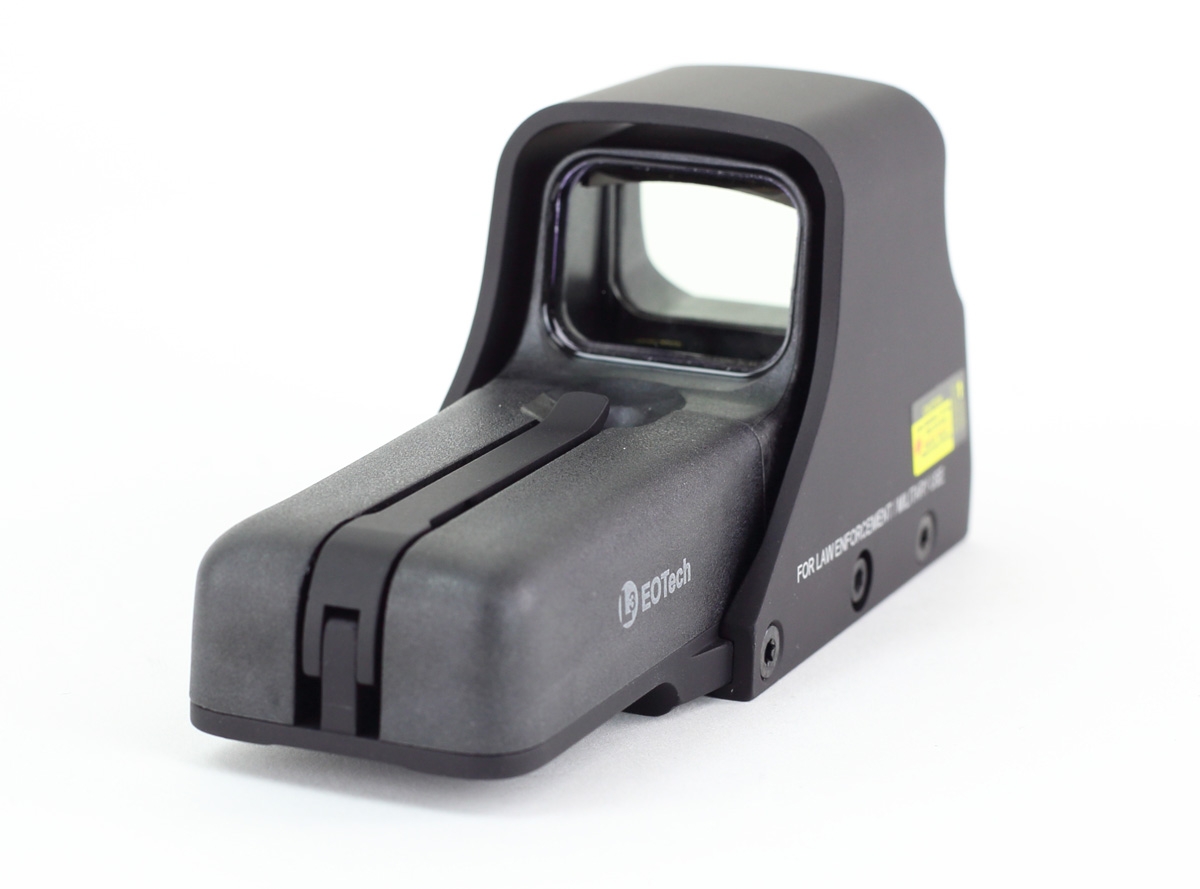 Well, it turns out that dad's preference for point shooting (shooting with both eyes open, without looking into the gun's sights) may have been partially to blame for my difficulty that day at the range. In the military, there is often no time to line up one's sights, and so people are often taught to simply aim, and shoot. Well, that style worked for dad but not for me, and I am now a firm believer in sighted shooting.
As much time and effort goes into purchasing your rifle itself, should also be placed into researching the proper sights for your gun. The way I see it is, you're already investing so much on your firearm – don't you want to use it at its maximum capacity?
Types of Rifle Sights
There are a few overarching categories which most sights fit into: iron sights, telescopic sights, and red dot sights. Red dot sights are a broad term which encompass reflex/ reflector sights, laser sights, and my personal favorite: holographic sights.
If you're a science fiction nerd like I am, the thought of anything holographic already has you excited. Whereas the other varieties of red dot sights have been in use for years – reflector sights were popular back during the Second World War – holographic sights are significantly more cutting-edge, having first been developed by Electro-Optics Technology (EOTech) in 1998. The science behind holographic sights is such that a laser is used to project a seemingly 3D image into your field of view, without distorting the path of normal light in any way.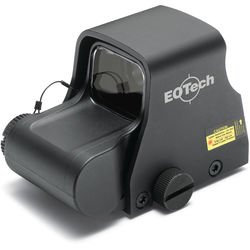 Something which I love about these particular sights is that they are meant for two-eyes-open shooting. I have a slight astigmatism in my right eye, and as such, regular red dot sights can appear blurry to me. With EOTech holographic weapon sights (HWS), there is no such issue – I can easily and instantly gain target acquisition, without having to look around the way I would with a more traditional scope. This non-magnifying gun sight makes shooting easy and pleasant, exactly as a day spent at the range with family or friends should be. And thanks to adjustable brightness settings, I can use these sights to shoot during the day or night.
Speed, accuracy, precision… all of these are crucial to gun marksmanship. With a holographic weapon sight, you can strike the proper balance. EOTech sights have a 68 MOA (minute of angle) ring with a 1 MOA dot, and the tubeless display window allows the shooter an unlimited field of view. Furthermore, this 1 MOA dot stays the same size when viewed with magnification while the target appears 3 times bigger – allowing the shooter the best and clearest view of the target.
EOTech Models
EOTech sells quite a number of models of different holographic sights, for shooters of varying needs and price ranges.
512 – this is the most popular and widely-used EOTech holographic sight. It has no night vision capabilities, but is nonetheless versatile.
512 Laser Battery Cap – an improved 512, with an integrated laser for quicker target acquisition. Durable and ideal for either home defense or combat training.
512 XBOW – another variation of the popular 512, designated specifically for use with a crossbow. It offers a pre-calculated ranging scale, which is projected on the target. The reticle pattern was designed with the hunting crowd in mind. Runs on 2 AA batteries.
XPS2 – the shortest, smallest, and lightest EOTech model holographic weapon sight available, without night vision. Runs on a single 123 battery.
EXPS2 – this sight has increased height, and it provides iron sight co-witness. The EXPS2 allows the shooter to acquire a target with both eyes open.
552 – this sight is night vision-compatible, and is used by military forces and government agencies. For hunters who don't feel like packing it up when the sun sets.
XPS3 – Like the XPS2, it is exceptionally small and lightweight. Runs on a single 123 battery, and leaves room for other devices such as magnifiers and backup iron sights.
EXPS3 – chosen by the U.S. Special Operations Command as the go-to optic for close-quarter combat (CQB), this device is night vision compatible, and it is elevated for iron sight attachment.
518 – this sight runs on 2 ordinary AA batteries, but offers the shooter an experience which is similar to that of the EXPS line. The 518 is also compatible with the EOTech Laser Battery Caps.

EOTech Model 518

558 – this sight is fully compatible with Gen I-III+ night vision devices. It offers quick detachment, increased aiming capabilities, and is ideal for use with EOTech's switch-to-side magnifiers. Powered by 2 AA batteries.
300 Blackout – this sight offers a 2-dot reticle, which allows the shooter to zero different rounds in the same pattern. This sight goes with the XPS2 platform, and is extremely short and light. It is powered by a single 123 lithium battery.
Hybrid Sight I: EXPS3-4 with G33.STS Magnifier – night-vision compatible, and designed for close to mid-range shooting – this device brings with it the best of both worlds. The Hybrid I offers rapid transitions from CQB situations to mid-range targeting.
Hybrid Sight II: EXPS2-2 with G33.STS Magnifier – this device offers a combination of short to long range capabilities, which is ideal for those whose targets are on the move. The switch-to-side mount offers instant disengagement of the magnifier.
Hybrid Sight III: 518.2 with G33.STS Magnifier – Powered by 2 AA batteries (lithium or alkaline), this sight is one of the most adaptable hybrids, lending itself to a variety of scenarios. It offers a wide field of view, quick transitioning from short to long range, and reliability in many lighting condition due to a higher grade of light transmission.
552 Laser Battery Cap 2 – the ever-popular, battle-tested, extremely durable 552 just got better. The 552 LBC2 offers visible and infrared lasers, making it a smart choice for CQB situations. Long battery life and an integrated accessory port make this a device that will provide results when they matter.

EOTech Model XPS2-RF

XPS2-RF – this is a sight geared towards the non-tactical crowd, airsoft gamers, and those with aging eyesight. It offers a wide window and an illuminated holographic reticle. Hunters can use this model for small game and for plinking. Note: this sight only mounts to an 11mm Dovetail.
G33 Magnifier – this magnifier offers tool-less azimuth adjustment, large field of view, and adjustable diopter dial for greater focus. It is compatible with all EOTech holographic weapon sights.
Mini Red Dot Sight (MRDS) – designed for CQB, this device offers high visibility in any and all lighting conditions. It has 4 brightness levels, for dot-intensity adjustment. Changing batteries is done without removing the sight and compromising your zero. Available as a standalone product or as a deluxe kit that includes a mount (1913) and protective cloth.
Laser Battery Cap: Visible Laser – this is a drop-in replacement for the 512/552/518/558 EOTech holographic weapon sights. Ideal for home defense or combat training. The cap has an integrated accessory port, for use with a remote pressure switch, which may be purchased separately.
Laser Battery Cap 2 – another drop-in replacement for the 512/552/518/558 EOTech holographic weapon sights. Incorporates visible laser and invisible infrared technology. Also comes with an accessory port, for use with a remote pressure switch, which may be purchased separately.
Regardless of whichever model you select, the clear glass quality and small dot make EOTech ideal for long-range shooting. The EOTech also doesn't feel too massive on the gun itself, unlike some other sights I have tried in the past.
The only downside I've really experienced when dealing with holographic sights is a shorter battery life than, say, red dot sights that use a standard LED. This means that holographic sights can require the batteries to be changed significantly more frequently. The other downside is the price, but the fact of the matter is that you get what you pay for – and if you are seeking top-quality, well, then it's only natural that you would have to pay accordingly. Although, EOTech is still usually a better bargain than competitors such as Swedish company Aimpoint.
EOTech is based in the United States, and is a division of the L-3 Communications Corporation, one of the top defense contractors in the world.