Table of Contents
Mossberg's first foray into the rifle business occurred in the late 1930's. After seeing their Brownie .22 pistol flourished –they developed a .22 caliber hunting rifle. Realizing that they had what it takes to create world-class rifles, O.F. Mossberg & Sons began focusing their attention on manufacturing long sporting rifles and shotguns. In this Gunivore review, we're gonna take a look at the Mossberg rifles chambered in .22 Long Rifle.
Skeptics of .22LR rounds will emphatically describe how outdated and difficult to manufacture this ammo is. However, their most convincing argument may be that its power is so insignificant that it ain't worth a damn. On the other hand, there are an undeniable number of benefits of this timeless cartridge. For starters, .22LR rounds are significantly cheaper, quieter, and give less recoil than most other ammunition.
With that being said, it's ideal for beginners and makes a great choice for small game hunting. Additionally, .22LR rounds are sold in massive quantities with wide ranging availability, and as such it's never been easier (or cheaper) to stock up on ammo. Also, for folks who like variety, it's rare to find as many bullet and power variations as this little Rimfire offers. There are quite a few rifles to discuss, so let's get started – this is the Gunivore breakdown of the Mossberg firearms chambered in .22 Long Rifle.

Mossberg 22 LR Rifle Specs
• Model: Blaze.
• Overall Length: 35.75".
• Barrel Length: 16.5".
• Capacity: 10+1.
• Finish: Blued.
• Twist Rate: 1:16.
• Weight: 3.5 lbs.
• Price: $169.99.
• Model: 715T Flat Top.
• Overall Length: 36.75".
• Barrel Length: 16.25".
• Capacity: 10+1.
• Finish: Blued.
• Length of Pull: 13".
• Weight: 5.5 lbs.
• Price: $279.99.
• Model: 464 Rimfire Lever-Action Rifle – Straight Grip.
• Overall Length: 35.75".
• Barrel Length: 18".
• Capacity: 13+1.
• Finish: Blued.
• Twist Rate: 1:16.
• Weight: 5.5 lbs.
• Price: $369.99.
• Model: 464 SPX – Rimfire Lever-Action Rifle.
• Overall Length: 34".
• Barrel Length: 16.25".
• Capacity: 6+1.
• Finish: Matte Blued.
• Twist Rate: 1:10.
• Weight: 7 lbs.
• Price: $619.99.
Mossberg 22 LR Rifle Build

With so many excellent weapons and features to discuss, we're just gonna deal with the highlights. Mossberg's line of rifles chambered in .22LR is filled with unique firearms designed for many different purposes.
One of my favorite rifles in this line is the Blaze-47, and what a sweet weapon it is. Mossberg based this rifle off of the AK-47 but gave it the price and feel of a modern Rimfire. To give the Blaze-47 a custom-feel, they added an integrated 6-position adjustable stock with variable lengths of pull. I've been a huge fan of this stock style ever since I got my 590A1 with a similar option. Speaking of, check out our Mossberg 590A1 review.
The standard Blaze rifle is also something to behold and a fan favorite because of its durable and ergonomic build. Additionally, besides for the Picatinny rail which offers plenty of aftermarket options, the Blaze also has an optional Dead Ringer Holographic Green Dot Sight that is out of this world amazing.
The impressive Mossberg 715T is basically a diet AR, but that is not meant to be an insult. This tactical weapon features the user-friendly 6-position adjustable stock with +/-4" length of pull, which guarantees a comfortable and smooth shooting experience. This semi-auto is a great choice for hunting and self-defense, especially considering its quad Picatinny rail and durable outfitting.
The 464 lever action was Mossberg's attempt at revamping an age-old classic, but I don't think this was the best idea. The 464 feels cheap and has some really questionable building flaws. For instance, the positioning of the ejection port on this guy is just puzzling. Besides for being clearly doomed to cause problems, I have seen first-hand how problematic it can be. On the upside of things, the 464 is lightweight, easy to use, and has several great safety features.
The 464 SPX shares several basic features with the standard 464 rifle but includes several upgrades which make it the clear winner. Like the basic model, the SPX also has the tremendous 3-level safety system and basic build. Both rifles eject from the top of the drilled and tapped receiver and are coated with a semi-durable matte blue finish.
This rifle stands out mainly because it's outfitted with numerous features which make it more tactical friendly. For starters, Mossberg incorporated a fantastic 6-position adjustable stock which can alter the length of pull up to 4 inches. Additionally, Mossberg made the SPX a lot more attachment-friendly by adding a Picatinny tri-rail on the forend.
Mossberg 22 LR Rifle Shooting & Performance

The standard Blaze rifle was designed with an incredible twist rate which delivers impeccable accuracy and is complimented with tremendous handling and ergonomics. To ensure these qualities, Mossberg outfitted the Blaze with an adjustable rear sight, lightweight build, and good recoil pad. To get the most out of your Blaze, I recommend going for the Dead Ringer Holographic Green Dot with four reticle configurations to boost your accuracy.
The 715T is a great weapon but I have heard a few complaints about its performance, however most they were way outnumbered by the positive feedback I got. It's surprisingly easy to shoot and is wickedly accurate. I was also really impressed by how fast the 715T loaded and fired especially if you hook it up with an accessory loader cap. The best way to boost your performance with the 715T is to properly utilize the 6-position stock; by adjusting it to your exact proportions, you can achieve ultimate control of the gun. Similarly, with so many options for accessories, you can easily make this gun feel like it was handcrafted for you.
The Mossberg 464 rifles are not nearly as efficient as these other .22LR guns. There are several design flaw which dramatically effects their performance and reliability. After hearing countless stories of jams, misfires, and faulty components, I had to give it a try for myself but my experience was no better. The 464's action is anything but smooth and twice wouldn't eject a spent case.
The upgraded 464, the SPX, proved to be much better. The 6-position adjustable stock on these gives the shooter a much more comfortable shooting experience, which naturally yields better accuracy. Included in this line are the lightweight and easy to use Plinksters, which we'll get to soon.
Mossberg 22 LR Rifle Magazines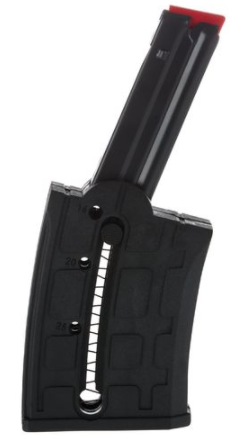 Since there's such a variance with these rifles, there are tons of different magazine features and options available. For instance, as a semi-auto, the 702 Plinkster has a default capacity of 10+1 but Mossberg offers a high-capacity 25-round mag to spice things up.
Staying on the Plinksters, the 801 Half-Pint, which is a variant of the 802, is supplied with a magazine plug that limits the capacity to just one shot. Considering that this rifle was intended for younger people, this is an excellent additional safety feature.
The 715T, which is a hybrid between a Plinkster and an AR, has a capacity of 10+1 but can also be outfitted with 25-round mags. Mossberg also makes an Accessory Loader Cap which makes loading and reloading a breeze.
The Blaze Mossbergs are equipped with easy-to-load mags in 10 or 25 round capacities, depending on your preference. I happen to love the high capacity mags on the Blaze 47's because they're just downright sexy.
Mossberg 22 LR Rifle Accessories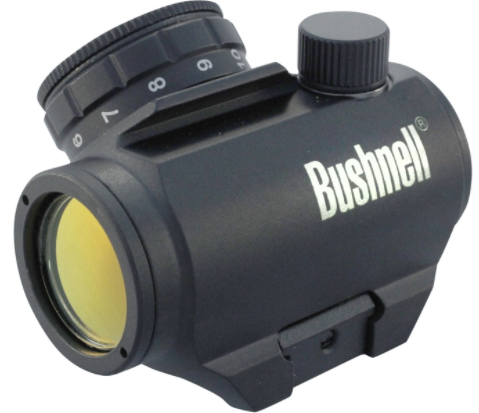 For "cheap" and old-fashioned rifles, Mossberg did not disappoint when it comes to accessorizing these guys. The Blaze rifles are just begging to be decked out with their barrel-mounted top Picatinny rails. I mentioned the Dead Ringer Holographic Green Dot Sight earlier, and this is by far the most common optic for the Blaze rifles.
If you thought that the Blaze was begging for accessories, you won't believe what Mossberg did with the 715T. Besides for their adjustable stock, they also have a vented quad-rail forend which gives you tons of attachment options and combinations.
Because most of these guns aren't really meant to be tactical, very often shooters will just leave them be, but that doesn't mean you have to. The 715T, on the other hand, has plenty of universally used attachments. If you're looking to change up your sight system, I'd check out a Bushnell. I grew up with Bushnell's so they have a special place in my heart. Take a look at the Bushnell Trophy Red Dot Scope TRS-25 1X Red Dot Sight for an affordable and effective optic.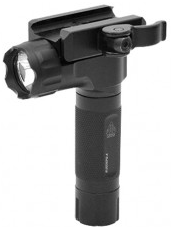 If you're looking to increase your tactical game, then you gotta get a good flashlight and I have just the one in mind. The Mossberg 715T 400 Lumen Quick release Flashlight Grip combines two great tactical accessories in one. If you want something a little simpler, go for the Leapers UTG Multipurpose LED Light (400 Lumens) Flashlight for around $40. Nevertheless, my favorite attachment for the 715T is the Barska Laser/Weapon Flashlight Combo designed to handle any tactical situation.
For some accessory ideas for the 464 rifles, I'm gonna stick with what I recommended earlier – the first thing to buy is a scope base. You can get a nice set from Kwik-Site for pretty cheap online. There are three optic options which you should consider:
1) Take off the default foldable sights and put on the 3-dot fiber optics.
2) Remove the rear sight and throw on the unique Skinner Lo-Pro Sight.
3) Looking for a scope? Check out the Bushnell Banner 3-9×40 Optic.
Although the Plinksters aren't as aftermarket-friendly as these other .22LR rifles, the Sport Grip Stock on the 802 with an integrated rail does give you some options. Most 802 owners will utilize this spot for adding a bipod for added stability, check out the Mossberg 702 Clamp On Tactical Bipod Mini for an affordable version.
The 702 Plinkster isn't as accessory-friendly, but there are at least two things that I can recommend for you to modify your sight system: I'd go with either the Mossberg 702 BSA Sweet 22-39X40 Scope or the Sightmark Sure Shot Reflex Sight.
target pract today with the '42 Mossberg 22 pic.twitter.com/iOuxyLO5rk

— WhistlePigFarms (@whistlepigfarms) March 5, 2016
• Model: 702 Plinkster
• Overall Length: 37"
• Barrel Length: 18"
• Capacity: 10+1
• Finish: Blued
• Length of Pull: 14.25"
• Weight: 4 lbs.
• Price: $159.99
• Model: 802 Plinkster.
• Overall Length: 37".
• Barrel Length: 18".
• Capacity: 10+1.
• Finish: Blued.
• Length of Pull: 14.25".
• Weight: 4 lbs.
• Price: $144.99.

For those of you who aren't familiar with the term plinking, it's an old-fashioned word used to mean less conventional target shooting (like tin cans and glass bottles) or small game hunting. I'm gonna go out on a limb and say that Mossberg created these weapons to be the perfect starter rifles for young shooters. With an affordable price tag, low recoil, lightweight build, and simple design, these firearms are indeed great for introducing shooting to newcomers. To get a better idea of these Mossberg's, they can be compared to the more popular Ruger 10/22 and Remington 597.
After viewing the 702 and 802 side by side, I realized that there isn't really much of a difference between the two. Nevertheless, the biggest distinction is their action; the 702 is a semi-automatic rifle and the 802 is a bolt action. Another key difference is the stocks –the unconventional skeleton sport grip stock on the 802 Plinkster keeps the weight low and the control high while providing increased ergonomics. However, the 702 features a simple and lightweight synthetic stock.
The core of these guns is also quite similar: The 702 has adjustable pre-mounted rifle sights but its dovetailed receiver accepts 3/8" scope mounts. On the other hand, the 802's are equipped with either a weaver or dovetail receiver which offer easy mounting of optics. Additionally, the Sport Grip Stock on the 802 has an integrated rail for adding your favorite accessories.
Conclusion
Overall, I love Mossberg weapons, so I naturally had a blast trying out these rifles. Once it was clear whom these guns were designed for, I can safely say that Mossberg did an excellent job. Guns are NOT toys, but that doesn't mean a child shouldn't learn to use one when they reach the right maturity. That being said, this diverse line of rifles can be great learning tools by combining safety, low-power, and easy handling.