Table of Contents
It's impossible to have a discussion about shotguns without mentioning Mossberg. The classic company has been at the top of the field for around 100 years and is constantly introducing new and exciting products. In order to cater to a wider audience of hunters, Mossberg released the .410 Pump-Action, part of the legendary 500 series which has achieved world-renown since its inception in the 1960's.
Since then, the Mossberg 500's have been used around the world by law enforcement agencies and even attained military and war experience. This American company has such an extensive history and lineup, which unfortunately, we can't get into here. However, I recommend getting a glimpse at our summary of the 98 year old Mossberg and their impressive collection of firearms.
As specialized hunting shotguns go, this Mossberg is just about average. Using a .410 shotgun on big game like deer would be a big mistake, but it is ideal for smaller game like rabbit and vermin. Overall, this isn't Mossberg's finest work, but will still get the job done. It's definitely not the most beautiful shotgun out there, or even the best handling, but it's a decent bang for your buck weapon.

Model: Mossberg 500 Field .410 Pump-Action
Gauge: .410 Bore
Overall Length: 43 ½"
Barrel Length: 24"
Chamber Length: 3"
Magazine Capacity: 5+1
Length of Pull: 13.875"
Weight: 6.25 lbs.
Sights: Twin Bead
MSRP: $419.00
Mossberg 500 Field .410 Shotgun Build

The Mossberg 500 shotgun, designed in the 60's, has developed over time and has since seen dozens of variants and models produced. There is however a few things which unite the different 500's, and those are their receivers and actions. Conversely, the Mossberg variants can differ in barrel length, mag capacity, stock, sights, bore size, and choke options. After closely examining the Mossberg .410, I realized that it's one of the weaker shotguns in its class.
Firstly, to ensure its smooth performance, Mossberg outfitted the .410 with Quiet Carry dual action bars. Similarly, for a boost in durability, the shotgun has a solid wood stock. That being said, even with a low power round, recoil will be felt. The only impressive feature on this pump-action is the ambidextrous, thumb-operated safety. Furnished with a fixed full choke and a 24-inch, vent-rib, non-ported barrel, Mossberg .410 shotguns are built field-ready. I generally trust Mossberg, so although this gun doesn't look so good on paper, I'm inclined to give it a try.
Mossberg 500 Field .410 Shotgun Shooting & Performance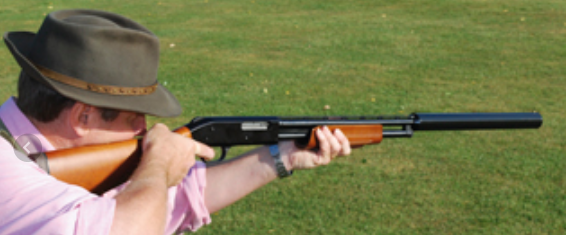 So… as expected, the Mossberg .410 Pump-Action Shotgun was nothing spectacular. However, I didn't have any troubles cycling and the 3" chamber offered a very smooth operation. Additionally, the control of the lightweight design was perfect even for my 12 year old nephew.
Also, I should really mention that although it's not the best shotgun out there, it is mightily accurate. Besides for the light build and comfortable length of pull, these Mossbergs have easy to use twin-bead sights to significantly boost your accuracy. At the end of the day, it's a decent tool for hunting small game or even pest control around your property.
Mossberg 500 Field .410 Shotgun Accessories

The aftermarket options available for the Mossberg .410 shotgun are honestly pretty weak. However, that's only true by the hunting variety; if you go for the Mossberg 500 Tactical chambered in .410 Bore, you have some interesting choices. The HS410 Home Security model has a really cool foregrip to speed up cocking and give better control. Besides for the ability to switch from a field to a standard barrel, Mossberg .410 Tactical owners can also opt for a new pistol grip kit for under $50.
Mossberg 500 Field .410 Shotgun Pistol Grip

A pistol grip generally means that there's no stock on the buttend, which can lead to serious injury if you're not careful. You can easily break your nose or jaw, so it's not for newcomers to shotguns. One of the main things that a pistol grip limits you in is the use of high power loads –they're not designed to handle them and can therefore hurt your wrists, tire you out more quickly, and wreck your handling.
One of the major benefits of adding a pistol grip to your Mossberg is that they make your shotgun more tactical by giving it a more compact build. Due to this, the .410 Tactical becomes a great addition to personal security in more confined areas places such as a car or truck.
Mossberg 500 .410 vs. 500

You can't accurately compare the Mossberg .410 to its predecessor, the 500. The latter is an all-around better weapon, ideal for multiple purposes with infinite more options. The .410 is a decent gun for a specific market, similar to the Maverick 88. While most Mossberg owners will use a 500 for shooting trap and even hunting big game, the .410 is really only useful for small pests and vermin.
Conclusion
Although it may sound like I'm bashing the Mossberg .410, that's really not my intention. At the end of the day Mossberg is still a legendary company with an insane reputation for producing some of the best shotguns on the planet. That being said, the .410 IS a good gun, but for youngsters probably just starting to shoot shotguns. I probably wouldn't start a novice shooter with a full-powered Mossberg 500, but the .410 is a great introduction to the type. Training these young shooters to shoot pests with a .410 could also be an excellent way to introduce them to hunting.