Table of Contents
Although we're going to be looking at the Mossberg 535 today, it's impossible to do so without taking a step back and acknowledging the Mossberg 500 series as a whole. A game-changing model, the 500 deserves its due recognition as received it in our 500 Tactical Shotgun Review – give it a look-see today. Now, on to more pressing concerns.
Mossberg debuted their 500 shotguns in the 1960's and have since released several upgrades and variants, including the Maverick 88, 590A1, and 505. Since the 535 is so similar to the 500, we're going to focus on their distinctions and help paint a better picture to help you figure out which of these tremendous shotguns is for you. Welcome to the Gunivore breakdown of the Mossberg 535 shotgun!

Mossberg 535 Shotgun Specs
Model: 535 ATS – All Purpose Field
Gauge: 12 Ga
Capacity: 5+1
Overall Length: 48.25"
Barrel Length: 28"
Length of Pull: 14"
Sights: Bead
Weight: 6.75 lbs.
Price: $400 (approximately)
Mossberg 535 Shotgun Build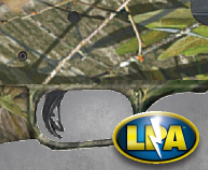 Mossberg has been constantly modifying the 500's build, and in 2005 they debuted the Model 535. One of the major updates to this shotgun was its lengthened receiver's ability to chamber 2 ¾", 3", and 3 ½" shells. This is a great addition which enables shooters to utilize their 535 for a variety of situations.
Although the 535 doesn't have an overbored barrel, Mossberg did hook them it with options, including smoothbore, rifled, vent ribbed, and alternate lengths. One of the most impressive feats of the 535 shotgun is that the American company was able to keep the design ergonomic and lightweight without compromising any of its capacity.
To ensure its smooth performance, the 535 is outfitted with an anti-jam elevator and twin action bars. Another great addition is their dual extractors – a feature which I've been using for years in trap shooting. These features were highly praised when they were introduced to the 590, so it's no surprise they kept them in the 535.
In addition to these quality add-ons, Mossberg incorporated durable components and new-age technology to ensure that the 535 will stay relevant for years to come. One such measure is the positive steel-to-steel lockup. Furthermore, Mossberg wanted their firearms to be among the most trusted in the world, especially for military and law enforcement use. That being said, they knew that in order to accomplish that, their weapons have to be able to handle abuse and be cleaned easily. The Mossberg 535 definitely fits that description; it's surprisingly easy to field strip and can handle all kinds of harsh conditions.
Safeties and triggers are some of the most overlooked components on a shotgun, but Mossberg definitely didn't forget about them when they developed the 535. They conveniently integrated a clear and easy to use top mounted safety as well as the patented LPA™ Adjustable Trigger with a skeletonized blade.
Mossberg 535 Shotgun Performance

As we've mentioned several times, Mossberg's shotguns are among the most popular and reliable on the market, part in parcel because of their handling. In point of fact, the 500 shotguns are famous for their excellent shooting and control relative to comparable weapons. Likewise, Mossberg adapted the 535 shotguns with a few modernizations to make them even more user-friendly.
The primary upgrade has got to be the ported barrels (on select models) which effectively reduces recoil and accelerates recovery time for a second shot. This small change can have a huge impact, especially for hunters.
No matter what kind of shooting you'll be doing with your shotgun, having a trustworthy and easy to use trigger is imperative. For example, I know many of my buddies who shoot trap competitively prefer a release trigger because it can shave off precious time from their shooting process. For the 535, Mossberg incorporated the patented LPA™ Adjustable Trigger that's user-adjustable from 3 to 7 lbs.
Lastly, to get the most out of your firearm, you gotta have a solid core, and Mossberg did a pretty good job with the 535's basic design. By adding twin action bars, dual extractors, and even an anti-jam elevator, they took several precautions to ensure a smooth action. There's nothing worse than a jammed shotgun, but with the Mossberg 535, you can shoot confidently without any fear of a malfunction.
Mossberg 535 Shotgun Magazines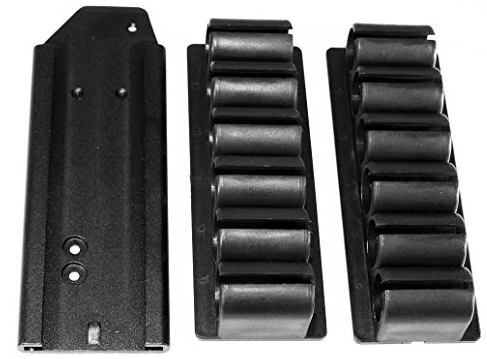 Just because the 535 only fires 12 gauge, doesn't mean you're limited in your ammo. In fact, one of the best upgrades to this shotgun is its ability to chamber 2 ¾", 3", and 3 ½" shells. It must be noted however, if you decide to attach a Model 500 barrel to your 535 receiver, you also gotta use a 500 mag tube. Additionally, all of the Mossberg 535 ATS shotguns (and variants) have a capacity of only 6, which is just average.
Mossberg 535 Shotgun Accessories

Mossberg's shotguns have several aftermarket options, but their standout feature is the number of available variant firearms for more specific purposes. Although some folks might favor a gun that can do it all, it's hard to find a shotgun that can excel at everything. That being said, it's pretty handy of Mossberg to have designed 535's for waterfowl, turkey, or deer. We'll get to these variants soon.
Before we get into adding accessories to the 535, I would be remiss if I didn't tell you that several components on these guys can be swapped out for Mossberg 500 parts. Most people tend to leave the 535 as is, but there are a few attachments and other accessories to consider.
For starters, it would be wise to get a padded hunting sling – you can order one directly from Mossberg's website. I'd also consider getting Uncle Mike's Buttstock Shotgun Shell Holder with Protective Flap for a cheap and easy way to make shooting more effective. Additionally, it might be worth buying the ATI Universal Shotgun Heatshield. Since the 535 doesn't come with a rail, it's also a good idea to buy a Picatinny rail/scope mount if you have one of the models without an optic. Besides for improving your shotgun, there are also ways to change it, such as with the Briley M930 choke tube designed to turn your 535 into a skeet gun.
Mossberg 535 Shotgun Variants: Turkey Thug Review

Mossberg offers a gigantic assortment of specialty stocks, patterns/finishes, sight systems, lengths, chokes, barrels, weights, and purposes. Because the 535 is ideally used for hunting, I want to discuss the available options for your game-specific hunting needs.
I'm fascinated and impressed that Mossberg developed these game-specific shotguns, but even more impressive is that they also came out with hybrid versions. To clarify, Mossberg originally had shotguns meant for waterfowl and turkey, but they've recently introduced combo weapons like a turkey/deer, field/deer, and turkey/waterfowl.
Growing up in Western Pennsylvania, I grew up hunting turkey, so it was only a matter of time until I got my hands on the Mossberg 535 Turkey Thug. When I first picked it up, I noticed two things right away; the Turkey Thug is significantly lighter but still has the same performance boosters as the standard 535, like the dual extractors, twin action bars, positive steel-to-steel lock-up, and anti-jam elevator.
However, when I first fired it, I had a very different experience than I had with the standard 535. The Turkey Pump-Action's adjustable fiber optic sights make target acquisition faster and the unique XX-Full choke offers a tight shot pattern even at long range. These great features combined with their effective Mossy Oak Obsession camo make the Turkey Thug the ultimate tom hunting companion.
The good news is that Mossberg is releasing new models of the Turkey Thug with new and improved options like a mounted and bore-sighted 30mm TRUGLO red-dot sight, new Mossy Oak Break-Up Infinity camo, receiver-mounted Picatinny rail, and either a classic black/camo or full-length pistol grip stock.

Since the Mossberg 535 was based on the Model 500, they are several similarities, but there are also some notable differences. As I mentioned earlier, the biggest distinction is that the 535 can chamber three different sized shells (2 ¾", 3", and 3 ½"), whereas the 500 can only fire 2 ¾" and 3". Another big disparity between these two Mossberg's is the available magazines. The 500 has extended high-capacity options which the 535 doesn't. Besides for the higher MSRP of the 500 model, it also has a higher caliber (20 gauge) option. Although I happen to enjoy shooting old-fashioned 20 gauge, the 12 gauge-only 535 is still pretty sweet.
Conclusion
As I expected, Mossberg did it again – The Model 535, and its assorted variants, are delightful. It's hard to believe that a shotgun can be as effective, ergonomic, and handle so well when you consider how affordable it is. Whether you're an avid hunter, looking to expand your armory, or are new to shotguns, the 535 is an excellent choice. I've always loved Mossberg's and with the way the company keeps pumping out quality shotguns (pun awesomely intended), that's not gonna change any time soon.