When it comes to reliability and reputation of shotguns, Mossberg is at the top of the list. Mossberg has been at it since the beginning of the 20th century, consistently contributing breakthroughs in the industry. Their quality may be shown best by their contracts with U.S. law enforcement and military. Their massive array of products should be considered top of the line for everything from home defense to trap shooting.
The Mossberg 930 Tactical model is by no means an exception to this track record. Mossberg once again has crafted a user-friendly shotgun that is among the highest rated in its class. It's hard NOT to love this work of art, given that it was designed with safety, top-notch engineering, and customization being top priorities. You might be skeptical of the 930 because it is much newer than some of their older, time-tested firearms, but fear not. Although traditionalists might want to stick with their pump-actions, this auto-loader is as reliable as any other semi-auto on the market.
Whether you've been shooting for years or are looking to buy your first shotgun, the Mossberg 930 must be at the top of your wish-list. It is excellent right out of the box. Additionally, if you're like me, then you will certainly appreciate that this gun is made right here in the U.S.A. Oh, and not to mention that this model's sleek and modern design is sure to catch eyes at any range and with its modest price, is a great gift for your loved ones. We'll give you the full rundown on this great shotgun here in our Mossberg 930 Tactical Shotgun Review!

Mossberg 930 Tactical Shotgun Specs
• Gauge: 12 Gauge.
• Chamber: 2.75" and 3".
• Action: Gas-Operated, Semi-Automatic.
• Overall Length: 39".
• Barrel Length: 18.5" Cylinder Bore.
• Overall Weight: 7.5 lbs.
• Sights: Fiber optic (front) Ghost Ring (rear).
• Barrel Finish: Matte black.
• Stock Finish: Synthetic black.
• Capacity: 7+1 (with 2.75" shells) 6+1 (with 3" shells).
• Cost: $850.
The Mossberg 930 is a first-rate firearm and can easily compete with shotguns twice its price. Although at first glance you may not notice, once you shoot it, you will immediately see why this gun is so popular. Its ease of use, gorgeous design, and reliability will have you showing it off to your friends at every available moment. The one warning I would give is to consider its weight. The 930 is by no means a light weapon, however, its minimized recoil easily makes up for it.
Mossberg 930 Shotgun Build and Shooting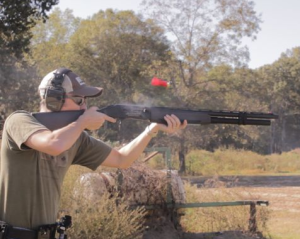 This shotgun boasts a self-regulating gas system which significantly reduces recoil. The nightmare of waking up the morning after shooting with a bruised and sore shoulder is a thing of the past. The smooth-shooting 930 will feel natural in the hands of the shooter while simultaneously relieving stress on its components. It is built to fire nearly all types of rounds with efficiency and consistency (as long as you keep it clean!). The 930's build allows for several adjustments on the stock which makes the gun feel as if it were made especially for you.
All of Mossberg's special purpose models come equipped with a Picatinny rail, ported barrels, and many other great features which we'll get to later. Now, one of the most underrated features in a gun is a good trigger. The 930's trigger does not disappoint. Most shooters will agree that this trigger with a cocking indicator (see: safety) and heavy pull, is a must-have. For some beginners, the trigger may feel hard to pull, but after a few rounds, adapting to the deliberate pull won't be too difficult.
Mossberg 930 Shotgun Stock and Barrel
There are several barrel options, including some with an integrated heat shield to disperse heat across the barrel. The steel ported barrels are a favorite of those looking for a tactical and defense gun. The 903's relatively short barrel makes it ideal in restricted spaces and quick pointing, which is why it's a favorite for home defense. As discussed earlier, the ability to quickly adjust the vertical and horizontal angle of the stock makes it feel as if it was hand-crafted for you. It's hard to find any complaints about the 930's synthetic stock; it's tough and lightweight – what else could you ask for?
Mossberg 930 Shotgun Magazines and Sights
I claimed earlier that this gun is good for beginners and experts alike; this fact is made clear the moment you load the gun. Loading the 930 is straightforward, and unloading is even easier! Mossberg ingeniously added a quick-empty magazine release button that is sure to make your reloading as fast as possible. More than that, with their extended magazine tube, you can easily top off the magazine, which could save your life in a firefight. Because the capacity is six or seven rounds (depending on 2.75" or 3" shells) along with its reliability among most ammunition, you can rest assured that you've not only made a great purchase but have made your family safer.
The Mossberg 930 tactical shotgun offers an abundance of options of sights to mount on your Picatinny rail. Whether you prefer mechanical sights or dot/laser sights, the 930 has you covered. While most stick with the accurate and durable ghost ring & fiber optic combo, there are plenty of good dot sights out there.
Mossberg 930 Shotgun Safety and Assembly
Mossberg has a history of being committed to gun safety and has been a proud supporter of charitable organizations dedicated to it. They even provide a free gun lock with every weapon they ship. Their ambidextrous safety is only one of the features which make this gun safer for all users alike. The famous Mossberg safety is easily operated, textured, and large.
Because of these features, the 930 can be used with or without gloves and in any lighting. But do not be deterred, shooting this gun is still as easy as push forward and shoot. The 930 includes a chrome cocking-indicator button to make checking whether the gun is cocked or not even easier. All of these factors should put any claims to rest. This gun makes you safer, NOT more at risk.
I originally thought that with all of the specs of the 930, the assembly would be a pain, but the experienced shooter should be able to assemble and disassemble in less than fifteen minutes. Keep in mind that keeping this gun clean is imperative. Remember, keeping your gun clean will ultimately ensure that it will last longer and fire more accurately. Using gun grease is recommended as long as it is not overused. To make matters even easier, the only tool required is a small screwdriver. First, make sure the gun is unloaded and pointed in a safe direction.
Next, unscrew the barrel lug and remove it and slide the fore end off, then the barrel should slide right off too. Then, the gas system comes off easily into several components and then the spring and buffer come off next. Here is where it takes some handiness; take your screwdriver and push the pins out (it shouldn't require too much force). Once the pins are out, the trigger mechanism will slide right off and then carefully pull the charging handle out. Finally, press the hammer release and it will all slide out the front. You now have a fully disassembled Mossberg 930 shotgun.
Mossberg 930 Shotgun Tactical Accessories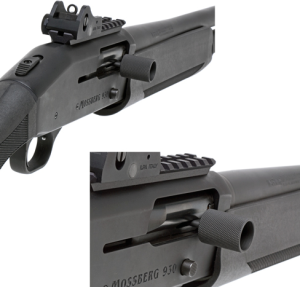 The Mossberg 930 can easily be equipped as your ultimate home defense weapon for any situation. With fair priced accessories and the Picatinny rail, your options might seem endless. First and foremost, your first buy should be the sling and flashlight combo mount. With these two functions now available, your gun can be carried hands-free while providing you light in even the darkest of areas. Although useful, the side saddle shell holder and magazine tube extension are not necessary to get the most out of your gun.
I would be remiss if I did not recommend the GG&G enhanced tactical charging handle. Buying this accessory could easily save your life in the high-intensity environment of close quarters combat. The knurled pad makes it much safer to locate even in the dark. This accessory was manufactured with the shooter's safety and efficiency in mind. For only $45, you are getting an American-made product with a lifetime warranty that could save your life. I know I'd make that investment!
Mossberg 930 SPX Review
The 930 SPX firearm has been compared the FNH-SLP, but you cannot honestly compare the two. The 930 is both durable and reliable while packing a modest price tag, all while being made in America. The United States Government and law enforcement trust it and so should you. This gun is remarkably safe, user-friendly, eye-catching, and prolific. It handles well and is easy to clean, making it the everyman's shotgun. I recommend this gun to novice and expert shooters alike. Whether you're looking to buy your first shotgun, stock up your armory, or buy a gift that any shooter will love, the Mossberg 930 is the one for you.
Mossberg 930 Tactical Shotgun Price
The Mossberg 930 is one of the most affordable auto-loading shotguns on the market. However, do not be concerned that you are sacrificing any quality because of the modest price-tag. This gun does not fail to deliver. It is nearly half the price of the Benelli M4, which will leave you plenty of money to invest in ammo and maybe those trap shooting lessons you've been wanting to take.
Conclusion
The Mossberg 930 Tactical shotgun is a work of art. Crafted like a gun twice its price, the 930 can easily be compared to any other auto-loading shotgun on the market. Its many features allow for even easier functionality while never sacrificing its reliable and consistent shooting. I love the safety features, which alleviate many of the fears of having a semi-auto in the house with kids. I know that with this at my house, my family is considerably safer. To top it all off, the Mossberg is manufactured right here in America – I can't see why this shouldn't be on every gun lover's wish list!
Thanks for joining us here at Gunivore & Don't forget to check out our picks for The Best Shotgun Accessories!