the Ruger 10/22 is the most accurate and customizable gun on the rifle market
. The great thing about the 10/22 is that you can never get bored, and even as new guns with new features come out, you'll be able to optimize the same old gun and have all the newest features with new add-ons and accessories. Listed below are the top accessories for Ruger 10 22 that are a MUST HAVE.
1. Picatinny Mount Scope Tactics
The Picatinny mount definitely comes up as one of the best selling accessories that you can get for your 10/22. Picatinny rail mounts fit all Ruger 10/22 models like a glove. In short, what it does is allow for the mounting of Picatinny or Weaver standard scopes, red dots, magnifiers, or other optics.
Crafted from lightweight aluminum, 4.5 inches in length and 1.1 ounces in weight.
It fits perfectly on my 10/22 and the product includes six screws even though only four are needed. Installs via included set screws into the Ruger 10/22 factory mounting holes.
I would say my favorite thing about this accessory is the fact that it's extremely low profile. It's low and long enough that there's plenty of room for an E&L "compact" brass catcher, even with a scope mounted.
2. LaserMax
When I first decided to buy the LaserMax, in my head it was more of a toy. After I bought it and added it to my 10/22, I was extremely impressed at how it was able to improve my experience.
This LaserMax Laser is designed to work with your Ruger 10/22 and put you on your target quickly and efficiently. The bright red 635nm continuous-wave laser is easily visible and can reach up to 100 yds. This Laser Sight is pre-aligned at 25 yds., but if you want to adjust it for windage and elevation, you can easily do it. The two integrated Picatinny rails on this sight are perfect for adding on different accessories. It's absolutely top quality thanks to its rugged yet lightweight Fiberglass Reinforced Nylon construction. This laser needs one 1/3N Lithium cell battery for 2 hours of continuous runtime. (Batteries included!)
3. TekMat
The TekMat is probably my favorite thing on this list and it's something everyone who owns a gun should have. If you're a person familiar with the 10/22, you know that you're constantly taking apart and improving this gun.
TekMat is the leading gun cleaning mat with an overall birds eye view of your riffle. The mat prevents oils, cleaners, and lubricants from ruining whatever surface it is you are working on. It measures 12″ x 36″ so it's a pretty decent size for the gun to have plenty of room. It is a black mat imprinted with a bird's eye view of the Ruger 10/22 layout. The back is rubber which is great because it keeps the mat in place and makes sure it doesn't slide. The top is polyester, so it won't harm the rifle's finish.
I found the mat to be super helpful because when taking apart my 10/22 I often find myself with parts that I don't know what to attach to where. On the surface of the mat there is a giant diagram that shows you where to put everything. For a person like me, this is a very key product to have. In addition to that, when cleaning or taking apart this gun, things can get pretty messy depending on what product you use. The mat allows me to do what I need to do on any surface without having to worry about the mess or ruining anything.
4. Simmons 511039 22 MAG 3-9 x 32 Riflescope
By adding the Simmons riflescope to your 10/22 you are automatically making your gun more accurate and reliable.
The scope has high-quality fully-coated optical glass lenses and parallax correction preset from 50 yards to infinity. Rimfire 0.375-Inch. dovetail mounting rings included HydroShield lens coating ensures a clear sight picture. SureGrip rubber surfaces simplify adjustments under any conditions.
Before I bought this, I made sure to do a lot of research on different scopes for my Ruger 10/22 before settling on the Simmons Truplex .22 Mag Riflescope. Like most people, I was specifically looking for a low cost and high-quality alternative to my reflex sight for more precise range shooting. Having the ability to zoom and to focus on the eyepiece was really a necessity, and I wasn't going to leave my 10/22 without one.
I'm really excited to say that this scope truly has everything I was looking for. I am holding very tight patterns at 100 yards. Dialing in the scope was easy – especially with the ability to zoom to 9x – which allows you to see bullet pattern very clearly at 100 yards.
The scope has a very solid construction generally found in much more expensive scopes. The adjustment dials for focus and zoom are smooth and easy to turn yielding very precise dial-in capability. The lenses are the high-quality optics you would expect from Simmons/Bushnell. The fast-focus eyepiece and 3 x 9 zoom features make this scope a slam dunk for under $40.
As mentioned, a set of rimfire rings are included. If you intend to mount this scope on an aftermarket stock set up – like any of the popular aftermarket AR conversion kits with Picatinny or Weaver rails – you will need a different set of rings. The base of the rings that are provided are too narrow for Picatinny rails. You can't go wrong with this purchase.
5.Volquartsen Custom Automatic Bolt Release
This is a great product made for any 10/22 that enables the shooter to simply pull the bolt back slightly to release the bolt. This eliminates the need to push up on the bolt lock mechanism to release the bolt. This is a great accessory to have and it's really easy to install. Volquartsen offers the bolt release in silver or black, allowing more room for ultimate customization.
The part is the right quality and the right price. For someone who knows exactly what to do, the installation should take no longer than 5-10 minutes.
I have to say that this is one of the best upgrades to be had. I have used this little rifle multiple times since the installation. If you're thinking of getting one, I'm pretty sure you won't regret it.
I took it out to the range, played around with it for a bit and it performed as expected. The brush comes through the back of the barrel, hits the bolt and releases it. Lock the bolt back, run the brush through, it hits the bolt and releases it forward…repeat.
If you are still using the old school manual bolt release, make your life so much easier and drop this bad boy in. Remove one pin and carefully slide into place and replace the pin. Done.
Noting worse than clambering that first round and having to pull back on the bolt while pushing up and forward on the old style bolt release then having the round jam.
The machining and finish meet or exceeds the original Ruger release. Once installed it has functioned flawlessly. No more two-handed operation to release the bolt. This is one of those items that you'll buy and then ask yourself, "why didn't I do this sooner?"
6. Ruger 10 22 Stocks
While there are many ways one can upgrade their Ruger 10/22, few upgrades can match the performance-enhancing capabilities of a new stock. Some shooters like to go simple and effective, like the Hogue Rubber over-molded stock available in regular and takedown variants. The obvious upside to this stock is the intense rubber grip surrounding the rifle for enhanced control and durability. For those looking for a bit more flair, there is the
High Tower Armory
bullpup stock which will completely transform your 10 22. This kit can turn your Ruger long rifle into a compact PDW with a polymer stock and a reduced OL of 26.5″. The HTA kit also comes with a removable dummy suppressor, 2 side-mounted Picatinny rails, and the ability to handle all sorts of mags.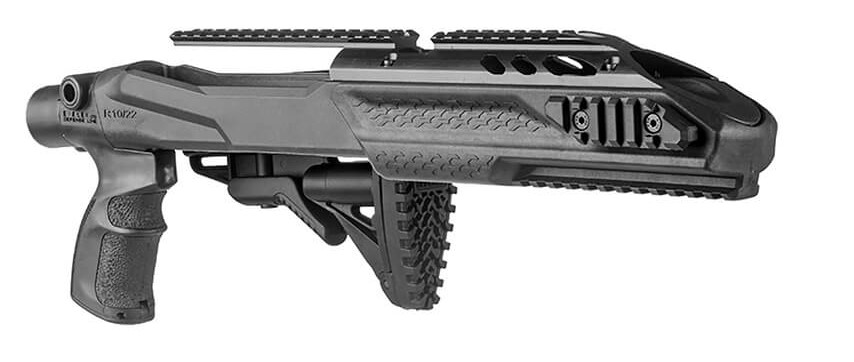 Nevertheless, I feel obliged to include the
Magpul
Hunter X-22 Stock simply because I have always loved Magpul and I trust their products. The added benefit of this stock is their unusual grip angle it offers and the adjustable inserts for a more custom feel. It also provides shooters with options for mounting slings and even fits bullpup barrels. However, there's been a lot of talk about the Israeli
Fab Defense R10/22 M4 foldable stock
. I got my hands on one of these and I didn't recognize the Ruger 10 22. I don't have much experience with this stock other than seeing it in person and getting a feel for its ergonomics. In terms of its feel, the Fab Defense stock is awesome. It adds lots of cool features including plenty of accessory rails, collapsible and extendable stock, and super comfortable and ergonomic tactical design. At the end of the day, there's no shortage for Ruger 10 22 owners to find the right aftermarket stock for them.