I'll always remember my first shotgun, the HR Pardner Pump. I broke it in as a teen and remember it fondly, but it eventually came time to invest in a high quality machine that I could be proud of. My father and I agreed that Mossberg was the way to go, so long story short, I walked out of the gun shop with a 930 Pro-Series Sporting and the 590 Tactical. Shotguns are one of the best accessories for home security, and I know that my wife feels safer with my 590 in the bedroom. Usually just the sound of a shotgun being cocked is enough to scare anyone off, although it's still important to have a weapon you can trust if you need it.
The Mossberg 590 is definitely a reliable gun and a smart buy. This pump action is part of the legendary 500 series which has achieved worldly acclaim since its introduction. Since then, the Mossberg 500's have been used around the world by law enforcement agencies and even attained military and war experience. As one of the most reliable tactical shotguns on the market with decades of remarkable experience, the Mossberg 590 is the ideal choice for many, but is it ideal for you? Read on.

Mossberg 590 Tactical Shotgun Specs
Model: Flex 590 Tactical
Action: Pump
Gauge: 12
Overall Length: 41"
Barrel Length: 20"
Weight: 7 lbs.
Sights: Bead (some have ghost ring)
Choke: Cylinder Bore
Capacity: 8+1
MSRP: $599.99
Mossberg 590 Tactical Shotgun Build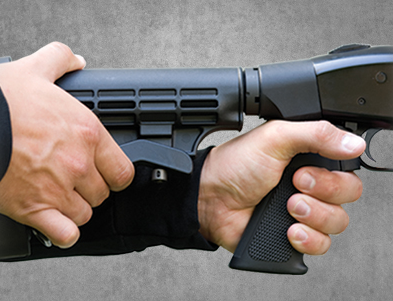 The Mossberg 500 shotgun, designed in the 60's, has developed over time and has seen dozens of variants and models produced. A number of factors are common in the 500 series, such as their receivers and actions. Conversely, the Mossberg variants can differ in barrel length, mag capacity, stock, sights, bore size, and choke options. After closely examining the Mossberg 590 Tactical, I recognized that it's filled with some truly remarkable features.
Firstly, to ensure its smooth performance, Mossberg added an anti-jam elevator to the 590 and twin action bars. Another great addition to the Tactical is their dual extractors – a feature which I've been using for years in trap shooting.
In addition to these quality provisions, they also incorporated some of the most durable components and technology to ensure that the 590 will last. One such measure is the positive steel-to-steel lockup. Furthermore, Mossberg wanted their firearms to be among the most trusted in the world, especially for military and law enforcement use. That being said, they knew that in order to accomplish this, their weapons have to be able to handle abuse. The 590 Tactical definitely fits that description; it's surprisingly easy to field strip and can handle all kinds of harsh conditions.
If you take a closer look at this Mossberg, you'll notice that by the comfortable pistol grip there is a polymer trigger guard and top mounted safety which provides ambidextrous operation. Last but definitely not least is the 590's accessory options; the American company incorporated tri-railed forends to facilitate attachments. With a full length bottom rail and two short side rails, the 590 Tactical can handle all kinds of lights and lasers. This is the epitome of what a tactical shotgun should be built like and the cherry on top is the 590's adjustable stock, which we'll explain below.
Mossberg 590 Tactical Shotgun Shooting & Performance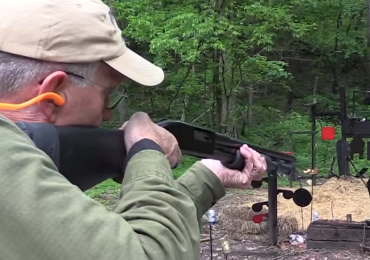 There are a lot of factors to consider about the Mossberg 590's shooting and performance. For a tactical shotgun, it actually has a decent effective firing range but its standout feature is its great handling. To ensure the 590's reliability, Mossberg added an anti-jam elevator and twin action bars. Besides for these two additions, the 590 has several other qualities which contribute to its value. Mossberg designed a 6-position adjustable FLEX stock which easily modifies to fit the size of the shooter.
Additionally, its relatively lightweight build and easy to use sight system make the 590 incredibly user-friendly. Lastly, if you know how to use it right, the 590 can be one of the fastest shooting shotguns. This makes it a great addition for any of your security needs.
Mossberg 590 Tactical Shotgun Magazines & Accessories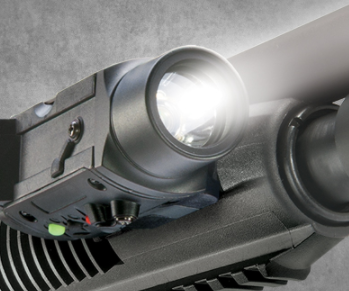 The Model 590 magazines are nothing special, but they do their job. Mossberg designed their mags to be opened by the muzzle end, and the barrels fit around the magazine. They also come out quickly and smoothly, so cleaning and replacing parts are a breeze.
As I mentioned earlier, the Mossberg 590 Tactical is the epitome of what a tactical shotgun should be. To facilitate this, Mossberg integrated several excellent features. The Tactical Tri-Rail Forend with a full length bottom rail and two short side rails offer endless options for attachments. As a weapon favored for home defense, it's crucial to invest in a top notch tactical flashlight. I highly recommend the OV-2 LED light. Although it sells for roughly $300, it's a great light that is durable, effective, and comes with a whole package of related equipment.
Besides for investing in a flashlight, you might also want to consider getting a good laser. If you're looking to splurge, you've got to check out the SureFire X400V IRC White-Light/Infrared LED + Infrared Laser Weaponlight. The LaserMax UNI-MAX-B ($140) represents an affordable alternative.
Why To Buy 590 Ghost Ring Sights For Your Mossberg 590 Tactical Shotgun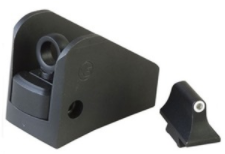 Within the Mossberg 500 series, the models could feature an integrated base for a telescopic sight, a simple bead sight, or the ghost ring sight system. The question you have to ask yourself is if it's worth getting one model over another based on this alone. Although it depends on your own preference, I can't praise these ghost sights enough. When shooting a tactical shotgun, accuracy is key, and the ghost ring sights go a long way towards ensuring it.
By offering faster target acquisition, they are a great and safe choice for all kinds of tactical shotguns. The ultra-thin rear ring and thin front sight work cohesively to find the target without obscuring the shooter's vision better than nearly any other aperture sight. Additionally, these are great because if you're really in a rush, you can also just look through the tube.
Mossberg 590 Tactical Shotgun Stock Explained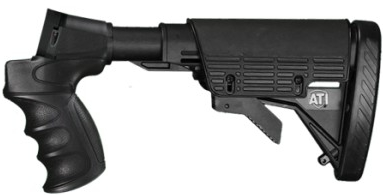 One of my favorite features on the 590 Mossberg is its FLEX 6-position adjustable (black) synthetic stock. These adjustable stocks allow for rapid adjustment of the length of pull which is great for people who share this gun. When my father and I got one of these, it was fast and easy for us to switch the size of the 590. He is much shorter than I am and has really short dinosaur arms, but with the FLEX stock we could switch back in forth in seconds without any tools. More specifically, the 6-position stock can increase/decrease the length of pull by up to 4".
Even within the 590 series of the Mossberg 500 line, there are several variants. Besides for the FLEX Tactical, Mossberg also produces a 7 shot, 9 shot, 6 shot Shockwave, and the famous Mariner. At first glance, you'd think that the FLEX and Mariner are nothing alike, but in fact, they are quite similar. They share the same overall/barrel lengths, weight, capacity, and sights, but differ in their stock and barrel finish.
I'm a fan of the 590 Tactical's adjustable stock, so when I saw that the Mariner has a standard one, it was an immediate red flag for me. However, the Mariner does have an effective corrosion-resistant Marinecote finish, inside and out. As you might have guessed, the Mariner was built to be the ideal self-defense weapon in saltwater environments. That being said, if you own a boat, yacht, or even live by the beach, you should really consider beefing up your security with one of these guys. Besides for home defense, the Mariner is also a great fishing and hunting companion.

This 590 variant cycles and operates so smoothly and field strips in moments. You can't really compare the Mariner to the Tactical because they are so similar and only differ for their specified applications. However, both are impressive shotguns which represent impressive additions to any collection.
Talk about a #shotgun stance #2A #Mossberg590 https://t.co/iCG1OmbBEK by @MossbergCorp pic.twitter.com/tur6jvtrmj

— Mossberg (@MossbergCorp) April 3, 2017
Mossberg 590 Tactical Shotgun 590A1 Variant Explained
The 590 and its new and improved variant, the 590A1, share many characteristics but also differ in a few key points. For starters, the 590A1 is the only pump action shotgun to pass MilSpec 3443E. Its military approved build and performance makes the 590A1 one of the most dependable shotguns on the market. As a military weapon by definition, it has flourished in law enforcement agencies around the world.
Additionally, the 590A1's are treated with stronger and more reliable finishes on their barrels and stocks. One of the most distinctive A1 models is the 7-shot with a more compact 18.5" barrel. Like the standard 590, the 590A1 also has an optional ghost ring sight system, tactical tri-rail forends, and the sweet FLEX 6-position adjustable stock.
However, the A1 has a Plus 4 Shell Storage Stock and additional sight options besides for the ghost ring. Lastly, to make it more durable, Mossberg incorporated a metallic safety and trigger guard onto their 590A1s. The distinctive available specs and variants make the 590 and 590A1 a bit different, so try both out to see which works for you.
Mossberg 590 Tactical Shotgun vs. Mossberg 500

Comparing the 590 to its predecessor, the 500, is no simple task. One of the biggest differences between these two is their magazine systems. The 500's magazine is closed at the muzzle end and is supposed to facilitate quick barrel changes (the 590's is closed). Unlike the advanced 590A1, both the 500 and 590 have polymer safeties and trigger guards, which contribute to their lower weight.
Overall, these two shotguns mostly share the same basic features, like a standard 20" barrel and an 8-round capacity. Although the 500 is much cheaper, that shouldn't necessarily be your determining factor. The 590 is geared more for self and home defense while the 500 is a great trap shooter, so buy accordingly.