The Serbu Super Shorty shotgun was designed by Mark Serbu in the 1990s but has recently seen a rise in popularity. While tactical shotguns, in general, are experiencing a boom, this small shotgun is truly something else. We've recently seen new and exciting models like the Black Aces Tactical and the Mossberg Shockwave but there's something unique about the Serbu Firearms shotgun. Let's take a closer look and see what all the buzz is about.
Serbu Super Shorty Shotgun
The first thing that comes to my mind when picking up the Serbu is that it's got to be illegal in several states and require ATF intervention. Well, that's partially true as the Super Shorty is technically classified as a Class 3 NFA Weapon / Title 2 Firearm. However, because of the way it's manufactured, it doesn't qualify as a short-barreled shotgun, it's actually labeled as "any other weapon (AOW) by the government. AOWs are basically firearms that don't fit into a box, such as pistols with foregrips and pen guns. That being the case, the ATF stamp only costs $5 instead of the traditional $200 tax stamp.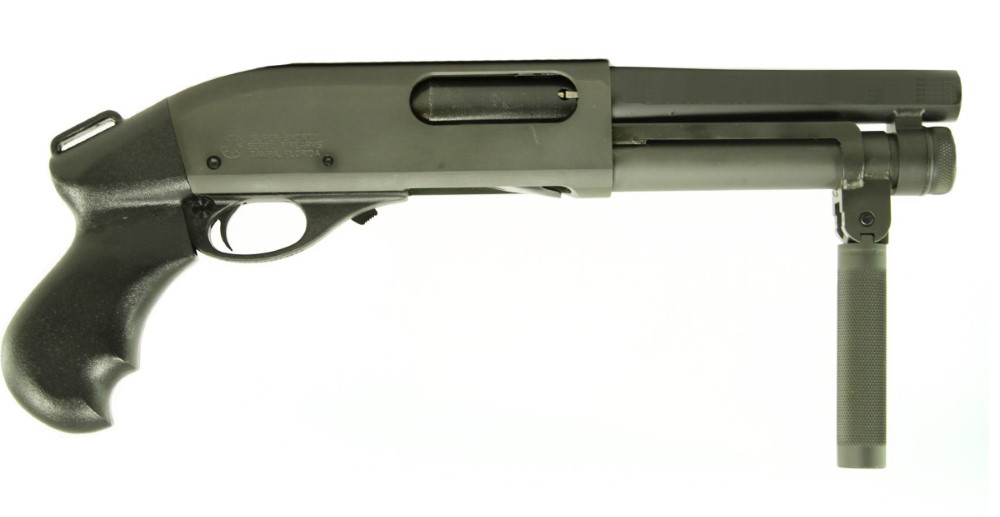 Super Shorty Design
The Super Shorty is among the most unique firearms on the market but I believe they serve a very functional purpose. These are 12 gauge shotguns barely measuring 16″ long. Likewise, the foregrip and stockless design essentially make this an ideal home defense gun for non-precision shooting. But that's not to say that the Serbu isn't accurate, it's actually surprisingly on target once you get the hang of it. As an added bonus, the Shorty is usually built around either a Mossberg 500 or Remington 870 receiver, so you know the major components are of quality.
The folding foregrip makes the pump-action faster and easier while stabilizing the firearm for more controlled shooting. Because the foregrip folds, this helps make concealing and operating it as a home defense gun that much easier. It's shotgun that can literally fit under your pillow and that's just cool.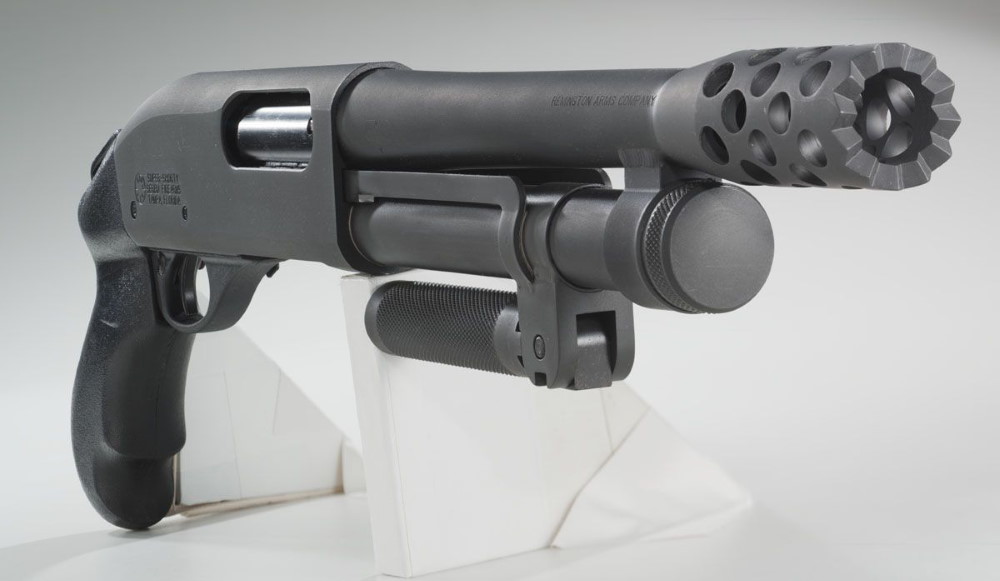 The Serbu holds just 3 rounds but for home defense, that's okay. The nice thing is that the Serbu can handle pretty much whatever cartridges you throw at it, the only question is whether or not you can handle the power of shooting slugs in such a small firearm. Shooting birdshot out of the Serbu was fun and makes for a fun day of shotgun plinking. It also handles buckshot quite well and the control is still manageable, so it's not a bad choice for home defense. Now, shooting slugs is a whole different ball game and may feel like your wrists are going to snap.
Operating the Super Shorty is fast and seamless and is a true pleasure to shoot. It's definitely a unique firearm but it's also practical to own. It may not be easy to purchase one of these, but it's worth the effort. The Tampa-based manufacturer also makes a few impressive long-range rifles but their distinctive shotgun takes the cake.