Table of Contents
When a company like Daniel Defense (DD) releases a new firearm, they immediately polarize people and their opinions. DD firearms tend to be more towards the higher-end prices, and this invariably causes different opinions to surface. Some claim their guns are overpriced for their specs, while others maintain that they are worth every penny. Daniel Defense recently released their first-ever bolt-action rifle, the Delta 5, and here is what you need to know.

Daniel Defense
The Company has been around since 2002. Marty Daniel established DD after several years of working in the garage door business. Being an electrical engineer with an aptitude for design and a "late-blooming" affinity for firearms, Daniel found that his AR-15 was not to his satisfaction.
He decided to customize his own AR-style rifle, and this eventually led to him founding DD some time later. What started as a hobby was now a business.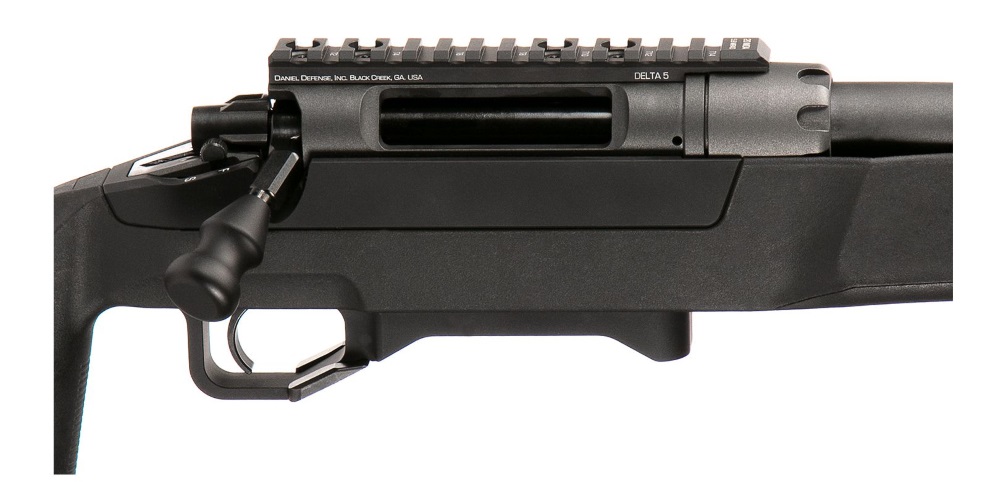 The company's headquarters are currently located in Black Creek, Georgia. In 2009, after a couple of very lucrative military contracts had already come his way, Daniel decided to open up a second facility in North Carolina. At that time, the company released its first complete firearm, the AR-style DDM4V1. Nowadays, Daniel Defense continues to produce fine weapons and accessories, and the outfit still works with the US and UK armed forces.

The most famous DD products are probably its proprietary rail systems, uppers, and barrels. But the company also continue to produce complete rifles, and this is where their new bolt action rifle, the Delta 5, comes in.
Specs
The cold, hard facts. The numbers. Here are some of the rifle's tech specs, in its 6.5 Creedmoor option. Bear in mind there are – and will be – other calibers coming.

Model: Delta 5
Action: Bolt Action
Caliber: 6.5 Creedmoor
Capacity: 5-Round Mag included (accepts AICS-style mags)
Overall Length: 44"
Barrel Length: 24"
Weight: 9.5 lbs
MSRP: $2,199
DD are initially releasing the Delta 5 in 6.5 Creedmoor, 7mm-08, and 308 Win, though other calibers are probably in the works right now. The barrel will be interchangeable, as DD are planning to produce different barrel kits for customization. These will allow shooters to take the barrel nut off, and easily replace the barrel with others in the series.
Features
The thing which sets DD firearms apart is their build, lots of which is designed and manufactured in-house. The basis of this weapon calls back to the Remington model 700, and the idea is that the company goes ahead and includes some major upgrades as standard practice. This is true to their AR-style rifles, and it is true to their bolt action rifle. The Delta 5 rifle comes with:

An adjustable Timney Elite Hunter trigger (1.5 – 4.0 lbs)
DD stainless steel, cold-hammer forged, threaded barrel with contour
DD stainless steel, DLC-coated action, with pressed-fit laser-welded bolt arm

Replaceable bolt knob
60-degree angle

DD carbon-fiber-reinforced polymer stock system

Adjust length of pull with provided spacers
LOP also goes higher for attaining the best shoulder weld
Comb rise adjusts for height, left/right, AND toe-in and -out

An aluminum mini-chassis, which acts as the mechanical bedding. It is a 2-piece bottom metal, with 2 (two) 360-degree pillars that bolt straight into the upper part of the chassis

Bedding is often carried out as an aftermarket modification, but in the case of the Delta 5, it is all already done to the specifications and standard of DD

Pinned 20 MOA picatinny scope base
Ambidextrous magazine release
M-LOK attachment points for accessories
QD points for sling
Near-vertical thumb ridge, for a cleaner and less "busy" finger placement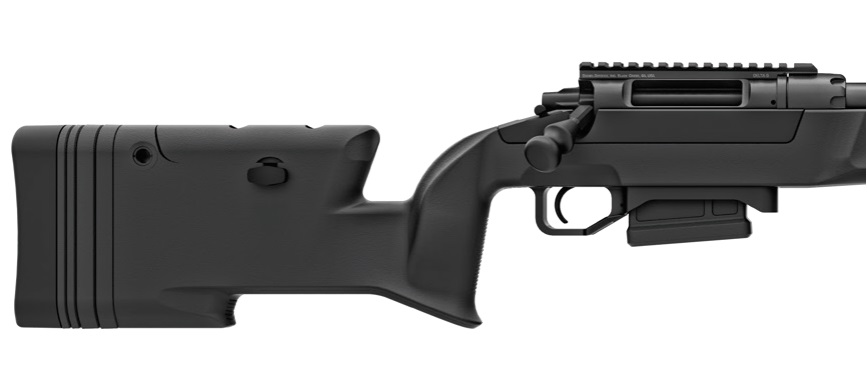 A lot of great features, yes, and DD customers will be used to some of them from the previously-released AR-style units. But keep in mind that for that price, you could probably build your own bolt-action rifle, and customize it even further to your exact specifications.

There is no argument that DD normally have Grade-A quality of materials and craftsmanship right out of the box. It really is a question of price and convenience, as well as warranty. If you are a DD fan, and are interested in buying the D5, there is not much chance you will be disappointed.
Performance
This rifle is built for precise long-range shooting. Take that well into account. If you judge a long-range shooter by its ability to produce a great group at 100 yards, you're missing the mark (so to speak). I know, I know – some consider 100 yards to fall squarely under the "long range" category.
The point is, when you judge a weapon like this, you should probably judge it according to its intended use. Is it game hunting you are interested in? Competing at PRS events? Fun at the firing range? Taking down varmints on a muggy summer's day? Shots at 100, 1000, 5000 yards?


DD built this rifle well, as is their custom. Shooters all over the place are popping up with their initial results and subjective thoughts on the rifle's merit (or lack of it). There are those who are less impressed, and who feel that for the price you are shelling out, the rifle should guarantee and deliver even greater accuracy at longer distances.
After all, other rifles can produce sub-MOA results, and their prices are sometimes significantly cheaper.

The D5 performs admirably, but not outside the realm of ordinary. In the hands of an experienced shooter, a good non-DD bolt-action long-range rifle – from the likes of Ruger or Tikka – will probably be able to replicate the results.
It shoots really well, but perhaps not so well that it blows other rifles with similar features right out of the water. I am not a highly-trained long-range shooter, though, and it could be that professionals will disagree.


Performance has many variables to factor including, the shooter, weapon, ammo, conditions, circumstances, and ballistics-related things I know little to nothing about.
As always, it comes down to you, the shooter, and your intended use and personal aesthetics. It is a DD rifle, and that is nothing to sneeze at, but there are probably less expensive ways of achieving the same level of performance if you are so inclined.
Comparable Firearms
The D5 is already being compared to other long-range bolt-action rifles. One of the more popular comparisons being made is that of the D5 and the Tikka T3x. There are also those comparing the D5 to the Ruger American. In both of those cases, the rifle is under $1K, which makes them more of a favorite in the eyes of your everyday shooter.

I have nothing against DD, really, I just think that these comparisons do have their place. If you can buy an American or a new T3x for a much lower cost, and if you are happy with such manufacturers, it then becomes more of a question of loyalty to the brand-name that is Daniel Defense. Is loyalty worth the price? Your call.


Remember that this rifle is brand new. You need to give a product some time to show its colors and live up to expectation. You need to give it some space to evolve beyond the dealer/consumer hype and DD's marketing strategies. You can compare all you want, but Ruger and Tikka's rifles have been around longer, and that carries some serious weight, simply because it means that people have spent more time with it, and the company has had more feedback, etc.

At this stage, I feel comparisons are simply knee-jerk reactions at the surface level – ones which probably won't satisfy someone who is truly curious about the long-term performance of such a piece of hardware.
Conclusion
I downloaded the DD catalog to take a look. The Delta 5 was prominently displayed right there at the beginning. A flagship product for DD in 2019, it has also been singled out by PRS as their official bolt gun.

That's all well and good, companies helping out companies. That's business. And look, like I said – if you are specifically interested in a Daniel Defense bolt-action rifle, you will not be disappointed.
Others can say DD is out of touch with that MSRP, but that won't matter to some of their fans. And so it should be, because some shooters out there swear by DD and its proprietary designs and builds.

The D5's features are thought-out and useful, but I feel it doesn't do enough to stand out in comparison. Those features which are included in the D5 are good ones, but you don't need the manufacturer to do those for you and charge you an arm and a leg in the process. You can get the same types of mods done as an aftermarket thing, after investing in a good sub-$1K rifle.

To sum up: it's a great shooter, a fine DD product – but not at this price. I feel the MSRP is too high for what is being offered in return. That said, this gun is new. We probably need to give it some more time before placing any kind of label on it, whether positive or negative.