Table of Contents
Because most people associate firearm accessories with pistols and rifles, I believe shotguns unjustly get left out of the discussion. As a result, I've compiled a list of some of my favorite attachments and aftermarket options for shotguns. Whether you own a shotgun for tactical purposes, home-defense, hunting, and even sporting, there's a surprisingly impressive selection of accessories to choose from.
I decided to leave out any attachment that's purpose is to simply house other attachments. For example, I agree that the B-Square shotgun saddle mount is an incredibly useful tool, but it is really just meant to hold accessories. Similarly, I didn't include any chokes or mag weights, although I think both of these aftermarket options are important. By the way, if you've never had the pleasure of trying out a kinetic magazine weight, you really ought to find a way to get your hands on one.

Huntego CleanShot 12 Gauge Bore Cleaner
I remember when I first heard about the Huntego Cleanshot Bore Cleaner, I immediately recognized how ingenious of an invention it was. Keeping your guns clean and lubed is an integral component of maintaining a firearm, but there's no harm in making it easier on yourself. While weapon upkeep can be tedious and even difficult, shotguns are especially tough. Fortunately, the Cleanshot bore cleaner makes cleaning your shotgun 1000% times easier.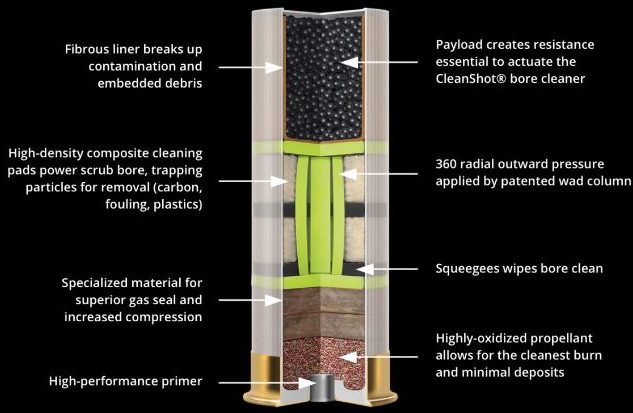 Huntego's premier weapons cleaner looks just like a shotgun cartridge but is filled with a whole slew of innovative materials. Starting from the bottom, the primer engages a highly-oxidized propellant that somehow burns cleanly and doesn't foul your barrel. Moving upward, the 12 gauge bore cleaner then has a short layer of material to increase compression and create a gas seal.
In the heart of the Cleanshot is where the magic really happens. Here is where you have mini squeegee wipes and cleaning pads which expand and effectively blast away all the dirt, gunk, and carbon buildup. Nevertheless, the state-of-the-art cleaners rely on the payload at the top of the cartridge to break up the buildup and create the necessary resistance. Overall, I can say without a doubt, these are a must-have for any shotgun owner.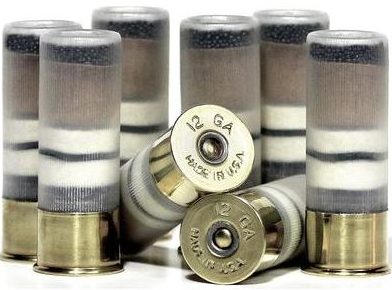 BLACKHAWK! Black Shotgun Sling
Shotgun slings may seem basic and maybe even unnecessary, but they are actually extremely useful for home defense. If I had to recommend one tactical sling it would have to be the Blackhawk shotgun sling and for several key reasons. For starters, it is surprisingly comfortable, fully-adjustable, and is made with a non-slip material, so you don't have to worry about it falling out of place. Similarly, you can rest assured that this sling won't give up on you. In addition to its high-quality elastic nylon makeup, it features steel spring hooks that are more than durable.
Furthermore, these highly-rated slings can hold 15 extra cartridges, no problem. Whether you use your shotgun for home defense, hunting, or anything in between, how can you not appreciate easily-accessible extra ammo? Plus, as an added bonus, the Blackhawk sling is actually insanely affordable, so you really don't have to think twice about this one.

Leupold DeltaPoint Pro Reflex Sight
Reflex sights and shotguns just go together. Besides for being easy to use, these tactical accessories offer rapid shooting tremendous target acquisition. There are so many great choices out there, but few can compare to Leupold and their DeltaPoint Pro sight. While EOTechs are known for their wide views and Aimpoints are just wickedly accurate, there are just so many factors to consider before attaching a reflex sight on your shotgun. I actually almost picked the SightMark Sure Shot sight but decided on the Leupold at the last minute.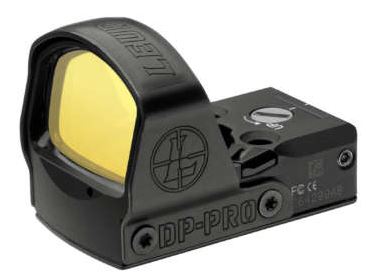 Although these sights aren't cheap, they offer all you can ask for and more. While it boasts a strong waterproof aluminum construction, the Leupold reflex sight manages to weigh a remarkable 1.9 ounces. Plus, after 100 years of innovation, the DeltaPoint now features motion sensor technology, which activates the illumination. Similarly, it automatically adjusts the brightness level based on the lighting condition but can be manually adjusted. I highly recommend this sight for all of your tactical shotgun needs.

SureFire X400V IRc White-Light/Infrared LED + Infrared Laser WeaponLight
What would this list be if I didn't include a light or laser? This pick is surprisingly easy for me because I can speak from years of personal experience. I've had the SureFire laser weapon light attached to my Mossberg 590 for years and it still impresses me every time I see it. Although it may cost a pretty penny, it certainly delivers premium performance.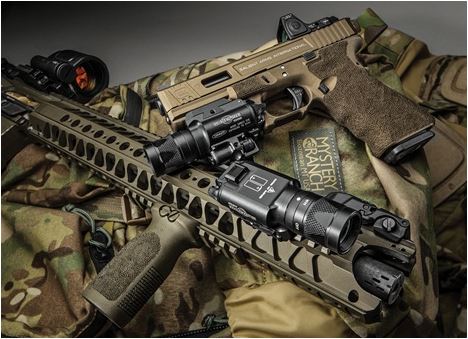 Tactical flashlights and lasers may be the most important accessories for a shotgun, and this is truly one of the best. On one hand, you've got one of the best firearm flashlights with an insanely strong 350-lumen LED designed to maximize light output and runtime. On the other hand, you've also got a sweet infrared laser sight which takes your tactical abilities to the next level. Put that all together with high-strength aerospace aluminum and a Mil-Spec finish and you've got the SureFire X400V IRc.

Advanced Tactical T3 Adjustable TactLite Shotgun Stock
Sometimes all you need to give you that extra tactical edge is a good stock, and I'm a big fan of the Advanced Tactical (ATI) T3 model. Like many AR-15 stocks, this beauty is six-position adjustable and can be modified to fit perfectly to all types of shooters. Plus, in addition to its effective recoil reducing abilities, the ATI T3 is quite durable, thanks to DuPont Extreme Temperature glass-reinforced polymer construction.
Although the American-made accessory can be costly, there are just too many advantages to ignore. You've got dual-sided Quick-Detach attachment points, tool-less maintenance, and a removable ultrathick, nonslip 1.25″ recoil pad. It's actually hard to imagine how much a gun can change just by swapping its stock. Just imagine how much more of a tactical advantage you get when you significantly boost your ergonomics, control, and customization.
Thanks for joining us here at Gunivore
Let us know your favorite shotgun accessories in the comments!