Table of Contents
The AR platform is still immensely popular. There are many weapons designers and manufacturers who apply the system's look and feel to their own rifles and shotguns, because of the its prevalence. The VR80 semi-automatic shotgun by Rock Island Armory definitely fits that bill.

A semi-auto shotgun, especially one which is box-fed, is – more often than not – versatile and highly manageable. Lots of shooters out there are familiar with the AR setup, and in some cases, it's just what they are used to. With a shotgun like this, the differences are noticeable, yet it retains a highly familiar kind of feel. So, let's take a closer look at the RIA VR80!
You may also like our
Armscor Company Review and J.J. Racaza Biography
VR80 Specs


Caliber: 12 gauge (accepts 2¾" and 3" shells)
Capacity: 5 + 1
Sights: Front and rear adjustable flip up
Weight: 7.3 pounds
Overall length: 39″
Barrel Length: 20″
MSRP: $699

VR80 Shotgun Features

VR80 Build

The first thing you probably notice about this shotgun, aside from the striking AR look, is the way this piece of weaponry is built. It is solid and highly dependable in its construction, and you can feel that when you handle it. Obviously, there can be some kind of a production line defect, but overall the VR series is considered to be well-made and reliable.

Rock Island's VR80 is a 12 gauge, semi-auto, magazine-fed shotgun. The build is mainly 7075 T6 aluminum (the receivers and handguard, for example), with some polymer thrown in (mainly in the stock). The stock has a rubber buttpad, and the grip and stock are connected to form a thumbhole stock.

This weapon comes with flip-up sights – which are not bad at all for closer encounters – situated on a 1913 Picatinny (M-Lok compatible) rail. Other build features include a reversible charging handle, ambidextrous mag release button, and a 'black chrome' finish on the whole thing.

This weapon operates using a gas system (as opposed to a recoil-operated system). Gas systems have more moving parts, and this can make them a bit heavier and less reliable – but the weight helps to distribute energy and reduce recoil, and the materials used in the manufacturing of this particular gas-operated system are exceedingly functional.
Furthermore, you get the advantage of a system which is better-suited for heavier loads. More suited than recoil ones, anyway. Two different gas pistons are provided with the shotgun, which accommodate lighter/heavier loads.
The VR80 comes with a 5-round mag (9-round mags, or more, will be made available as an aftermarket item). Three chokes are provided with the VR80: modified choke, full choke, and cylinder bore choke. The barrel is shrouded, which doesn't add much functionality but is nevertheless very pleasing to the eye. Though some may consider it useless, aesthetics goes a long way!

Rock Island Armory imports these shotguns from Turkey, a country which has a fairly respectable reputation among firearms dealers and importers around the world. Derya Arms manufactures the VR80, a successor to its popular VR60 model. The older shotguns in the series resembled the AR platform as well, but to a lesser degree.

Derya, which specializes in shotguns, was established in the late 90s in the Turkish province of Konya. The company is known for its use of quality materials, and for its adherence to some of the strictest industry standards around. Rock Island Armory currently has exclusivity on the VR80, but the older models are available for purchase through many shops and websites.

VR80 Performance
I have difficulties using the term "break-in period", because these words can be severely misinterpreted, or worse – they can be used as a way to cover up bad design or craftsmanship. From what I have seen, this shotgun really does require some kind of break-in period. I have no formula to provide you with, unfortunately, but I say this for those who may be discouraged when they first handle the gun and label it a dud.

This shotgun is a pleasure to shoot. Its ease of use makes it a viable option for home defense purposes, even with its decreased ammo count (compared, say, to a Glock or actual AR-15). It manages to cycle all kinds of brands, which is not a given.
Again, there is a chance that you will have to break this shotgun in before it accepts certain brands of ammunition. From what I have seen, the VR80 is consistent and knows how to deliver, but that is not everyone's initial experience.

I do have a complaint, though. The trigger. I do not care for it. Maybe it's just me. Probably not. I am not a fancy-trigger-only person, not in the least, but I need a better trigger than the one they have on there. Too much weight on that trigger pull, in my opinion. I like it faster sometimes, and I speculate that those who are interested in using the VR80 in competitions will be the first to swap out that trigger. Time will tell.
Accessories

The ample amount of railing on the top, plus the forward rails at the 3-, 9-, and 12-o'clock positions – they provide a wide range of options and configurations. Those who want to add lights, optics, a scope – or anything else, really – will probably find the space more than adequate for any standard purposes and accessories.

Thanks to its AR-like build (right down to two takedown pins and a carbine buffer tube!), modifying the gun becomes fairly easy. Whether you are adding a new stock, grip, compensator, magazine well, etc., you'll find that it is usually pretty intuitive and easy to accomplish.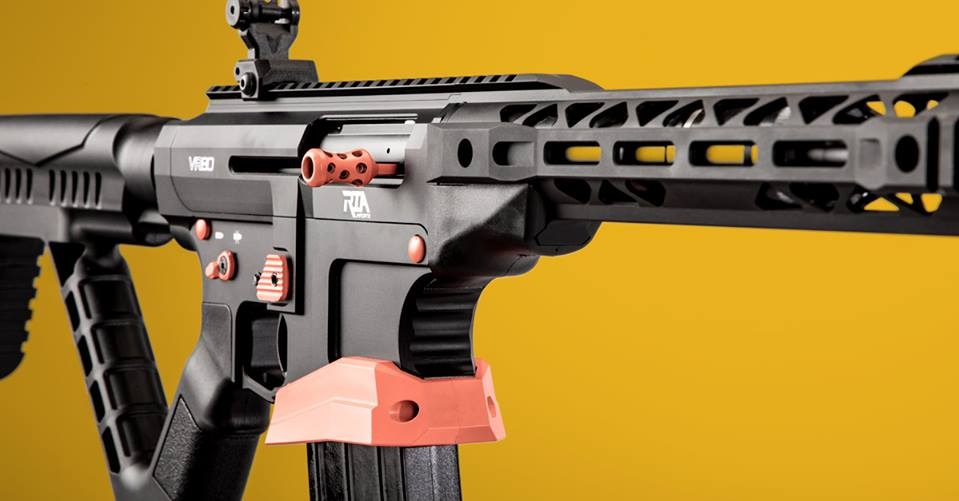 Popular accessories are red dots and grips. Triggers are not yet available, but they are slated to appear later in 2019. I read somewhere that at least two companies at SHOT Show 2019 said they were planning on producing aftermarket triggers for the VR80. I hope that the aftermarket triggers are good ones, because it would seriously upgrade this system.
Rock Island Armory VR80 for sale
The VR80 is said to be available from mainstream retailers starting on the 1st of March. In some cases, it will probably be later than that. Either way, it is scheduled to make an appearance sometime during 2019.
As for the legality issue, there is a chance your state will not allow such systems. You will have to make sure that the VR80 is allowed in whatever configuration you are interested. Judging from history, the 5-round mag will be allowed in all states, but this may not be the case with the higher-capacity magazines.
Conclusion
A semi-auto shotgun is not for everyone. I feel it really is an acquire taste, because some may see it as a jack of all trades which is a master of none. The VR80 could be used for competitions, for home defense, and for target practice – but there is no denying that there are other options, some of them cheaper and more widely available.

The AR look and feel matters a lot, especially in a market which is so saturated with AR-like weapons and systems.

It comes down to your tastes and your needs. If the VR80 sounds like something you could go for, you should get in touch with a range or retailer and grab hold of one. Some ranges will allow you to test-fire a weapon. If that is an option, don't hesitate to do it. If nothing else, you will get a chance to fire one of the more advanced semi-auto shotgun the industry has to offer.