Stag Arms isn't the biggest rifle maker in the States but they've certainly left their mark and have established a solid reputation. Although they've only been around since 2003, they quickly made a name for themselves by manufacturing high-end modern sporting rifles on the AR-platform. They weren't known for having an expansive catalog but what they did make they made well. The idea behind Stag was to produce rifles that could serve civilians and law enforcement equally, including hunters and competitive shooters. While there are many people who don't like these rifles, they are certainly high-quality in many regards and deserve a closer look.
Stag Arms Background
Stag Arms is still a relative newcomer to the firearms industry but they've left a pretty interesting market on the gun business. The small business initially opened its doors in the famous New England Gun Valley alongside giants like Mossberg, Ruger, Marlin, Smith & Wesson, Bushmaster, H&K, Thompson, and more. However, shortly after acquisition from a private equity firm they moved operations to Cheyenne, Wyoming.
Stag Arms has always been dedicated to the AR-15 platform but gained attention for using all American-made parts and for introducing left-handed modern sporting rifles. At the time, proper southpaw ARs were relatively uncommon but Stag found a niche in which to thrive.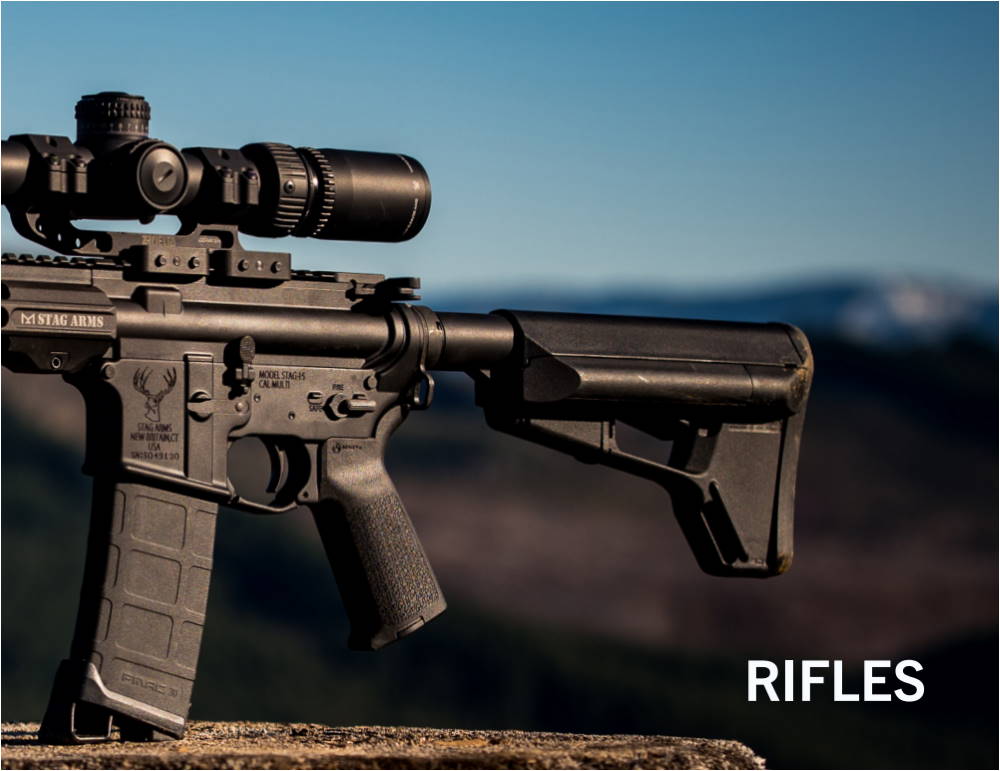 Shortly before their acquisition by White Wolf Capital, Stag found themselves in a seriously compromising position when CEO Mark Malkowski pleaded guilty to manufacturing countless unserialized firearms. The ATF had to get involved and it was a legal nightmare for the firearm company but they moved on. While they may not be among the most popular AR 15 manufacturers they still maintain a solid reputation for producing top-notch rifles and that's what consumers care about.
Stag Arms Model 1
The Stag Arms Model 1 wasn't a huge hit when it came out but it certainly paved the way for their future firearm models. The Model 1, also called the Stag 15 M4 was made at a medium price point but didn't seem to offer any novelty. The Model 1 was a basic mil-spec rifle with the classic M4 government profile and removable carry handle.
The rifle performs well in action but it just doesn't have much appeal, but that's understandable I suppose for a first model firearm. I personally don't care much for the thermoplastic handguard and A2 birdcage flash hider but the chrome-lined barrel worked well and the Magpul MOE trigger guard and six-position buttstock was nice. The Model 1 is reliable and handles well but it just didn't captivate me.
Model: Stag Arms Model 15 M4
Caliber: 5.56 NATO
Capacity: 30-Rounds
Barrel Length: 16"
Overall Length: 32.25" – 35.5"
Weight: 6.75 lbs.
Sights: A2 Front with Rear A3 Carry Handle Integrated Sight
MSRP: $899
Stag Arms Model 2
There is some confusion when it comes to Stag models because they've renamed so many of their firearms and most of them don't go by their original names. In fact, there really isn't a model 2 anymore. According to a representative from Stag, "The Model 2 has recently been updated to the Stag 15 M4, which can be upgraded to remove the carry handle in place for a Magpul MBUS Rear Sight. So you can still find "model 2" rifles used but you won't be able to purchase a new "model 2".
Stag Arms Model 3
The model 3, now called the Stag Arms Model 15 O.R.C is where we can finally start to see some improvements from the rifle maker. The O.R.C. in the title means Optics Ready Carbine and basically just means there's no carry handle or sights at all for that matter. Nevertheless, the integrated rail system works very well and other small specs make this gun a pleasure to shoot.
I like the Magpul trigger guard and recoil-management backed by the gas-operated firing system. The funny thing is that this is one of their least expensive rifles marketing for under $800. That's definitely more than a fair price for this quality firearm especially considering their lifetime warranty and additional durability and longevity-boosting features.
Model: Stag Arms Model 15 O.R.C
Caliber: 5.56 NATO
Capacity: 30-Rounds
Barrel Length: 16"
Overall Length: 32.25" – 35.5"
Weight: 6.5 lbs.
Sights: N/A
MSRP: $799
Stag Arms Lower Receiver
Because Stag has a reputation for building premium quality components it's only natural that consumers would look to them for uppers, lowers, and other parts. Stag currently sells the Stag 15 lower receiver with kit installed for less than $200 which is a pretty good deal. These components are made to mil-spec standard with aftermarket options available making it a solid choice for anyone building a custom AR.
Stag Arms Complete Upper Receivers
I'm always skeptical about buying uppers because I want to be 100% confident in my barrel and I believe Stag offers superior upper quality. Although they only have three caliber options, you know you're getting top quality and that's what matters. I like to have options but sometimes quality-assurance is better than more options. They also offer a Stag 10 upper/lower combo which is a good buy too made with several DPMS components and a great reputation. Even their standard Stag 15 Tactical uppers are solid pieces of firearm tech that won't disappoint.
Stag 15 Tactical Upper in FDE
Stag 15 Tactical Upper in FDE
Conclusion
Overall, there's a lot of mystery behind Stag Arms yet there is still a clear commitment to firearm perfection within the company. The company now produces AR-15s, AR-10s, and a few other firearms along with uppers, lowers, kits, left-handed rifles, and state-compliant versions of most of their products. It still has a long way to go before they become a major player in the tactical rifle industry but they seem to be moving in the right direction. Their products are good and well-received but they seem stifled for some reason. My impression of Stag Arms is that they're still living in 2015 and aren't moving as fast as they could be. I expect big things from Stag over the next decade but I won't be holding my breath.