The holiday season is fast approaching and that means it's about time you find the perfect gift for the Gunivore in your life. This season is all about recognizing your loved ones and expressing your love and appreciation. Instead of going generic, why not give them what they want? While guns and ammo are sure to impress, we've compiled a list of unique and affordable gift ideas gun lovers are definitely going to enjoy. Let's get down to it and see what the market has to offer this year. Welcome to the 2018 Gunivore Holiday Gift Guide. Let's see the best guns gifts out there.
Lucky Shot Real Bullet Earplugs
Ear protection is something all shooters need, so why not gift your beloved Gunivore with a unique take on the classic safety accessory. Lucky Shot USA is a famous manufacturer of gun gifts, especially drinkware, but their 9mm ammo earplugs are great for this holiday season. These noise-reducing plugs are crafted from real 9mm casings and ship with a small, convenient plastic carrying case.
Gun Books
A gun book may seem like an old-fashioned gift, but there are plenty of new publications that are sure to be appreciated. I'm a big fan of the Standard Catalog of Military Firearms, 8th Edition. Philip Peterson created the massive illustrated worldwide firearms guide and included around 2,000 listings and high-quality photos.
If you're looking for something even more detailed, then check out the 38th edition Blue Book of Gun Values. The immense catalog covers close to 30,000 gun model descriptions, 175,000 prices, and is arguably the most comprehensive gun book on the market.
The Hunter's Cookbook is a great gift idea for the hunter in your life that the whole family can enjoy. The best-selling cooking book features recipes for a wide variety of wild game and includes side dishes and desserts. Besides for its nearly 200 recipes, the Hunter's Cookbook also contains hunting quotes, cooking tips, and wildlife line drawings.
Real Avid is probably the most significant gun tool manufacturer in the industry and their line of gun mats are a sure way to make this holiday season memorable. Not all gun mats are created equally and Real Avid has the best. These mats have several notable premium features to take your gun cleaning and maintenance to the next level. In addition to a magnetic parts tray, the oil-resistant non-slip surface has detailed maintenance tips and information and is even designed for storage and transport.

Creative Targets
Creative targets are one of the easiest and most appreciated gifts for the Gunivore in your life. Targets are useful, but some targets are particularly amusing due to their novelty. We've scoured the web to find some of the best and entertaining targets for this holiday season. I've been a big fan of the Triumph System's Threat Down Reactive Targets, but I recently discovered the Birchwood Casey Battle Target and am thrilled to recommend it.
This nifty little target is designed like the game Battleship, adding some fun competition to your next range visit. The target and accessory producer also make billiard, carnival, saloon, racing and zombie themed reactive targets.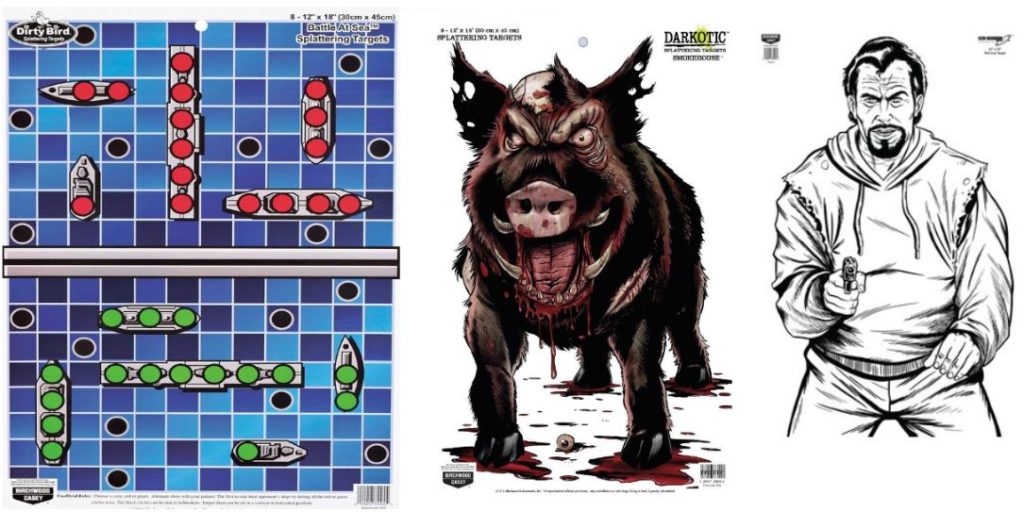 EDC Tactical Knife
EDC knives are becoming more popular every year and there are several premium models that would make a great gift this holiday season. There are a few companies which stand out as industry superstars, such as Kershaw, Spyderco, and Benchmade, but there are countless others to check out too. I recommend the Benchmade Griptilian as it highly functional, ergonomic, and lightweight.

Thanks for visiting Gunivore – Stay tuned for more exciting firearm news and reviews!