If you have decided to be a concealed-carry practitioner, choosing the right holster is the most important decision here! The right holster will not only keep the weapon close to you but also affect your response time. There are unisex holsters and then there are holsters for women that actually meet the needs of female firearm owners. Here we will go through the best options of both.
As women, we have to face unique challenges when concealing a firearm on our body owing to our different body shapes. Your holster must not only fit your firearm properly but also your body while catering to your wardrobe choices. Additionally, it must make you comfortable and confident enough to habitually strap on your revolver so that you are never left defenseless when exposed to threats.
If you don't want to end up with a pile of homeless holsters, choosing the right concealed carry holster without much trial and error is important! However, many holster brands are now manufacturing a variety of holsters that will allow women to carry their personal gun without sacrificing their comfort or style. Here is a list of our favorite on-body concealed carry holsters for women that are worth checking out.
Don't miss our brief on female gun ownership
1. Stinger Belt Holster From Galco
When it comes to gun leather, Galco is one of the most popular names. The Stinger Belt Holster is listed as one of the top picks for holsters for women who prefer outside the waistband holsters. It is specifically designed for double-action revolvers, compact semi-automatic pistols and subcompact semi-automatic guns that require to be carried on the side of your hips.
The holster is soft and made out of a high-quality steer hide that allows it to mould seamlessly with your gun. Additionally, the forward cant and open-top ensures a fast draw.
Other captivating features include a deep moulding and enclosed trigger guard. The belt loop is designed in a tunnel style that takes up limited belt space allowing you to conceal your firearm properly. Most women see this holster as a discreet on-body carry choice owing to its sleek and minimalist aesthetic that blends perfectly with any style.
2. The Reckoning Holster from CrossBreed
CrossBreed established its name in the holster industry with the launch of the SuperTuck IWB. Shortly after, MiniTuck IWB became a popular choice among women as it was perfectly sized for the firearms carried by most women.
Recently, CrossBreed expanded its lineup of concealed carry holsters with a new launch 'The Reckoning'. Soon after it became a best seller of the brand owing to its unique features. It can be worn by women IWB on the appendix, cross-draw position, or strong side. Additionally, you can convert it to an OWB with simple hardware.
Well, the features don't end here. The Reckoning holster comes with multiple retention adjustment points and various leather options. This cutting-edge concealed carry holster also offers customizations and fine-tuned adjustment possibilities in the future. This has become one of the most popular holsters for women and for good reason.
3. The Thigh Hide from DeSantis
DeSantis Thigh Hide holsters are ideal for fashion-conscious women who don't want to compromise on their style. It allows you to add skirts and dresses to your wardrobe while concealing a firearm in this intimate-wear on-body thigh holster.
Constructed out of soft breathable neoprene, this holster can be even worn on your date night without any discomfort. The slim design and custom-fit comfort allow women to carry their firearm without any hesitation. Additionally, the twin garter straps and packed Velcro seal will ensure that your auto guns or small frame revolvers stay in place.
Make your personal security the main priority with DeSantis Thigh Hide holsters.
Check out our top handguns popular with women
4. The Sticky Holster from The Well Armed Women
Most CCW holders swear by this sticky holster from The Well Armed Women owing to its versatility and comfort fit. It offers a wide range of carrying positions and can be worn inside your fitted slacks, athletic wear, or yoga pants. The sticky backing grips to your skin while the holster relies on the pocket friction or waistband compression to stay secured on your body.
If you are new to concealed carry holsters you can use this sticky holster to test out different carry positions and cants.
The close-end design not only feels comfortable on your body but also prevents gun oil from leaking. If you want a holster that redefines concealment while being lightweight, the sticky holder from The Well Armed Women is your best bet!
5. Tactica Defence Fashion
Tactica offers a dedicated line of concealed carry holsters for women. From concealed carry hoodies to concealed carry leggings, Tactica knows how to blend safety with comfortability.
Tactica also introduced a belly band that redefines concealment without sacrificing your safety. The belly band comes with a model-specific and secured Kydex holster to offer the most comfortable fit. It is available in multiple sizes ranging from XS to XXXL and also offers scope for customisation.
It also comes with a patented steel core spring reinforcement that prevents the belt from rolling over or slipping.
6. ComfortTac Belly Band Holster
Sometimes simpler is better and many women prefer a simpler, more comfortable option for concealed carrying. That's why we're fans of ComfortTac holsters, especially the Belly Band holster. These affordable and ergonomic holsters have no special bells and whistles, but they do offer versatility and flexibility. Keep in mind that they are not custom to fit a specific firearm and are ambidextrous, making them the epitome of generic, but that's not necessarily a bad thing. They have a limited selection of colors and sizes but they are comfortable for women of all sizes. These are particularly good for people carrying all day long and who need that flexibility and comfort.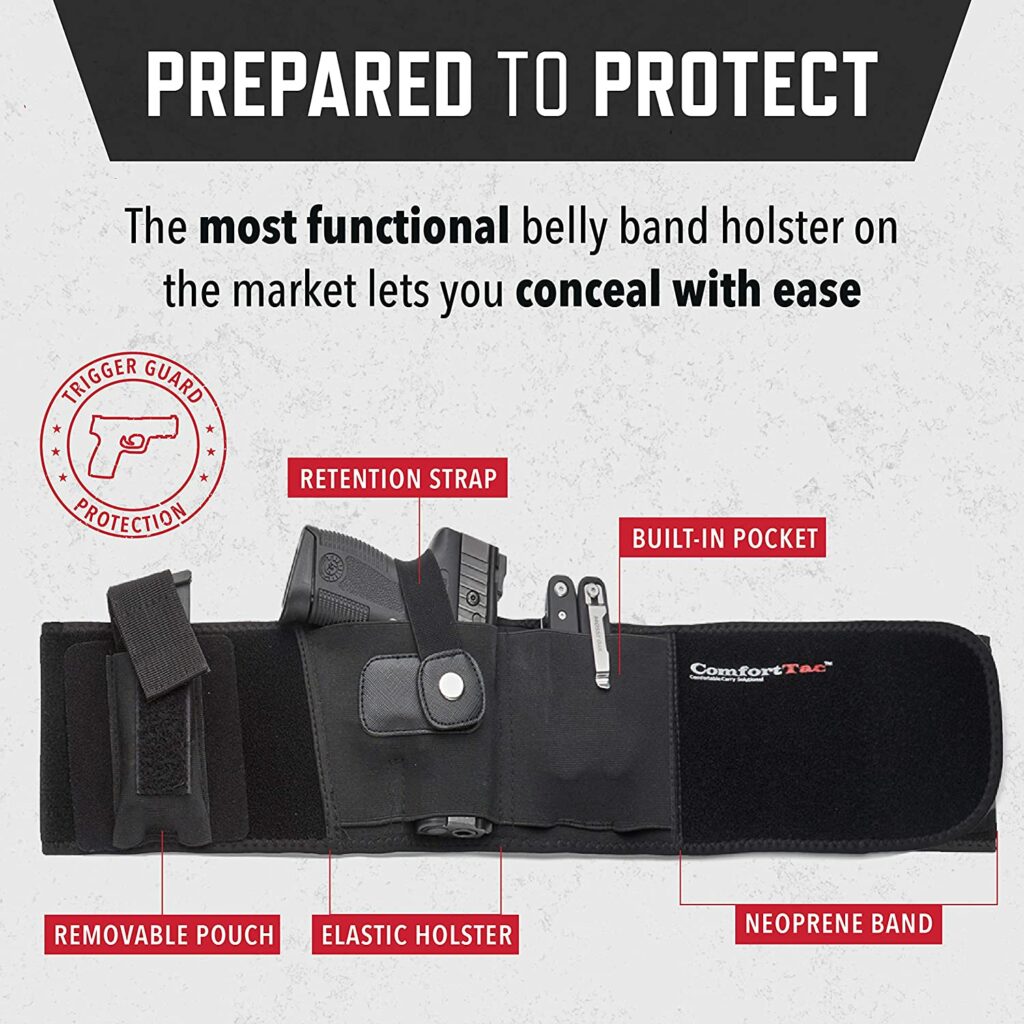 7. Bra Holsters from Flashbang Store
With a rise in the number of female firearm owners, holster brands are trying their best to come out with innovations. Flashbang holsters for women offer comfortable and practical concealed carry options that seamlessly fit with the unique curves of women.
The bra holsters are the most popular product of Flashbang owing to their custom fit and versatility. These holsters can safely hold over 100+ different guns to meet your specifications. Additionally, you can customise your holster according to your draw hand and CCW.
What's more? These high-quality bra holsters are available in a variety of Kydex colours and straps. You can now conceal your firearm without sacrificing your flexibility, comfort, or style.
Finishing Thoughts
Who said you can't dress to impress while carrying a firearm in your body? Whether you are carrying it for your personal safety or you are on the force, holsters are your main firearm accessory. A properly concealed carry holder can make a huge difference in your comfort and safety. These top concealed carry holsters will maintain your looks while keeping you safe!
* This guest post is brought to you by our friends at Bulletproof Zone *
Bulletproof Zone is a leading body armor marketplace offering an amazing collection of plate carriers, bulletproof vests, armor plates, bulletproof backpacks, even bulletproof clothing. Bulletproof Zone is a proud supplier of military, law enforcement, and civilians so go check them out and give them your support!