Table of Contents
In 1776, Charles Wilson Peale invented a telescopic rifle sight. It was the first of its kind, but recoil-control was non-existent, which means it was not a viable option (people were getting hurt by the prototype, no doubt). Later on, in the mid-1800s or so, the rifle scope was improved, and the reflex sights were close behind. Fast forward a bunch of years and arrive at our review of Crimson Trace, who have been producing optics and visual components for firearms for the past 25 years.
There is always a chance that you will require some type of mod when it comes to visual acquisition of a target. Whether short-range or long-range, the idea is clear – to see what you are aiming at, so you're not just shooting quasi-blind.
Lasers, sights, scopes, and other inventions have been helping the shooting community for generations, with the more modern innovations having a much greater advantage, of course. Crimson Trace primarily manufactures sights and related accessories for pistols, but they also have shotguns and rifles in the mix.
I will speak more on this topic later, but I will say this right now: no accessory can replace hard work and training, no matter what company is involved. There are lasers and sights that work great, but some maintain that these would still be considered a frivolous purchase at best, and a complete waste of time and money at worst. Not every firearm needs them, and that's the truth.
That being said, Crimson Trace has provided millions of people with ways of achieving enhanced target acquisition capabilities.
Crimson Trace
Lewis Danielson founded Crimson Trace in 1994. At the beginning, he was working out of the back room of the machine shop that he was managing at the time. Humble beginnings make for wonderful success stories, and this one is no different.
Danielson retired in 2016, but he left the business in the very capable hands of Smith & Wesson, who bought Crimson Trace for a cool $95 million.
The company produces grips, sights, lights, lasers, and scopes, designed for different manufacturer models such as Beretta, SIG Sauer, Ruger, Remington, Kel-Tec, Glock, and others.
Some of Crimson's products are universal, though, so they don't all have that limitation. The company produces devices for AK- and AR-style weapons, 1911s, and more.
Crimson Trace Laser Grips
Convenience is the name of this game, and Crimson Trace grips are truly comfortable. The ability to simply grip the gun and have the beam turn on is truly convenient and time-saving. No switches, no buttons, no distractions – it's pretty much the textbook definition of "user-friendly".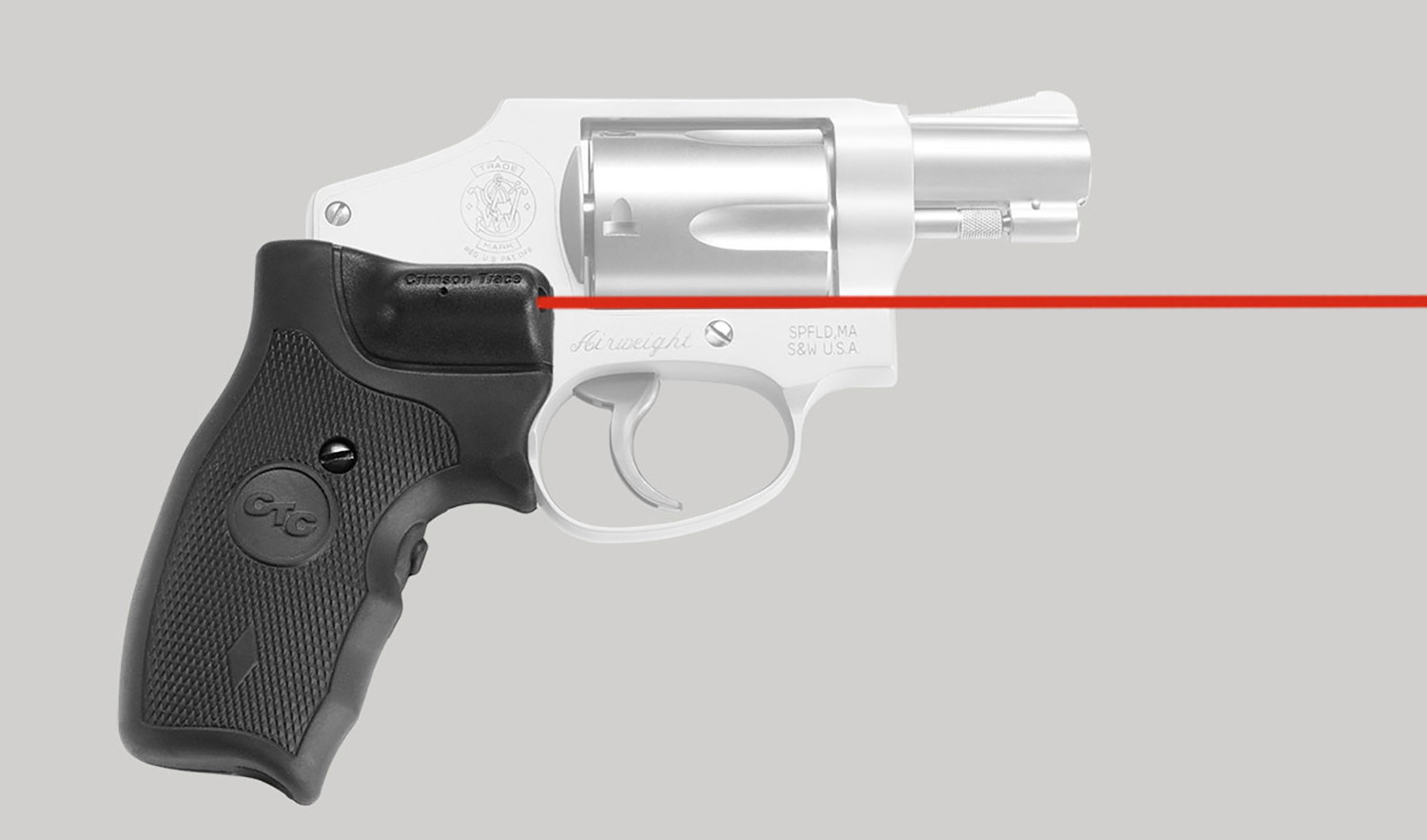 To top it all off, Crimson Trace is the only ones in the market with grip-integrated sights like these. Once you've decided that you require a laser on your pistol or revolver, the next logical move is to seek the best way to go about it.
LaserGrips are available for different manufacturers, including Kimber, Kahr, Walther, Ruger, and Browning. The 1911 was not forgotten, and there are grips for those models as well. These grips will invariably add some bulk and weight to your gun, so bear that in mind when you are shopping or trying them out.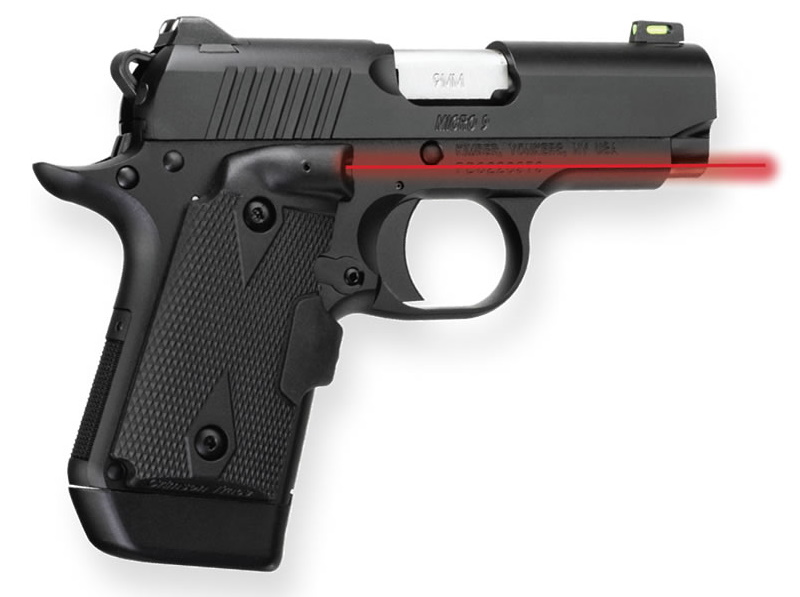 Crimson Trace Laserguard
Laserguard items are product specific, which means that they are designed for a unique make and model, and will not be a good fit for any other product. There are over 50 models available, in red and green laser tech, via the website.
The Crimson Trace Laserguard mounts to the firearm's trigger guard, offering seamless integration. Much like in the case of the Crimson Trace grips, these guards utilize the company's "instinctive activation" technology, which makes sure that operation comes as naturally and intuitively as possible. The laser beam itself is adjustable for windage and elevation.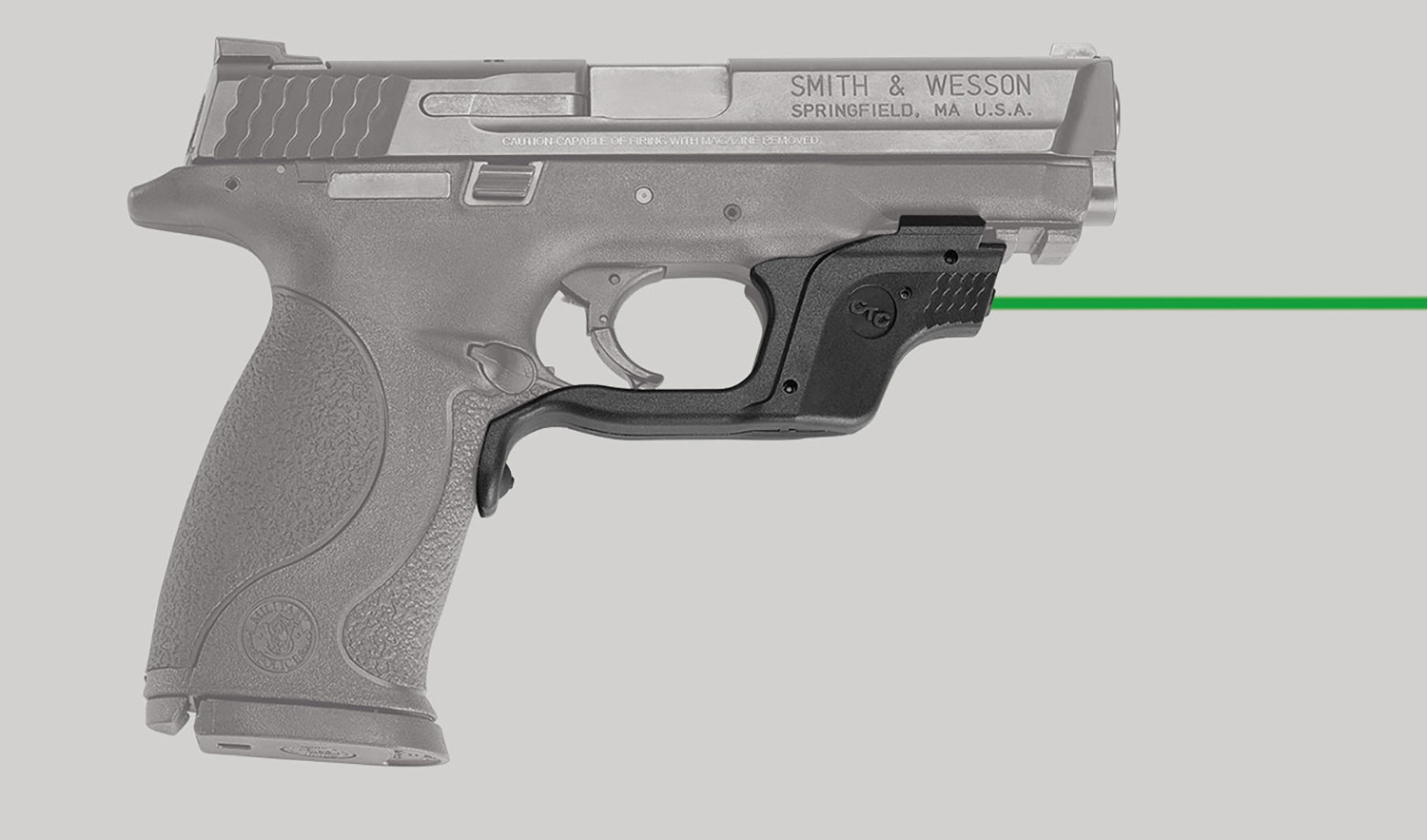 Once your iron sights and laser beam are in alignment, you are ready for business. No switches, no buttons, no need to think about it. Place your fingers where they naturally belong, and the laser is engaged. It's ergonomic, has a nice look to it, doesn't get in the way of properly firing, and while it does add a bit of weight, it is not so over-the-top that would make it not worth installing on the firearm.
One indirect drawback is the fact that finding the right holster could be an issue. Not necessarily, but it could, because of the difference in size. Sometimes a slight difference goes a long way. It really does depend on the make and model, but it depends even more so on your taste in holsters and holster aesthetics.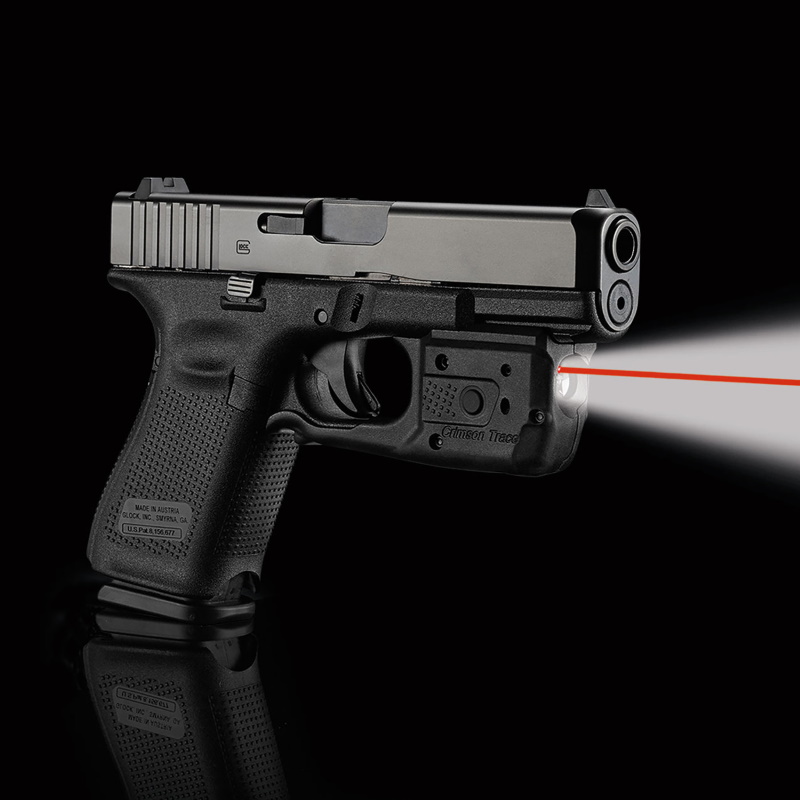 Crimson Trace Rail Master
Released in 2012, this device is highly versatile, capable of fitting on any M1913 Picatinny or Weaver-style accessory rail. In other words, this little guy is good to go for pistols, shotguns, and rifles, as long as there is a proper place to mount it. This line of universal laser sights and tactical lights is a thing of beauty. I mean, say what you want about performance and what not – there is no doubt in my mind that at least it looks good.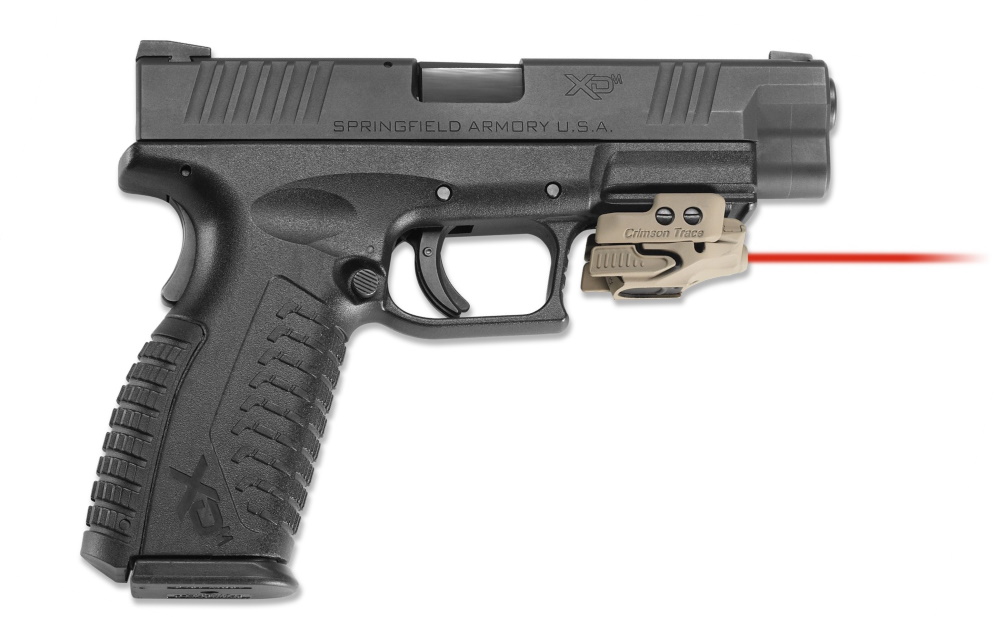 The Rail Master Pro is a subset of the Rail Master series, and it has one key difference: the light and laser are integrated into the same item. It's a 2-in-1 deal, which invites you to choose between red or green laser, coupled with a powerful white 100 Lumen LED, in a rugged aluminum housing, and with four modes of operation: laser+light, light only, laser only, and laser+white strobe.
Here are several of the items being offered in this series:
CMR-201 Universal Laser Sight

Red laser
Switch activation
Auto shutdown
MSRP $139.00 (down from $159.00)
CMR-201 Coyote Tan Universal Laser Sight

Red laser
Switch activation
Auto shutdown
Coyote Tan finish
MSRP $139.00 (down from $159.00)
CMR-202 Universal Tactical Light

100 Lumen LED, white
Switch activation
Auto shutdown
Programmable activation modes
MSRP $120.00 (down from $169.00)
CMR-206 Universal Green Laser Sight

Green laser
Switch activation
Three modes of operation: momentary, strobe, constant
Auto shutdown
MSRP $199.00 (down from $229.00)
CMR-208 Universal Tactical Light

420 Lumen (High) or 110 Lumen (Low) LED, white
Tap on, tap off
Four modes of operation: high, low, strobe, momentary
Auto shutdown
MSRP $89.00 (down from $99.99)
The Rail Master Pro costs more, with MSRP of $249.00 (down from 289.00) for the red laser model, and $339.00 (down from $379.00) for green.
Crimson Trace worked for a long time on coming up with a system like this: lights and sights which would be universal, fit different types of firearms, and offer easy installation and hassle-free transferability. They did it.
Crimson Trace LiNQ
Meant for the AR and AK platforms and their derivatives, the LiNQ system is a wireless light and laser, controlled by a custom grip (which replaces the factory grip). The wireless pairing between the components is done in such a way that its frequencies are unaffected by most devices and broadcasting methods. It makes no difference, honestly, but it can be jammed because it is a civilian item, and as such it (usually) will comply and accept frequency interruptions.

Crimson Trace's engineers worked on this product for about a decade. They had to make sure – and I mean sure – that the LiNQ system will not falter or fail. This is why the connection is a secure and individual one, paired at the Crimson Trace facilities.
The grip has a master on/off switch, and the light/laser module has an independent on/off switch. LiNQ features a green laser and 300 Lumen LED white light, with instinctive activation, and different modes of operation: laser+light, light only, laser only, and laser+white strobe.
LNQ-100G for AR-type rifles

Green laser + 300 Lumen LED white
Switch activation
Four modes of operation
Auto shutdown
MSRP $369.00 (down from $429.00)
LNQ-103G for AK-type rifles

Green laser + 300 Lumen LED white
Switch activation
Four modes of operation
Auto shutdown
MSRP $369.00 (down from $429.00)
* You may also enjoy our picks for the Top 5 Tactical Laser Sights *
Conclusion
In my opinion, there is no accessory which can replace training, practicing, and hands-on experience. Attempting to "get around" that by buying accuracy with money is almost never a good idea.
I am not saying that Crimson Trace-like products have no room. I am saying that a shooter should not rely on a laser too much, but rather use it as a secondary device, an amplification or enhancement of his (and his firearm's) strengths. A shooter's primary form of target acquisition will be his eyes and/or gun sights. And if a laser happens to be there to help out, all the better. But ideally, one should be proficient enough with the weapon before installing any kind of laser sight.
In poor lighting conditions, a laser can be a very good thing to have. The ability to get that beam on your target means better and more accurate follow-up shots. Regardless of what the movies show us, an ordinary gunfight in a civilian scenario will not last more than several seconds. You need to hone all of your skills and make it count, and this is where the laser truly shines (pun kinda intended).