Table of Contents
Just like rock'n'roll, there's always someone who is going to claim that the AR platform is dead in the water, that everyone is making the same things, and that the concept isn't going anywhere. Then, as an indirect retort, you have manufacturers like Knights Armament, which make a simple and silent rebuttal by unveiling their latest piece of AR-based badassery. Knights who have greater interest in round targets than round tables, I daresay.
This is the Knights Armament review.
When I first heard of Knights Armament Company (KAC), I thought is was a terrible name which actually had something to do with medieval knights. Then I saw that it was actually named after the founder, whereupon I chuckled at my own foolishness and moved on with my life.
But when you think about it, knights are seen as brave and committed individuals; as a special and admirable sort; warriors who were at the service of kings, leaders, and Sith Lords throughout history. In other words, the stuff of legends. And honestly, I feel these are the very types of people which Knights Armament were arming to begin with: our brothers and sisters in uniform.
Knights Armament Company
KAC started off as a research and development outfit in 1982, and they were all about making gear for the men and women of the Special Forces, who were serving under the United States Special Operations Command (USSOCOM). This means arming active duty, reserve & National Guard soldiers, sailors, airmen, Marines, and DoD civilians, and it means producing things that work, to put it mildly.
Now, this is business and government after all, and money can do things to people. Politics and shady deals notwithstanding, you don't get through the military trials and test runs without showcasing some real value and proving its consistent efficacy and durability after many thousands of rounds, and in the harshest of environments.
Military use of a firearm – much like the concept of mil-spec itself – does not automatically suggest superiority over the civilian market, but it is an indicator of a well-made weapon.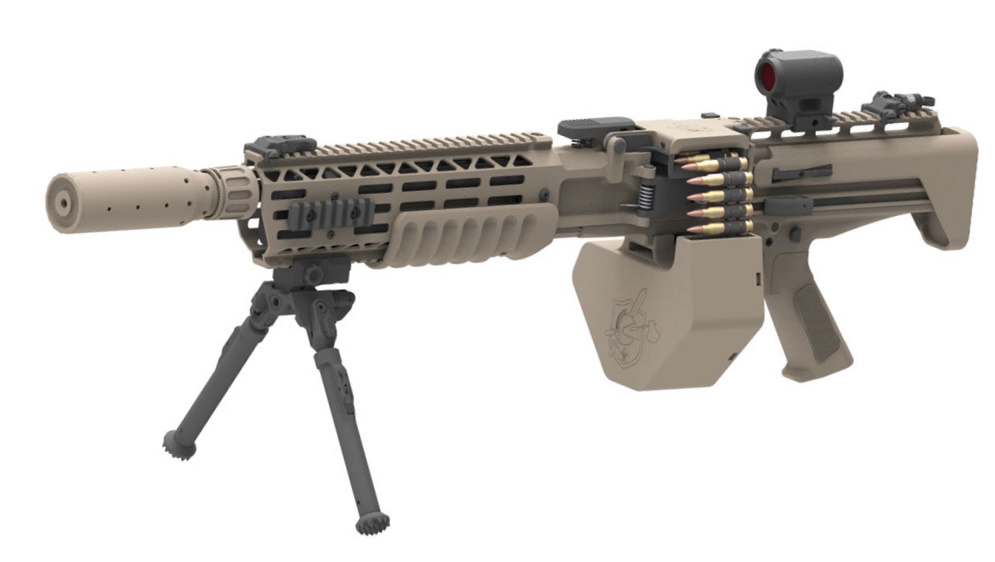 C Reed Knight, Jr., the founder of KAC, had a vision. After racing cars and engaging in different ventures, Knight decided to manufacture weapons systems, optics, and accessories. The company quickly outgrew its first facility in Vero Beach, Florida, and moved to its current location in Titusville.
Because of the fact that Knights Armament has been supplying the military for many years, their engineers and craftsmen have gotten a pretty good handle on what makes a dependable and highly efficient weapon. Many models which KAC offers are a civilian take-off of the ones used by the troops. Optics, sound suppressors, full auto capabilities – this is how those models were carried. Once you can figure out how to make that work, perhaps you can then go on to civilian configurations with greater ease.
What's more, the lines of production for civilian and law enforcement weapons make use of the very same materials, machinery, and personnel used in the military productions. The specs may be different, but the craftsmanship and quality remain. The company does have its drawbacks, but their weapons are spot on.
Knights Armament Rail
The Rail Adapter System (RAS) was patented in 1998. It was a new design for the M4- and A2-style rifles which allowed for sturdier mounting of optics and accessories. It did this by clamping onto the barrel. Those of you who are purely into free-floating designs will not be buying this, I suppose.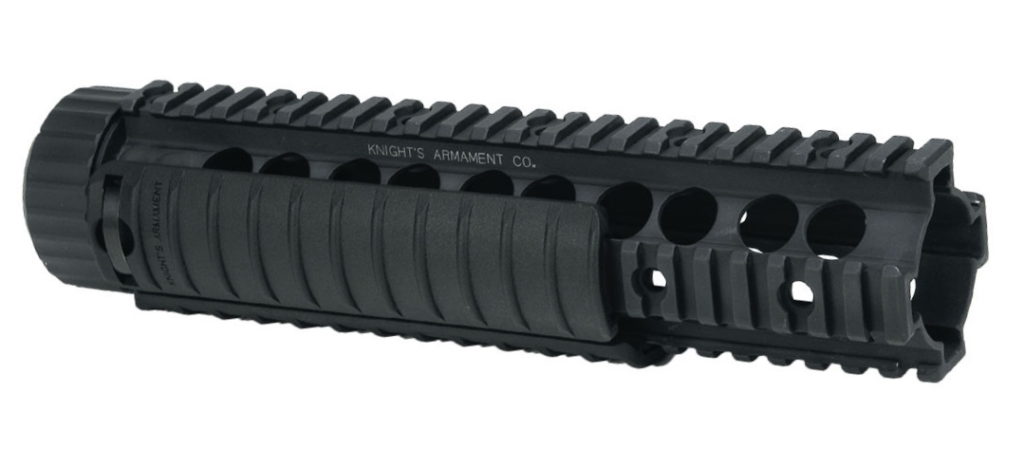 The rail is somewhat heavier than the factory one, but it gets the job done, namely holding accessories in place. When you're taking a shot, you need to be as steady as possible. And you need that firearm to act as an extension of your shooter's stance or any position you're in – standing, sitting, crouching, or flat on the ground. Every fraction of a degree counts, which is why weapons and accessories manufacturers work so hard to provide the promise of initial precision and follow-up accuracy.
I think Daniel Defense took that USSOCOM contract from KAC at some point recently, but the Army still uses tons of KAC rails. For civilians, they carry an MSRP of $350 or so, but you can find them for a lot cheaper online or second hand. A rail seems almost insignificant, but it becomes very important very fast when you are in need of advanced visual aids.
Knights Armament SR 25
I vividly remember thinking to myself: "What? Stoner? Like, the real Stoner?". And as it turns out, Eugene Stoner – the brains behind the AR-10 and AR-15 platform – went back into business in his later years. He teamed up with Knights Armament to create an advanced revamp of the classic AR-10 rifle with a touch of M16A2 to boot – the result was the SR-25, which stands for Stoner Rifle and the model numbers 10+15.
There is also the carbine version, which boasts shorter barrel, shorter length, and less weight. It's easier to maneuver and more convenient to carry, but each sniper, marksman, and gunivore has their preference.
Model: SR-25
Action: Direct Impingement, rotating bolt
Caliber: 7.62×51 (.308)
Barrel Length: 24"
Overall Length: 44"
Weight: 10.7 lbs
Capacity: 20-round magazine (10 rounds also available)
MSRP: $4,900

The SR-25 is a semi-auto sniper/marksman rifle, with a direct impingement and rotating bolt action, very similar to the AR-10. USSOCOM became interested in integrating the SR-25 into its ranks, and rightly so – KAC make pretty much everything in-house, and their rifles are well-received by shooters from all walks of life. The powers that be in the Navy and USMC designated it Mk11 Mod 0. Later on, the Army decided to get in on the deal too, and the M110 was born.
Knights Armament M110
The M16 became the AR-15 and the SR-25 became the M110 Semi-Automatic Sniper System (SASS). The military version of the sniper rifle was awarded by the Army as being one of the best inventions of 2007, and it has been in service since then.
The M110 SASS is a precision 7.62mm NATO caliber gas-operated rifle, and it comes highly acclaimed. This rifle's accuracy, 20-round detachable mag, ambidextrous controls, generous M1913 railing, and highly effective sound suppressing system – these all contribute to the weapon's overall success.
Much like the Mk11 which came before it, the M110 system features a 20" barrel. The Army insisted on a protective coating, so in order to meet these requirements, KAC applied another coat over its standard finishes. This coat is flat dark earth finish, and it makes the rifle look extra cool, to be honest. Also comes with a synthetic adjustable stock.
Model: M110
Action: Direct Impingement, rotating bolt
Caliber: 7.62×51 (.308)
Barrel Length: 20"
Overall Length: 46.75"
Weight: 16 lbs
Capacity: 20-round magazine (10 rounds also available)
MSRP: Approximately $15,000

The Army is in the process of phasing the M110 out in favor of a lighter, shorter version of it, the compact semi-automatic sniper system (CSAAS). As of right now, though, it is still all up in the air (or so it seems), and the M110 is still going strong with the Army. Honestly, I feel it's a weapon any combat soldier would love to have. It is a firearm you can entrust with your life, especially if it's Uncle Sam that's paying the tab!
Conclusion
I think KAC is relatively low key, at least when compared to other manufacturers which have contributed to the military effort over the years. In 2018, the company was awarded another military contract, which is scheduled to end in 2024. The agreement they had until that point – supplying the Army with the M110 rifle – will continue. Say what you want about the AR platform and its drawbacks, the thing's effective and ridiculously battle-proven.
Are their rifles worth the price? Ultimately, I am inclined to say no, just because the price is seriously high. Sure, you get a great system, there is no doubt there. But it is worth the several thousands? I am just not sure. I think you can get a better rifle for that kind of money, whether you build it yourself or get a complete rifle from a different manufacturer.
The reason behind those prices is not just corporate greed, mind you. There is a story behind that price, and in a nutshell, that story is extreme reliability. The more problematic components – such as bolt, barrel, and gas system – are all proprietary, and this means that the thing lasts for ages without failing on you. Many of the issues which befall AR-type rifles stem from those parts, and having that peace of mind is worth a lot of money.
The civilian market and the military have both spoken, and right now the Knights Armament Company has a reputation which is solid and growing, and their weapons are becoming more popular. In spite of the comparatively higher prices, those who have handled them (especially in the long term) know that there is nothing like a good KAC.