Table of Contents
I want to start off by making a bold statement: The Walther P99c AS is better than any compact semi-auto Glock has to offer, be it the 26, 27, 33, or 42. Like its brothers in Walther's impressive collection of polymer pistols, the P99 features only the best components paired with state-of-the-art technology. After going through Walther's catalog and getting my hands on some of their most popular weapons, I thought I had seen it all, but then I was introduced to the newest P99. It had been years since I fired a P99 so I was pretty excited to give the newest model a try.

Walther P99 Spec Sheet

Model: P99C AS

Caliber: 9mm

Capacity: 10+1

Barrel Length: 3.5"

Overall Length: 6.6"

Height: 4.3"

Width: 1.3"

Weight: 21.5 oz. (Unloaded)

MSRP: $629.00

Walther P99c AS

Walther P99 AS
Like most other Walthers, the P99c AS is surprisingly ergonomic considering its diminutive build. Furthermore, as a premium CCW, the 9mm semi-auto is loaded with exceptional features that parallel some of the best in the industry. In my time spent with Walther's handguns, I've found that they feature outstanding slides, something which many other CCWs lack.
Starting with the P99's 3-dot polymer sight system, the German arms producer gave their popular pistol windage-adjustable low-profile sights to boost its overall accuracy and concealability, respectively. Unlike many of their newer CCWs, Walther kept the integrated Picatinny rail forward of the trigger guard, parallel to the front sight. Moving to the rear, the P99 includes a nifty little manual decocker, a feature relatively uncommon for Walthers.
Additionally, I was thrilled to see that they kept the extended slide stop which conveniently locks back after emptying a mag. That being said, the only downside to the P99c AS' slide was that it only contains slide serrations on the rear, but that's no legitimate deal breaker. Lastly, don't forget that like many other Walther pistols, these guys come with three safeties and Tenifer-coated slides/barrels for increased durability.
The trickiest part of the gun to discuss is the area by the trigger. On one hand, the P99c AS' DA/SA trigger is one of the best I've ever seen, but on the other hand, Walther kept with the frustrating European-style paddle magazine release. While it is ambidextrous and extended for easy operation, it just doesn't feel right to me.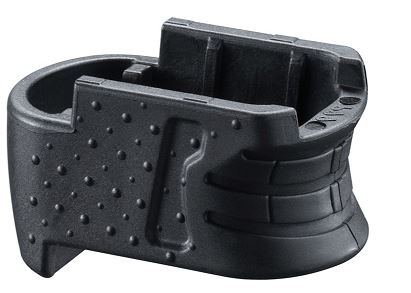 But like the aforementioned slide serrations, this too is no real deterrent. Going back to the fantastic anti-stress trigger, be warned that it might take some time getting used to the 9 lb. DA trigger pull and the 4.5 lb. SA, but once you get the hang of it, you'll love it.
Next, we have the ergonomic Walther grips which give the P99c its superior handling. Although any handgun needs a good set of grips, it's even more crucial for a powerful compact CCW. Nevertheless, I highly recommend opting for the extended mag because its added pinky rest will make a huge difference in your control of the firearm.

Walther P99 Performance
There's not really much to talk about with the P99c AS' performance – This impressive CCW is simply put: the epitome of German engineering combined with outstanding handling, intuitive controls, and remarkable accuracy. It carries lightly and pulls even easier, making it a more than capable option for concealed carrying. Furthermore, Walther pistols are among the most reliable in their class, plus they're pretty sexy too.

Walther P99 Magazine
Because the P99c AS functions like a PPS M2 but in a double-stack design, opting for the former just means more bullets for you! Although Walther only offers P99c magazines in one capacity, they do have a standard model as well as one with an ergonomic rest.
Walther P99 Accessories
Once again we have a CCW with an integrated rail, and I can't see what the point is. This gun was designed to be carried and using attachments will only ruin that. Nonetheless, if you find yourself looking to hook up a laser sight, you can't go wrong with the LaserMax Genesis Micro LMS-Micro.
Walther P99 Holster
More importantly, you have to find yourself a reliable holster that is also comfortable; fortunately, some of the biggest names in the industry got you covered. Although I originally would have gone for the affordable FOBUS Standard Passive Retention Holster ($33), I've recently been liking Crossbreed – Check out the up-and-coming company's Ohai Modular Holster with optional magazine carrier ($50).
You may also be interested in our Automatic Weapons Rundown, Most Controversial Guns, & Top Israeli Firearms.
Comparable Firearms
It wasn't too long ago that one of my favorite American gunmakers teamed up with the legendary German company to produce an American-style variant of the famous P99. Less than 20 years ago, Smith and Wesson joined forces with Walther Arms to market the SW99 to the United States, and it soon gained a big following. Although these guns may be distinct, they share many of the same components and designs, plus their mags are easily interchangeable.
Nevertheless, it's these minute differences which have drawn many P99 fans over to the SW99, especially its .45 caliber availability. However, I've been puzzled for years trying to figure out some of S&W's additions – like what they did with the trigger & trigger guard and grip shape. Overall, the original, German-made P99 has way better ergonomics which trump the SW99's high-powered abilities.
Thanks for joining us here at Gunivore
Follow us on Facebook for up-to-date reviews and news about your favorite brands and products!